Introduction
The Olympus TG-5 is a brand new tough compact digital camera designed to capture images in the most challenging conditions. Successor to the TG-4, the new TG-5 has a 12-megapixel backlit CMOS sensor, an improved 25-100mm (eq.) f/2.0-4.9 lens with a new Anti-Fog Lens Cover Glass, a GPS sensor, manometer, compass and temperature sensor, and integrated WiFi. The TG5 camera is waterproof to depths of 50 feet (15 metres), shockproof from 7 feet (2.1 metres), crushproof to 220 pounds of force (100 kilograms of force), freezeproof down to 14°F (-10°C), and dustproof. The Olympus TG-5 can record 4K videos at 30fps or Full HD movies at up to 120fps for slow-motion playback. The Olympus TG-5 costs £399.99 / $449.99.
Ease of Use
By way of example with regard to how long the gaps have got between one generation of a camera and the next, we examined the new, toughened Olympus TG-5's predecessor the TG-4 way back in July 2015. At one time, six months between updates was the norm – a two-year gap would have been unheard of, and long enough for anyone paying attention to surmise the series had simply been shelved. This is both a sign of the slowing of the market perhaps, but also, more positively, an indicator of the fact that technology has improved to a point where tweaks made to existing products are now subtle enhancements, rather than revolutionary overhauls. Put simply, the performance of most digital cameras is already good enough for the purpose they're made for. So, with the above in mind, what has Olympus done to differentiate the toughened TG-5 from the TG-4, which we awarded a respectable 4 out of 5 (generous for us, for what is essentially a point-and-shoot compact at heart) two years ago?
Well, for a start, the solid-feel new version – available in eye catching red or sophisticated-in-appearance black – now offers 4K video capture, along with 120fps Full HD clips, while being £50/$64 more expensive than its forebear on launch – the TG-5 possessing a manufacturer's UK asking price of £399.99/$508. According to Olympus we also have a new sensor and processor this time around, the latter being a TruePic VIII, although, curiously, the headline resolution has been dropped from the 16 megapixels of its predecessor to 12MP this time around, presumably to limit appearance of image noise/grain at higher ISO settings. Naturally you're only really going to be considering buying this to achieve images that would never otherwise be possible (unless you didn't mind possibly damaging your camera or smartphone), so a few pixels less isn't a deal breaker on TG-5; though it's an interesting move all the same.
Olympus is hoping that the reinforced camera's range of features will ensure it appeals to diverse markets, not just the snowboarding/water rafting thrill junkie. For example, as well as the standard weather/water and destruction proofing, it features the helpful (on paper at least) likes of a bright/fast f2 lens for low light photography (as did the TG-4), plus an anti fog filter, the latter being amusingly pitched as double glazing for the camera. Its destruction proof capabilities include the fact that the TG-5 is shock-proofed against drops from 2.1 metres in height, crush proofed to withstand weights of 100Kg, and can be utilised in temperatures down to minus 10°C. Additionally there is dust proofing.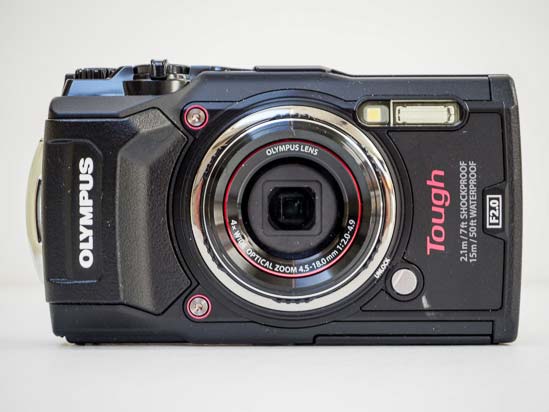 Front of the Olympus TG-5
It's worth noting that all of these last specifications identically match those of its two-year-old predecessor, as does the fact that a Raw file capture option is also available, unusual for a compact at this price point. We also get Olympus' standard-issue Art Filter digital effects modes, plus specific underwater friendly modes in time for the summer holidays – such as one for underwater HDR capture.
Aside from a new sensor and processor this time around, another claimed tweak is that controls have been made easier to use if wearing gloves, but to be frank we found its backplate buttons to be as tiny as ever… a niggle we mentioned last time. Manageable without gloves, yes, but seemingly impossible with (unless we're talking the fingerless variety). Still, its maker has promised additional housings, conversion lenses and adapters for the plucky point-and-shooter, which presumably may be easier to handle.
Like its forebears, at least the Olympus TG-5 otherwise appears sturdily built for the job. The front has that slightly over-engineered design, its look redolent of a lot of toughened cameras – a visual style Olympus arguably pioneered with previous iterations. It arrives complete with visible screws to give it that industrial, no-nonsense look. Top right of the lens is a lozenge shaped window housing the flash and AF assist lamp (flash settings being standard auto and forced flash/fill-in option, along with a red eye setting, off and slow sync options), while a press of 'unlock' button bottom right of the lens lets you unscrew the prominent lens ring.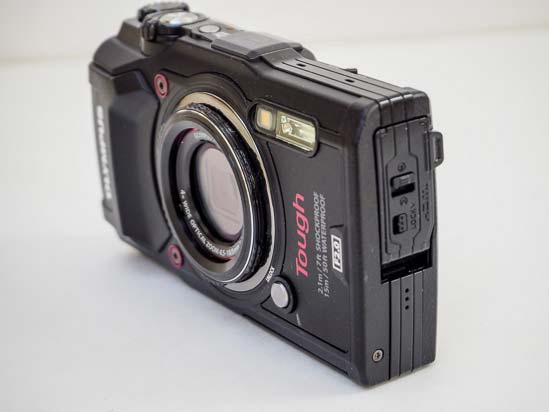 Front of the Olympus TG-5
The camera grip is also prominent here, if not exactly pronounced enough that a firm hold can be achieved, even when hands are dry. But we appreciated the fact that its manufacturer has tried to maintain a chassis size that is still pocket-able – whilst at the same time reinforced, complete with double lock mechanism on the side panel that houses the USB and HMDI output ports, and also at the base, the latter protecting the compartment housing both rechargeable lithium ion battery and vacant slot for the insertion of an SD card. Official dimensions for the TG-5 are 113x66x31.9mm, just marginally bigger than the TG-4's quoted size of 65.9×31.2×111.5mm. The camera now weighs 250g with battery and card (as opposed to 247g for the TG-4) – said battery charged within the camera itself, rather than a standalone mains charger being provided. In fairness this omission is now the case with most compacts.
The Olympus TG-5 sports an internal zoom mechanism, so that at no point does the lens actually protrude from the body, where it may potentially be knocked or damaged if the camera itself is dropped. Toggle the zoom lever that surrounds the embedded shutter release button on the camera's top plate and it glides from maximum wide angle setting to extreme telephoto in all of three seconds. The featured zoom is, incidentally, the equivalent of a wide-ish angle 25-100mm on a 35mm film camera, with macro shots up to 1cm from the subject achievable. Lens aperture runs from f/2 at the wideangle end to f/4.9 at the telephoto end (maximum zoom). Again, this spec hasn't altered at all from the TG-4, before it.
With no eye level viewfinder, images are composed via a 3-inch, 460K dot resolution LCD at the rear which is sufficiently clear for a camera of its ilk – and also is of exactly the same specification as that found on its predecessor two years ago. This iteration likewise features a protective panel, perhaps just one of the reasons why touch screen control isn't offered on this model – aside from the fact that on-screen menu selections are bunched quite close together, so it would be tricky to accurately select what you wanted unless you possessed pencil-thin fingers.
The top of the Olympus TG-5 is reasonably straightforward – the shutter release and zoom lever being the most prominent features, to the right of which is an unmarked DSLR-like control dial. A small, tightly ridged on/off power button sits to the left of the shutter release button, if viewing the camera from the back and looking down on the top – a feature obviously designed for ease of use when operating the camera with wet fingers. We'd imagine this small button would be nigh impossible to utilise if you were wearing ski gloves.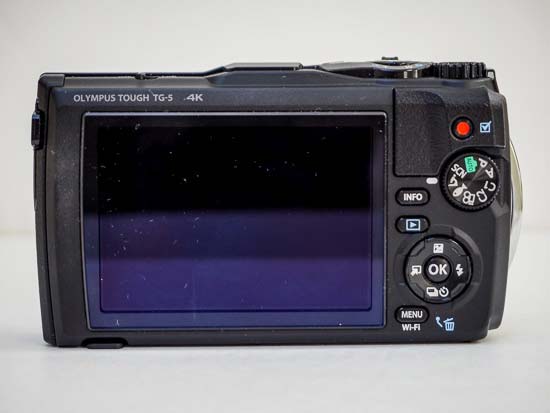 Rear of the Olympus TG-5
This being a marriage of both action camera and travel camera, we get built-in GPS as well as Wi-Fi, a top plate logo alerting us to the inclusion of both. To the left of this again are a pair of pin pricks about a centimetre and a half apart, indicating the presence of stereo audio capture, whilst just set back from this is a further lever marked 'log', in order to log the location of where your shots are being taken, if so desired.
Squeeze the on/off button and the Olympus TG-5 nigh instantly powers up. The TG-4 was ready for action in just over a second, so this latest iteration feels, to us, slightly faster in response. We'd have to say it is as quick as we could hope for, the rear LCD blinking into life and the lens audibly adjusting. This is encouraging as life moves pretty fast… and we don't want to miss that golden moment.
Squeeze the shutter release half way and the Olympus TG-5 locks on a subject in the blink of an eye. Press the shutter release button down fully and image capture is also commendably swift, the screen freezing for barely a second, whereas on the TG-4 we'd noted a two second wait. So, overall, the TG-5 does feel like a slightly speedier affair.
As we've noted this time around, maximum stills capture resolution is 12 effective megapixels from a 12.7 MP 1/2.3-inch CMOS chip, whereas last time it was 16 megapixels from a sensor of the same physical dimensions. This time around we do get an upgrade to 4K video, though there remains the option to also shoot Full HD 1080p video, saved in easy-to-access and display Motion JPEG format. Light sensitivity also appears to have been improved – or at least the core ISO range extended, as here we get as high as ISO12800 equivalent manually selectable in increments, rather than it topping out at the usual ISO6400. Or we can leave the camera on auto to achieve wholly competent results.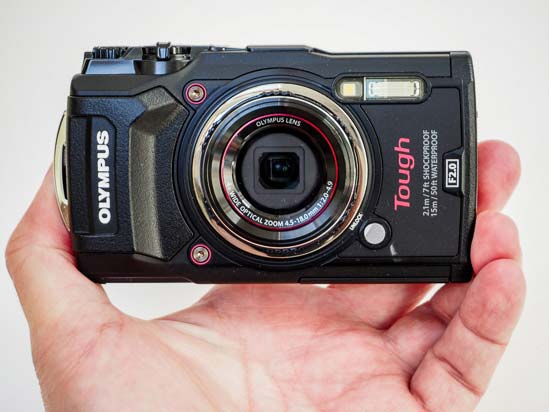 The Olympus TG-5 In-hand
We need to access the above via press of the 'OK' button located in the middle of a familiar four-way control pad on the Olympus TG-5's backplate. This brings up a toolbar of the right hand side of the LCD screen. Then it's just a matter of tabbing down to the desired option and implementing it.
This being an Olympus camera we also get the creative extra of a bunch of Art Filter digital effects modes; useful should there be the wish for these to be implemented and wedded to an image at the point of capture. Here these are the familiar Pop Art, Soft Focus, Pale & Light, Light Tone, Grainy Film, Pin Hole, Diorama, Cross Process, Gentle Sepia, Dramatic Tone, Key Line, Water colour, Vintage and Partial Colour… meaning that the cute-sy 'Sparkle' option appears to have been jettisoned this time around.
Generally as regards the backplate, the function of the controls is again obvious. As with its predecessor, we get a dedicated video record button top right, located where it ergonomically falls under the thumb, activated with a direct press of the thumbnail, with a half penny sized shooting mode wheel located sitting just below, ready for a spin. On said dial we get a Program and Aperture Priority mode, but not a dedicated shutter priority or manual option – although there are two available custom settings adjacent for quick and easy access to preferred choices.
Seeing as the Olympus TG-5 is made for messing about in the water, among other pursuits, there is also a dedicated underwater setting that even includes a HDR option among its menu choices. That's admittedly pretty cool. Sitting next to this is the microscopic mode, for those seeking extreme close ups of detail and texture. Next up is scene mode and here there is the usual smattering of pre-optimised choices, selectable by highlighting one of the image examples displayed on screen. There are five options here which each have sub-menus with further choices – People, Nightscapes, Motion, Scenery and Indoors. Along with the above we also get a fully Auto setting on the dial for when we do just want to point and shoot and let the camera decide what how to best handle the conditions or subject at the time; like any digital camera these days it's consistently accurate enough for most people to not want to deviate from this setting.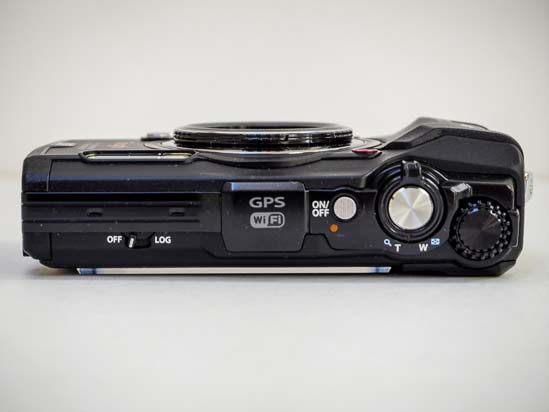 Top of the Olympus TG-5
The smaller lozenge-shaped buttons on the back plate to the right of the LCD, of which there are three, not counting the four-way control pad with its central OK button, fall under the thumb of the right hand when gripping the camera in your palm.
From the top these buttons are marked 'info', playback and menu, the latter of which also doubles up as the Wi-Fi activation button. This is the same set up as on 2015's TG-4. Pressing info will bring up a live histogram, as well as an electronic spirit level. A press of 'menu' meanwhile brings up two folders' worth of basic stills camera settings, along with a separate folder/screen's worth of video options plus a single screen's worth of set up options.
Located on the four way control pad near the base of the Olympus TG-5 back, for tabbing through menu settings, are further settings for adjusting exposure compensation (here the modest +/- 2EV), selecting flash setting and also self timer/burst shooting options. As well as two or 12 seconds for the self-timer, we also get a custom setting, plus there are sequential High (max 20fps) and Low burst shooting options.
With the battery compartment found at the base of the Olympus TG-5, beneath a double lock door, it feels well protected against any ingress of unwanted elements or fluids. Power lasts for around 300 shots from a full charge – again exactly the same as the prior TG-4. Inevitably found next to this is a screw thread for attaching the camera to a tripod, or, for the more adventurous, mounting it to a rig of some sort.
Image Quality
All of the sample images in this review were taken using the 16 megapixel Fine JPEG setting, which gives an average image size of around 6Mb.
Whilst by virtue of the small-ish 1/2.3-inch sensor at its heart, the Olympus TG-5 is a snapshot camera, when there's plenty of sunlight around the pictures delivered impress none-the-less, with the regular natural colour menu option able to be boosted should you so wish via the camera's built-in menu toolbar. Even on default settings, on brighter days, primary colours – particularly blues and greens – really zing, while, under ideal conditions, images are contrast rich for the most part. There's little more, if anything, that you need to do save point and shoot with this one.
Inevitably perhaps there's some slight softening at the the edges of the frame when shooting at default maximum 25mm equivalent wideangle setting, but only noticeable if examining closely. At telephoto end of the zoom images are reasonably clear too. An issue with having an internally stacked zoom is that occasionally fingertips can stray into shot when you're gripping the camera with both hands, although the central positioning of the lens ensures this is only an occasional, rather than regular, visual blight. Under such conditions instances of purple pixel fringing are kept reasonably in check. Indeed, they're only really noticeable if you're deliberately searching for them.
In terms of low light shooting, as with pretty much any compact camera with a 1/2.3-inch sensor, you wouldn't normally want to stray above ISO800 or ISO1600 at a push, though this one pushes the ISO range beyond that, backed up by the brighter than average lens for its class. That aside, inevitably shots towards the maximum selectable setting become distinctly soft, until the point of an equivalent ISO12800, whereupon shots resemble fourth generation colour photo copies, or a shaky smartphone snap. Whilst we didn't expect miracles from the TG-5, it's perfectly usable.
Noise
There are 8 ISO settings available on the Olympus TG-5. Here are some 100% crops which show the noise levels for each ISO setting for both JPEG and RAW.
| | |
| --- | --- |
| JPEG | RAW |
| ISO 100 (100% Crop) | ISO 100 (100% Crop) |
| | |
| | |
| ISO 200 (100% Crop) | ISO 200 (100% Crop) |
| | |
| | |
| ISO 400 (100% Crop) | ISO 400 (100% Crop) |
| | |
| | |
| ISO 800 (100% Crop) | ISO 800 (100% Crop) |
| | |
| | |
| ISO 1600 (100% Crop) | ISO 1600 (100% Crop) |
| | |
| | |
| ISO 3200 (100% Crop) | ISO 3200 (100% Crop) |
| | |
| | |
| ISO 6400 (100% Crop) | ISO 6400 (100% Crop) |
| | |
| | |
| ISO 12800 (100% Crop) | ISO 12800 (100% Crop) |
| | |
Focal Range
The Olympus TG-5 has a 4x optical zoom which starts at 25mm and zooms out to a modest 100mm.
25mm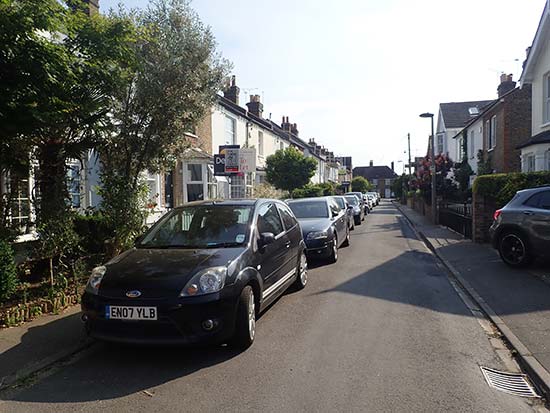 100mm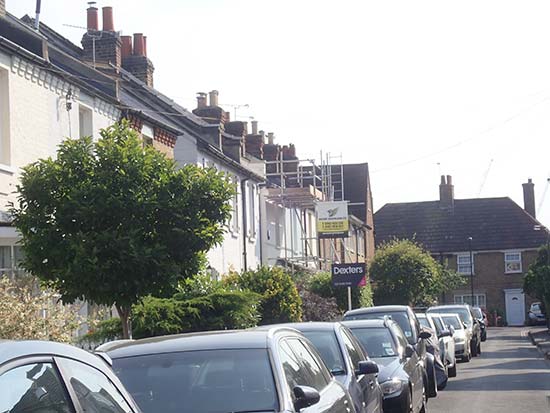 Chromatic Aberrations
The Olympus TG-5 exhibited some purple fringing effects in high-contrast situations, as shown below.
Chromatic Aberrations 1 (100% Crop)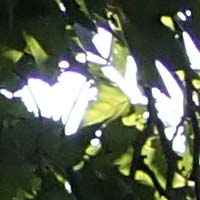 Macro
The Olympus TG-5 has a Supermacro mode on its command dial which you need to switch to in order to focus down to 1cm. We found that the main issue with this mode is getting enough light between the lens and the subject. If you don't use the Supermacro mode, the closest that the TG-5 will focus to is 10cm, which isn't a useful close focusing result. However, it has to be noted that the camera can focus to 10cm even at full zoom, which is very useful for sending backgrounds out of focus.
Macro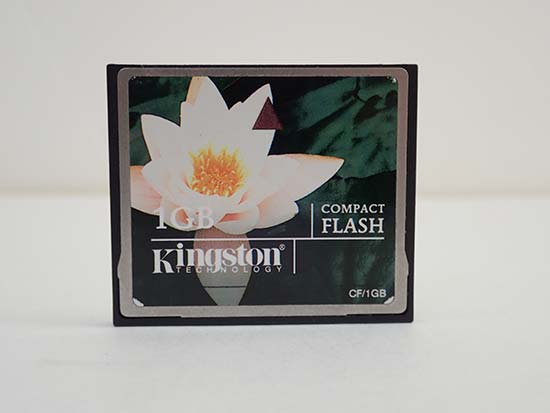 Flash
With the flash turned off, the Olympus TG-5 doesn't show any obvious signs of vignetting at wide-angle or full zoom. However, it does occur when the flash is on. Certainly at wide-angle, at least. It's less so at full zoom, but on a plain white wall, it's still noticeable.
Flash On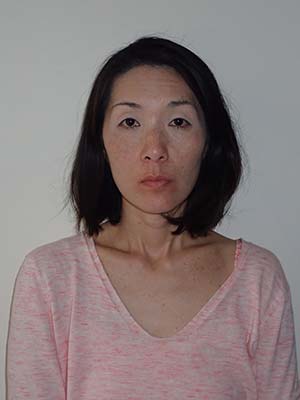 Flash Red-eye Reduction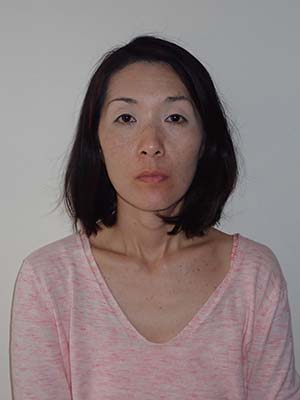 Night
The Olympus TG-5 has a dedicated Night scene mode in the Scenes setting on the command dial. The advantage of using this mode is that the camera is allowed to select a longer shutter speed than when in Program mode. The latter meaning you have to select a higher ISO in order to get a balanced exposure. The camera will also assume you're supporting the camera, so will choose a low ISO.
Night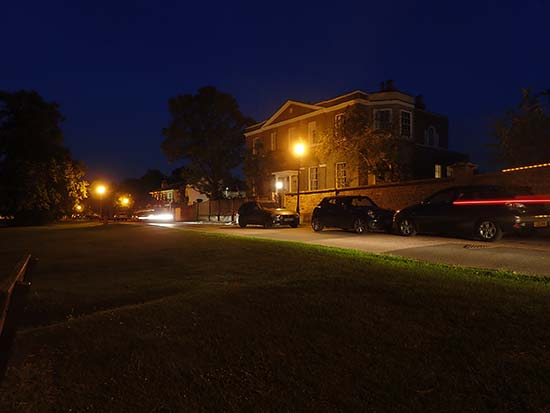 Sample Images
This is a selection of sample images from the Olympus TG-5 camera, which were all taken using the 12 megapixel Fine setting. The thumbnails below link to the full-sized versions, which have not been altered in any way.
1/200s · f/8 · ISO 100 – 25mm (35mm)
1/250s · f/6.3 · ISO 100 – 100mm (35mm)
1/500s · f/2.8 · ISO 100 – 25mm (35mm)
1/125s · f/8 · ISO 100 – 25mm (35mm)
1/125s · f/2.8 · ISO 200 – 25mm (35mm)
1/250s · f/8 · ISO 3200 – 25mm (35mm)
Product Images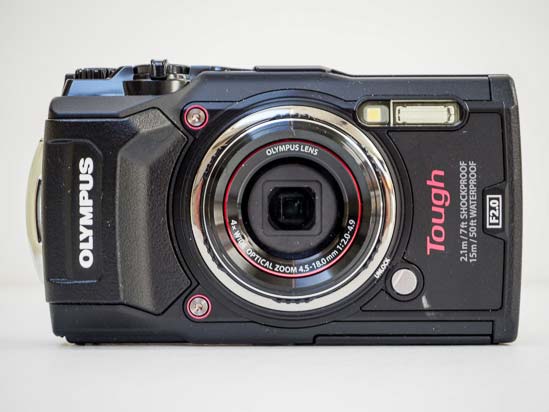 Front of the Olympus TG-5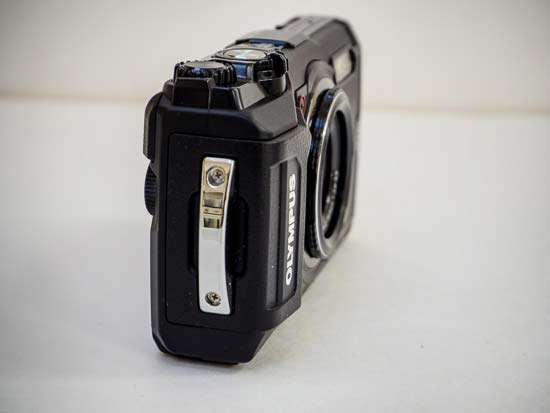 Side of the Olympus TG-5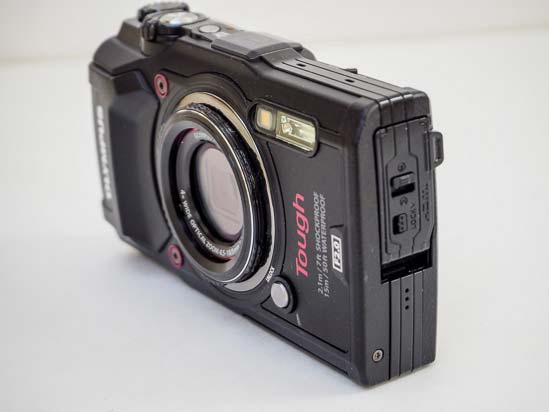 Side of the Olympus TG-5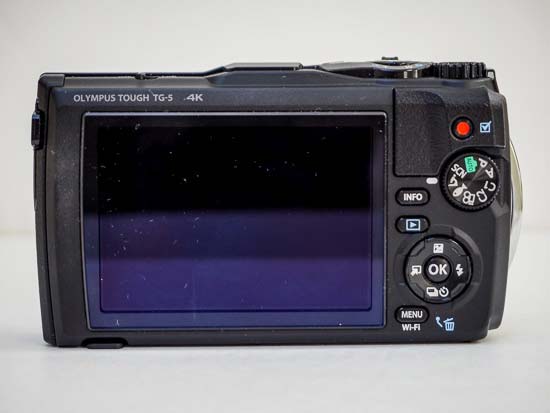 Rear of the Olympus TG-5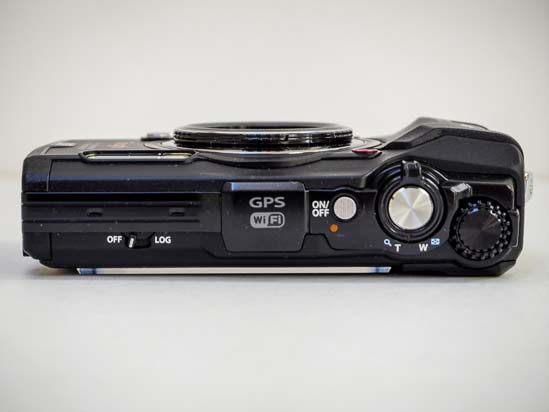 Top of the Olympus TG-5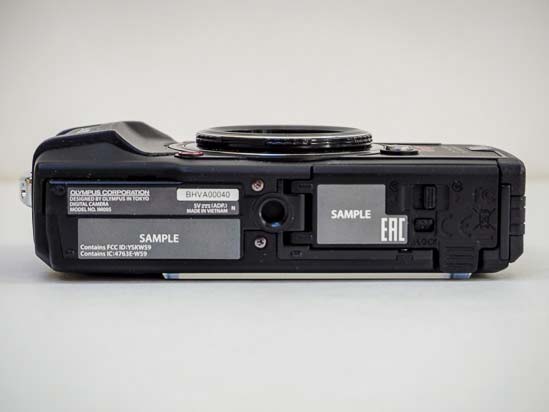 Bottom of the Olympus TG-5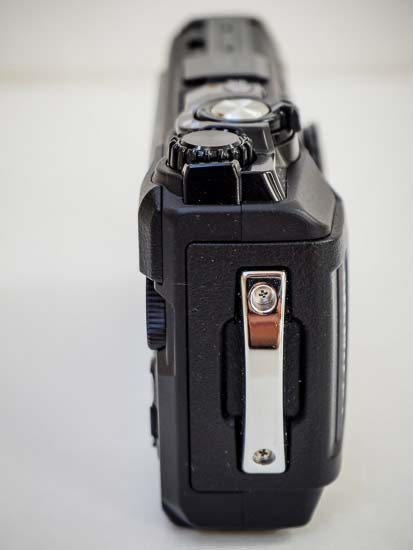 Side of the Olympus TG-5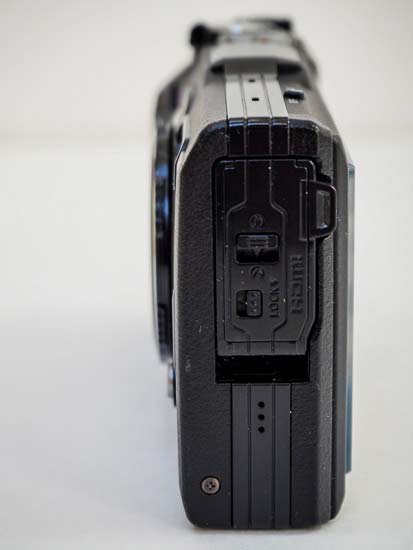 Side of the Olympus TG-5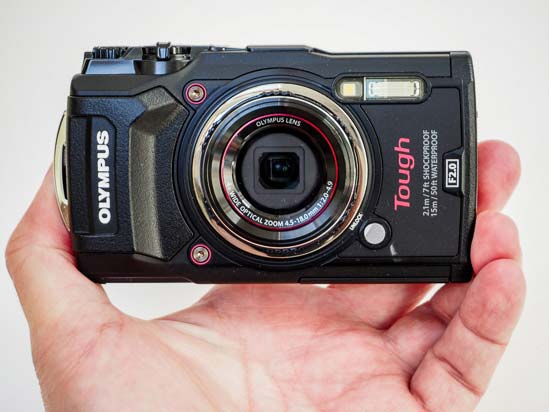 Front of the Olympus TG-5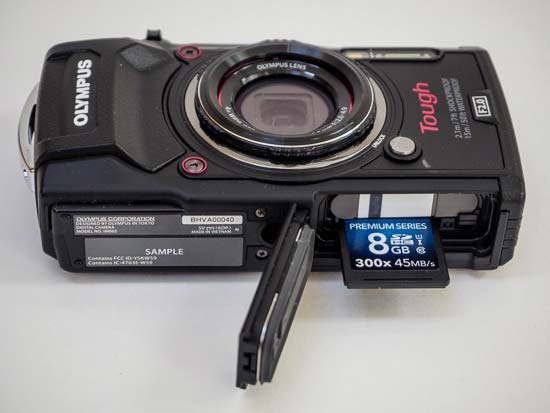 Memory Card Slot / Battery Compartment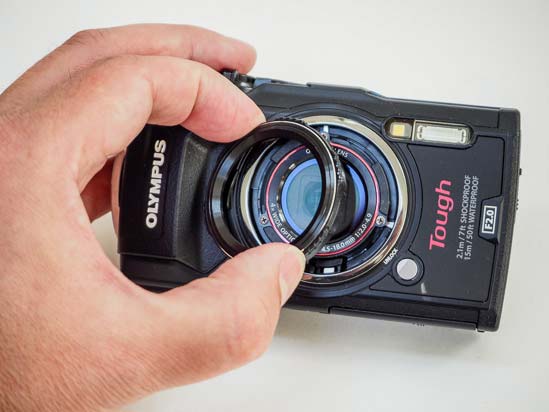 Front of the Olympus TG-5
Specifications
Image Sensor
Effective pixels12 Megapixels
Filter arrayPrimary colour filter (RGB)
Full resolution12.7 Megapixels
Type1/2.33" CMOS
Lens
Optical zoom4x (WIDE)
Focal length4.5 – 18.0mm
Focal length (equiv. 35mm)25 – 100mm
Structure9 lenses / 7 groups
Aspherical glass elements3
Maximum aperture2.0 – 4.9
Filter diamater40.5mm
Monitor
Monitor typeLCD
Monitor size7.6cm / 3" (3:2)
Resolution460000 dots
Brightness adjustment+/- 2 levels
Frame assistanceYes
Protection panelYes
Focusing System
MethodTTL iESP auto focus with contrast detection
Modes

iESP
Face Detection AF
Spot
AREA
AF Tracking

Selective TargetYes
Standard mode0.1m – ∞ (wide) / 0.1m – ∞ (tele)
Super Macro ModeClosest focusing distance: 1cm
Microscope ModeZoom capability while being in Super Macro Mode
AF lockYes
AF illuminatorYes
Light Metering
Histogram in shooting modeYes
Modes

ESP light metering
Spot metering
Exposure System
Shutter speed1/2 – 1/2000s / < 4s (Night scene / A mode)
Exposure compensation+/- 2 EV / 1/3 steps
Enhancement functionMechanical Image Stabiliser (Sensor shift)
Advanced Face Detection Technology
Shadow Adjustment Technology
Modes

i-Auto
Programme automatic
Aperture priority
Custom shooting
Underwater
Microscope
Scene Modes
Art Filter
Movie
Scene Modes
Number of scene modes16
Modes

Portrait
e-Portrait
Landscape
Landscape with Portrait
Hand-held Starlight
Night Scene
Night Scene with portrait
Children
Sports
Candle
Sunset
Fireworks
Beach and Snow
Panorama
Live Composite
Backlight HDR
Art Filter
Modes

Pop Art
Soft Focus
Pale & Light Colour
Light Tone
Grainy Film
Pin Hole
Diorama
Cross Process
Gentle Sepia
Dramatic Tone
Key Line
Water colour
Vintage
Partial Colour*
Sensitivity
AutoAUTO
ManualISO 100 – 12800
White Balance
AUTO WB systemYes
Preset values7
One-touch white balance4 custom settings can be registered
Custom WB1 setting can be registered at Kelvin temperature (2000K – 14000K)
Internal Flash
Modes

AUTO
Red-eye reduction
Fill-in
Off

Working range (wide)0.2 – 7.9m (ISO 1600)
Working range (tele)0.2 – 3.1m (ISO 1600)
Flash compensationYes
Sequence Shooting
Speed (H)Approx. 20fps
Max. number of frames: RAW 14 / JPG (LN): Up to card capacity
Speed (L)5fps
Max. number of frames: RAW 49 / JPG (LN): Up to card capacity
Pro Capture mode
Speed (H)10fps
Pre-shutter Frames5frames
Interval shootingYes
Image Processing
Pixel mappingYes
Noise reductionYes
EngineTruePic VIII
Distortion compensationYes
Shading compensationYes
View Images
Modes

Single
Index
Zoom
Slide show
Event

Index5 x 4 frames
ZoomYes; 1.1 – 10x
Auto rotationYes
Image protect modeYes
Histogram in playback modeYes
View Movie
Modes

Frame by frame
Fast forward
Reverse playback
Still Image Recording
DCFYes
EXIF2.3
PIMIII
DPSPictBridge
DPOFYes
Movie Recording System
Recording formatMOV(MPEG-4AVC/H.264)
Image Stabilisation ModeDigital Image Stabilisation
4K Movie quality3840 x 2160 (4k) / 30p, 25p (approx. 102Mbps)
Recording time: 29min.
HD Movie quality1080P Recording time: 29min.
720P Recording time: 29min.
Speed Class 10 SD card is recommended for shooting movies. UHS-I Speed Class 3 SD card must be used for 4K video and high speed movie.
Movie Specialties
High-Speed Recording640 x 360 (SD) / 480fps
720P / 240fps
1080P / 120fps
Time lapse720p (AVI Motion JPEG®)
Art Filter

Pop Art
Soft Focus
Pale & Light Colour
Light Tone
Grainy Film
Pin Hole
Diorama
Cross Process
Gentle Sepia
Dramatic Tone
Key Line
Water colour
Vintage
Partial Colour*
Sound Recording System
Voice PlaybackYes
Sound recordingYes; PCM
Internal microphoneStereo
Image footage4s
SpeakerYes
Memory
Removable MediaSD / SDHC / SDXC (UHS-I class supported)
Eye-Fi Card compatibleYes
Image Size
RAWYes
Resolution4000 x 3000 – 640 x 480
Aspect ratio4:3 / 3:2 / 16:9 / 1:1
Menu
Menu languages in camera39
Tough Features
Shock resistantShockproof from heights of up to 2.1m *
WaterproofWaterproof up to a water pressure equivalent to 15m depth **
Anti-fogDual pane glass
FreezeproofFreezeproof down to -10°C ***
CrushproofCrushproof up to 100kg ****
DustproofYes
* Equivalent to MIL Standard (Olympus test conditions)
** According to IEC standard publication 529 IPX8
*** According to Olympus test conditions
**** According to IEC standard publication 529 IPX6
Other Features
GPSYes
Electronic compassYes
ManometerYes
ThermometerYes
Level GaugeYes
SNS uploadYes
Perfect Shot PreviewYes
Panorama functionIn-Camera Panorama
Self timerDelay: 2 / 12s / Custom
Menu guideYes
Date imprintYes
LED IlluminatorYes
Customisation Options
My Mode2 settings storable
Power Supply
BatteryLI-92B Lithium-Ion Battery
Internal ChargingYes
Interface
HDMI™Yes; Micro connector (Type D) *
Wireless connectivity

WiFi
Eye-Fi Card compatible

DC inputYes
Combined A/V & USB outputYes
USB 2.0 High SpeedYes
* "HDMI", the HDMI logo and "High-Definition Multimedia Interface" are trademarks or registered trademarks of HDMI Licensing LLC.
Dimensions
Width113mm
Height66mm
Depth31.9mm
(without protrusions)
Weight250g (including battery and memory card)
Conclusion
The Olympus TG-5 is best viewed as a take-anywhere, shoot anything travel and action camera combined. Olympus has – for the most part, at least – taken the old 'if it ain't broke, don't fix it' approach to this latest generation of 'toughened' model, which features mostly identical specification, give or take, to its TG-4 model from a couple of years earlier, whilst the newer model adds £50/$64 to the original price tag. Whilst it's still a capable camera of its type and therefore worth investigation if you're not already an existing Olympus Tough model owner, we can't really see why previous owners would want to apply here, even if this new model is fractionally faster, in our opinion, as regards its operational response times. This is partly due, no doubt, to its latest generation processor.
The Olympus TG-5 is certainly one of the better toughened-construction cameras we've used and one that hasn't been unduly compromised by the fact that it has indeed been reinforced. Whether you think it's worth spending £400/$508 on what is largely a point and shoot digital camera, albeit one ready for battle, will depend on your specific requirements. But it is a capable, consistent performer, despite the small sensor.
(photographyblog.com, https://goo.gl/cbg6mg)
Comments
comments