Introduction
Aimed at high-end enthusiasts and professionals, the new Olympus M.ZUIKO Digital ED 45mm f/1.2 PRO lens is a very fast medium telephoto prime which provides an equivalent focal length of 90mm in 35mm full-frame terms. Comprised of 14 elements in 10 groups, Olympus promises that the lens construction gives exceptional edge-to-edge sharpness with the removal of virtually all types of aberration and fringing. The autofocus system has been designed to be quick and precise, while there are 9 rounded aperture blades for more effective bokeh effects. The Olympus M.Zuiko Digital ED 25mm f/1.2 PRO lens is also dustproof, freezeproof and waterproof, making it appealing for those working with similarly weatherproof cameras such as the OM-D E-M1 Mark II. The Olympus M.ZUIKO Digital ED 45mm f/1.2 PRO costs £1199 / $1299.
Ease of Use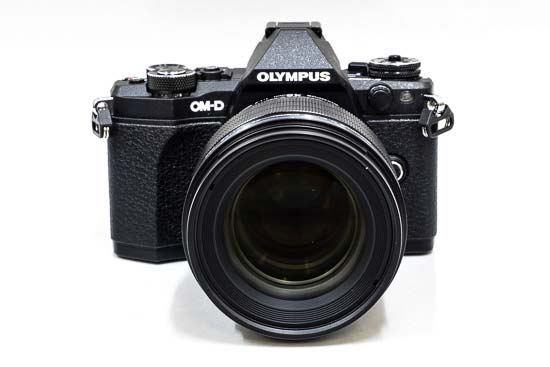 Tipping the scales at 410g and measuring 62.7x87mm, the M.ZUIKO Digital ED 45mm f/1.2 PRO is a relatively small and lightweight lens given the very fast maximum aperture of f/1.2. As seen in the photos below, the Olympus 45mm f/1.2 lens balances very nicely even on a smaller camera body like the OM-D E-M5 Mark II used for this test.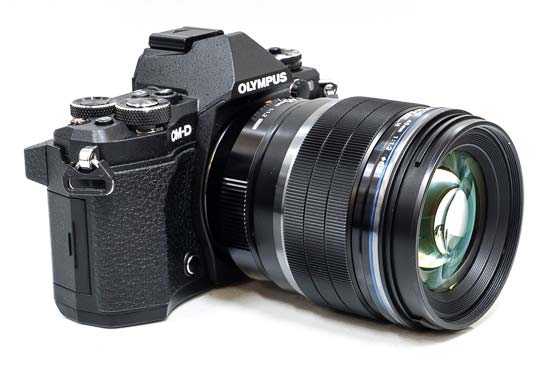 As with the other PRO Olympus lenses, the M.ZUIKO Digital ED 45mm f/1.2 PRO boasts a solid metal construction that oozes quality and class. There is a red dot at the back of the lens to help you line it up with the lens mount on the camera you're using.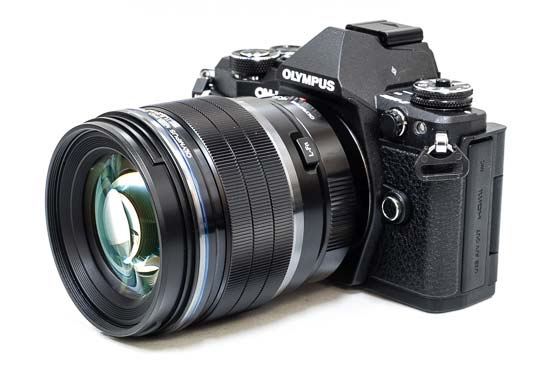 There is a generously sized focusing ring around the lens, which you can use when manually focusing the lens. You can snap back the focusing ring to change from auto focus to manual focus in an extremely quick motion, snapping it back again if you want to switch back to using autofocus. When in the manual focus position, you'll see focal distances compared with the relevant apertures are displayed.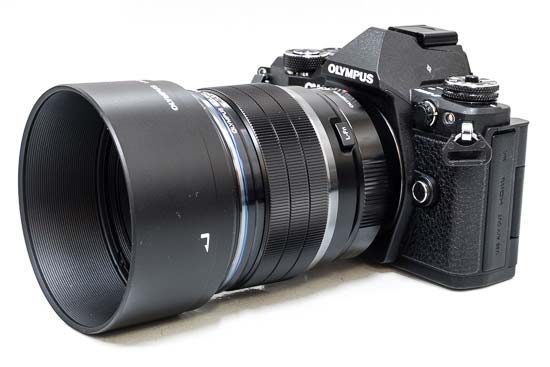 When in autofocus mode, the focusing ring is very loose and doesn't do anything, but when snapped into the manual focus mode, there's a lot more resistance, leading to a pleasing and smooth focusing experience. There are hard stops at either end of the range, meaning you can easily set focusing to infinity quickly.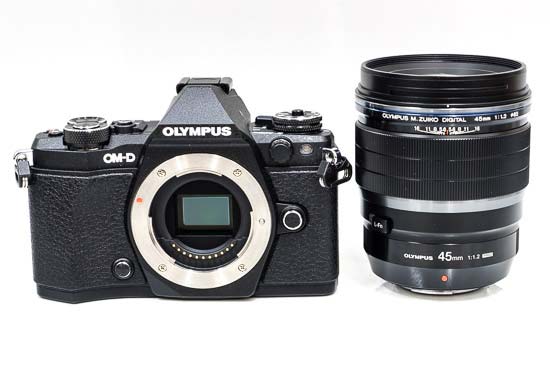 For autofocusing, the Olympus M.Zuiko Digital ED 45mm f/1.2 PRO lens is a very quick performer, locking onto the relevant subject almost instantaneously. It also copes well with darker lighting conditions, without too much hunting. It's also very quiet in operation, making it good to use with a silent shutter in quiet environments, or for candid shots.
As the Olympus 45mm f/1.2 lens has an internal focusing mechanism, the length of the lens barrel does not change and the filter thread does not rotate on focus which is good news for those using polarisers.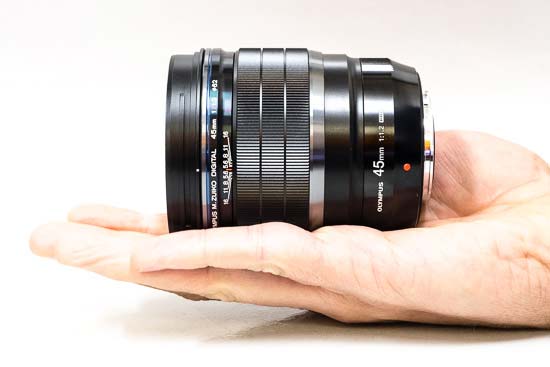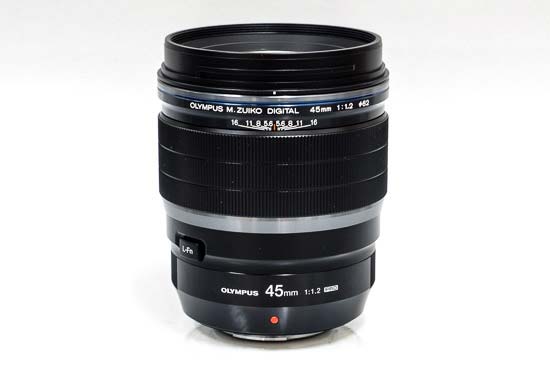 Just below the focusing ring is a function button, marked L-Fn, which can be customised via the camera's main menu to control a number of different actions. One useful function is depth of field preview – this allows you to see how your image will look at the selected if you hold down the L-Fn button, and is particularly handy when working in narrow apertures.
The Olympus 45mm f/1.2 is dustproof, splashproof and freezeproof (down to -10°C).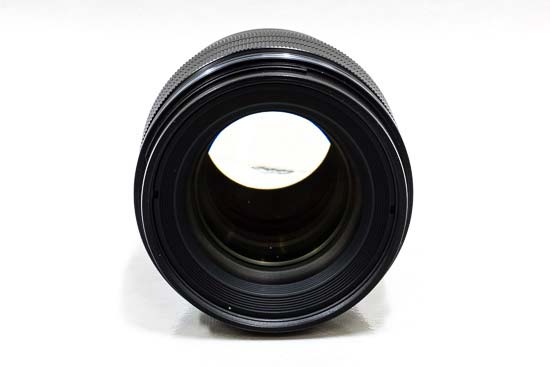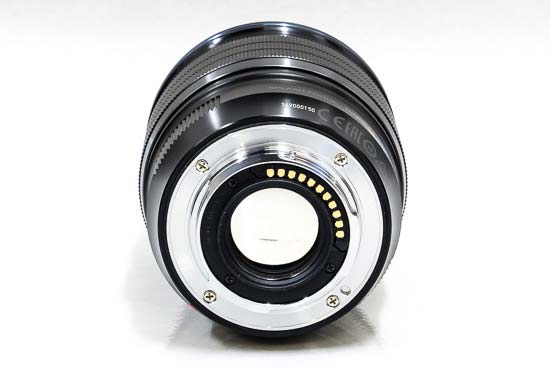 The Olympus M.ZUIKO Digital ED 45mm f/1.2 PRO lens has a 62mm filter diameter. A good quality lens hood is supplied in the box if you're shooting in bright conditions and want to shield the lens from direct sunlight.
Optical image stabilisation is not built-in to the Olympus M.ZUIKO Digital ED 45mm f/1.2 PRO lens, instead relying on in-camera stabilisation systems.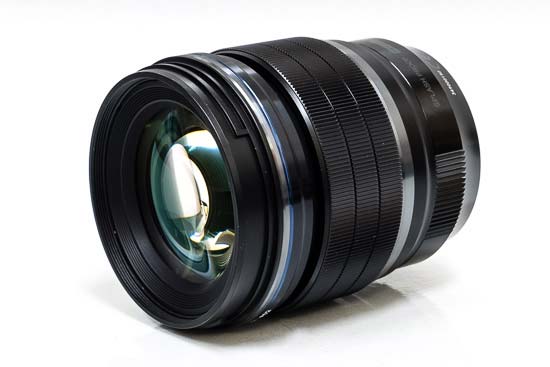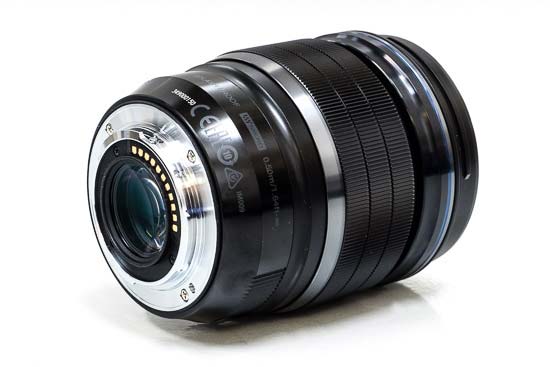 Chromatic Aberrations
Lateral chromatic aberrations, typically seen as blue or purple fringes along contrasty edges, are very well controlled with this lens – the example below shows the worst-case scenario you are likely to encounter.
Light Fall-off and Distortion
When shooting wide open at f/1.2, some obvious light fall-off is visible in the corners, as shown below. The effect is lessened by f/1.4, and again by f/2.0. By f/2.8 it's completely gone in JPEG images, with some slight shading visible in the raw file. You're far less likely to notice any light fall off, even when shooting at the maximum aperture, when it comes to normal subjects. There's almost no distortion visible in either the RAW files or the JPG files.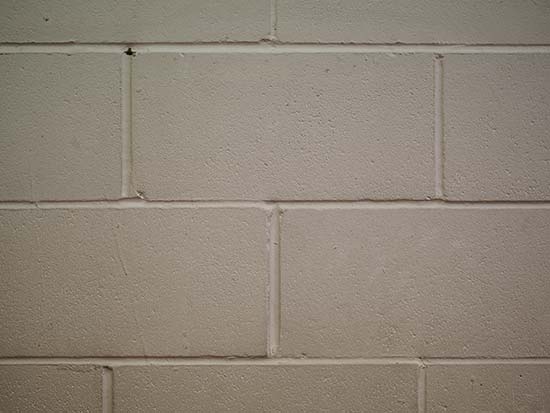 Macro
The Olympus M.Zuiko Digital ED 45mm f/1.2 PRO lens offers a minimum focusing distance of 0.2 metres and a maximum image magnification of 0.15x (0.30x in 35mm terms). It's not a true macro lens, but you can get relatively close to the subject, and thanks to the wide aperture, it makes for a good choice for traditional macro subjects, such as flowers.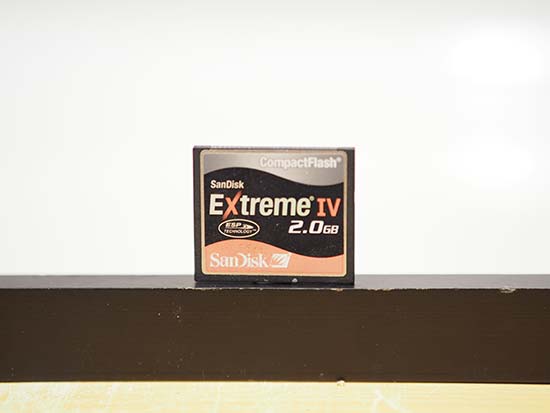 Bokeh
Bokeh is the term to describe the out-of-focus areas in an image. It can be described in various terms, including smooth, creamy, beautiful, harsh etc. The lens design comprises of 9 circular aperture diaphragm blades which results in a rounded, natural and very pleasing looking bokeh. Bokeh evaluation can be extremely subjective however, so we've included some examples for you to judge for yourself.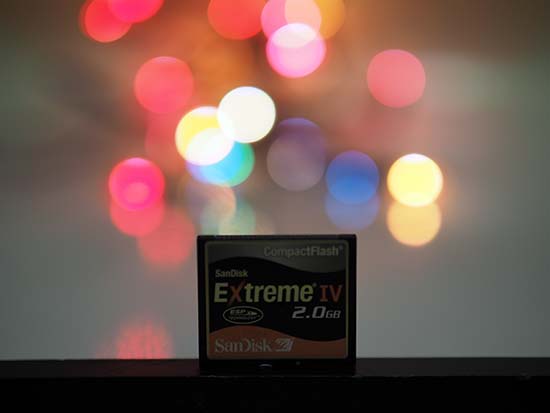 F/1.2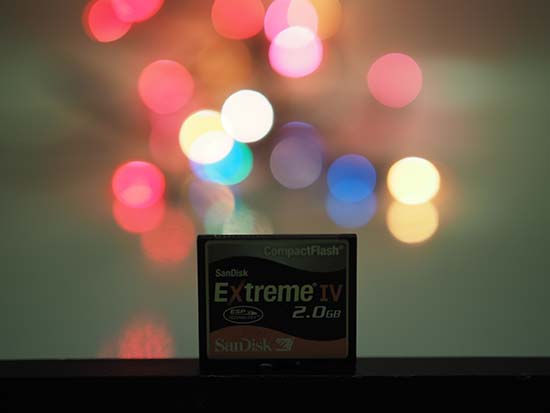 F/1.4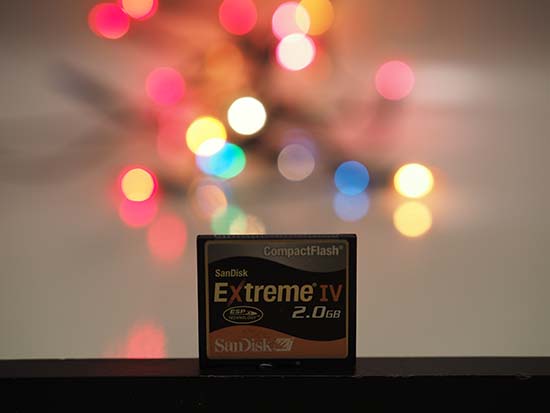 F/2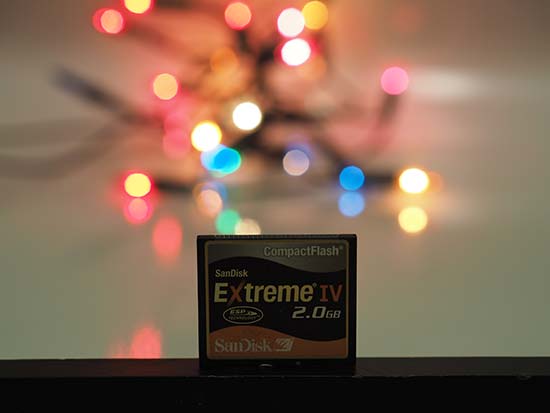 F/2.8
F/1.2. defocused
Sharpness
In order to show you how sharp this lens is, we are providing 100% crops on the following page.
Sharpness at 45mm
The sharpness tests for this review were carried out using a real-world subject rather than a test chart. The Olympus 45mm f1.8 lens was attached to an Olympus OM-D E-M5 Mark II body, which in turn was mounted on a sturdy tripod. The self-timer was activated. Slight tonal changes are due to slight changes in natural light during the session. The 100% crops represent about 1/300th of the total frame area.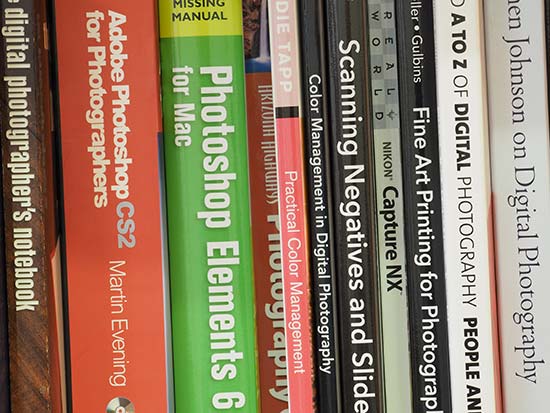 The full frame
In the frame centre, the lens is a little soft wide open, but commendably already tack-sharp at f/1.4. Impresively, the edges aren't very far behind. The "sweet spot" is f/2.8-f/5.6, but we would not hesitate to use it at any f-stop except f/16 where diffraction robs you of too much detail.
| | | |
| --- | --- | --- |
| Aperture | Centre Crop | Edge Crop |
| f/1.2 | | |
| f/1.4 | | |
| f/2 | | |
| f/2.8 | | |
| f/4 | | |
| f/5.6 | | |
| f/8 | | |
| f/11 | | |
| f/16 | | |
Sample Images
The thumbnails below link to full-sized samples taken with the Olympus M.ZUIKO Digital ED 45mm f/1.2 PRO lens mounted on a Olympus OM-D E-M5 Mark II body.
1/80s · f/5.6 · ISO 1600
1/100s · f/1.2 · ISO 1250
1/500s · f/1.2 · ISO 200
1/3200s · f/1.2 · ISO 200
1/250s · f/4 · ISO 200
1/100s · f/8 · ISO 400
Specifications
Application
Recommended Uses

Portrait
Allround
Architecture
Landscape
Low light
Nature
Sports
Travel
Focal Length
Focal length

45mm

Focal length (equiv. 35mm)

90mm
Lens Construction
Angle of view

27°

Closest focusing distance

0.5m

Lens configuration

14 elements 10 groups

Maximum image magnification

0.1x (Micro Four Thirds) / 0.2x (35mm format)

HR elements

4

ED lens elements

1

Aspherical glass elements

1

Lens mechanism

Inner focus
Aperture
Maximum aperture

1:1.2

Minimum aperture

1:16

Number of aperture blades

9 Circular aperture diaphragm for natural background blurring
Pro Features
Dust, splash & freezeproof

Yes

Lens Hood locking

Safety button

L-Fn Button

Yes

MF Clutch

Yes
Dimensions
Filter diamater

62mm

Length

84.9mm

Diameter

70mm

Weight

410g
Cover & Cap
Lens Cap

LC‑62F

Lens Hood

LH‑66B
Conclusion
The Olympus M.ZUIKO Digital ED 45mm f/1.2 PRO is a great addition to the expanding M.Zuiko F1.2 PRO prime lens series.
In terms of image quality, the Olympus M.Zuiko Digital ED 45mm f/1.2 PRO delivers outstanding results. It's just a little soft when shooting wide-open at f/1.2, but from f1/4 onwards it's pin-sharp both in the centre and at the edges of the frame. Bokeh is beautifully rendered thanks to the 9 circular aperture blades, whilst vignetting, distortion and chromatic aberrations are all very well controlled. Overall, there's very little to complain about in terms of the image quality.
And happily the same can also be said about the Olympus M.Zuiko Digital ED 45mm f/1.2 PRO's build quality. At 410g, it doesn't weigh too much for a medium telephoto prime, and we found that it was well-balanced in use even on a smaller camera like the OM-D E-M5 II, unlike some of the other PRO lenses. When comparing it to a 90mm lens for a APS-C or full-frame sensor camera, the Olympus M.Zuiko Digital ED 45mm f/1.2 PRO is pretty small indeed. Focusing is reliably quick and accurate, while manual focusing is made very easy by the snap focusing ring and smooth, damped mechanism.
All of this excellence does come at a literal cost, though – £1199 / $1299 to be precise – making it more likely to be bought by professionals than enthusiasts, who should also consider the Olympus 45mm f/1.8 lens, one of the smallest and lightest lenses in the Micro Four Thirds system and much more affordable than this new f/1.2 version. Still, if you can afford it, then we can highly recommend the Olympus M.ZUIKO Digital ED 45mm f/1.2 PRO lens.
(photographyblog.com, https://goo.gl/VxvuA8)
Comments
comments