When mirrorless cameras from Sony, Fujifilm, Olympus and Panasonic first began to seriously threaten the DSLR market share a few years ago, the obvious question was how long it would take for the two heavy-hitters in the industry – Nikon and Canon – to jump onto the mirrorless bandwagon.*
Well, one of the two giants has finally made the leap by introducing two high-end mirrorless models: the Nikon Z6 and Z7. The former is a jack-of-all-trades whereas the latter, with its 45.7MP sensor, is designed to deliver the best resolution possible.
In this comparison preview, we're going to be looking at all the ways the Nikon Z7 model compares to one of its main DSLR rivals, Nikon's own D850. Despite housing an high-resolution back-illuminated sensor, there are multiple differences that could push you in the direction of one or the other. Let's take a look at them now.
What they have in common:
full-frame CMOS sensor with 45.7MP and back-illumination
64 to 25600 ISO range with extended values down to 32 / up to 102400
similar menu system
3.2-inch touch-sensitive rear LCD with 170° viewing angle
1/8000 – 30s shutter speed range
WiFi and Bluetooth connectivity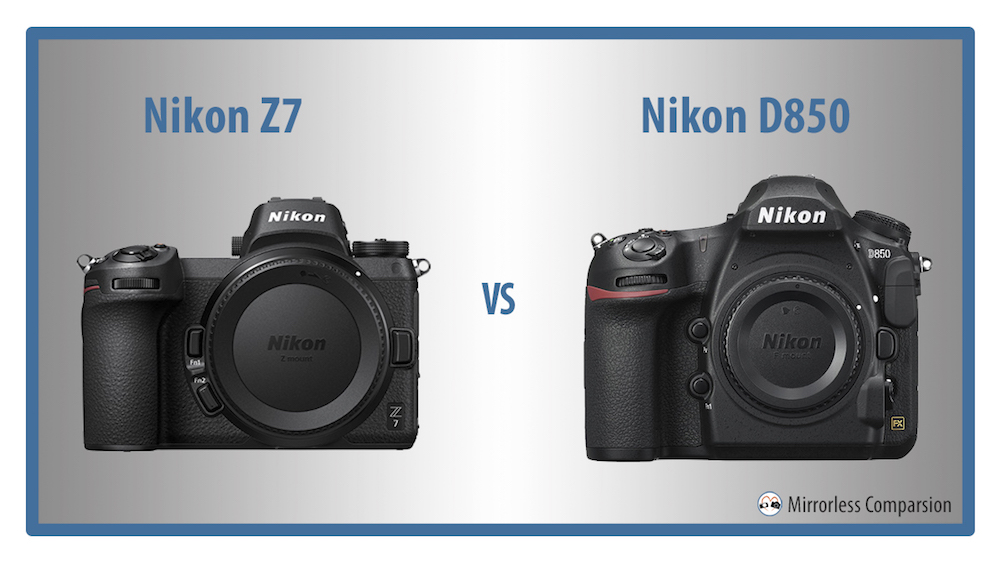 1. Mirrorless vs DSLR
We already touched upon this first difference in the introduction but given that it is one of the main characteristics that sets the Z7 and D850 apart, it is worth briefly reiterating the differences between the two systems.
DSLRs, which is short for digital single-lens reflex cameras, have been the standard for professional photography ever since the early 2000s when digital largely replaced film and the popular SLRs. Featuring an interchangeable lens design, they use a mirror to direct the light that travels through the lens to the finder and autofocus sensor.
Mirrorless cameras feature an interchangeable lens mount just as DSLRs do, but as the name clearly suggests, they don't feature the same elaborate internal mirror system, nor do the vast majority have an optical viewfinder. This means that it is easier for the manufacturers to make them smaller, lighter, more silent and mechanically speaking, less complex than DSLRs. Unlike DSLRs, mirrorless cameras allow light to pass directly through the lens onto the image sensor. The image is then displayed on the screen of the rear monitor and/or electronic viewfinder.
Advantages of mirrorless systems include live view through the EVF, on-chip phase detection autofocus for video recording, a larger array of AF points, and faster shutter speeds with the electronic shutter (though not on every model). DSLRs on the other hand still reign supreme when it comes to lens/accessory selection and battery life, in addition to having a viewfinder with zero lag time.
2. EVF vs optical viewfinder
As we mentioned above, the new Z7 features a built-in electronic viewfinder whereas the D850 has a traditional optical viewfinder.
The Z7 finder has an electronic OLED panel with 3.69 million dots of resolution, 0.8x magnification, a 21mm eyepoint and 100% field of view. We had the chance to try it out at the Nikon press event in the UK and our first impressions were very positive: it is large, bright and very enjoyable to use.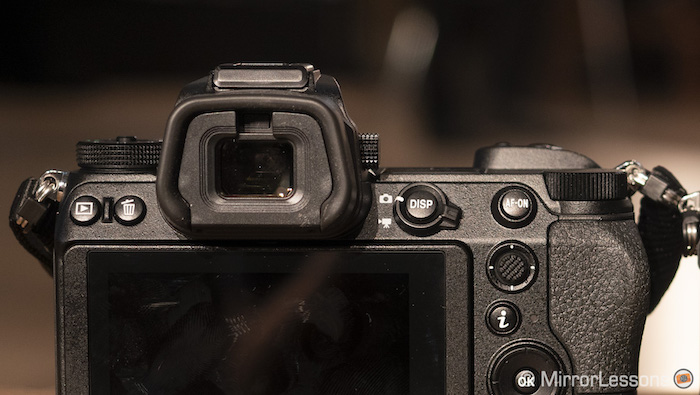 The D850 uses an optical finder with 0.75x magnification, a 17mm eyepoint and 100% field of view in FX mode.
3. Lens mount
One of the most interesting features of the Z series is the larger mount. The diameter is 55mm which is quite a bit larger than the 44mm mount of the D850's F-mount.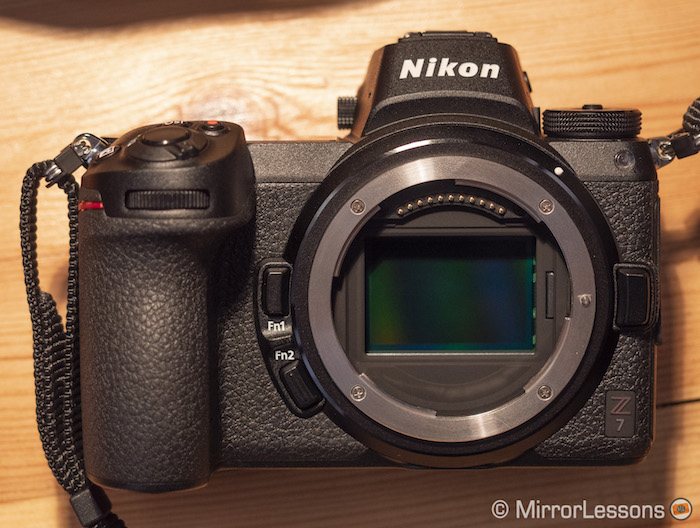 According to Nikon, the larger mount is there to accommodate high quality glass such as the upcoming f/0.95 series of lenses, the first of which will be the 58mm f/0.95 Z-Noct prime. Thanks to the close flange-to-sensor distance of just 16mm, Nikon should be able to keep the lenses relatively compact without compromising on higher performance.
In a way, you could say that Nikon is future-proofing its mirrorless range by placing such a strong emphasis on optical quality. If the upcoming Z lenses really are as good as promised, we could see many photographers embrace the Z system before long.
4. Memory card slots
Something that came as a surprise to us all was the lack of a dual memory card slot on the Z7 and its sibling the Z6. For years users campaigned for dual card slots on high-end mirrorless bodies, and now that we've got them, it seems strange for Nikon to ignore this key detail on their flagship mirrorless product. The single slot it does have is an XQD type.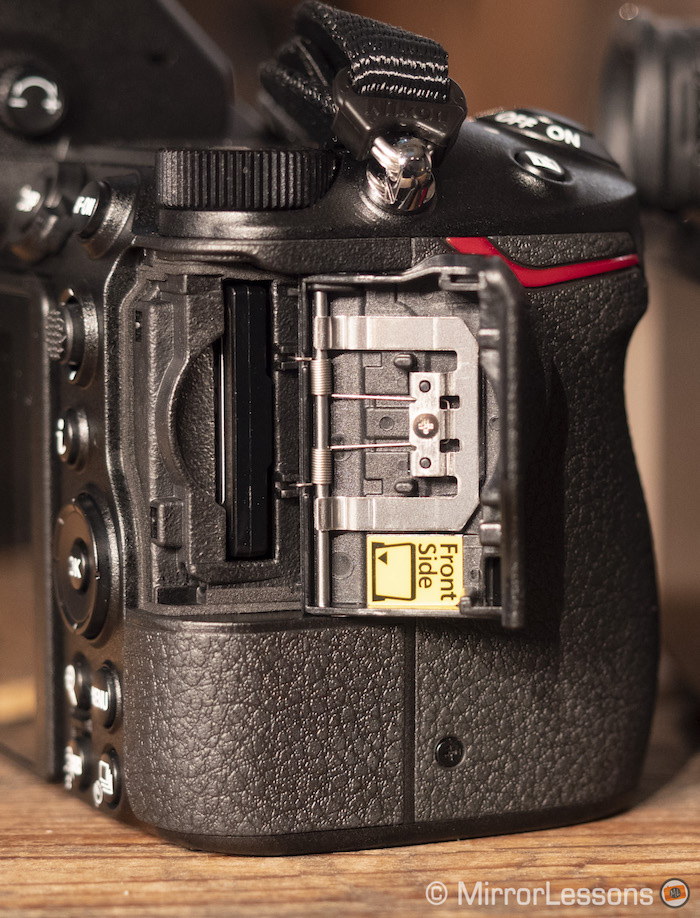 The D850 has two slots: an XQD slot and a standard SD slot that is UHS-II compliant. Either slot can be used for primary or back-up storage, or for separate storage of RAW (NEF) and JPG files. Images can also be copied between cards.
5. Design
Adding to what we've already mentioned, there are also a number of other physical differences between the two cameras.
Most obvious are the size and weight. The D850 is built like a tank, with a magnesium alloy chassis, full weather-sealing and a bulky design. If there was one camera I'd choose to drop from a tall building and bet on its survival, this would be it!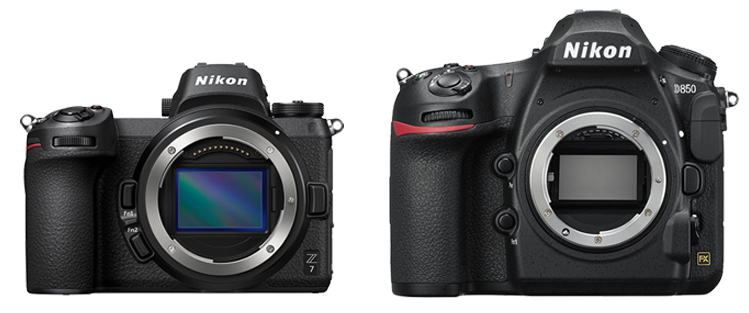 The Z7 also has a magnesium alloy construction with full weather sealing, as well as fluorine coating on the EVF to help repel dust, but it is much lighter and more compact than its DSLR counterpart. You can see the exact differences in their measurements below:
Nikon Z7: 675g (with card and battery); 134 x 100.5 x 67mm
Nikon D850: 1005g (with card and battery); 146 x 124 x 78.5mm
Whereas the D850 has a number of buttons on top for various settings, the Z7 has a traditional mode dial.

The two cameras share an AF joystick to move the autofocus point, a screen on top that displays the settings in use, twin command dials, a circular control pad, a hot shoe, various buttons around the body including the I button, audio input/output ports and a Type C HDMI connector.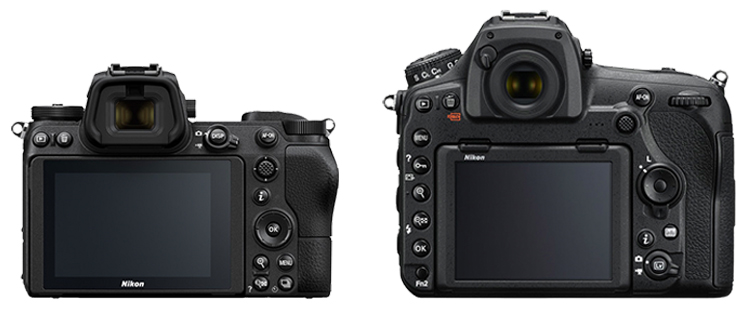 Only the D850 has a ten-pin remote terminal for remote control and high speed USB and micro USB connectors. The Z7 by contrast has a SuperSpeed USB connector (Type C).
6. In-body stabilisation
A feature that has become commonplace on nearly all high-end mirrorless cameras is in-body stabilisation, usually on 5 axes. The Z7 doesn't disappoint in this regard: it offers 5-axis stabilisation with 5 stops of compensation with native lenses, and 3 axis stabilisation with adapted lenses. It also works for video. What's more, you can lock the sensor in place when cleaning or transporting the camera.
Just how well the stabilisation performs in comparison to other mirrorless systems has yet to be seen but our first impressions at the press event were positive.
The D850 relies entirely on the optical stabilisation of F-mount lenses. These lenses can be identified by the VR (vibration reduction) label on the side of the barrel.
7. Autofocus system
The Z7 features on-sensor phase detection with 493 points that cover approximately 90% of the sensor. It has more points than the D850 which features 153 phase detection points (including 99 cross-type sensors) of which 55 are available for selection.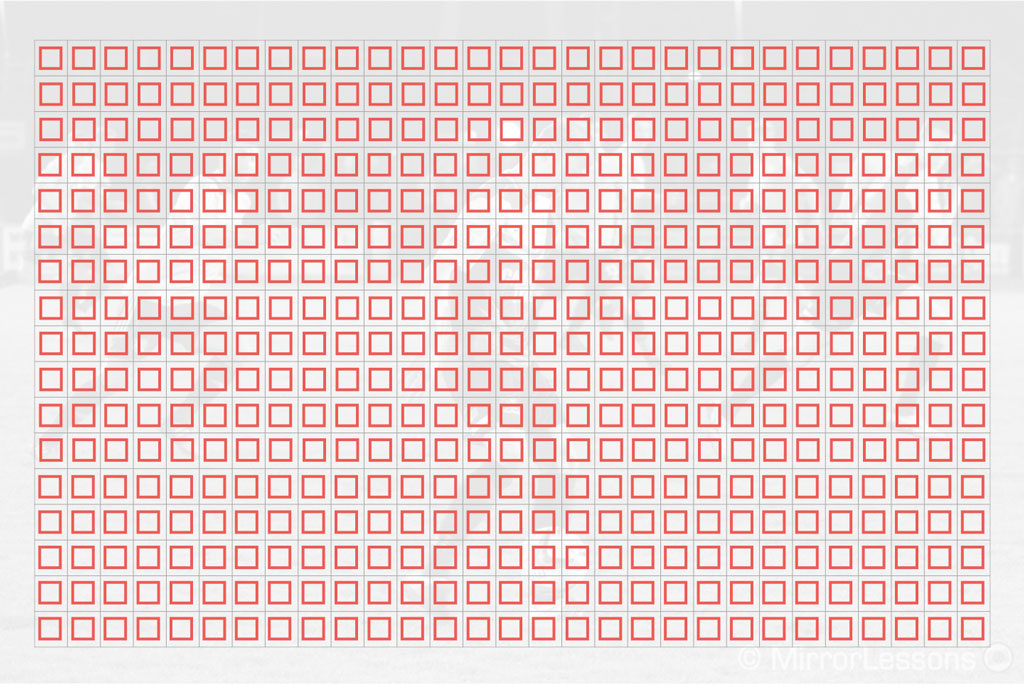 Z7: 493 phase detection points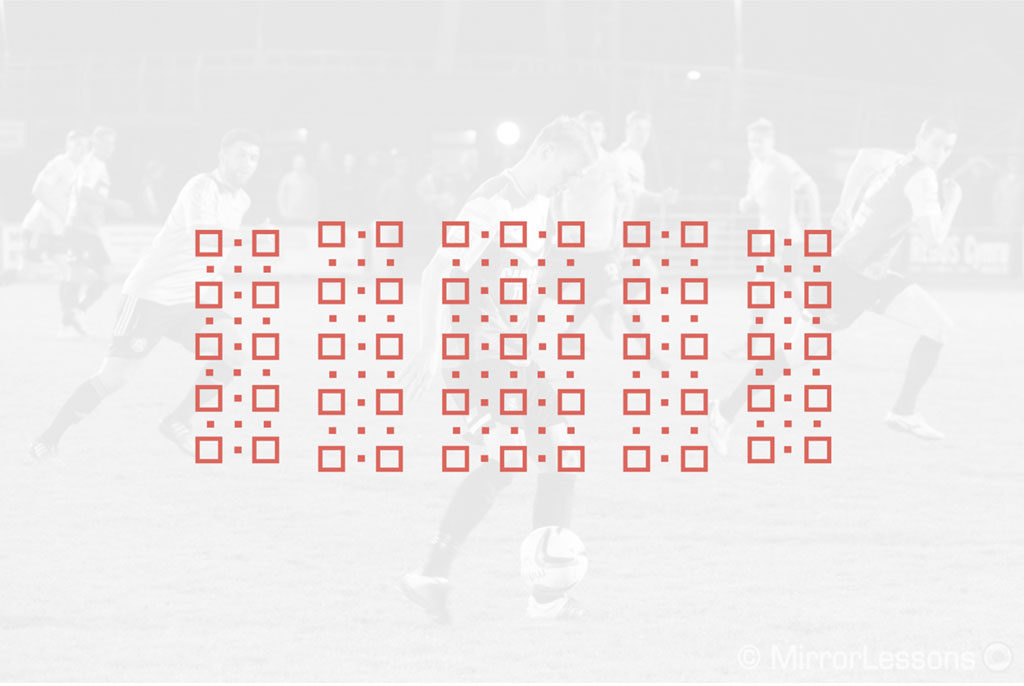 D850: 153 phase detection points
When testing the Z7 at the Nikon press event, we were impressed by the locking speed and reactivity of the autofocus, though it is too early to say if it is better or worse than the D850. Unfortunately we couldn't bring home any samples to check the accuracy in continuous shooting mode, but what we saw is definitely promising. Although we've never tried the D850 ourselves, most reviewers are extremely positive about its performance.
Also worth mentioning is that Nikon has developed its own FTZ adapter meant for use with the existing range of Nikkor lenses. It offers full compatibility with autofocus for 93 lenses and partial compatibility for more than 300 lenses. We briefly tested it with the 24-70mm f/2.8 and the new 500mm f/5.6 and we were pleased to see that they had a similar level of reactivity as the native Z lenses.
Both cameras can detect faces but lack an eye detection mode.
8. Continuous shooting and buffer depth
The Z7 has a slight advantage when it comes to continuous burst shooting. It has a maximum speed of 9fps – albeit with just 12-bit RAW and no AE – whereas the D850 can only reach 9fps with the MB-D18 battery grip. Without the grip, it can go up to 7fps with AE and 14-bit RAW.
By reducing the speed to 5.5fps on the Z7, you can access live view with blackouts and 14-bit RAW.
As for the buffer, the D850 averages 51 RAW shots in a burst in FX mode (or unlimited shooting in DX crop or JPG mode) whereas the Z7's exact buffer depth is still unknown. When we tried the camera ourselves, we weren't overly impressed by the performance. Even after shooting just a short burst of JPGs, the camera would slow down. That said, we were working with a pre-production model, so it is possible that the final product will deliver more impressive results.
9. Video
The video specifications of the two cameras aren't all that different but there are a few points worth mentioning. Both can shoot in 4K up to 30fps but the D850 offers a higher bitrate of 144mbps. (The Z7 offers a very respectable 100mbps.)
In Full HD, the maximum frame rate is higher on the Z7 than the D850 (120fps vs 60fps).
The Z7 offers 4:2:2 10-bit recording with the new N-Log super flat profile, whereas the D850 is limited to 8-bit and lacks the video-specific profile. (Note that output via HDMI has to go to an external recorder.)
While the Z7 allows for focus peaking for video in 4K and Full HD, it is only possible to use it in Full HD on the D850.
Both cameras allow you to film 4K time-lapses in camera and 8K time-lapses that must be exported to a third-party software for compilation.
10. Battery life
Most DSLRs generally offer a long lasting battery life and the D850 is no exception. It has a CIPA rating of 1840, although you should be able to achieve more than that out in the field.
The Z7 by comparison has a rating of 330 shots per charge, which is the result of power-hungry features such as in-body stabilisation, EVF and live view eating through the battery life more rapidly.
The D850 uses the EN-EL15a battery pack whereas the Z6 has a new EN-EL15b type.
Conclusion
The Z7 and D850 are equally-matched flagships cameras within the Nikon range that have been designed for two different kinds of users.
The D850 is ideal for those seeking a reliable and rugged body that will never let them down in the field regardless of the conditions. It's weather-sealed construction is top-notch, it has an excellent battery life even without a battery grip, the OVF is large and bright, and it doesn't require an adapter to use Nikon's wide selection of lenses.
The Z7 on the other hand is an exciting step into uncharted territory for Nikon. It includes many of the innovative technologies already seen on other mirrorless cameras including a bright high resolution EVF, in-body stabilisation on 5 axes and 4K/30p recording, as well as one of the largest mounts ever seen on an interchangeable lens body. But perhaps the most exciting thing about this camera, and the Z series in general, is what it promises in terms of the future of optics. If the f/0.95 series of lenses really is as sharp as Nikon claims, many users who require fast apertures for their work, such as portrait or wedding photographers, may decide to transition over from their current system in the future.
(mirrorlesscomparison.com, http://bit.ly/2P6fT5M)
Comments
comments