Introduction
The Nikon Coolpix B500 is a bridge camera with a 16 megapixel sensor, which is paired with a 40x optical zoom. You can also activate a digital zoom up to 80x. It offers a range of shooting modes, but there's no manual control, and it can't shoot in raw format. As such, the intended target audience is beginners and possibly enthusiasts looking for a simple backup or travel camera. Like many of Nikon's most recent cameras, it features SnapBridge technology, which allows you to maintain a constant Bluetooth link with your smartphone to send images across as you take them, ready to share on social networking sites and the like. Other interesting features include a 3.0-inch tilting screen, which features a 921k-dot resolution, inbuilt Wi-Fi and Full HD video recording. The Nikon Coolpix B500 retails for $299 / £219.
Ease of Use
The Nikon Coolpix B500 is a mid-sized bridge camera, being not the smallest in size on the market, but also far from the largest.
It has a chunky hand grip that protrudes quite far from the body and makes it feel pretty secure in the hand. It is also textured which helps to add to an air of quality about the camera. The rest of the camera is not textured.
Being reasonably lightweight, it's possible to hold the camera one-handed to get your shot, but you may find that using your other hand to hold the camera steady feels more natural and comfortable.
On the top of the Nikon Coolpix B500 you'll find a dial for switching between the various shooting modes that the camera offers. There's no manual modes available here, but there's quite a few options placed on the dial for you to choose from. This includes fully automatic, scene, creative, movie mode and more.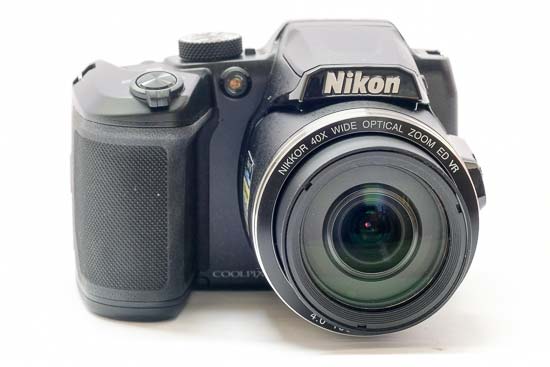 Front of the Nikon Coolpix B500
Also on the top of the Nikon Coolpix B500 is a zoom rocker which is found around the shutter release. You can push this to move from wide angle to telephoto, but there's also another way to alter the zoom length if you prefer. On the side of the lens there's another switch which you can push up and down to zoom in and out.
Next to this zoom switch is a button which is very useful for helping to frame shots when using longer focal lengths. If you press it, and keep it held down, the zoom will lens out, allowing you to find any subject that may have moved out of shot. When you've found the subject again, release the button and the zoom will move back in to the same focal length as you were previously using.
A inbuilt flash is found on the top of the Nikon Coolpix B500 also. There's a button to press to raise it, which you'll need to do since it won't pop up automatically. When you're done using it, you simply push the flash back into place.
Moving to the back of the camera, all of the buttons here are placed on the right hand side of the camera meaning you have easy access with your right thumb – especially useful if you have decided to shoot one-handed.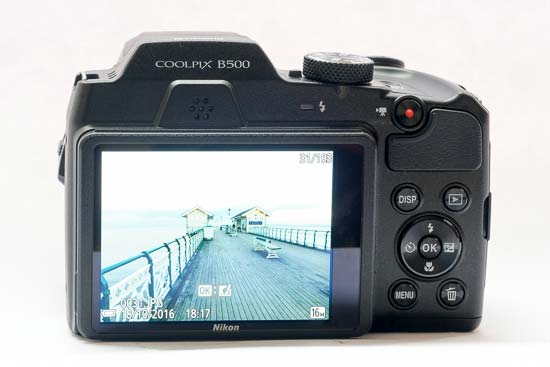 Rear of the Nikon Coolpix B500
The layout here is pretty traditional. There's a four way navigational pad, with each button having its own particular function – there's up to control flash mode, down to switch on macro shooting, left to use the timer, and right to adjust exposure compensation. In the centre of the navigation pad is an OK button, which you can use for various menu functions and so on.
Around the navigational pad are four buttons, again each with a specific purpose. There's a playback button, a display button, a menu button and a delete button. Just above the rear thumb rest is also a direct video record button, which is hidden away just enough to mean you shouldn't accidentally press it when you don't want to, but still within easy reach when you need it.
The rear screen tilts up and down, pulling slightly away from the body on its bracket. You can't face it forward for selfies, or use it in portrait format, but it's still never-the-less useful for some awkwardly angled shots. The screen is not touch sensitive.
Despite its name, the fully automatic mode actually gives you the most amount of control over camera settings. While you can't change aperture or shutter speed, it's possible to change white balance and ISO sensitivity. You can also leave both of these settings in automatic too, if you prefer.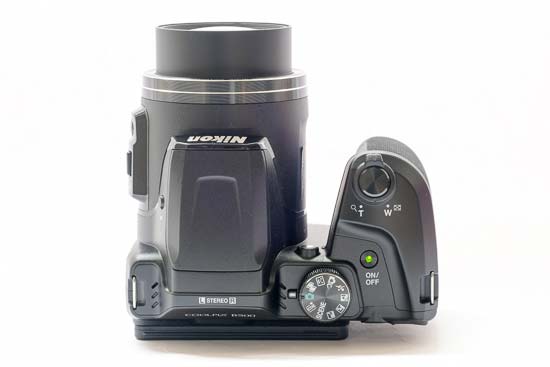 Top of the Nikon Coolpix B500
If you want to, you can change the AF setting to allow you to set your own AF point. Alternatively you can have the Nikon Coolpix B500 decide one for you, track a subject, or always use the central point. Once you have selected "Manual" AF point, in normal shooting mode you can press OK, then use the navigational keys to move around the screen to the point you want to focus on.
Also available in this menu is the ability to change image mode, continuous shooting, and more. You'll also find some different movie options, such as frame rate and so on. You can change some settings such as date and time from this main menu too, as well as access the connection settings.
The Coolpix B500 uses Nikon's Snapbridge technology, which means that you can set up a low power Bluetooth connection with your smartphone that is constantly maintained. This means that images are sent across as you take them, ready for you to share online if you choose. The camera also has Wi-Fi, which is quicker for sending larger size photos across to your phone than Bluetooth. If you're using SnapBridge its best to set the images to be transferred at a smaller size than full resolution for better speed.
A few of the other modes on the mode dial are also quite interesting. If you select Creative Mode, you'll be able to choose from a selection of different "sets". Take the picture, and the camera will take one as normal, but also apply four different filters to the shot. You can choose between sets such as "Light", "Memory", "Classic", "Noir" and so on.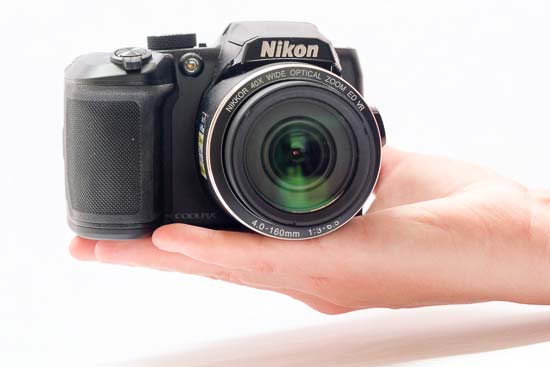 The Nikon Coolpix B500 In-hand
Short Movie Show is also quite fun for events and so on. You can use it to create short clips of a couple of seconds, then amalgamate them all into one video – everything is done automatically in-camera.
The Nikon Coolpix B500 is powered by AA batteries. This will be liked by some, but hated by others. On the plus side, should you run out of battery power, you should have no problem finding a replacement set in a shop wherever you are in the world. However, it also means that you'll always be paying out for new batteries. It may be worth investing in a set of rechargeable batteries to save money in the long run.
In good light, focusing speeds are generally pretty quick, and usually accurate. With macro focusing, it can take a couple of attempts to get it right, so you should be careful when attempting to take close-up shots that the camera has correctly focused. That said, the camera does allow you to get very close indeed, which can be useful.
When the light drops, it takes a little longer for focus to be acquired, but it generally gets there in the end. Normal operational speeds are reasonable for everyday usage, but when you're using something like Short Movie Show you may get frustrated with how long it takes the Nikon Coolpix B500 to process each clip.
Image Quality
As with many  bridge cameras of this type and design, the Nikon Coolpix B500 performs at its best in bright, clear light. If you're looking for a holiday camera that you will mainly use in these conditions, you should be pleased with the output that it is capable of.
In good conditions, images are well detailed, with vibrant colours and nice saturation. There's not too much image smoothing to be noticed at normal viewing and printing sizes, and for something which is aimed at beginners, it's very pleasing.
There's also quite a bit of fun to be had with the Creative Mode, which is worth experimenting with if you're a fan of digital filters and the like.
Having a 40x optical zoom is useful when you're trying to get closer to the subject, and here it performs reasonably well. Images taken at the far end of the telephoto optic aren't quite as good as those taken at the wide angle end, but they're still more than usable. The digital zoom is best avoided if it at all possible, as you'll see a degradation in image quality.
It's worth switching on image stabilisation when you are photographing at longer telephoto lengths as this will help to ensure your shots are as blur free as possible.
Generally speaking, exposures are well balanced, with all-purpose metering doing a good job to get it right in the majority of occasions.
Images taken up to ISO 1600 look good at normal printing sizes, but you may want to avoid ISO 3200 and ISO 1600 if at all possible, as using these speeds reveals noise and a painterly look thanks to image smoothing.
Noise
The Nikon Coolpix B500 has seven sensitivity settings ranging from ISO 125 to ISO 6400 at full resolution.
| | |
| --- | --- |
| ISO 125 (100% Crop) | ISO 200 (100% Crop) |
| | |
| | |
| ISO 400 (100% Crop) | ISO 800 (100% Crop) |
| | |
| | |
| ISO 1600 (100% Crop) | ISO 3200 (100% Crop) |
| | |
| | |
| ISO 6400 (100% Crop) | |
| | |
Focal Range
The Nikon Coolpix B500's 40x zoom lens achieves a maximum wide-angle focal length equivalent to 22.5mm, and is capable of a telephoto reach of 900mm (in 35mm-camera terms).
22.5mm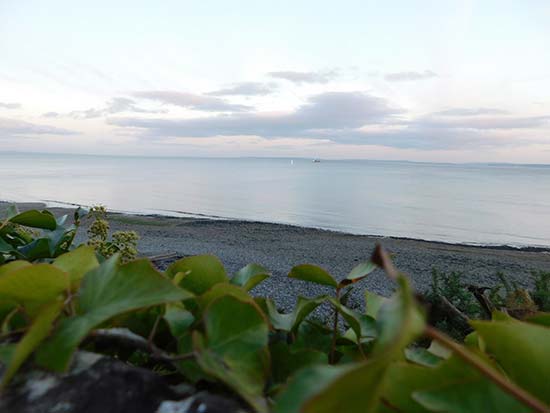 900mm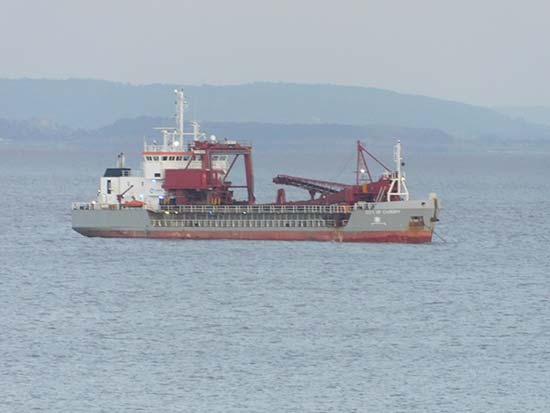 Sharpening
Here are two 100% crops – the right-hand image has had some sharpening applied in Photoshop. The out-of-the camera images from the Nikon Coolpix B500 are slightly soft at the default sharpening setting and benefit from some further sharpening in a program like Adobe Photoshop. You can alternatively change the in-camera sharpening level to suit your tastes.
Chromatic Aberrations
Given the range of the zoom lens, the Nikon Coolpix B500 shows some obvious purple fringing in areas of high contrast, as shown in the examples below.
Macro
The Nikon Coolpix B500's lens will focus as close as 1cm from a subject, however depth of field becomes very shallow at this extremely close distance.
Macro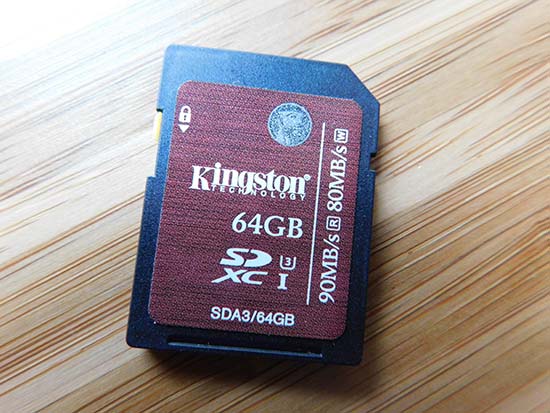 Flash
The pop-up flash on the Nikon Coolpix B500 has four settings: Auto, Auto with red-eye reduction, Fill flash & Slow sync. Shooting a white surface from a distance of 1.5m, the flash provides even coverage with the lens zoomed in, though some vignetting is visible in the wide-angle shot.
| | |
| --- | --- |
| Flash Off – Wide Angle (22.5mm) | Flash On – Wide Angle (22.5mm) |
| | |
| | |
| Flash Off – Telephoto (900mm) | Flash On – Telephoto (900mm) |
| | |
Whether the flash is set to standard Auto mode – or Auto with red-eye reduction – the camera successfully avoids any trace of red-eye.
Fill Flash On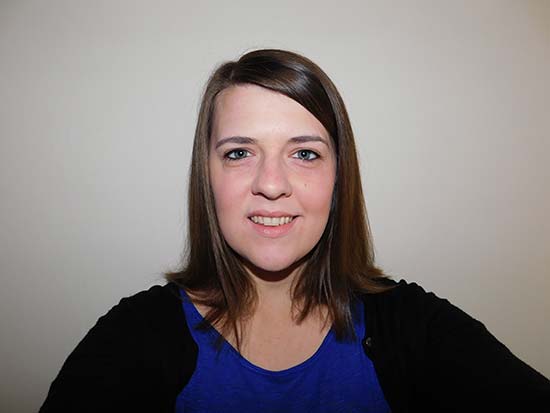 Flash Auto with red-eye reduction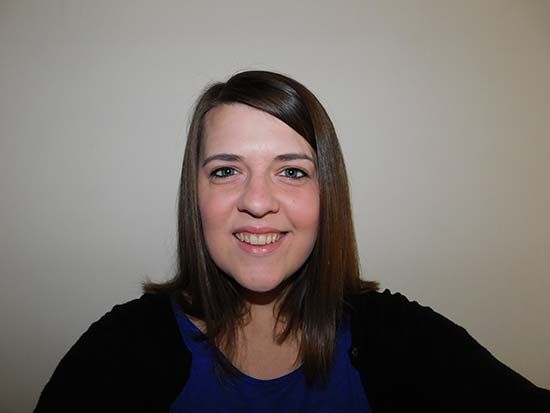 Panoramas
The Nikon Coolpix B500's Easy Panorama mode combines multiple shots into a seamless 180- or 360-degree panorama.
180-degree

360-degree

 Sample Images
This is a selection of sample images from the Nikon Coolpix B500 camera, which were all taken using the 16 megapixel High JPEG setting. The thumbnails below link to the full-sized versions, which have not been altered in any way.
1/0s · f/0 · ISO 125 – 23mm
1/0s · f/0 · ISO 400 – 23mm
1/0s · f/0 · ISO 125 – 23mm
1/0s · f/0 · ISO 250 – 23mm
1/0s · f/0 · ISO 180 – 80mm
1/0s · f/0 · ISO 800 – 440mm
1/0s · f/0 · ISO 125 – 115mm
Product Images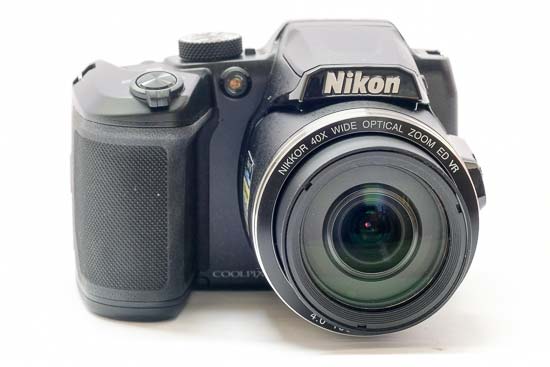 Front of the Nikon Coolpix B500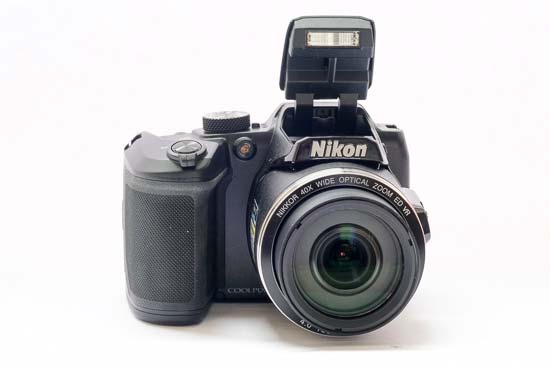 Front of the Nikon Coolpix B500 / Flash Raised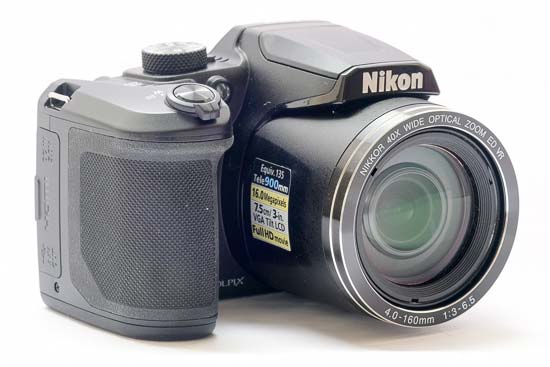 Side of the Nikon Coolpix B500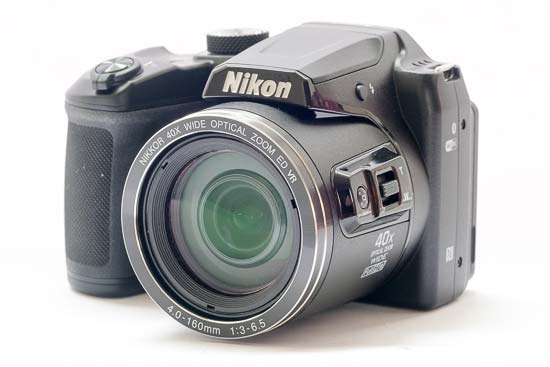 Side of the Nikon Coolpix B500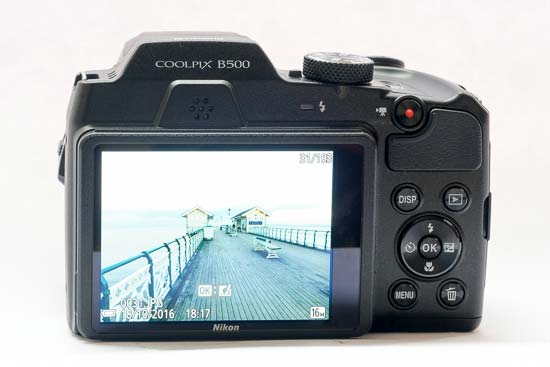 Rear of the Nikon Coolpix B500 / Image Displayed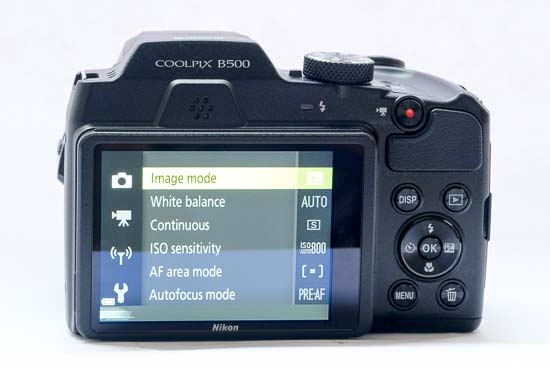 Rear of the Nikon Coolpix B500 / Main Menu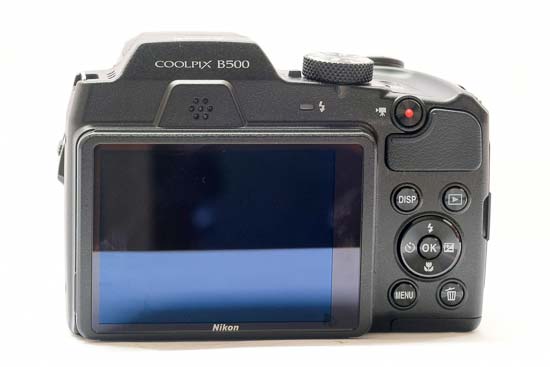 Rear of the Nikon Coolpix B500 / Turned Off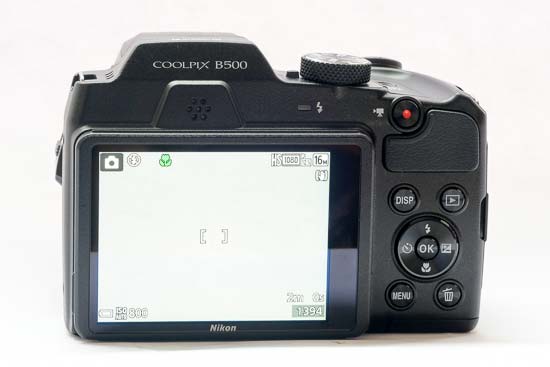 Rear of the Nikon Coolpix B500 / Turned On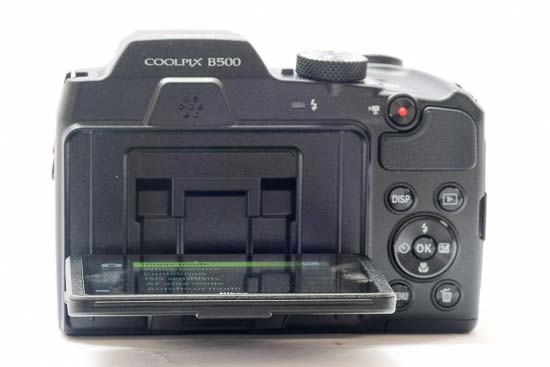 Rear of the Nikon Coolpix B500 / Tilting LCD Screen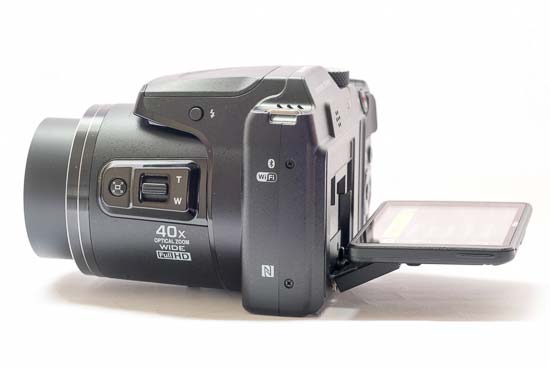 Rear of the Nikon Coolpix B500 / Tilting LCD Screen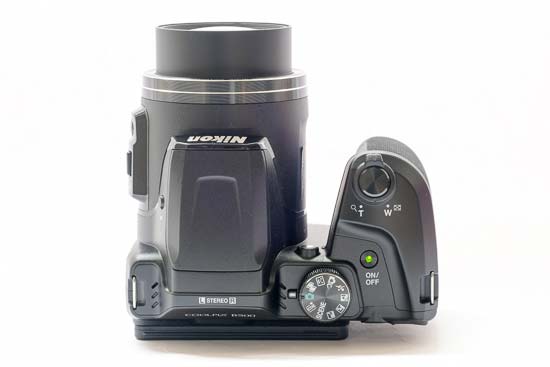 Top of the Nikon Coolpix B500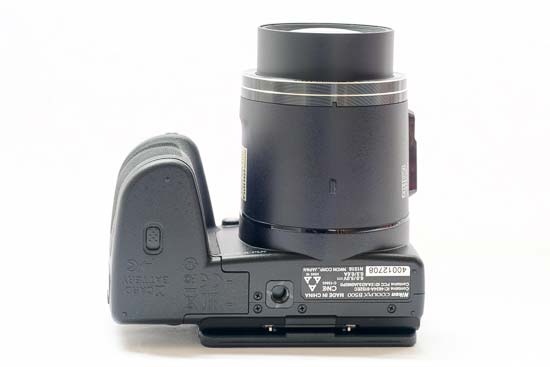 Bottom of the Nikon Coolpix B500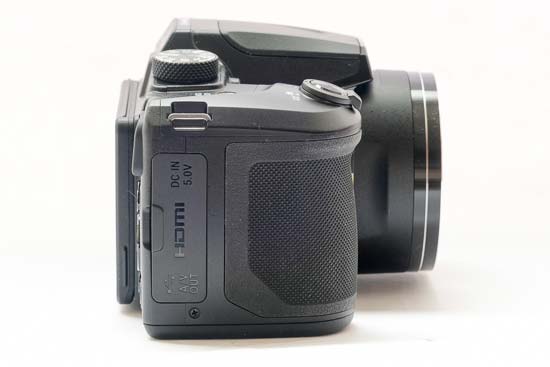 Side of the Nikon Coolpix B500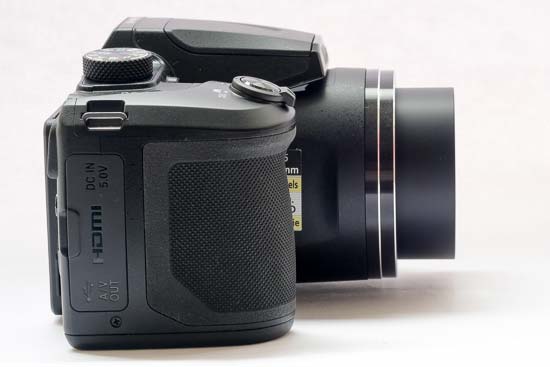 Side of the Nikon Coolpix B500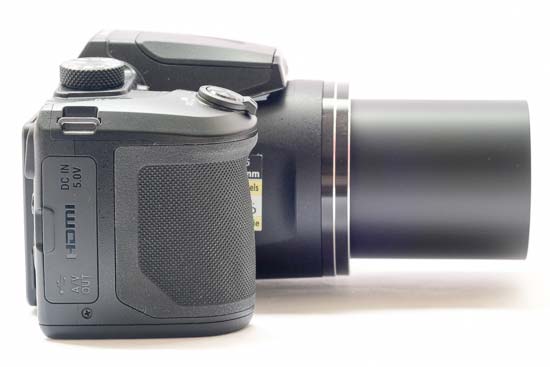 Side of the Nikon Coolpix B500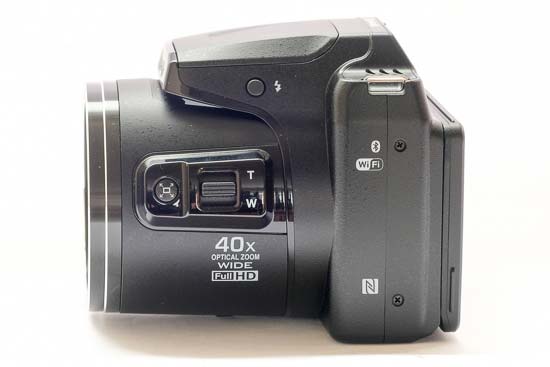 Side of the Nikon Coolpix B500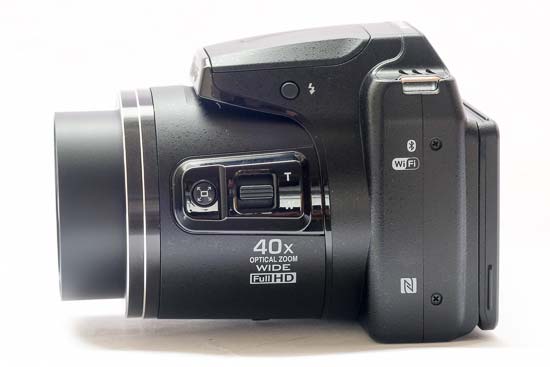 Side of the Nikon Coolpix B500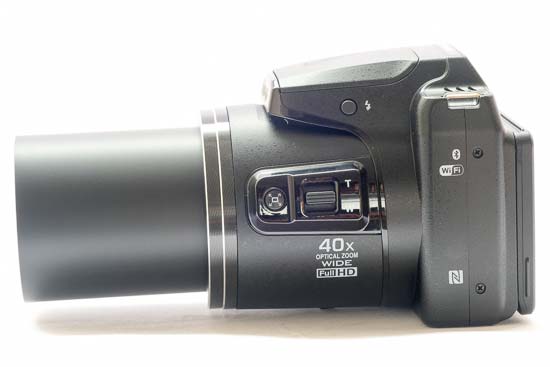 Side of the Nikon Coolpix B500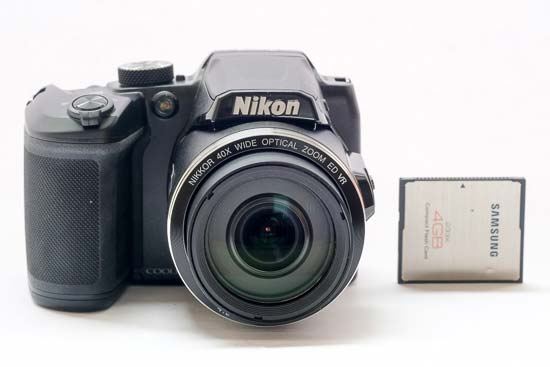 Front of the Nikon Coolpix B500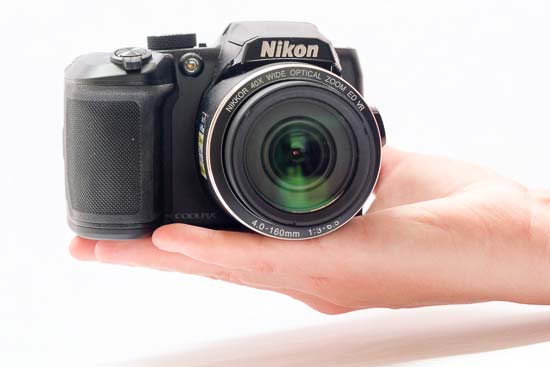 Front of the Nikon Coolpix B500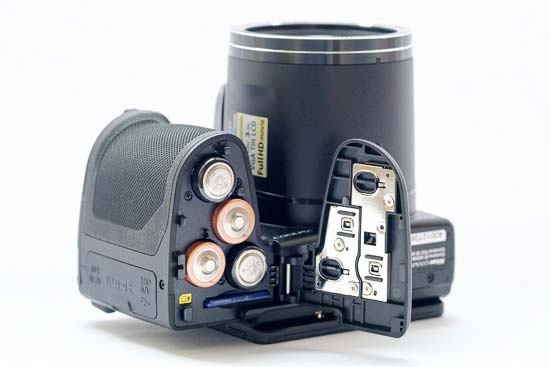 Memory Card Slot / Battery Compartment
Specifications
Type
Compact digital camera

Effective pixels
16.0 million (Image processing may reduce the number of effective pixels.)

Image sensor
1/2.3-in. type CMOS, Total pixels: approx. 16.76 million

Lens
NIKKOR lens with 40x optical zoom

Focal length
4.0 to 160 mm (angle of view equivalent to that of 22.5 to 900 mm lens in 35 mm [135] format)

Lens construction
12 elements in 9 groups (3 ED lens elements)

Magnification
Up to 4x (angle of view equivalent to that of approx. 3600 mm lens in 35 mm [135] format)

Vibration reduction
Lens-shift VR (still images), Lens shift and electronic VR (movies)

Autofocus
Contrast-detect AF

Focus range
[W]: Approx. 30 cm (1 ft) to infinity, [T]: Approx. 3.5 m (11 ft) to infinity, Macro mode: Approx. 1 cm (0.4 in.) to infinity (wide-angle position) (All distances measured from center of front surface of lens)

AF-area mode
Face priority, manual with 99 focus areas, center, subject tracking, target finding AF

Monitor
7.5 cm (3-in.) diagonal, Approx. 921k-dot, wide viewing angle TFT LCD with anti-reflection coating and 5-level brightness adjustment, tiltable approx. 85° downward, approx. 90° upward

Frame coverage
Approx. 99% horizontal and vertical (compared to actual picture)

Frame coverage (playback mode)
Approx. 99% horizontal and vertical (compared to actual picture)

Storage media
SD, SDHC, SDXC, Internal memory (approx. 20 MB)

File system
DCF and Exif 2.3 compliant

Storage file formats
Still images: JPEG, Movies: MP4 (Video: H.264/MPEG-4 AVC, Audio: AAC stereo)

Image size (pixels)
16M (High) [4608 x 3456 (Fine)], 16M [4608 x 3456], 8M [3264 x 2448], 4M [2272 x 1704], 2M [1600 x 1200], VGA [640 x 480], 16:9 [4608 x 2592], 1:1 [3456 x 3456]

ISO sensitivity
ISO 125 to 1600, ISO 3200, 6400 (available when using Auto mode)

Exposure metering
Matrix, center-weighted (digital zoom less than 2x), spot (digital zoom 2x or more)

Exposure control
Programmed auto exposure and exposure compensation (–2.0 to +2.0 EV in steps of 1/3 EV)

Shutter type
Mechanical and CMOS electronic shutter

Shutter speed
1/1500 to 1 s, 1/4000 s (maximum speed during high-speed continuous shooting), 25 s (Star trails of Multiple exp. Lighten scene mode)

Self-timer
10 s, 2 s, 5 s (self-portrait timer)

Aperture
Electronically-controlled ND filter (–2 AV) selection

Aperture range
2 steps (f/3 and f/6 [W])

Flash range (approx.)
[W]: 0.5 to 6.9 m (1 ft 8 in. to 22 ft), [T]: 3.5 m (11 ft)

Flash control
TTL auto flash with monitor preflashes

USB
Hi-Speed USB, Supports Direct Print (PictBridge), Audio/video output connector (NTSC or PAL can be selected)

HDMI output
HDMI micro connector (Type D)

Audio input
Stereo mini-pin jack (3.5-mm diameter; plug-in power supported)

Audio output
Stereo mini-pin jack (3.5-mm diameter)

Wi-Fi (Wireless LAN) standards
IEEE 802.11b/g (standard wireless LAN protocol)

Wi-Fi (Wireless LAN) operating frequency
2412 to 2462 MHz (1 to 11 channels)

Wi-Fi (Wireless LAN) security
Authentication: Open system, WPA2-PSK

Bluetooth standards
Bluetooth Specification Version 4.1

Supported languages
Arabic, Bengali, Bulgarian, Chinese (Simplified and Traditional), Czech, Danish, Dutch, English, Finnish, French, German, Greek, Hindi, Hungarian, Indonesian, Italian, Japanese, Korean, Marathi, Norwegian, Persian, Polish, Portuguese (European and Brazilian), Romanian, Russian, Serbian, Spanish, Swedish, Tamil, Telugu, Thai, Turkish, Ukrainian, Vietnamese

Power sources
Four LR6/L40 (AA-size) alkaline batteries Four FR6/L91 (AA-size) lithium batteries Four EN-MH2 Rechargeable Ni-MH batteries (available separately) EH-67/EH-67s AC Adapter (available separately)

Battery life1
Approx. 600 shots when using alkaline batteries, Approx. 1240 shots when using lithium batteries, Approx. 750 shots when using EN-MH2 batteries

Actual battery life for movie recording
Approx. 1 h 30 min when using alkaline batteries1, Approx. 4 h 30 min when using lithium batteries1, Approx. 2 h 35 min when using EN-MH2 batteries1

Tripod socket
1/4 (ISO 1222)

Dimensions (W x H x D)
Approx. 113.5 x 78.3 x 94.9 mm (4.5 x 3.1 x 3.8 in.) (excluding projections)

Weight
Approx. 542 g (1 lb 3.2 oz) (including LR6/L40 (AA-size) alkaline batteries and memory card)

Operating environment – temperature
0°C to 40°C (32°F to 104°F)

Operating environment – humidity
85% or less (no condensation)

Supplied accessories
Camera Strap, LR6/L40 (AA-size) Alkaline Batteries (x4)(The included batteries are for trial use only.), LC-CP31 Lens Cap (with cord), UC-E16 USB Cable
1. Battery life does not reflect the use of SnapBridge and may vary with the conditions of use, including temperature, the interval between shots, and the length of time that menus and images are displayed. The supplied batteries are for trial use only. The figures listed for lithium batteries were obtained using commercially-available FR6/L91 (AA-size) Energizer(R) Ultimate Lithium batteries.
2. Individual movie files cannot exceed 4 GB in size or 29 minutes in length. Recording may end before this limit is reached if camera temperature becomes elevated.
All measurements are performed in conformity with Camera and Imaging Products Association (CIPA) standards or guidelines.
Nikon will not be held liable for any errors these specifications may contain.
The appearance of this product and its specifications are subject to change without notice.

Conclusion
For anybody who is looking for a camera to take on holiday with them, which is mainly concerned about zoom ratio, the Nikon Coolpix B500 represents a good choice.
Many people also like the look and feel of a bridge camera, and this one feels nice and comfortable to hold. The screen tilting helps with some awkward angles, and although it would be nice to have a viewfinder, it's not a deal breaker when you can tilt the screen away from harsh sunlight.
The Nikon Coolpix B500 is for anybody who wants something quite basic, as there's no advanced modes. You can take a little bit of control in fully automatic modes, but you won't be able to alter aperture, shutter speed, or shoot in raw format.
The camera has some fun modes, such as Creative mode and Short Movie show that again should be appreciated by holidaying photographers, or perhaps if you're attending a party and so on.
This camera represents good value for money, being reasonably versatile, especially if you're looking for a high zoom ratio. It's best used in bright, good light, so if you think you're likely to be taking a lot of low light shots, this probably isn't the camera for you – that probably won't be too much of a problem for the average holidaying photographer.
Having AA batteries can be both a blessing and a curse, but again it makes sense for a holiday camera as you can usually find replacements easily and you won't have to worry about remembering to charge the camera.
SnapBridge is useful for sharing your shots quickly and easily without having to go through the faff of setting up a Wi-Fi connection for every shot, too. Just remember to set the transfer options to a smaller size than full resolution to make the best use of it.
The bridge camera market at the moment has a lot of options, but the Nikon Coolpix B500 is a good choice at this end of the segment, being a good choice for beginners. If you're looking for something which offers a little more control, you're likely to be disappointed though
(photographyblog.com, https://goo.gl/stSM3a)
Comments
comments