Introduction
The Lomo'Instant Automat Glass is the world's first instant camera to feature a wide-angle glass lens. It is equipped with a 38mm lens (which is equivalent to 21mm in 35mm terms), and features 6 elements in 4 groups, with a multi-coated front element. The maximum aperture is f/4.5, and there's a minimum focusing distance of 0.3 metres. The Lomo'Instant Automat Glass camera is fully automated, hence its name, but there are some elements which you can adjust yourself. For the first iteration of the camera, Lomo has produced a "Megellan" edition. Like other cameras of its kind, the Lomo Automat Glass works with Instax Mini film. This is widely available in various outlets, and produces a credit card sized print. The Lomo'Instant Automat Glass costs £169/$215.
Ease of Use
A camera like this is not for those who like to be demure with their camera choices. Although it's not the most unusual looking Lomo camera on the market, it's also quite far removed from most average cameras. The Lomo'Instant Automat Glass is far too large to fit in a pocket, with a square design that has been built to accommodate the Instax Mini film at the back.
For the moment, only the Magellan edition is available – but if it's anything like other Lomo cameras, plenty of other colour ways will become available before long. This particular design is black with orange detailing. The whole camera is covered with a textured coating which creates a pleasing pattern and gives it a sense of high quality too.
In terms of operation, the Lomo'Instant Automat Glass uses the same design as the original Instant Automat. On the front of the camera is the lens, which needs to be twisted to switch the camera on. You'll also find three different focusing options, to go from 0.3 metres at the closest point, to a mid-range of 0.6 metres to the furthest distance of 1m / infinity. Choose a different focusing option depending on what you're trying to focus on – generally speaking the best results come from infinity focusing as there's more margin for error. To turn off the camera, you need to hold down a button to the side of the lens and twist it back into the off position – it's important to make sure you do turn it off because otherwise it can be very easy to accidentally fire off a shot. With ordinary cameras, that might not be such a big issue, but with this camera – every shot is film, and therefore money, wasted.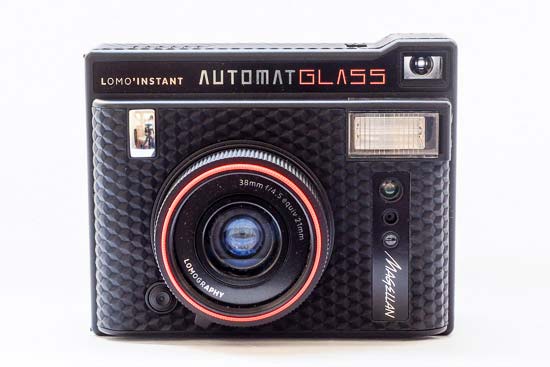 Front of the Lomo'Instant Automat Glass
You'll find the Automat Glass's shutter release on the front of the camera. It takes the form of a mirrored rectangular button, which means that you can use it as a "selfie mirror" when composing self-portraits. The camera's flash is also on the front, and there is space to insert coloured filters to change the look of your images.
As the Lomo'Instant Automat Glass is intended to be fully automated, there isn't too much in the way of changing settings. That said, there are buttons on the back of the camera which give you a little bit of control. The small buttons are all found towards the top of the back of the camera. There's the option to switch the flash on or off, add or take away exposure compensation, shoot multiple exposures and either shoot in fully automatic, or switch to bulb mode. If you switch to bulb mode, the camera will expose for as long as you hold the shutter release down.
In multiple exposure mode, the Lomo'Instant Automat Glass will continue to take shots until you press the MX button again – at which point the film will be released which shows the different exposures made on one frame. Of course there's no screen included to show you any changes which have been made, instead you have to rely on LED lights which will activate to show you what has been selected. As an example, if you have multiple exposure mode activated, an orange light will be displayed.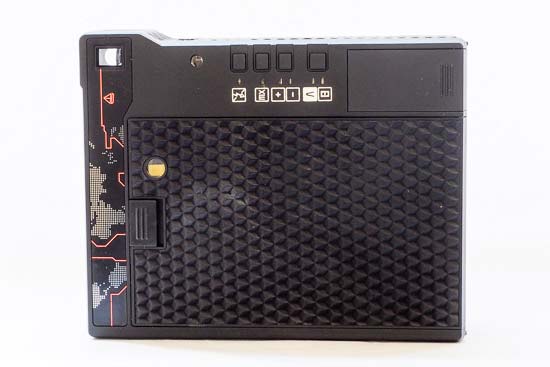 Rear of the Lomo'Instant Automat Glass
As already mentioned, the Lomo'Instant Automat Glass uses Instax film. This is incredibly easy to use and insert into the camera. It's simply a case of popping the cartridge in the back of the camera (behind a door which is released via a catch) and lining up the yellow line on the cartridge with the yellow line on the camera. There's a hole in the film door which allows you to see whether film is inserted and therefore avoid opening the door and exposing the film. Each Instax cartridge contains 10 shots. You don't need to guess how many shots you have left, as a row of LED lights on the side of the camera light up to indicate the number remaining – so, for example, if there are four shots remaining, only four of the lights will be on.
Accessing the battery is also via the back of the Lomo'Instant Automat Glass. It uses 2x CR2 (3V)  batteries, which are not anywhere near as common or easy to find as AA or AAA batteries. The good news however is that since the camera doesn't use much power, a single set seems to last a long time – you may want to invest in a second set to make sure you're always ready to go though.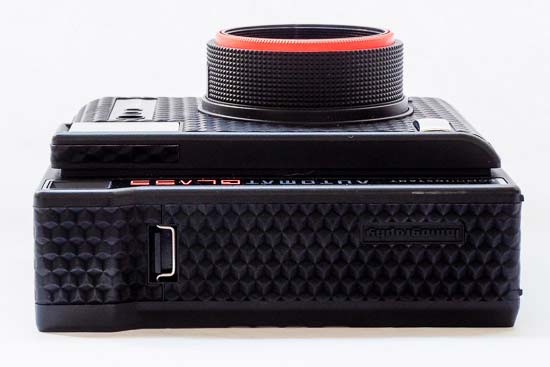 Top of the Lomo'Instant Automat Glass
There's a small viewfinder in the top left hand corner of the Lomo'Instant Automat Glass. This should be used more as a rough guide as to what will appear in your photo, rather than being completely accurate. It takes a bit of time to get a good idea of exactly what is likely to be included in the frame, so it makes sense not to position anything too closely to the edge in case it gets accidentally cut off.
Over on the right hand side of the Lomo'Instant Automat Glass is a tripod thread, which could be useful for long exposure shots. Due to its position, you'll either have to shoot in portrait format, or have a tripod which can turn to 90 degrees to shoot in landscape format. Lugs on the top and the bottom of the camera can be used to attach a strap.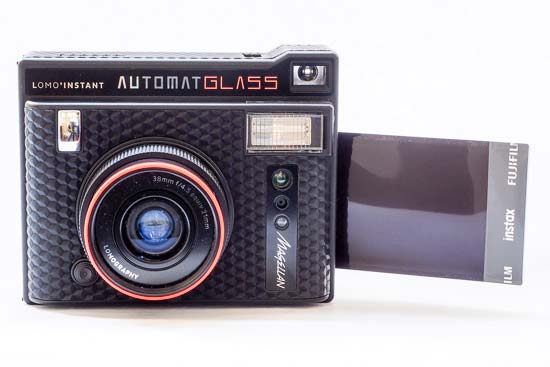 Front of the Lomo'Instant Automat Glass
When you're ready to take a shot, you press down the shutter release button and the Instax film should pop out of the side of the camera. At first, it will appear white and takes a while to fully develop. You should quite quickly begin to see a rough outline of your subject, with the full development ready within about 20-30 minutes.
In the box with the Lomo'Instant Automat Glass Magellan edition, you also get a close-up lens attachment, which is designed to allow you to take better close-up shots. There's a remote control lens cap, which you can use to trigger off the camera remotely. There's also a "Splitzer", which is designed to split your image in two in one frame. Also included are magnet stickers, glue dots, photo stands and photo clips for displaying your shots. A box of cards with tips and tricks is also in the box to help you to get to grips with how the camera works.
Image Quality
As we're used to seeing from Lomo cameras, the results from the Instant Automat Glass can be described as "unpredictable". Some users will find that charming, while others will crave more consistency.
What's definitely true is that the Glass version of the Automat is capable of producing far sharper images than the standard Automat version. The best results can be seen when you don't need to focus too close up, at which point you can see some very pleasing results. Occasionally you might see lens flare or other artefacts, but again, a lot of people will see this as part of a Lomo's charm.
In good light, the colours reproduced on the Instax film are lovely and vibrant. In dimmer conditions, the fact that the glass lens has a wide aperture of f/4.5 helps, while those images taken with the flash look natural enough so as to be pleasing.
Most of the time, exposure is well balanced and you shouldn't find you need to use the exposure compensation settings all that often. After some time spent with the camera, you should get to know what kind of situations may require it (or otherwise).
The close-up lens is available for times when you want to get close to a subject. However, I have struggled to get acceptably sharp results, but it's something you may get better results with if you're prepared to put in quite a bit of practice.
Herein lies the problem, as always with cameras of this kind. In order to practice and discover exactly how to get the best results from the Lomo'Instant Automat Glass, you need to be prepared to buy (and waste) Instax film. It's not super expensive, but it's also not cheap if you end up wasting a lot of shots.
It's also true that the small size of the Instax films makes this more of a novelty camera than anything else – how much money (and time) you want to expend on a novelty is likely to be up to you.
Product Images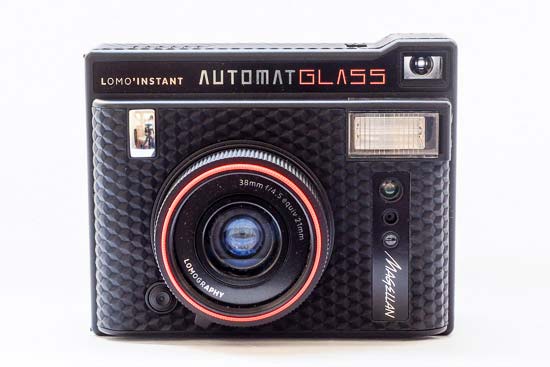 Front of the Lomo'Instant Automat Glass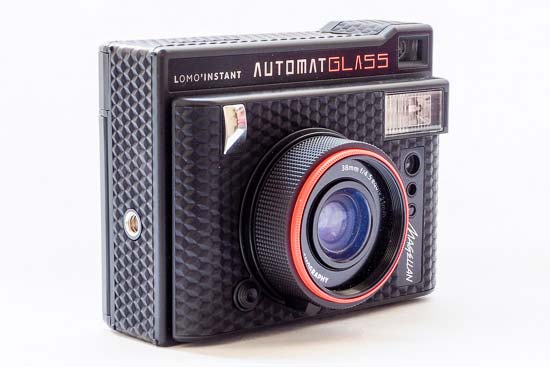 Side of the Lomo'Instant Automat Glass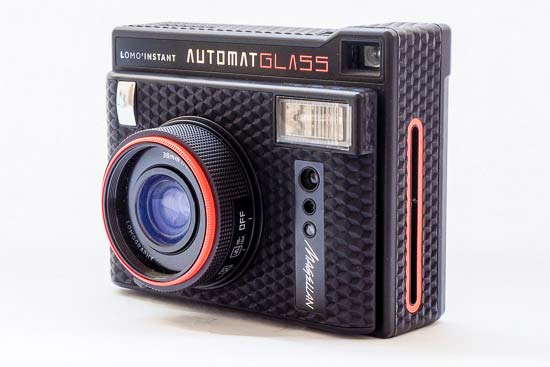 Side of the Lomo'Instant Automat Glass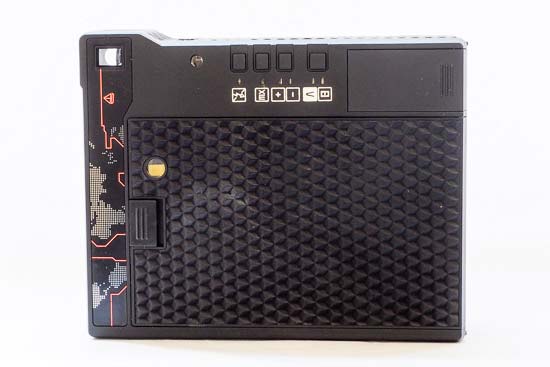 Rear of the Lomo'Instant Automat Glass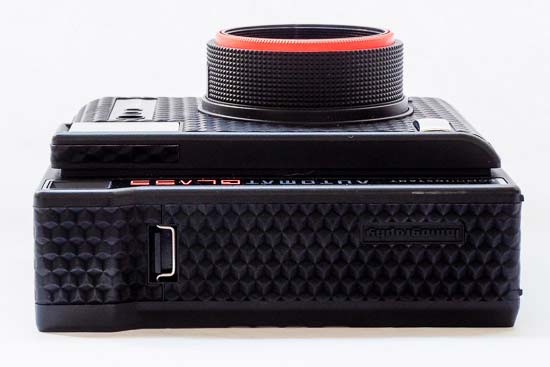 Top of the Lomo'Instant Automat Glass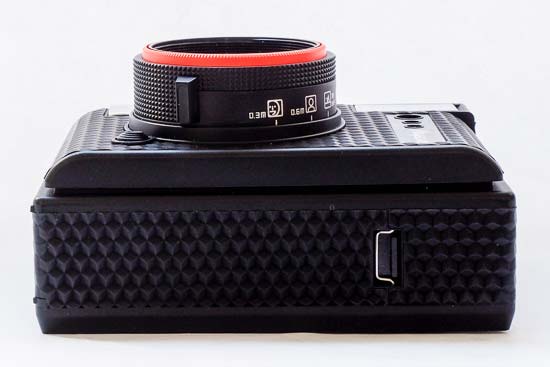 Bottom of the Lomo'Instant Automat Glass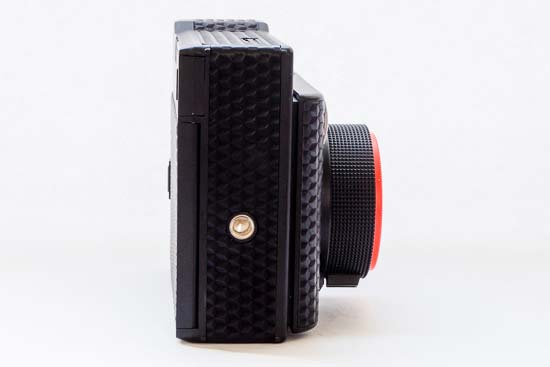 Side of the Lomo'Instant Automat Glass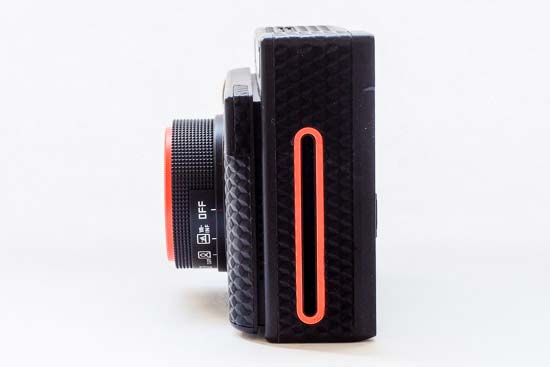 Side of the Lomo'Instant Automat Glass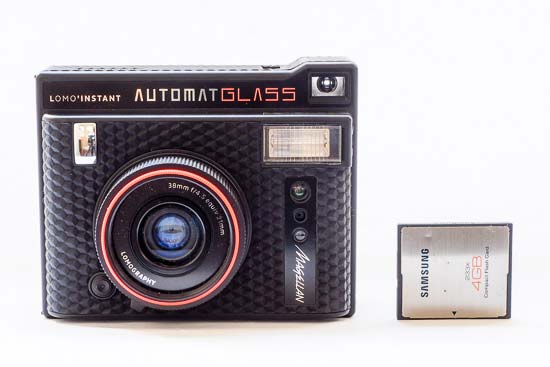 Front of the Lomo'Instant Automat Glass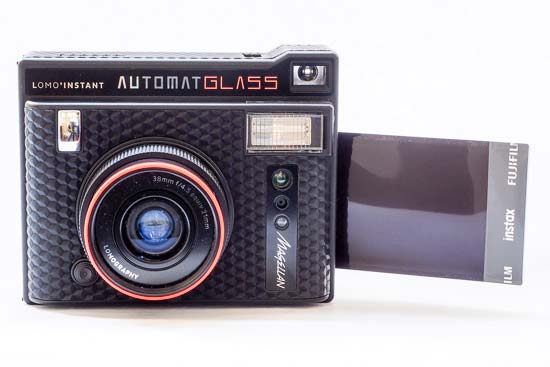 Side of the Lomo'Instant Automat Glass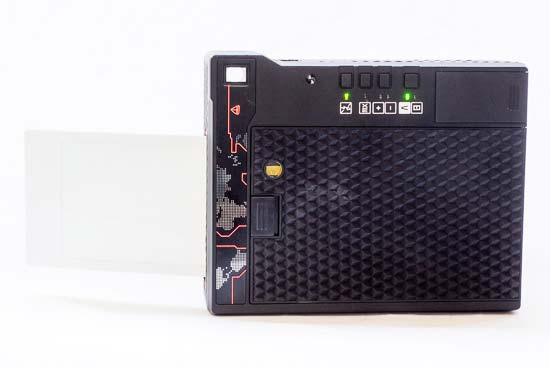 Rear of the Lomo'Instant Automat Glass
Specifications
Film Format: Fujifilm Instax Mini Film
Exposure Area: 62mm x 46mm
Lens Focal Length: 38mm (21mm equivalent)
Shutter Speed: Bulb (maximum 30 seconds), 8s-1/250 (Auto Shooting Mode)
Exposure Compensation: +1/-1 Exposure Values (Ambient Exposure)
Film Ejection Mechanism: Motorized
Multiple Exposures: Unlimited
Built-in Flash Guide Number: 9(m)
Built-in Flash: Automatic Flash & Flash Off Mode
Auto Exposure Type: Programmed Automatic
Aperture: f/4.5, f/22
Zone Focusing Setting: 0.3m / 0.6m / 1m-infinite
Closest Focusing Distance: 0.3m
Remote Control Trasmission: Infrared
Remote Control Sensor Range: 1-2m in bright sunshine, up to 5m indoors
Film Counter: LED indication, counting down
Battery Supply: 2 x CR2 batteries (2 x 3V)
Remote Control Battery Supply: 1 x CR1632 batteries (3V)
Tripod mount: Yes
Filter Thread Diameter: 43mm
Conclusion
Lomo has carved out a good niche within the photographic community, providing fun and quirky cameras which are charming if not particularly precise or accurate.
Here, Lomo has taken the Automat up a notch by offering a Glass lens. It means that the results are much sharper than the plastic equivalent offered in previous incarnations of the Automat. At times, this means that you can get very sharp results – with charming prints in the Instax format. At other times, such as when trying to focus closely, you may find that the results are a little more hit and miss.
Using a camera like this is undeniably fun, and the prints it produces can be a cute memento from a special occasion. Due to the cost of providing Instax film, coupled with the unpredictability of results, it's hardly likely to be a camera you use with any frequency, but if you're a fan of the format, or the brand, then you might find it appealing. If you're trying to decide between the standard and the glass version, the sharper results from the Glass are likely to sway you more in its direction.
Using film cameras can sometimes be quite complicated, but the "Automat" nature of this camera, along with the simple usage of Instax films, makes it ideal for those who want to get started with analogue photography without the fuss you might otherwise associate with it.
At the time of writing, the Lomo'Instant Automat Glass retails for around £169 for the basic kit package with the close-up lens. You'll of course also need to continually invest in Instax film, as well as CR2 batteries. In terms of value, there are more expensive instant cameras currently on the market, but it's also arguably a lot to spend on something which amounts to a novelty camera.
Overall, the Lomo'Instant Automat Glass is a fun and quirky addition to Lomo's range, with the highest quality from Lomo's instant range we've seen to date.
(photographyblog.com, https://goo.gl/FnVZCj)
Comments
comments