Introduction
Laowa may not be a well-known player to most of you but recently they caused quite some stir with their Laowa 105mm f/2 STF – a manual focus lens featuring an unusual apodization element for optimized bokeh rendering. Before that they released a 15mm f/4 Shift and a 60mm f/2.8 macro lens with 2:1 magnification. You probably agree that all this sounds existing?! Well, this time they have something in the queue specifically designed for Micro-Four-Thirds cameras – the Laowa 7.5mm f/2 MFT. Once it's released (planned: April 2017), it'll be the fastest ultra-wide angle lens available for the system. We received a late prototype (serial-no #000006) for testing.
Now you may ask why another 7mm-ish ultra-wide lens is needed. After all there's the Olympus M.Zuiko 7-14mm f/2.8 PRO and Panasonic 7-14mm f/4 ASPH. Well, other than being faster than either of them, it is smaller … WAY smaller. It's hard to come up with an exact figure but as a rough guidance we'd say that it's about half the size/weight of the Panasonic lens and a third of the M.Zuiko. The product image may tell the story better than I do here.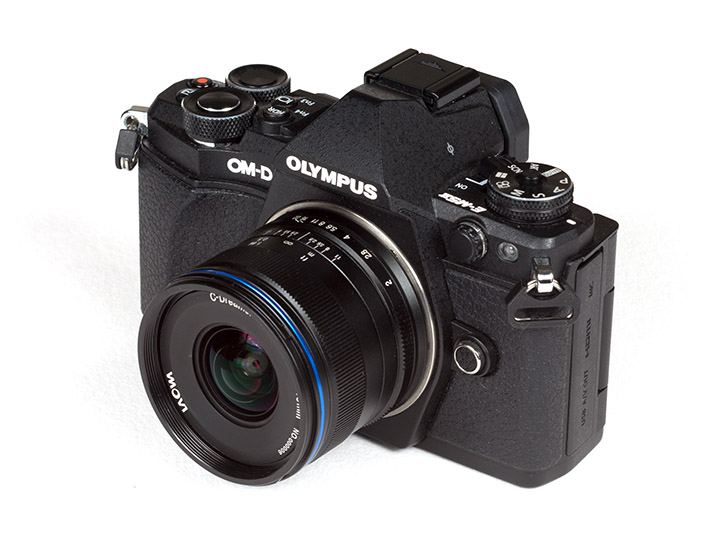 The build quality of the Laowa lens is very good. The lens body is made of metal down to the lens mount. It is a fully manual lens thus you have to live with manual focusing, a manual aperture and in fact without any electronic coupling (thus also no EXIF data). The tiny focus ring is a bit stiff although this doesn't impose any obstacles. The aperture ring operates in full clicks (f-stops). The detachable (metal-) lens hood is so tiny that you may actually leave it mounted all the time. However, it is an obstacle to remove the lens cap when the hood is in place. Unlike on the two mentioned zoom lenses, it is also possible to use (46mm) filters.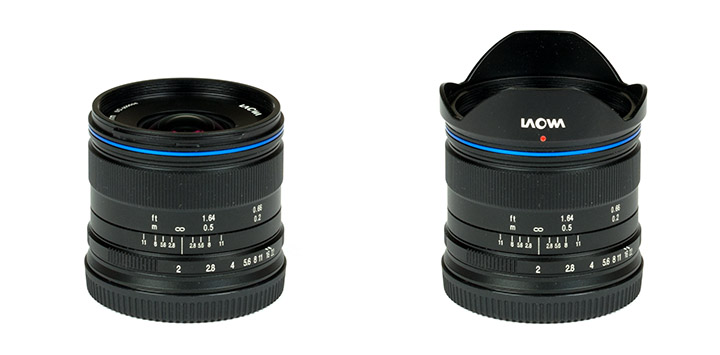 Specifications
Equiv. focal length
"15mm" (full format equivalent)
Equiv. aperture
"f/4" (full format equivalent in terms of depth-of-field)
Optical construction
13 elements in 9 groups
Number of aperture blades
7
min. focus distance
0.12m (1:9.1)
Dimensions (L x W)
50x55mm
Weight
170g
Filter size
46mm
Hood
petal-shaped, supplied
Other features
–
Distortion
The Laowa 7.5mm f/2 MFT produces a medium to strong barrel distortion of 2.9%. Remember that this is the native characteristic without any digital trickery.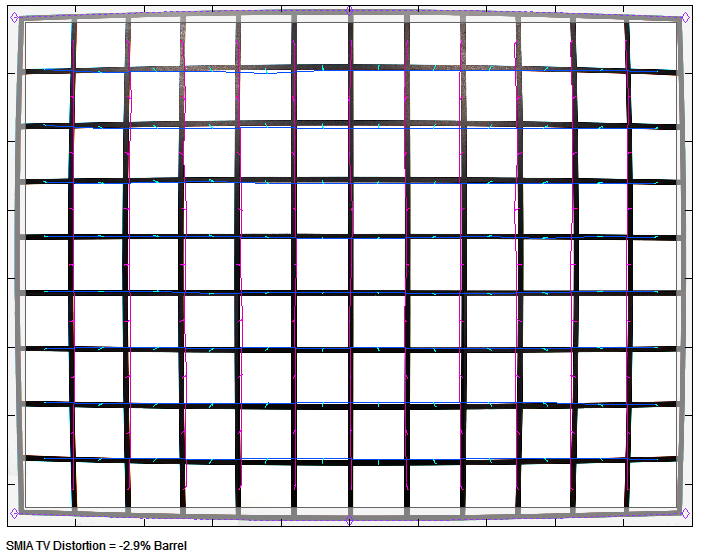 Vignetting
It seems as if the optical design of the lens has one drawback – heavy vignetting. At f/2 we measured a light falloff of 2.5EV (f-stops). While this may be normal on full format cameras, it is almost double the amount that we've seen from other ultra-wide MFT lenses. Stopping down to f/2.8 helps a bit but you should chose at least f/4, better f/5.6 to tame the issue.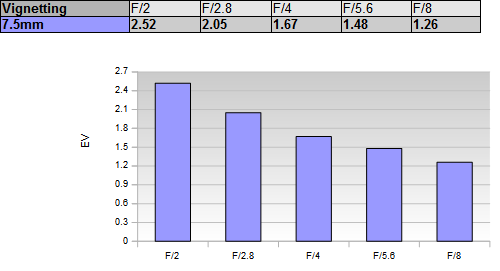 Now that being said, this sounds worse than it actually is because the light falloff is fairly gradual. Below are (downsized) grey images below taken at f/2 (left) and f/2.8 (right) respectively.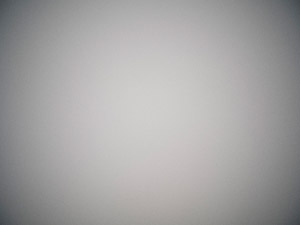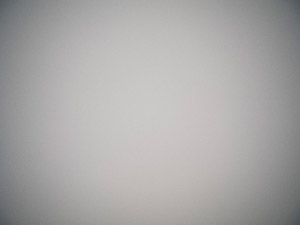 MTF (resolution)
Considering its design objectives, the Laowa 7.5mm f/2 MFT has an impressive resolution characteristic. The center quality is already great at f/2. The borders are good whereas the extreme corners are fairly soft. That was to be expected at such a large aperture settings. Stopping down to f/2.8 increases the quality especially in the corners. The sweet spot is reached between f/4 to f/5.6 where even the corners are boosted to good to very good quality. Diffraction has a moderate impact at f/8 but you shouldn't stop down further unless it's really required for your scene.
The tested sample had an Okay centering quality. The field curvature is moderate.
Below is a simplified summary of the formal findings. The chart shows line widths per picture height (LW/PH) which can be taken as a measure for sharpness. If you want to know more about the MTF50 figures you may check out the corresponding Imatest Explanations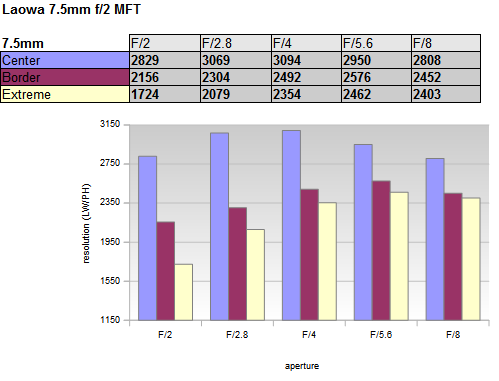 Chromatic Aberrations (CAs)
Lateral CAs (color shadows at harsh contrast transitions) are reasonable well managed with an average pixel width of around 1px at the image borders (somewhat higher on the left image side in our prototype sample).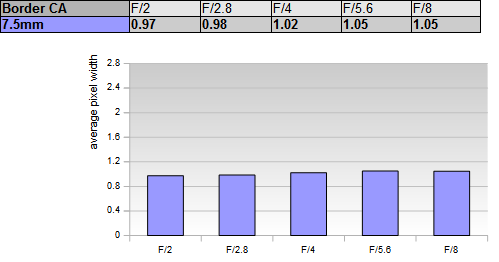 Flare
Back-light scenes are a bit of a challenge for the little Laowa lens. Ghostings and/or glare can be an issue at times – see below.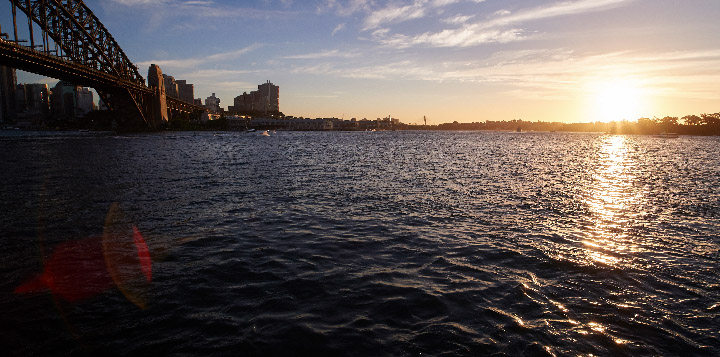 Sample Images
Click on a thumbnail to view the original file (opens in a separate window). Please note that the originals are FULL SIZE samples (=several megabytes) thus requiring a significant amount of bandwidth so please take care of the limited resources here.
Make
OLYMPUS IMAGING CORP.
Model
E-M5MarkII
ISO Speed
200
Focal Length
Aperture:
f/0.0
Exposure
1/125s
Make
OLYMPUS IMAGING CORP.
Model
E-M5MarkII
ISO Speed
200
Focal Length
Aperture:
f/0.0
Exposure
13.0s
Make
OLYMPUS IMAGING CORP.
Model
E-M5MarkII
ISO Speed
200
Focal Length
Aperture:
f/
Exposure
1/320s
Make
OLYMPUS IMAGING CORP.
Model
E-M5MarkII
ISO Speed
640
Focal Length
Aperture:
f/
Exposure
1/30s
Make
OLYMPUS IMAGING CORP.
Model
E-M5MarkII
ISO Speed
800
Focal Length
Aperture:
f/0.0
Exposure
1/25s
Verdict
The primary value proposition of the Laowa 7.5mm f/2 MFT is certainly its extremely small size and low weight combined with a very large max. aperture. Upon unboxing, we experienced one of the few WOW effects during recent years. The dwarfish size also makes perfect sense on Micro-Four-Thirds cameras. Despite its size, the delivered resolution is actually very respectable. It's usable at f/2 and very good at medium aperture settings. The amount of lateral CAs is decent. The vignetting is very high, yes, but in reality it's not quite as bad as the numbers suggest because of a relatively gradual light falloff. Image distortions can be visible in certain scenes but they are far from being bad really. Ghostings/glarecan be an issue if a strong light source is part of your scene and that can happen often due the immense field-of-view.
The build quality is very good thanks to a full-metal body and tight control rings. Fully manual lenses may not be everybody's darling. However, a manual ultra-wide angle lens is really easy to use especially on Micro-Four-Thirds cameras. If you want to shoot an image with an infinite depth-of-field, just set it to ~1.5m and f/5.6 and you are done really. And if you want to explore a shallow depth-of-field scene just use focus magnification – it merely take a few seconds. Honestly, we didn't feel real usability issues during our time with this lens. The most significant annoyance may be the lack of EXIF data.
Over the recent years, we were often wondering why no manufacturer dared to release an ultra-wide pancake lens for MTF (or for any other mirrorless system for that matter). Formally the Laowa 7.5mm f/2 MFT is still no pancake lens but it's the next best thing. Let's be honest – most of us enjoy ultra-wide images but it's not as if we are using such lenses all the time. It's probably a safe bet to state that using an ultra-wide lens is more often than not the exception to the rule. If so and if you just don't want to carry lots of stuff, the idea of having such a tiny lens in your bag may have quite some appeal.
The official pricing has yet to be confirmed but the preliminary figure that we've heard feels reasonable.
(photozone.de, https://goo.gl/K51W1X)
Comments
comments