Introduction
Why would you buy a manual focus only lens when there are other similar lenses available at the same price that feature autofocus? It's the question surrounding some of Laowa's lenses, including the Laowa 60mm f/2.8 2X Ultra-Macro lens on test here.
In this case the clue to that question is in the name, because it is a 2:1 ultra macro lens. Yes, this Laowa lens is the only lens to offer a 2:1 life size reproduction. Most true macro lenses offer a maximum 1:1 reproduction. To get this sort of magnification elsewhere, you're looking at reversing rings, extension tubes and the like.
To put the macro possibilities in perspective, a full-frame sensor measures 36x24mm, meaning an object as little as 18x12mm will fill the frame of a picture when at 2:1 magnification.
We used the 45.4MP Nikon D850 for this test and a full-size print at 240dpi is 874×583mm. That's quite something – an 18x12mm object printed at 874x583mm, without interpolation!
The potential level of macro detail this lens is capable of makes it an interesting prospect and certainly made for a test with a difference! Read on to find out how we got on with the lens.
The Laowa 60mm f/2.8 2X Ultra-Macro lens costs £369. For more information and to buy the lens, please visit the UK Digital website.
Ease of Use
This is a curious lens. When first in the hand, the Laowa 60mm f/2.8 2X Ultra-Macro lens has a modest, dated, yet bold look to it. It's an all black barrel, with pronounced and chunky ridges on its focusing and aperture rings. All markings are painted on in white.
This no frills all metal lens has a good weight to it. It's small though and the weight is nothing ungainly. The lens balances well on a mid-size DSLR like the Nikon D850.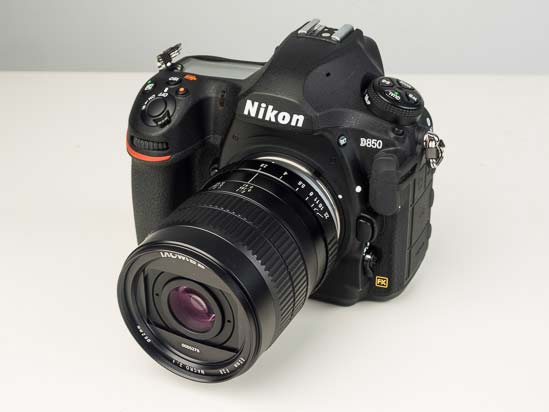 On the focus ring there are markings for focus distance in both metres and feet, plus the reproduction scale. A full rotation from minimum 0.185m focusing distance to infinity is just under 180°, so it is possible to shift focus from one extreme to the other with speed.
The focus ring has a stubborn resistance to it and a suction noise while rotating. This is because the lens features a floating focus system. What you have is two major lens groups that move separately as focus is adjusted.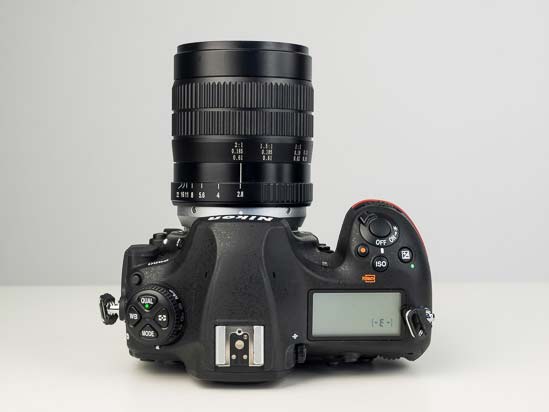 When set to infinity, the front lens element sits deep inside the lens barrel. Shift to the closest focusing distance and that front lens element has moved all the way up the barrel to the front.
Inside the front of the barrel is a rectangular shaped hood. This offers some protection to the inside of the barrel and indeed the front lens element when the focusing is set between infinity and 1:1. The downside is that when the focusing distance is set to anything greater than 1m, the hood causes severe vignetting for full-frame cameras.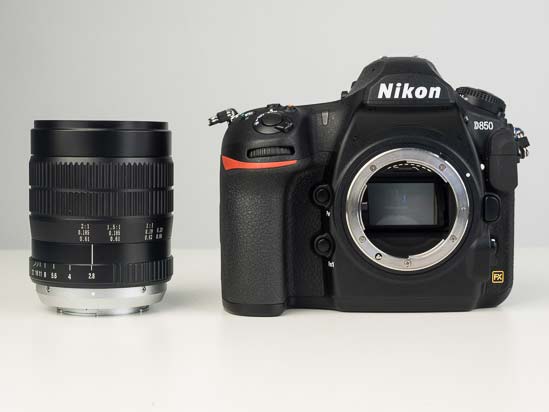 Extra protection is possible by attaching a 62mm threaded filter. We did not use a lens filter during this test so cannot comment on any effects on image quality.
The aperture ring is clicked, with seven full stops ranging from f/2.8 to f/22. As you get nearer the more closed apertures, the distances between clicks bunches up, so it can be tricky to tell which aperture is selected without a visual check. (Added to the fact that aperture information is not displayed in-camera.)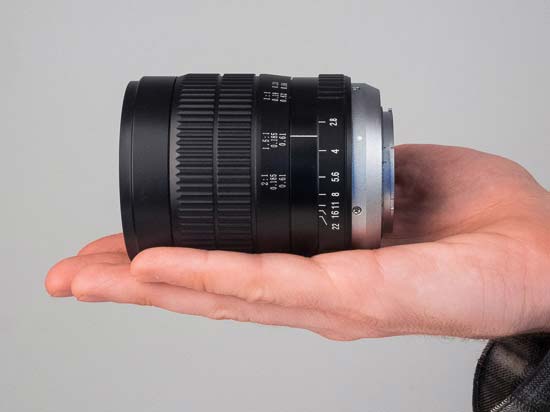 The metal mount is plain, with no electronic contacts. Like with all Laowa lenses, there is no electronic communication between lens and camera.
Aperture is adjusted on the lens, while the camera should meter through the lens to provide the right shutter speed with the selected aperture. You won't get any EXIF data in your images, so all exposure information needs to be noted by hand for reference.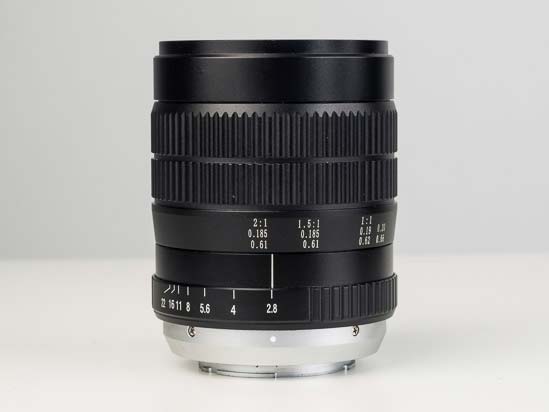 Of course then, this is a manual focus only lens. Frankly, for macro work it is unusual to be able to make the most of autofocus anyway. We did not miss AF during this test for macro images.
Where AF would come in handy is when using the lens for other purposes, such as making portraits. A good quality 60mm fixed length macro lens can double up really well for portraits. In this scenario, AF is sorely missed.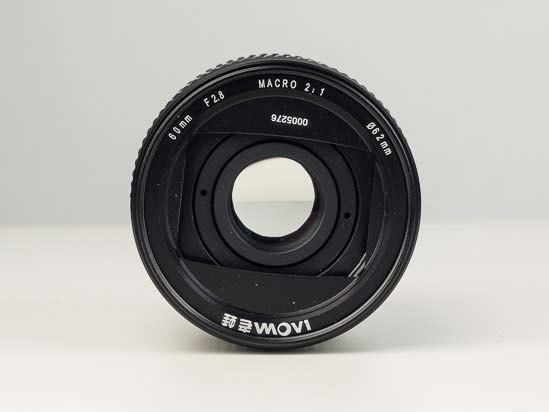 Size wise, the lens is 95mm long and weighs just over 500g. For a 60mm macro lens, these measurements are on the larger side.
As for macro work, well the close focus distances at play here for the higher magnifications present numerous practical challenges to overcome.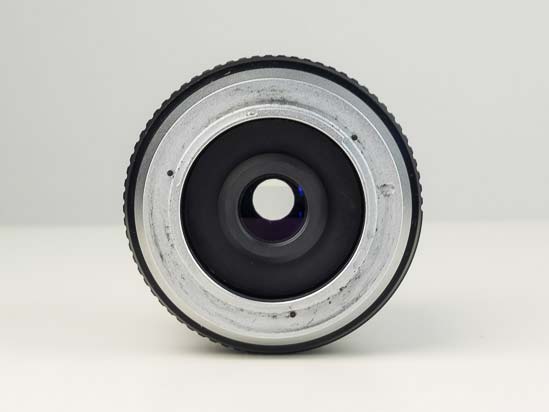 Firstly, to get the most out of the lens you'll need a tripod. That's because trying to focus and compose an image handheld when at 2:1 magnification is exceptionally difficult. Add to that the camera needs to be as sturdy as possible to ensure the subjects are sharp.
We spent a lot of time faffing around with the tripod to get the camera close enough, while trying avoid knocking the subject with lens and/ or tripod.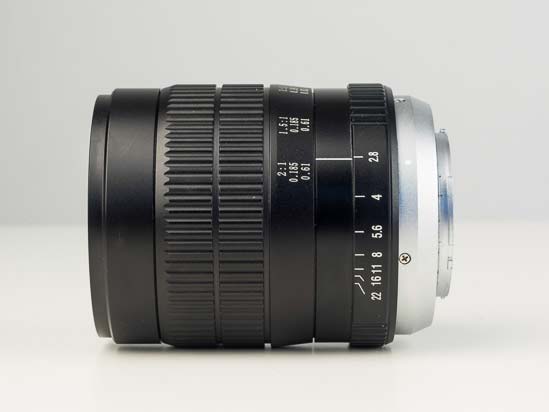 Wind is a hindrance when shooting macro images outside. The slightest subject movement affects composition and sharpness. Then there is the reduced light transmission as the magnification ratings are increased. We'll touch more on this later, but when at 2:1 you'll need good light and to try and avoid blocking out that light with the lens.
At such close distances too, any kind of creature that is likely to be scared away will be move on before you have the chance to shoot.
In summary, the big selling point of the lens comes with a lot of practical hindrances. Yet, if none of those hindrances are relevant, the Laowa 60mm f/2.8 2X Ultra-Macro lens is a real winner.
Focal Range
The 60mm focal length gives an angle of view of 25.3° on a full frame sensor.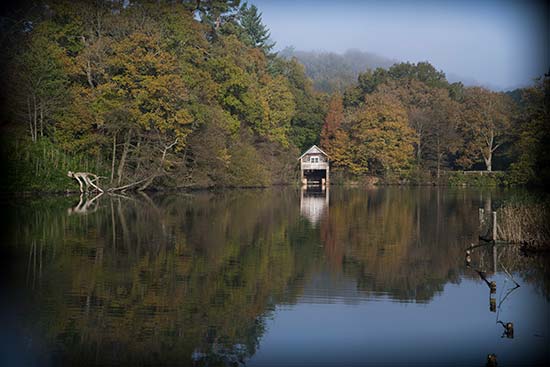 Chromatic Aberrations
The Laowa 60mm f/2.8 2X Ultra-Macro lens handles chromatic aberrations pretty well, especially in out-of-focus areas.
We believe the impressive handling of CA in out-of-focus areas is thanks in part to the 14-blade aperture which gives smooth bokeh. It is an unusually high number of aperture blades for a lens like this and gives lovely circular bokeh.
Otherwise the lens construction is actually rather simple, with 9 elements in 7 groups and split into two main groups for the floating focus system.
Light Fall-Off
When shooting full-frame, light fall-off (vignetting) is noticeable wide open at f/2.8. Stop down to f/8 and vignetting has gone. The effect is significantly less obvious when shooting in APS-C format – you may not really notice it even at f/2.8.
The floating lens element design and built-in lens hood means that severe vignetting is in full-frame images where the focus distance is greater than 1m, because you are literally getting the lens hood in the shot.
If you want to shoot landscapes or focus on objects further away than 1m, you'll need to use the APS-C format to avoid getting the lens hood in the corners of a picture.
As we have mentioned in other Laowa lens tests, currently there are no profiles for Laowa lenses in software such as Adobe Lightroom CC, so lens corrections must be made manually.
Now, not strictly light falloff, but light transmission is reduced the closer the selected focusing distance. We took sequences of images at each of the marked magnifications; 2:1, 1.5:1, 1:1, 1:2, 0.5m, 1m and infinity. Once you get to 1:2 magnification, with every step closer you lose around 1EV of light.
So when an accurate exposure at 1:2 magnification is 1/125sec, then you are looking at 1/15sec at the 2:1 magnification. That is not taking into account that the lens itself might well be blocking out light on your subject because it is so close.
In summary, chances are you'll need a high ISO setting and/ or use the wide apertures/ add additional light sources in order to get a workable shutter speed for sharp images. For some subjects, 2:1 simply may not be an option because of light loss.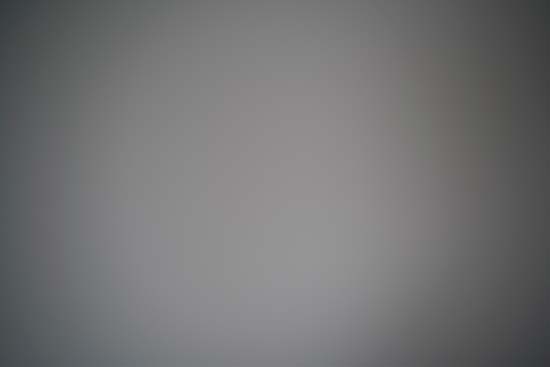 Vignetting at f/2.8
Distortion
Perhaps the most disappointing aspect of image quality is that pincushion distortion is obvious. We're not talking from looking at lab charts, the effect can be seen in real world images, no matter the focus distance. It's rather surprising because most 60mm lenses display next to no barrel or pincushion distortion.
This type of distortion is less obvious in close up macro work, but you'll want to avoid such squeezing of a face when making portraits or curvature of lines in landscapes and buildings. Disappointing.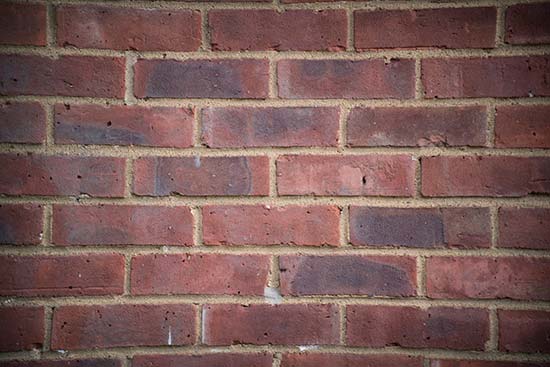 Macro
This lens is all about the macro. A lens should offer a 1:1 life-size reproduction scale to be officially classed as a macro lens. Yet the Laowa 60mm lens is the only lens that we know of to offer a 2:1 reproduction scale. It's the big selling point of the lens.
We used the lens with a full-frame camera in both its full-frame and APS-C formats. A full-frame sensor measures 36x24mm, so an object as little as 18x12mm will fill the frame of a picture.
The minimum focus distance is 0.185mm (0.61ft) to obtain the 2:1 and 1.5:1 magnification, while it is 0.19m (0.62ft) for 1:1 magnification. That is some pretty close up action and in practice is very difficult to focus sharply at these distances. Moreso, you can forget about shooting living creatures that may be skittish around your presence.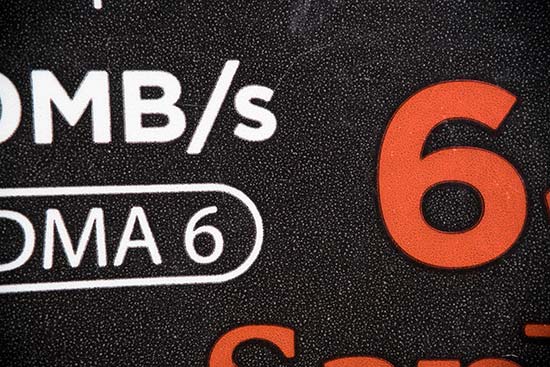 Bokeh
Sharpness
In order to show you how sharp this lens is, we are providing 100% crops on the following page.
Sharpness at 60mm
For this test, the Laowa 60mm f/2.8 2X Ultra-Macro lens was attached to a Nikon D850 body, which was in turn mounted to a sturdy tripod. Exposure delay mode was activated. Tonal and colour variance across the crops are due to change in natural light during the session.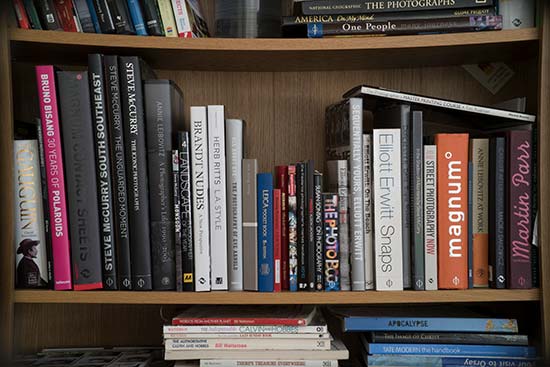 The full frame at 60mm
Wide open at f/2.8 the lens is actually rather soft, even in the centre. Observe the corners of the frame and it is softer still. Frankly speaking, f/2.8 is not ideal for macro work because the depth of field is so shallow, so this softness is more of a hindrance for portraiture.
You'll need the middle apertures to obtain the sharpest image quality (in addition to the necessary depth of field for macro). Detail in the centre of the frame when using an optimum aperture from f/5.6 to f/11 is very sharp. Yet even at these apertures the detail in corners displays some softness. If you want the widest spread of sharp detail across the frame, f/11 is the aperture to use.
Stop down to f/16 and diffraction has come into play, making all detail a little softer than at f/11.
In summary, this is not the sharpest lens of this kind we have seen. Yet the sharp areas in the centre of the frame when using apertures between f/4 and f/11 are complimented beautifully by smooth out-of-focus areas. Clinically the lens may not be the sharpest, but the real world images look lovely.
| | | |
| --- | --- | --- |
| Aperture | Centre Crop | Edge Crop |
| f/2.8 | | |
| f/4 | | |
| f/5.6 | | |
| f/8 | | |
| f/11 | | |
| f/16 | | |
| f/22 | | |
Sample Images
The thumbnails below link to full-sized samples taken with the Laowa 60mm f/2.8 2X Ultra-Macro lens mounted on a Nikon D850.
1/250s · · ISO 1600
1/200s · · ISO 800
1/400s · · ISO 800
1/320s · · ISO 800
1/640s · · ISO 64
1/40s · · ISO 64
1/250s · · ISO 64
Specifications
Focal Length
60mm
Max. Aperture
f/2.8
Angle of View
25.3°
Format Compatibility
APS-C
Full Frame (Macro only)
Lens Structure
9 elements in 7 groups
Aperture Blades
14
Min. Focusing Distance
18.5cm
Max. Magnification
2:1
Filter Thread
62mm
Dimensions
95 x 70 mm
Weight
503g
Mounts
Canon / Nikon / Sony A / Pentax K / Sony E
Conclusion
Most 60mm macro lenses are not restricted to macro work. They can double up nicely as a portrait lens or even used for landscapes. Yet, in this case the Laowa 60mm f/2.8 2X Ultra-Macro lens feels more specialist for this genre.
It's manual focus only which makes it inherently more difficult to use for moving subjects. Then there is severe vignetting in landscape images when using full-frame.
But what of the lens' USP? After all, a 2:1 maximum magnification is quite a feature. When all the conditions are there to make the most out of this feature, it is possible to capture the macro world to a wondrous scale.
Practically speaking, this is a lens that is quite difficult to use for its intended purposes and even more so for additional purposes such as portraiture.
Image quality wise, we are disappointed with how visible pincushion distortion is and the lens is not the sharpest we have seen of its kind. In it's favour, out-of-focus areas are rendered beautifully, thanks to the 14-blade aperture. We do not know of a more complex aperture diaphragm for a lens of this kind and the results are lovely.
All being said, the Laowa 60mm f/2.8 2X Ultra-Macro lens is packed with character and we have enjoyed testing the lens. It's solid and durable and we're happy with the images we have been able to capture.
(photographyblog.com, https://goo.gl/5Nht8u)
Comments
comments