Introduction
The Hasselblad X1D-50c is a compact system camera with a 50 megapixel 43.8 x 32.9mm medium-format CMOS sensor that is smaller than most full-frame 35mm cameras. The X1D-50c also features Raw images with 16-bit color depth and 14 stops of dynamic range, ISO range of 100-25600, 1080p video with a frame rate of 30fps, 2.3fps continuous shooting, shutter speeds from 60 minutes to 1/2000th sec. with full flash synchronisation throughout the range, a 2.36MP XGA electronic viewfinder, a 3.0" 920k-dot touchscreen LCD, dual SD card slots, built-in Wi-Fi for remote connection and file transfer and an external GPS unit that slots into the flash hotshoe, and a new line of XCD lenses with an integral central shutter. The recommended retail price of the Hasselblad X1D-50c is £7788 / $8995 body only.
Ease of Use
Handmade in Sweden, the Hasselblad X1D-50c is an incredibly well-built camera that is constructed from four pieces of solid aluminium, with no flex at all in any area of the body. It instantly reminded us of the Leica SL, which we also praised very highly for its build quality, but unlike the SL, it's relatively small and light, measuring 150 x 98 x 71 mm and weighing 725g with the battery fitted. The X1D-50c is both dust and weather -proof, making this a medium format camera that can venture outside the studio. The Hasselblad X1D-50c sports a very stylish, expensive looking silver black colour-way, complete with orange shutter button, with the substantial handgrip and the rear of the camera featuring a "sticky" rubber coating to aid your hold on the camera.
We tested the X1D-50c with the new XCD 45mm f/3.5 and XCD 90mm f/3.2 lenses (separate reviews to follow), which feature an integral central shutter and are made by a Japanese company called Nittoh.  The former feels well-balanced on the X1D, while the latter makes it a bit more front-heavy and conspicuous. Adding both lenses to your X1D kit costs around $5000 / £5000. Hasselblad are also due to release a 120mm macro lens later this year. The X1D is also compatible with all 12 lenses and accessories from the H system via the optional X-H adapter. The central shutter mechanism enables flash sync at all shutter speeds up to 1/2000 second and shutter speeds as long as 60 minutes, with virtually no vibration at longer exposures. Incredibly, it's also officially rated to more than 1,000,000 exposures! Note that there's no in-body or lens-based image stabilisation system.
As this is a Hasselblad camera, obviously manual focus is provided, and very good it is too. As you'd expect, the manual focus rings on both the lenses have a lovely feel, and two different focusing aids are provided – auto magnification and focus peaking. In conjunction with the high-resolution electronic viewfinder, we found it very easy to accurately determine critical sharpness.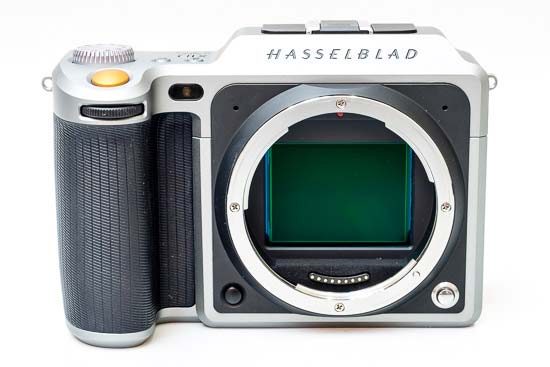 Front of the Hasselblad X1D-50c
Auto-focus is a rather more hit and miss affair. The X1D uses a contrast-based AF system, which depending on the lighting conditions is both a little on the slow side to auto-focus, taking about 1-2 seconds to lock on to the subject, and prone to hunting in more dim environments. It's also quite noisy, emitting an audible mechanical "whirr" as the camera locks onto your subject. Holding down the AF/MF button and using the front/rear control dials allows you to move the AF point to one of 35 different points that cover approx 80% of the frame, a big improvement on the single, central AF point that the X1D first shipped with, although it's disappointing that you can't simply tap on the screen to set the AF point.
Rather than a traditional optical viewfinder, the X1D employs an integrated electronic viewfinder from Epson, which has 2.36million dots. This isn't the best EVF that Epson produce, paling in direct comparison with the Leica SL's incredible 4.4million dot EVF. The same key shooting information that's shown on the rear LCD is unobtrusively displayed above and below the frame, and there's built-in dioptre control for glasses-wearers.
The Hasselblad X1D-50c has a 50-megapixel medium-format CMOS sensor with no optical low pass filter that delivers 8272 x 6200 pixel still images. The Hasselblad X1D-50c offers a very basic video mode that supports either Full HD (1920×1080 pixels) or 720p recording at 25fps in the H.264 compressed MP4 format. There's actually just one video menu option – Quality – which allows you to choose between 1080 and 720 – and the camera can't auto-focus during recording. On the plus side, it does have Mini HDMI, 3.5mm microphone in and 3.5mm headphone out ports.
The size of the back plate LCD is 3-inches and the resolution is 920k pixels. The Hasselblad X1D-50c has an intuitive touchscreen interface, which is just as well because the camera has very few physical controls. You can change the camera's key settings by swiping down in Live View to reveal a control panel, then tapping to dive down into each option. You can even set the aperture and shutter speed by on-screen vertical scales, although I much preferred using the camera's traditional front and rear control dials. Annoyingly, the camera automatically exits Live View after 15 seconds, requiring a half-press of the shutter button to turn it back on again.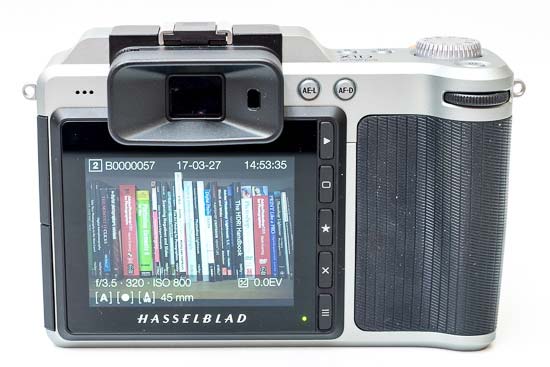 Rear of the Hasselblad X1D-50c
In image playback, you can simply drag left and right to go through the sequence of images and pinch/double-tap to zoom in and out, and you can use the main menu system via the touchscreen. Sadly, you can't yet focus on your subject by simply tapping on the LCD screen, something that we hope to see added in a future firmware update.
The Hasselblad X1D-50c features built-in Wi-Fi connectivity for wirelessly connecting to other devices such as a smartphone, tablet or computer. You can preview the shot and control the camera remotely via the free Phocus Mobile app (iOS only), but you can't transfer your images to another device via wi-fi, which maybe because of the massive file sizes.
The front of the Hasselblad X1D-50c is adorned with the instantly recognisable Hasselblad logo positioned above of the lens. Top-left, if viewing the camera front-on, is a traditional AF assist/self timer lamp, and underneath that is a tiny black button for using the depth of field preview function. On the bottom-right of the lens is a silver circular button for releasing the lens, something that we found quite difficult due to the incredibly tight fit between both XCD lenses and the lens mount.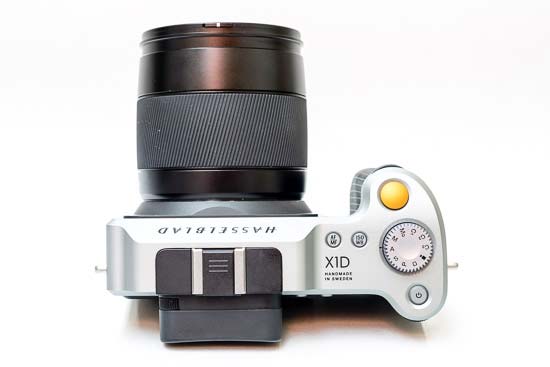 Top of the Hasselblad X1D-50c
There is a vacant hotshoe for an accessory flash on top of the camera offering full compatibility with certain Nikon flash units, but there's no built-in pop-up flash. To the right are two small buttons marked AF/MF and ISO/WB, the tactile orange shutter release button, the front control dial, a recessed On/Off button, and a handy shooting mode dial, which can be pushed down to lock it into place and prevent the mode from being accidentally changed, although the dial is a little too short in height, making it slightly awkward to actually turn.
The Hasselblad X1D-50c takes forever to get going, readying itself for action in about 10 seconds, which caused us to miss more than a few shooting opportunities. Squeeze the shutter release button in single shot mode to take a maximum resolution image and the screen almost instantly displays the resultant image. Curiously the X1D-50c only records quarter-size JPGs – only the Raw files are recorded at the full 8272 x 6200 pixels – which may or may not suit your particular workflow. On the upside, the 108Mb raw images have an impressive 16-bit color depth and 14 stops of dynamic range, and they can currently be edited in Hasselblad Phocus or Adobe Photoshop/Lightroom.
The X1D-50c has dual SD card slots which support the UHS-I format. Images can either be saved to both cards simultaneously, to the second card when the first is full, or RAW images can be saved on one card and JPGs on the other. The X1D offers single shot and continuous shooting options, with the 2.3fps continuous shooting rate for RAW+JPG being pretty good for a medium format camera.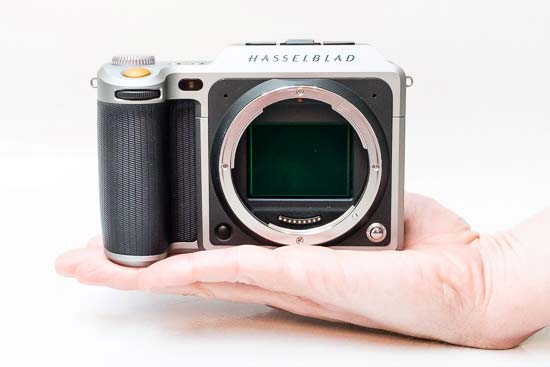 The Hasselblad X1D-50c In-hand
The rear of the Hasselblad X1D-50c features the prominent electronic viewfinder complete with eye sensor for automatically switching between the EVF and LCD screen. To the right of this are the AE-L and AF-D buttons, the latter allowing for traditional back button focusing. The thumb-operated command dial over at the top right sets the aperture. Alongside the right-hand side of the LCD screen is a column of 5 buttons – Playback, Display, Rate, Delete and the Menu button. The latter accesses a largely icon-based menu system that despite being touch sensitive proved to be slower to use than a more traditional menu.
The right hand flank of the X1D features a small lug for attaching a strap, with a matching one on the left, underneath which are the dual memory card slots housed inside a weather-proof compartment and a second compartment with four ports – the USB 3.0 socket, HDMI output, headphone port and microphone port. Sadly there's no X-sync socket on the X1D, though, so you'll probably need to to use a third-party wireless solution to control your studio lights.
The base of the Hasselblad X1D-50c features a screw tripod thread that's inline with the centre of the lens mount and a very clever battery compartment. Simply use the small recessed lever to release the battery, then push it back in slightly to allow it to fall out of the camera. Charging the battery is also different to the using the usual external charger, in that you actually plug the supplied AC adapter straight into the battery unit itself via a small port on the bottom – very neat. Battery life isn't very good, though, at less than 200 shots and a few short video clips (Hasselblad don't quote the usual CIPA rating).
Image Quality
All of the sample images in this review were taken using the 50 megapixel Raw setting, which gives an average image size of around 108Mb.
The Hasselblad X1D-50c produced images of outstanding quality during the review period. This camera produces noise-free images at ISO 100 up to ISO 1600, with some noise appearing at ISO 3200. The faster settings of ISO 6400 and 12,800 are still usable, although we'd suggest avoiding ISO 25,600 if possible. The night photograph was very good, with the maximum shutter speed of 68 minutes allowing you to capture enough light in almost all situations.
Noise
There are 9 ISO settings available on the Hasselblad X1D-50c. Here are some 100% crops which show the noise levels for each ISO setting:
| | |
| --- | --- |
| JPEG | RAW |
| ISO 100 (100% Crop) | ISO 100 (100% Crop) |
| | |
| | |
| ISO 200 (100% Crop) | ISO 200 (100% Crop) |
| | |
| ISO 400 (100% Crop) | ISO 400 (100% Crop) |
| | |
| ISO 800 (100% Crop) | ISO 800 (100% Crop) |
| | |
| ISO 1600 (100% Crop) | ISO 1600 (100% Crop) |
| | |
| ISO 3200 (100% Crop) | ISO 3200 (100% Crop) |
| | |
| | |
| ISO 6400 (100% Crop) | ISO 6400 (100% Crop) |
| | |
| | |
| ISO 12800 (100% Crop) | ISO 12800 (100% Crop) |
| | |
| | |
| ISO 25600 (100% Crop) | ISO 25600 (100% Crop) |
| | |
File Quality
The Hasselblad X1D-50c has 2 different JPEG file quality settings available, with High being the highest quality option, and it also supports Raw. Here are some 100% crops which show the quality of the various options, with the file size shown in brackets.
| | |
| --- | --- |
| High (4.3Mb) (100% Crop) | Normal (1.8Mb) (100% Crop) |
| | |
| | |
| Raw (108Mb) (100% Crop) | |
| | |
Night
The Hasselblad X1D-50c's maximum shutter speed is 68 minutes in the Manual mode, which is great news if you're seriously interested in night photography. The shot below was taken using a shutter speed of 32 seconds at ISO 100.
Night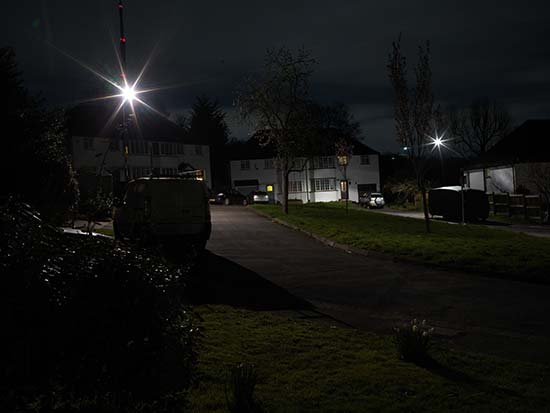 Sample Images
This is a selection of sample images from the Hasselblad X1D-50c camera, which were all taken using the High JPEG setting. The thumbnails below link to the full-sized versions, which have not been altered in any way.
1/180s · f/5.6 · ISO 100
1/90s · f/3.2 · ISO 200
1/2000s · f/3.2 · ISO 100
1/100s · f/3.2 · ISO 1600
1/640s · f/3.2 · ISO 100
1/100s · f/3.2 · ISO 100
1/200s · f/3.2 · ISO 100
Product Images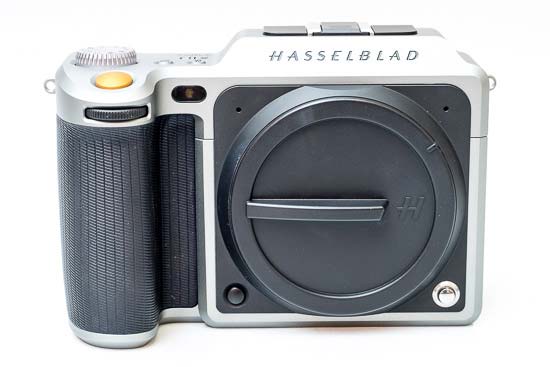 Front of the Hasselblad X1D-50c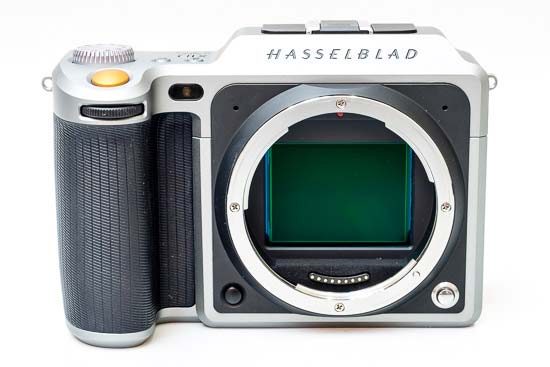 Front of the Hasselblad X1D-50c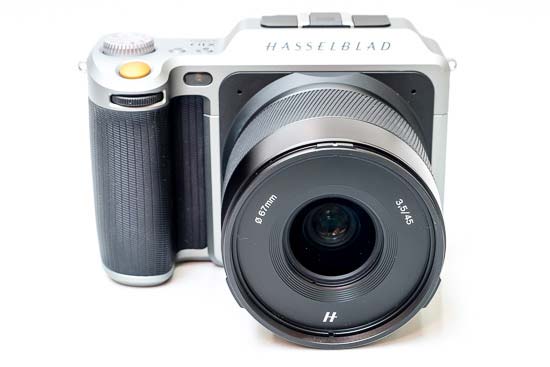 Front of the Hasselblad X1D-50c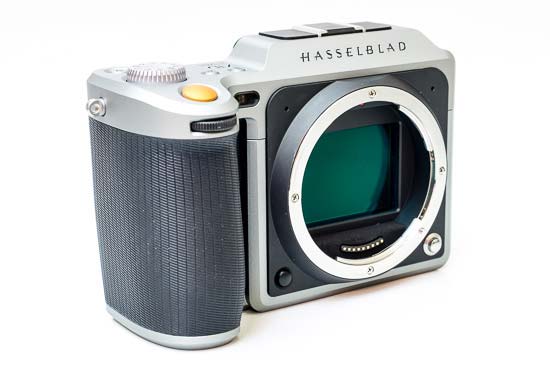 Side of the Hasselblad X1D-50c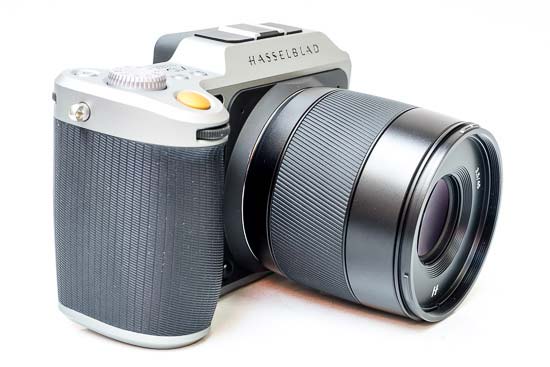 Side of the Hasselblad X1D-50c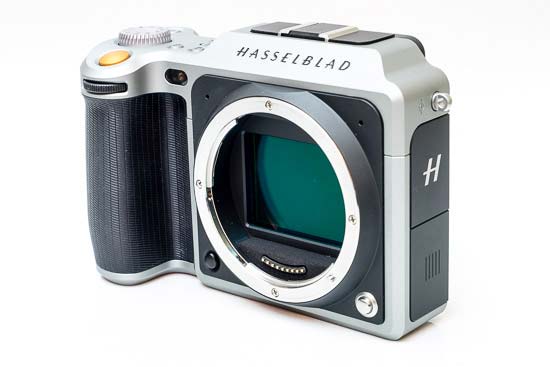 Side of the Hasselblad X1D-50c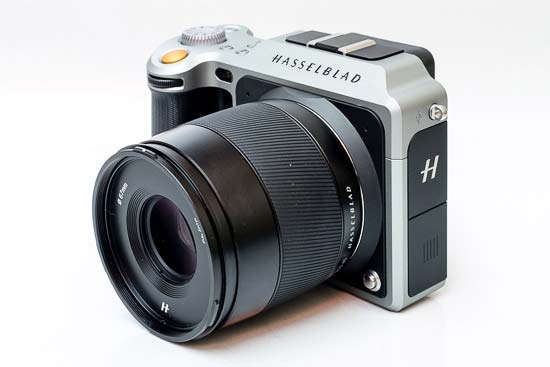 Side of the Hasselblad X1D-50c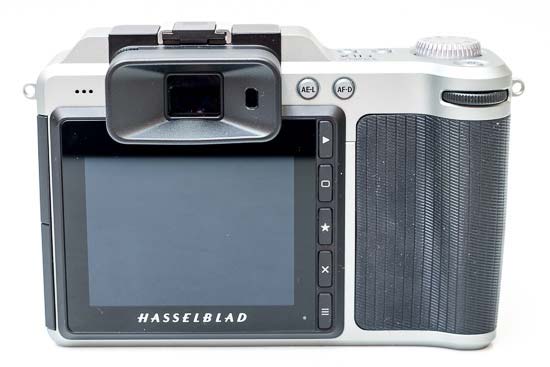 Rear of the Hasselblad X1D-50c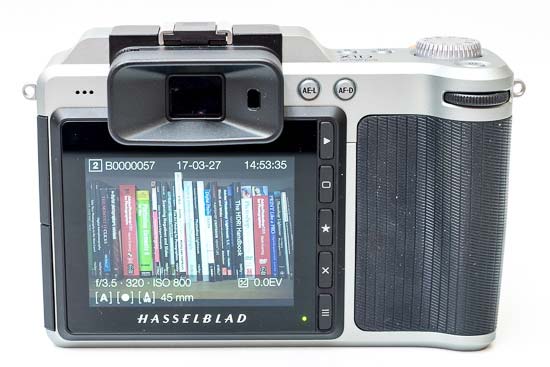 Rear of the Hasselblad X1D-50c / Image Displayed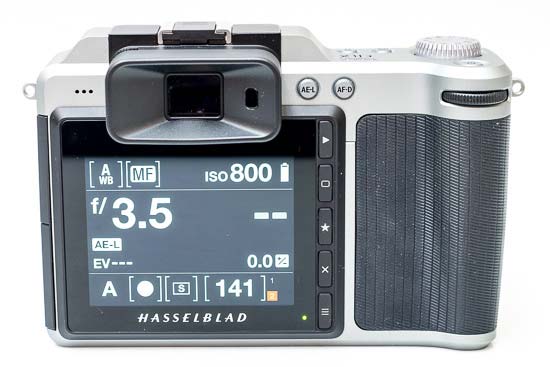 Rear of the Hasselblad X1D-50c / Turned On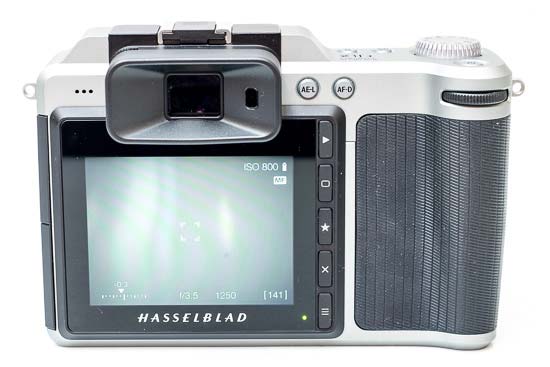 Rear of the Hasselblad X1D-50c / Shooting Mode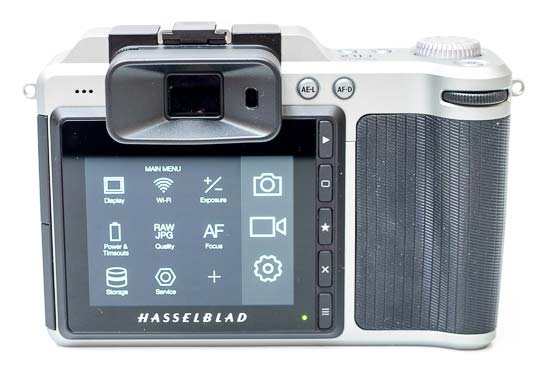 Rear of the Hasselblad X1D-50c / Main Menu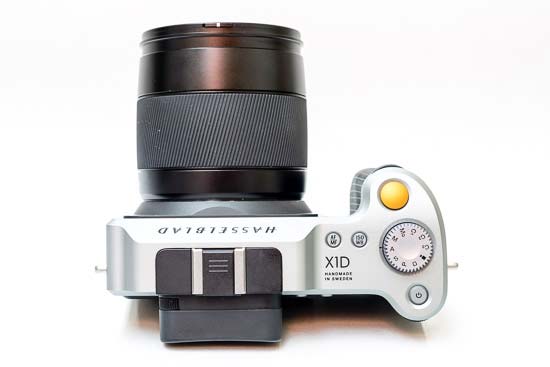 Top of the Hasselblad X1D-50c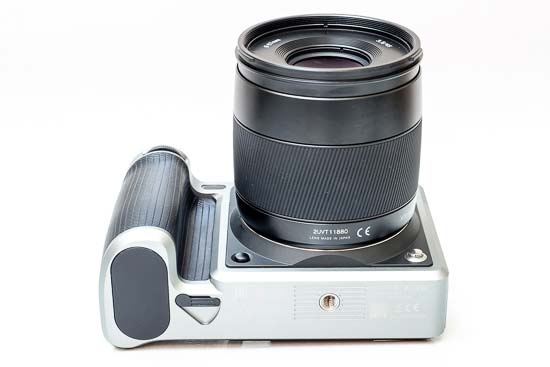 Bottom of the Hasselblad X1D-50c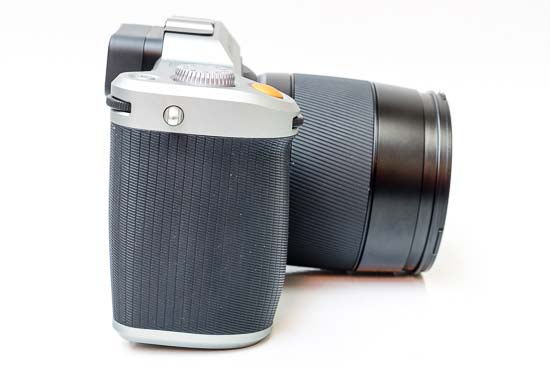 Side of the Hasselblad X1D-50c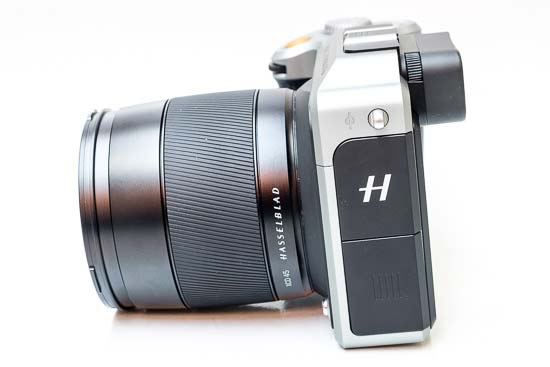 Side of the Hasselblad X1D-50c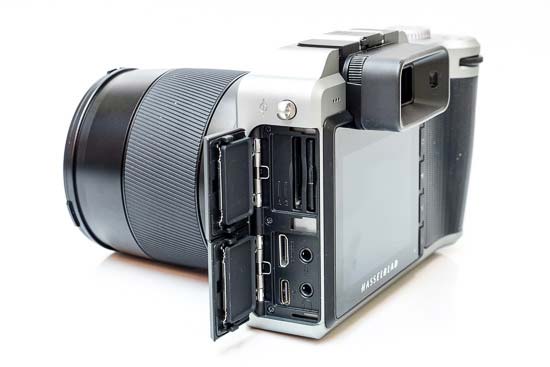 Side of the Hasselblad X1D-50c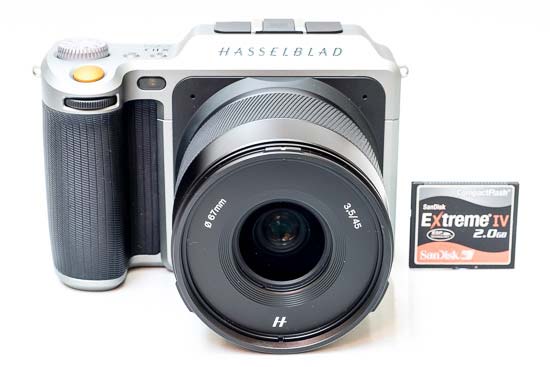 Front of the Hasselblad X1D-50c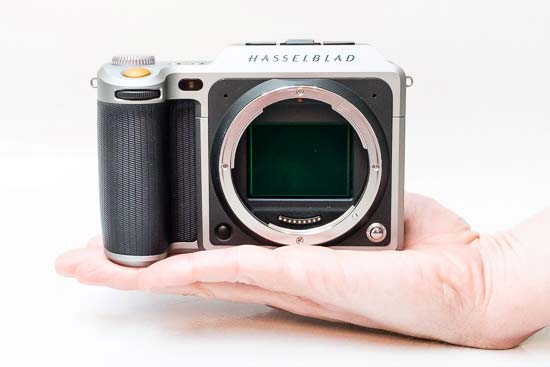 Front of the Hasselblad X1D-50c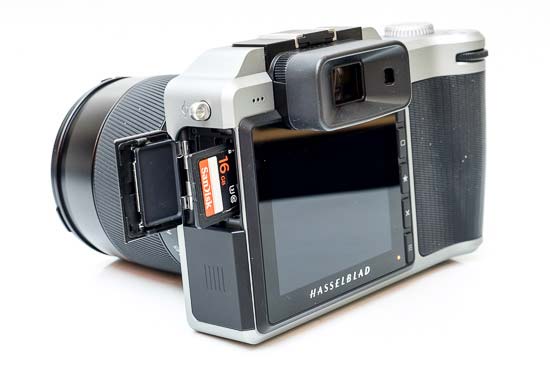 Memory Card Slots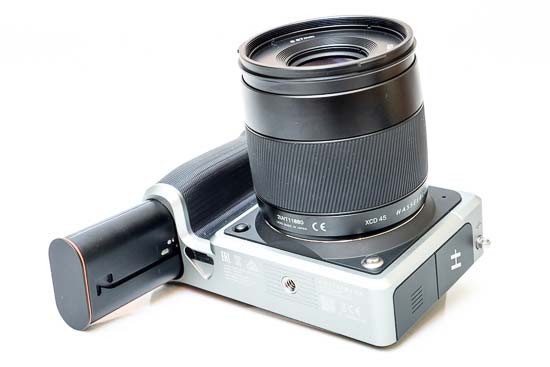 Battery Compartment
Specifications
Sensor type : CMOS, 50 megapixels (8272 × 6200 pixels, 5.3 × 5.3 μm)
Sensor dimensions : 43.8 × 32.9mm
Image size : Stills: RAW 3FR capture 65MB on average. TIFF 8 bit: 154MB; Video: HD (1920 x 1080p)
File format : Stills: Lossless compressed Hasselblad 3FR RAW + JPEG; Video: 8 bit, 4:2:0, H.264 Compressed (25 fps)
Shooting mode : Single shot stills, Video
Colour definition : 16 bit; Dynamic range up to 14 stops
ISO speed range : ISO 100, 200, 400, 800, 1600, 3200, 6400, 12800 & 25600
Storage options : Dual SD card slots
Colour management : Hasselblad Natural Colour Solution
Storage capacity : 16GB card holds 240 images on average
Capture rate : 1.7 – 2.3 frames per second
Display : 3.0 inch TFT type, 24 bit colour, 920K pixels; Touch functionality: Yes, full support Live View: On camera, host and iOS device with high frame rate (30 fps)
Histogram feedback : Yes (on rear display)
IR filter : Mounted in front of sensor
Acoustic feedback : Yes
Software : Phocus for Mac and Windows. Compatible with Adobe Photoshop Lightroom® and Adobe Camera Raw®
Platform support : Macintosh: OSX version 10.10; PC: Windows 7 / 8 / 10 (64 bit only)
Host connection type : USB 3.0 (5 Gbit/s) Type-C connector
Additional connections : Mini HDMI, Audio In/Out
Operating temperature : – 10 ̊C to + 45 ̊C / 14 – 113 ̊F
Wi-Fi & GPS : 802.11a, b, g, n, ac (depending on region)
Dimensions : Camera Body only: 150 x 98 x 71 mm
Weight : 725g (Camera Body and Li-ion battery)
Camera type : Mirrorless Large Sensor Medium Format
Lenses : Hasselblad XCD lenses with integral lens shutter
Shutter speed range : 60 minutes to 1/2000 sec with XCD Lenses
Flash sync speed : Flash can be used at all shutter speeds
Viewfinder : 2.36MP XGA Electronic Viewfinder
Focusing : Autofocus metering via contrast detection; Instant manual focus override
Flash control : 
Automatic TTL centre weighted system. Nikon™ compatible hotshoe
Output can be adjusted from -3.0 to +3.0 EV
Exposure metering : Spot, Centre Weighted and CentreSpot
Power supply : Rechargeable Li-ion battery (7.2 VDC/3200 mAh)
Conclusion
The Hasselblad X1D-50c is a beautifullly designed, impeccably built camera that offers medium-format image quality in a body that's comparable in size to a DSLR. Frustratingly, though, it's also quite a quirky product that feels rather unfinished in terms of its features and operating speed, despite being available to buy since the end of 2016.
Still image quality is outstanding, with bags of detail thanks to that 50 megapixel sensor, huge depth of field that makes it easy to isolate your subject, and good noise performance from ISO 100-3200. The two new XCD lenses that we tested the X1D with are both excellent, if unsurprisingly pricey. Serious videographers should clearly look elsewhere, though.
The X1D-50c doesn't impress so much when it comes to speed. It seemingly takes forever to start-up, and when it does, the auto-focus system is too slow to keep up with moving subjects, which makes the X1D better suited to a slower, more deliberate way of working. The electronic viewfinder is a little behind the times in terms of its specification, the touchscreen interface again feels unfinished, there are some glaring omissions from the feature-set, and the battery life leaves a lot to be desired.
As the first compact system camera to use a medium-format sensor, the Hasselblad X1D-50c is a very promising first-generation production, majoring in image and build quality, but lacking in speed and a general sense of being "finished". Viewed in isolation, it's well worth considering if the idea of having that distinct medium-format "look" in such a compact camera appeals to you. Unfortunately the second compact system camera with a medium-format sensor, the Fujifilm GFX, has followed hot on the heels of Hasselblad's trail-blazer, which after a short initial test feels better-realised and more feature-rich than the X1D, although not as compact or well built. Watch out for our Fujifilm GFX review soon…
(photographyblog.com, https://goo.gl/oTez08)
Comments
comments