Ricoh, current steward of the venerable Pentax brand, hasn't always been a prominent part of the camera landscape. But at this year's CP+ show in Japan, the camera manufacturer surprised everyone by announcing a move into full-frame DSLRs—a completely new category for the brand.
Even though the Pentax lens lineup included some excellent full-frame compatible lenses already, Ricoh decided that there needed to be some impressive zooms ready for when the new product category launches. And so, please welcome the brand-new HD Pentax-D FA* 70–200mm f/2.8 ED DC AW and HD Pentax-D FA 150–450mm f/4.5–5.6 ED DC AW. These massive new zooms fill a gap in Pentax's first-party lens lineup, pairing the company's typical rugged build and weather sealing with some impressive optics.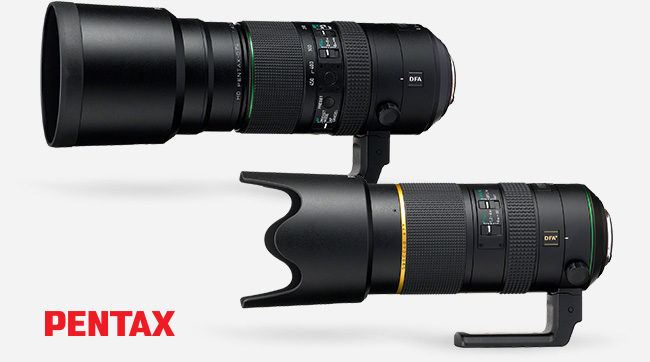 D FA* 70–200mm f/2.8
All-star
The Pentax Star series has been around since the film days, with the special mark indicating superior optical design. This new HD D FA* lens has all the features you'd want from a modern 3x zoom lens, and it also boasts Pentax's highest "All Weather" designation, with 13 seals to block moisture and dust from getting inside.
Like other 70-200mm f/2.8 lenses, it's a heavy and long piece of equipment with a rock-steady build. Focusing and zooming are both internal, so what you see is what you get. Like virtually all other Pentax lenses, it's not stabilized, since the company's DSLR bodies all feature in-body image stabilization.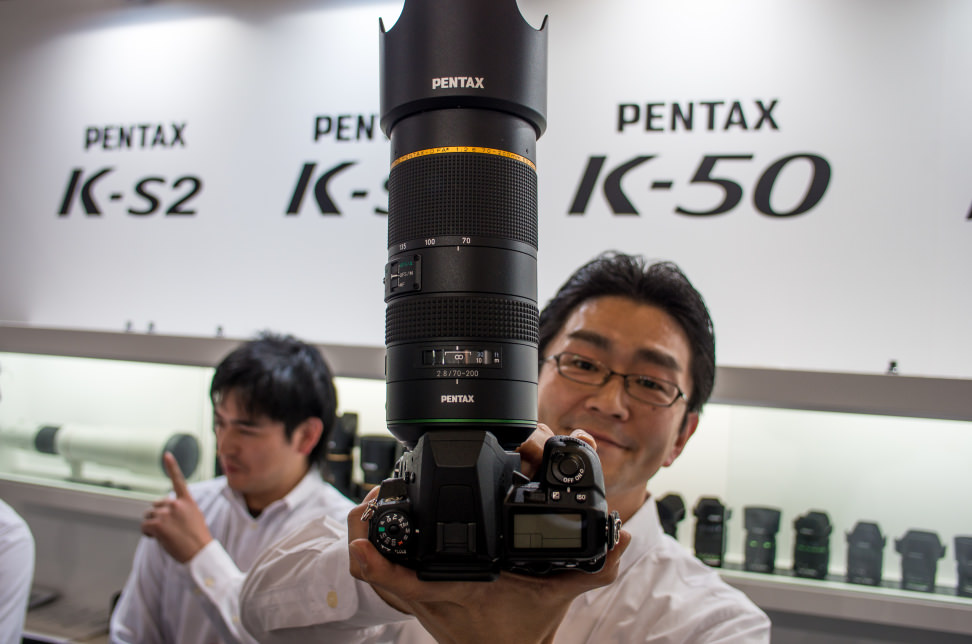 The brand-new D FA* 70-200mm f/2.8 is a mighty lens.
The D FA* 70-200mm f/2.8 ditches Pentax's older SDM autofocus technology in favor of the newer, simpler DC focusing motor. In some past DA* lenses, SDM was a notable weak point, with widely reported motor failures. In our time with the lens, we were pleasantly surprised at how quickly and accurately it focused, as well as how quiet it was in action.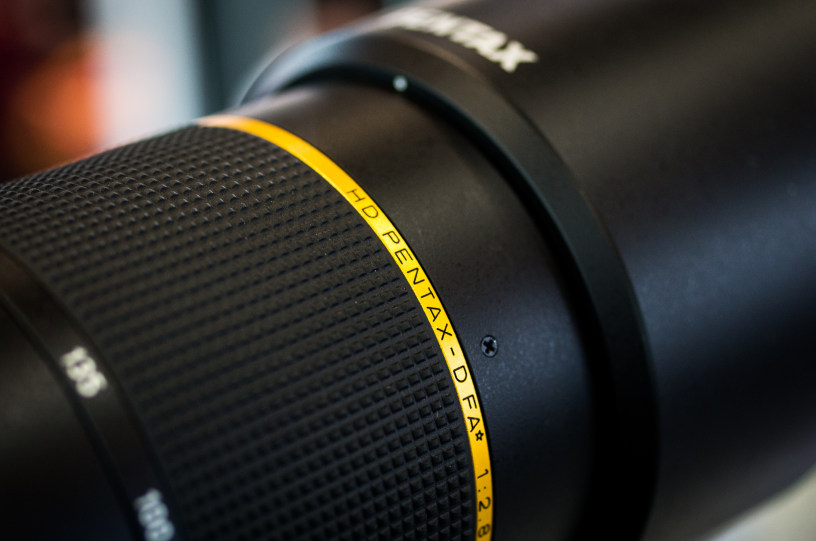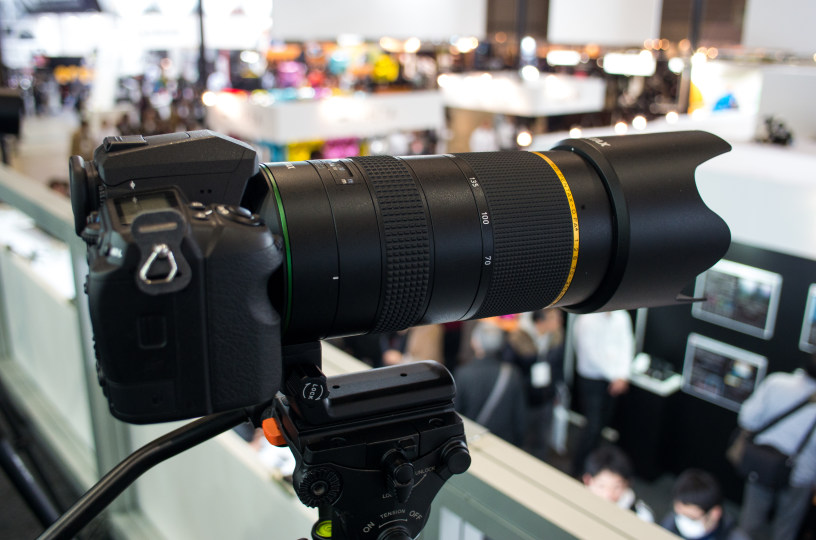 The optical design has been carefully engineered to get excellent performance at just about any focal length, even when you're shooting wide open. Inside are 18 elements in 14 groups, with two "super ED" elements, two regular ED elements, and four super-low dispersion elements. That's a whole lot of exotic glass.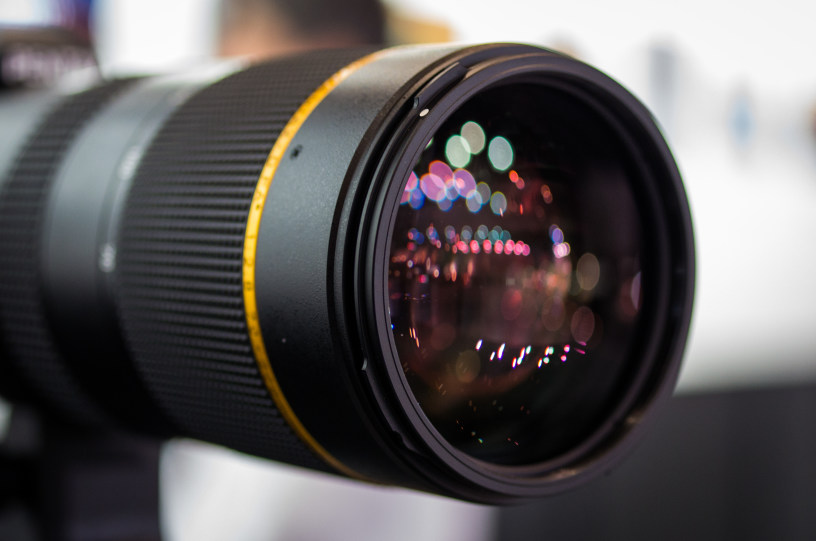 For good measure, Pentax has added its latest lens coatings, with HD and Super Protect on the front element and Aero-Bright II nano-coating on the inside. Finally, the lens's diaphragm has 9 rounded blades to keep the bokeh looking nice and smooth.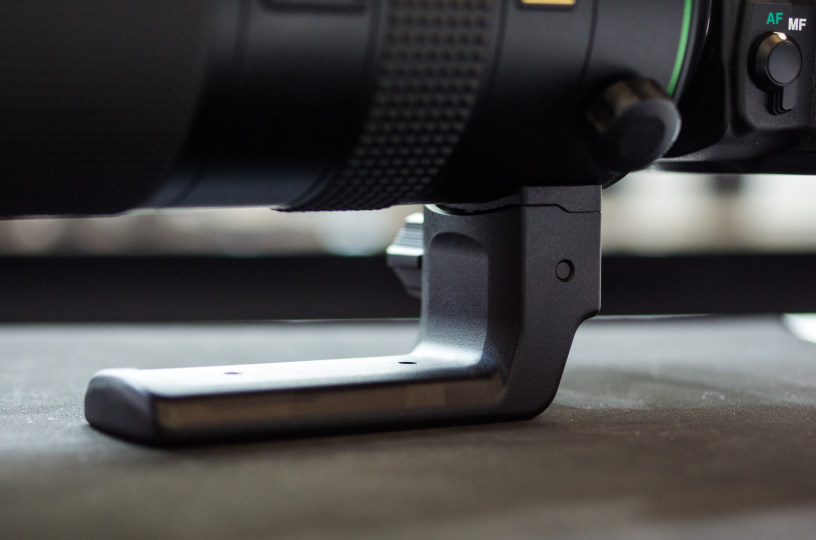 While we did get to shoot a little on the busy trade show floor, it's not exactly the best place to check out raw performance—especially with a telephoto lens. Moreover, we were unable to save any of our test shots, so you'll have to wait until we get a copy into our labs for more detailed sharpness and distortion results.
D FA 140–450mm f/3.5–5.6
When we say it's a "long" zoom, we aren't kidding.
The new D FA 150–450mm is a zoom the likes of we haven't seen from Pentax in a long time. It's a gargantuan lens—so big that my arms started shaking after holding it for more than five minutes. While this longer zoom isn't part of the ★ family, it still seems like it has a lot going for it.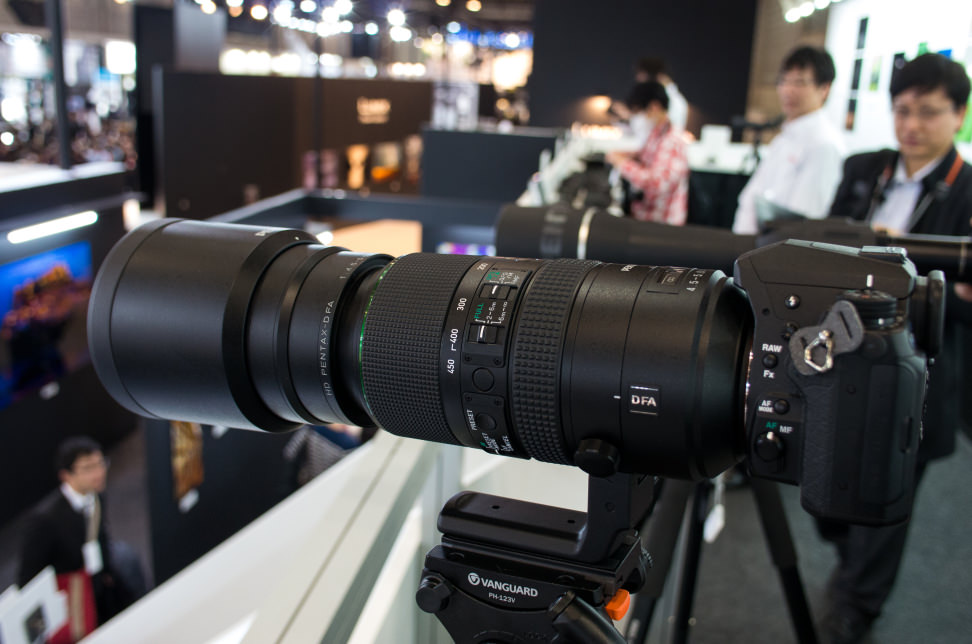 There's no two ways about it—the 150-450mm lens is humongous.
Inside are 18 elements in 14 groups. Pentax has packed in its suite of modern coatings, including HD, Super Protect, and Aero-Bright. It has three ED glass elements and one super-low dispersion glass element as part of its optical design. Twenty-one gaskets and seals help this lens achieve the AW rating from Pentax, so it can survive a sudden downpour or even a trip in a blizzard or sandstorm.
Our favorite feature is the 150-450mm's unique custom focusing system. You can program a focus distance preset using a button on the underside of the lens. Once set, this preset lets you jump back to that distance using one of four buttons positioned at 90-degree intervals around the barrel. The buttons can also be used for other functions, including triggering and canceling the AF motor. In the former case, it works just like a half-press of the shutter button.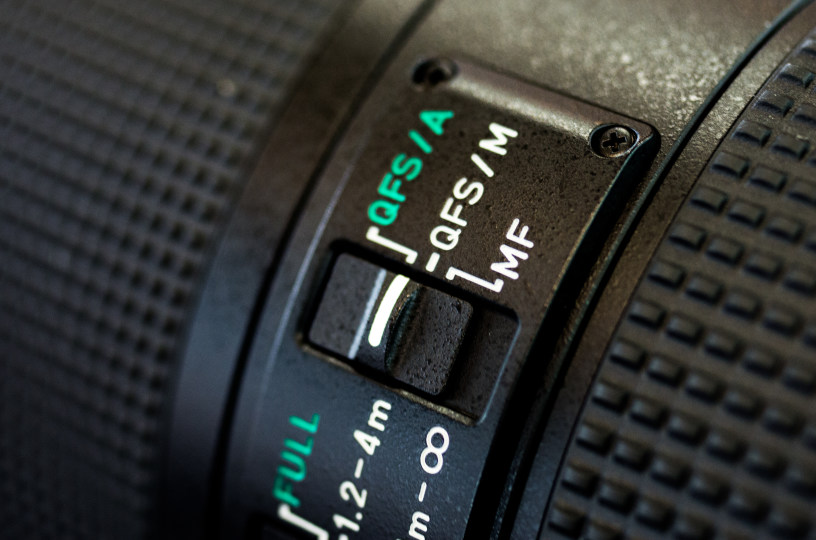 The focus range limiter is a useful feature on both of these new zoom lenses.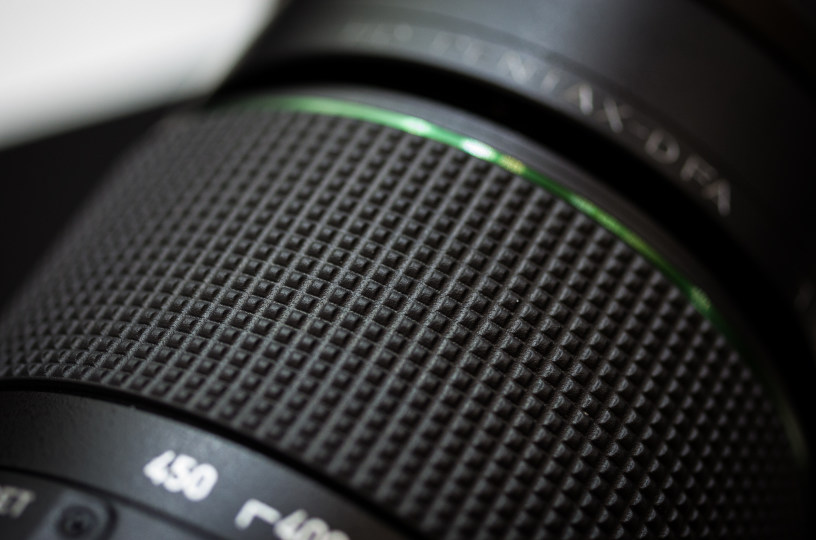 We were impressed with this lens's well-dampened zoom ring.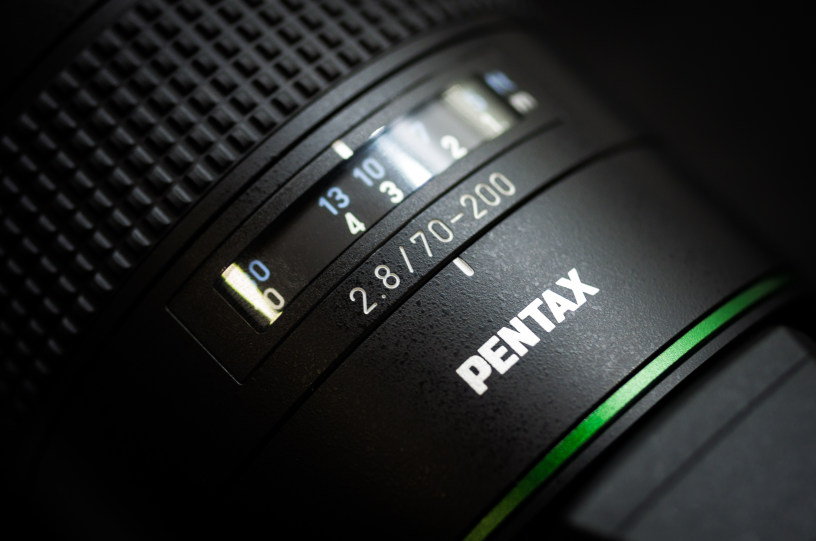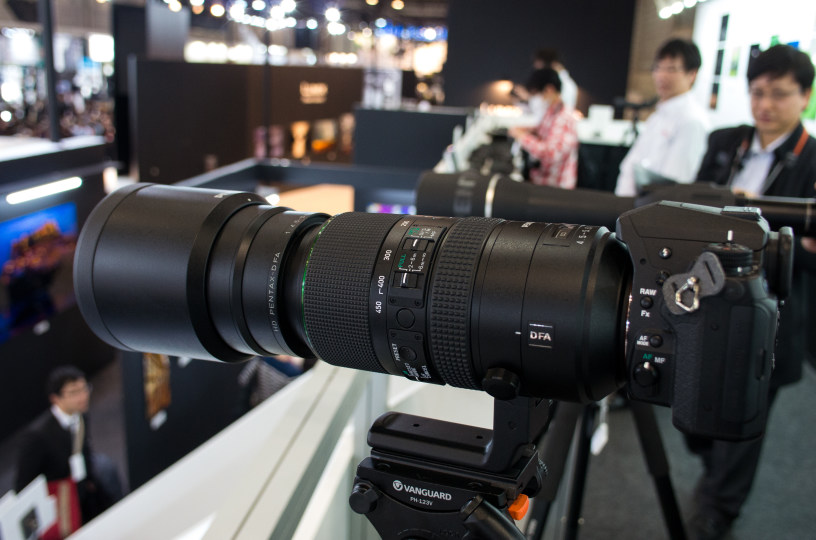 Comments
comments