Introduction
The GoPro HERO6 Black is the most powerful GoPro to date. It's an update to last year's HERO5 Black, and comes with a host of upgrades and new features.
Perhaps the most exciting new upgrade is the ability to shoot 4K video at 60fps, along with Full HD at 240fps. Previously, it was only possible to shoot 4K at 30fps.
Another intriguing new feature is a custom-designed processor, a GP1 – previously the company used off-the-shelf processors for its cameras. The new HERO6 Black boasts what the company is calling the most advanced video stabilisation ever.
There's also been a raft of other improvements, including to dynamic range and for low-light shooting. A digital zoom function has been added, too. Wi-Fi speeds have been improved for better transfer to your smartphone, a bonus for the new "QuikStories" app which enables video clips to be condensed into short snippets ready for sharing.
The HERO6 Black is waterproof down to 10 metres, without any kind of housing. Additional housing can be purchased to get you down to 30 metres. Other useful features including raw format shooting, HDR Photo mode, and voice control which allows you to do a variety of tasks, including switching the camera on.
At the time of writing, the HERO6 Black retails for £499.99/$660. GoPro is keeping its predecessor, the HERO5 in the line-up, which you can now buy for £399.99/$528.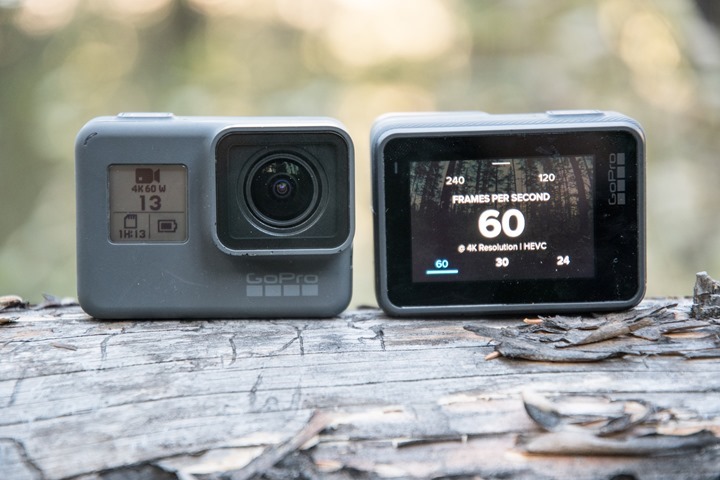 Ease of Use
The HERO6 uses the same body design as the HERO5 – so if you put them next to each other, you'll only really be able to tell the difference by looking at the HERO6 lettering on the side of the camera. The fact that it's the same shape and weight is excellent news for anyone who already has GoPro accessories, particularly the Karma drone, as the HERO6 slots right in to whatever you have.
Being a very small action camera, you can fit the HERO6 into your pocket, ready for action whenever you need it. It fits into the palm of your hand, but still feels very well built and blocky enough to survive different kinds of action which you might throw at it.
On the front of the GoPro HERO6 Black is a square LCD screen which shows you the settings you've got selected, such as video resolution and frame rate, plus battery life and how much space you've got left on your memory card. It's a useful screen to quickly look at when you're using the HERO6 in a holder, or, if you can't look at the rear screen.
As  you'll know if you've ever used a GoPro before, there's only a couple of buttons on the body of the camera itself – the majority of settings changes you will make via the touchscreen. You'll find a button on the top of the camera which can be used to quickly start recording, or take a photo, with a single push. Again, this is useful if you're using the camera in a mount or similar – you can quickly start recording using whatever setting you were previously working with. Push the button again to stop recording and to turn the camera back off.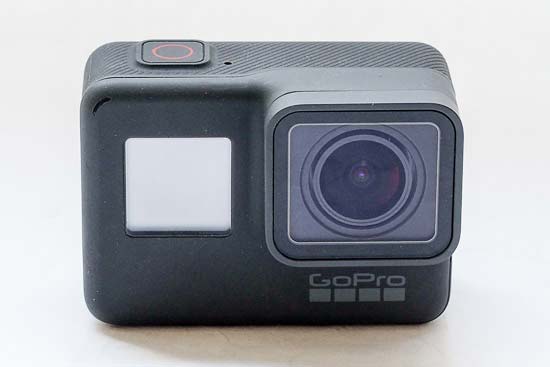 Front of the GoPro HERO6 Black
On the right hand side of the camera is a power on/off button. Hold this down to switch the camera on and off. You can also give it a lighter press to move between the different shooting modes, such as video or photo – again it's a good way to do this if you're restricted from using the screen but need to choose a different mode.
As the HERO6 is waterproof, the doors which give you access to the memory card, battery and USB slot are sealed against letting water, dust or other foreign objects in. This means they are a little tough to get open – but better than that than being too loose and flying open at the wrong moment and letting in water. There are two doors, the smaller of which is found on the side of the HERO6 – here's where you'll find the HDMI port and the USB-C port – the HERO6 charges via USB-C, and you can use an external battery pack to charge it (which is very useful when you're out and about), as well as charging via a wall socket.
Behind the larger door is the memory card slot – the HERO6 accepts Micro SD cards – plus the battery slot. There's a tab on the battery to help you pull it out if you need to.
Once you've switched on the GoPro HERO6 Black, you've got an array of options which can be changed via the touchscreen. The main options are found along the bottom of the screen, to include the resolution, frame rate and the field of view. For resolution, you've got a variety of options, all the way up to 4K. Give this a tap to choose between the different options available – swiping through will change the options.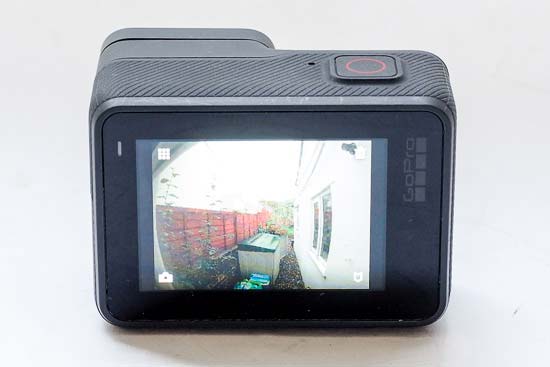 Rear of the GoPro HERO6 Black
By tapping on the frame rate options, again you'll be able to swipe through the different options – but you'll be warned if the resolution doesn't support the particular frame rate. For example, 240fps is not available in 4K. The final option – Field of View (FOV), can only be changed when you're shooting in certain options – for example, you can choose to shoot Linear when recording at 1440k, but when shooting at 4K, you can only shoot Wide.
On the right hand side of the screen, you'll see there's some additional options you can change – to access this menu swipe right. Here you'll be able to switch on ProTune, which means you can do things like change the ISO, shutter speed or white balance, switch on or off video stabilisation, switch on auto low light (which automatically lowers the frame rate in dim lighting for better video quality), and adjust manual control. The latter option means you can switch on or off the HERO6's very useful function to only use one microphone if it's too windy.
As well as offering video recording, you can also shoot still photos, and time-lapse videos with the HERO6. To switch to photo mode, simply tap the video icon, and you'll see the other options available. Under the photo mode, you can also activate Night shooting, and Burst shooting. Just like with video recording, you have options you can change if you swipe right. Again, you'll see Pro Tune for adjusting key shooting parameters, but you can also switch on or off High Dynamic Range, and switch on raw format shooting – the latter is likely to be particularly appealing to enthusiast photographers. The HERO6 shoots in .GPR (Go Pro Raw) format – one thing to note is that for some reason, in raw format, it flips the images – or at least it did when I viewed them in Adobe Bridge.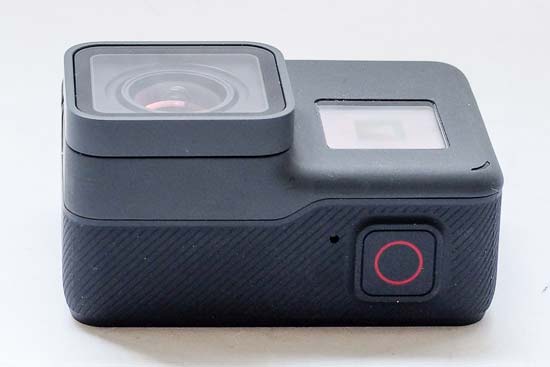 Top of the GoPro HERO6 Black
If you swipe from the left on the main screen, you can see your images and videos in playback. From here, you can delete images if you like, or just flick through the content you have stored on the HERO6.
As a result of the new GoPro processor, another improvement over the HERO5 is how quickly the various swiping motions can be used. You can now move through the various settings much quicker than was previously possible.
The final thing to note about the GoPro HERO6 Black's display is that key information is displayed at the top of the screen, including how much battery is left and how much space is left on the memory card.
A digital zoom is available for both video and photo, which you can access by tapping the screen. If you have raw format shooting switched on for stills, you won't be able to use digital zoom.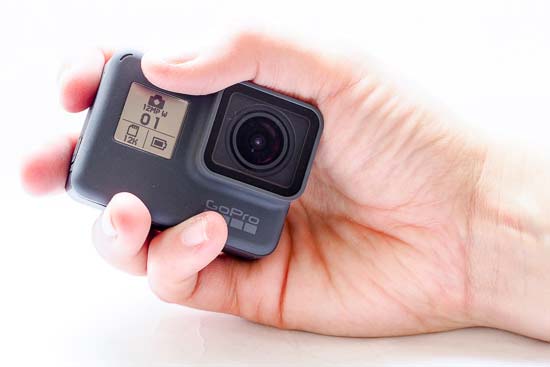 The GoPro HERO6 Black In-hand
Like the HERO5, the HERO6 has voice commands which you can utilise to perform certain actions. For example, you can use it to start recording, or switch the GoPro off. A new function for the HERO6 is the ability to switch the GoPro on – something which works only if you've turned it off via a voice command, and if you switch it back on within 12 hours. In practice, the commands work quite well in many situations, but if it's particularly windy then you might struggle to get it to understand you – something which could be problematic in certain shooting situations, such as surfing.
The Wi-Fi connection with the GoPro HERO6 Black has been upgraded, in a bid to make transfer to your smartphone quicker than the HERO5 (with compatible phones). It can now also shoot in the H.265 HEVC format, which is roughly half the storage space of the H.264 format, without loss of quality. The downside of this format is that, at the moment at least, it is relatively unsupported – you may want to check if whatever you're going to work with to watch / edit your videos will support it. For Mac users, you'll need the latest OS (High Sierra) in order to view the files.
One of the big new features for the HERO6 is the associated app now supports "QuikStories" – this is where the app automatically collates your videos together to create something you can share online. This is a great way to make something meaningful with your created videos – but it's worth noting that you can't use the H.265 HEVC format for videos that will be compatible with QuikStories.
The GoPro HERO6 Black uses the same battery as the HERO5, and delivers roughly the same amount of power. If you already own the HERO5, it's great to be able to swap the batteries around depending on where you want to use them.
Image Quality
The Go Pro HERO6 Black produces the best video quality of any GoPro to date, and it's great to be able to use it with a variety of different frame rates, depending on your particular needs.
You can only use the image stabilisation setting if you shoot at 30fps (when shooting 4K), so it's best to shoot at this resolution if you're working without any other kind of stabilisation, such as a gimbal, or a tripod. With it switched on, the stabilisation offers an impressive amount of stability – producing very smooth video when doing something reasonably sedate like walking or cycling on a steady path, and a reasonable amount when doing something a little more active, such as running.
Auto exposure has been fine tuned for this version of the Hero, which in essence means that if you move between areas of bright and dark, it catches up well to produce well balanced and well exposed videos.
When it comes to stills shooting, it's safe to say that the HERO6 isn't going to displace your ordinary camera, or even your phone, but it takes decent pictures. Certainly, it's good to have if you want to take a stills shot in places you might not be able to use other devices, such as underwater.
Noise
There are 6 ISO settings available on the GoPro HERO6 Black for JPEGs and RAW files. Here are some 100% crops which show the noise levels for each ISO setting for both JPEG and RAW files.
| | |
| --- | --- |
| JPEG | RAW |
| ISO 100 (100% Crop) | ISO 100 (100% Crop) |
| | |
| | |
| ISO 200 (100% Crop) | ISO 200 (100% Crop) |
| | |
| | |
| ISO 400 (100% Crop) | ISO 400 (100% Crop) |
| | |
| | |
| ISO 800 (100% Crop) | ISO 800 (100% Crop) |
| | |
| | |
| ISO 1600 (100% Crop) | ISO 1600 (100% Crop) |
| | |
| | |
| ISO 3200 (100% Crop) | ISO 3200 (100% Crop) |
| | |
Focal Range
1x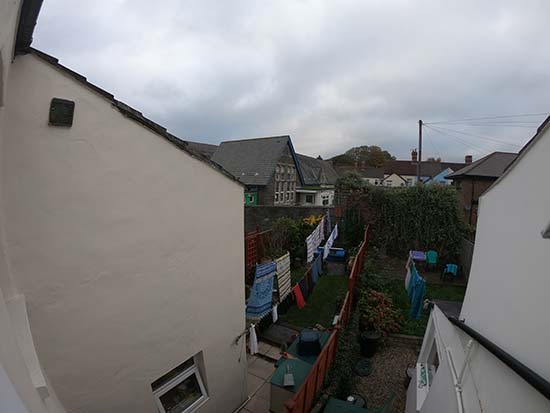 Digital Zoom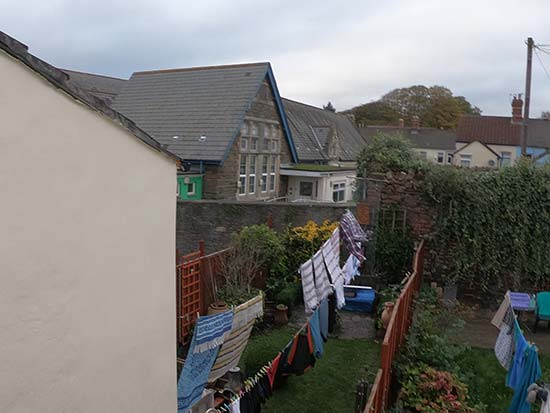 Long Exposure
The GoPro HERO6 Black's maximum shutter speed is 30 seconds, which is excellent news if you're seriously interested in night photography. The shot below was taken using a shutter speed of 30 seconds at ISO 100.
Night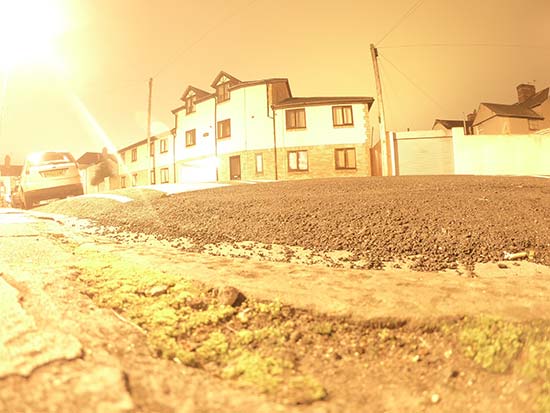 Sample Images
This is a selection of sample images from the GoPro HERO6 Black camera, which were all taken using the 12 megapixel JPEG setting. The thumbnails below link to the full-sized versions, which have not been altered in any way.
1/672s · f/2.8 · ISO 100
1/240s · f/2.8 · ISO 428
1/240s · f/2.8 · ISO 258
1/300s · f/2.8 · ISO 100
1/400s · f/2.8 · ISO 100
1/410s · f/2.8 · ISO 100
Product Images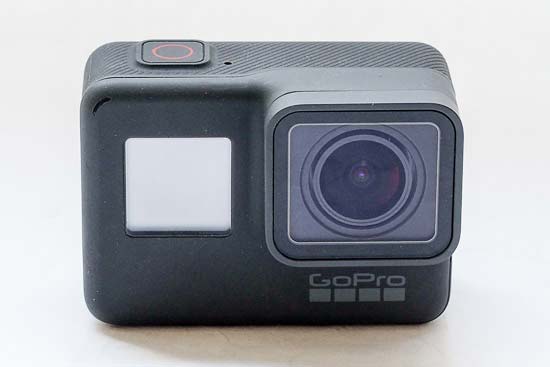 Front of the GoPro HERO6 Black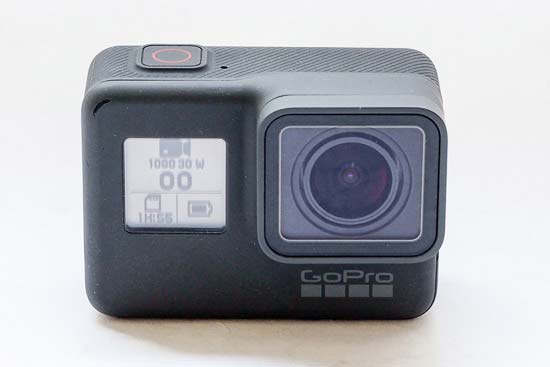 Front of the GoPro HERO6 Black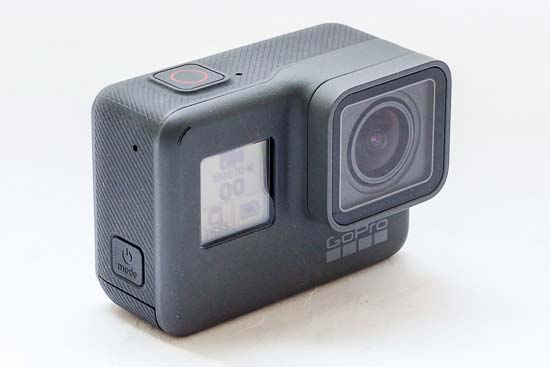 Front of the GoPro HERO6 Black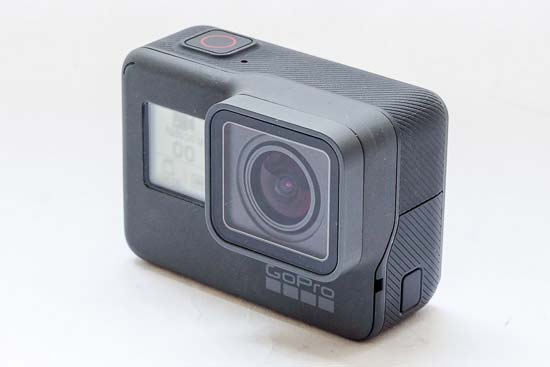 Front of the GoPro HERO6 Black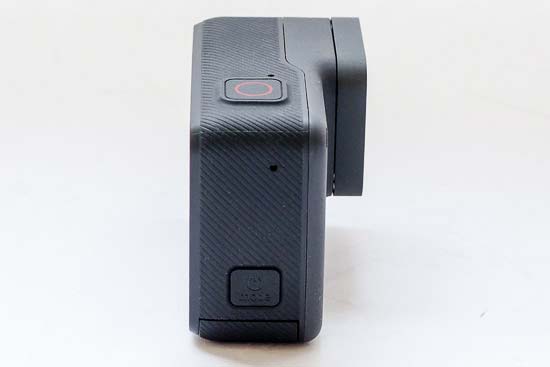 Side of the GoPro HERO6 Black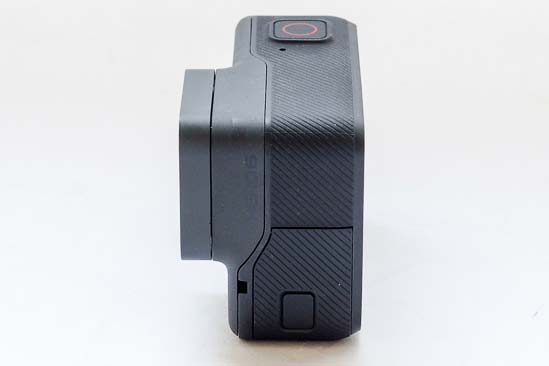 Side of the GoPro HERO6 Black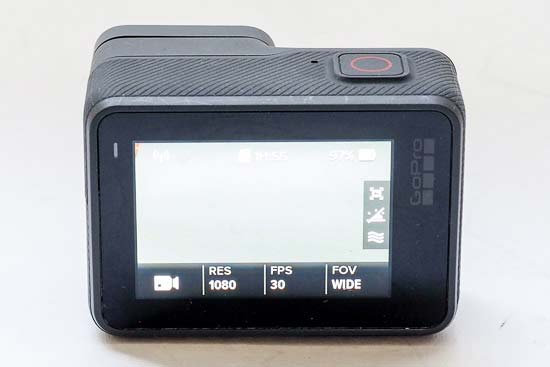 Rear of the GoPro HERO6 Black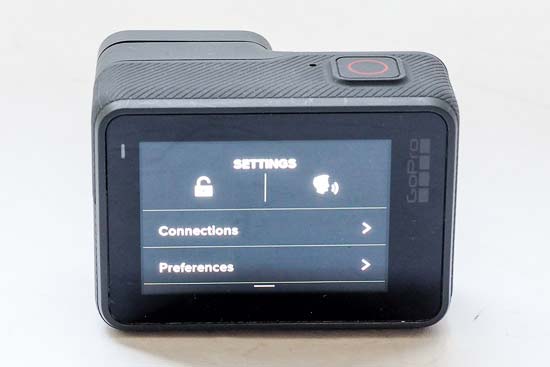 Rear of the GoPro HERO6 Black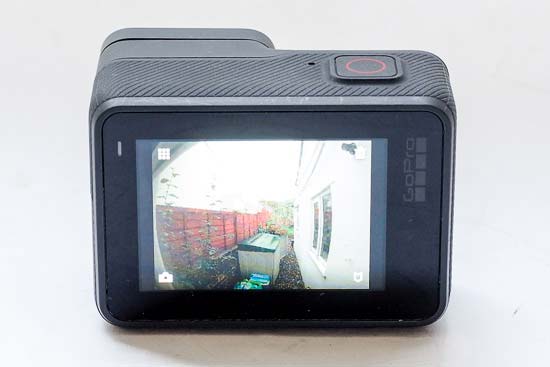 Rear of the GoPro HERO6 Black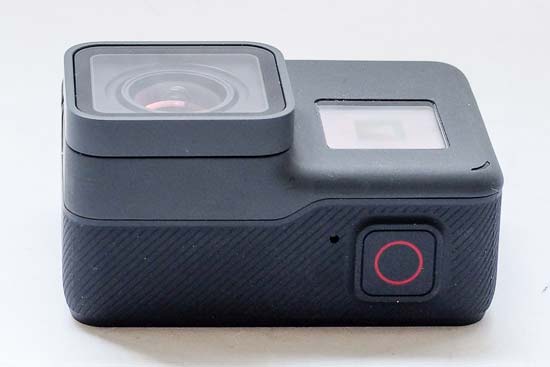 Top of the GoPro HERO6 Black
Bottom of the GoPro HERO6 Black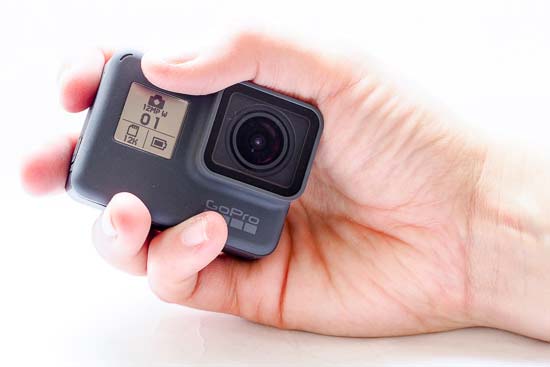 Front of the GoPro HERO6 Black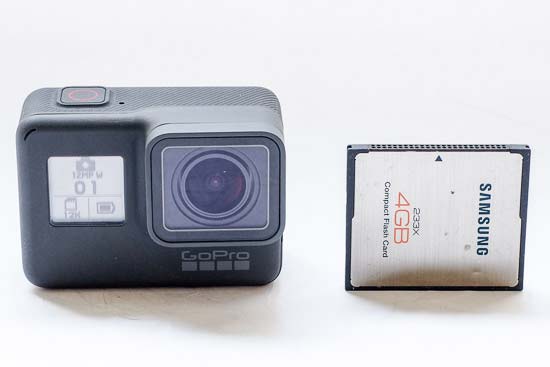 Front of the GoPro HERO6 Black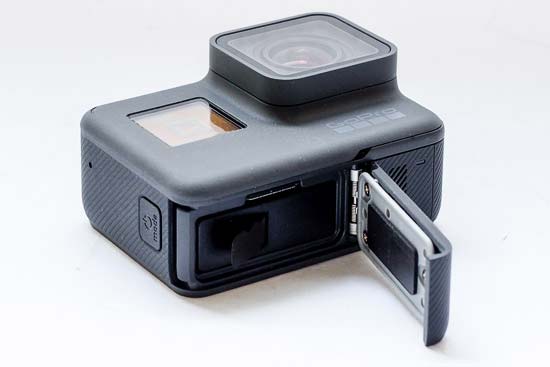 Battery Compartment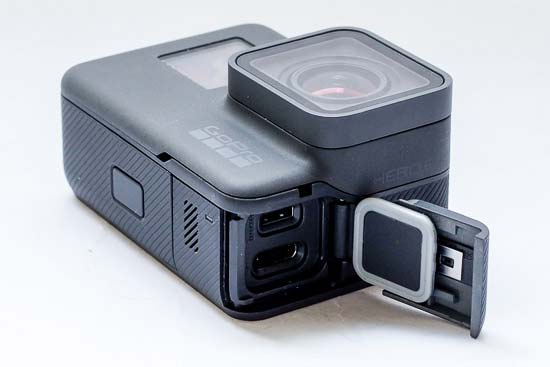 HDMI Ports
Conclusion
GoPro is the go-to name when it comes to action cameras, and it's fair to say that the HERO6 Black is quite probably the best action camera currently on the market.
It's got a wealth of exciting features, including 4K at 60fps, and an improved image stabilisation that you can use when shooting 4K at 30fps. Overall, the range of improvements made to the HERO6 when compared to the HERO5 make it a very worthwhile upgrade, even if you have the older model.
Overall the camera is easier and quicker to use, the new voice command is very useful, and improvements to auto exposure mean that when you're shooting in varied conditions you can feel confident that you'll get good movies. The image stabilisation does an impressive job, especially when you're doing something relatively sedate – we're not going to say you don't need to buy a gimbal or other stabilisation method – but you can certainly make do without one if you don't have the funds.
On the other hand, it's great that GoPro has kept the HERO5 in the range, available at a cheaper price, for those who are on a budget. That's probably the biggest downside of the HERO6 – it's a high cost proposition, and with a huge raft of cheaper brands currently on the market, you arguably have to really be into your action videography to be able to stretch to almost £500/$660 to buy one.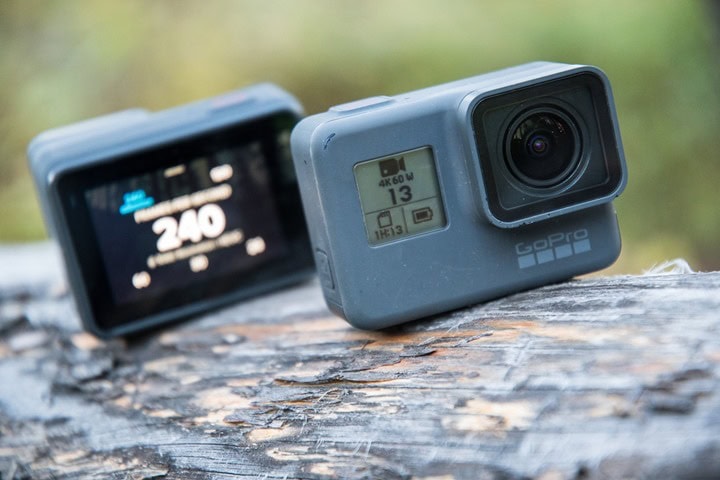 There's dozens of accessories which are compatible with the GoPro HERO6, making it one of the most versatile action cameras you can currently buy. That's one compelling reason to buy it over some of the other cameras on the market – you know that you're going to be able to find something to use it with.
Although the GoPro HERO6 is primarily a video camera, the fact that you can use it for stills in situations where you wouldn't be able to use other cameras (or your phone) makes it a versatile option for a range of different photographers – not just those who are into extreme sport.
(photographyblog.com, https://goo.gl/Ew5y1T)
Comments
comments