THE GOOD: The GoPro Hero5 Session is a big improvement in video and photo quality from the original Hero Session. Additions like voice control, electronic video stabilization and USB-C help justify the $100 price difference.
THE BAD: You'll have to connect to a phone or tablet to see what you're shooting. The built-in battery means that once the battery is drained, you'll have to stop to charge or connect to a power source to keep recording.
THE BOTTOM LINE: The GoPro Hero5 Session brings top-notch features to an already great design.
GoPro's Session camera got off to a rocky start.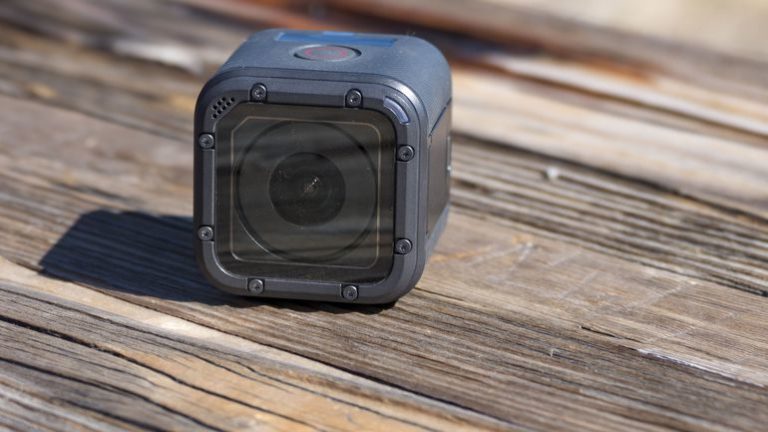 The tiny cube-shaped shooter — the smallest the company had ever made — received praise for its design while simultaneously being bashed for middling video quality and too few features for too high a price. It wasn't until GoPro cut the price in half to $200, £200 or AU$300 that consumers were able to look past its shortcomings.
The original remains in the lineup as the company's entry-level model at that $200, but is joined by the improved Hero5 Session. It's still going to seem pricey to some at $300, AU$460 and £300, but at least now it has some higher-end features to back it up, including 4K-resolution video. That's excellent for such a tiny camera.
Before I dive into the features, you should know its design is essentially unchanged. If it weren't for the branding and a USB-C port for faster charging and transferring content, you couldn't easily tell them apart.
The smaller size forces some feature compromises, the worst of which, at least for me, is that there's no removable battery. Short battery life is one thing (it's about an hour and a half recording at 1080p at 60fps), but not being able to swap out for a fresh pack means you just might miss the best action of the day.
With limited room for controls, there's just a small screen and two buttons for changing settings on the camera and there's no screen for framing your shots. Its larger rectangular linemate, the Hero5 Black, gets you a removable/replaceable battery and a built-in touchscreen along with more shooting options including video faster frame rates and raw and wide-dynamic-range photos, a Micro-HDMI output and GPS for adding data overlays to your videos. If you want the best GoPro camera to date, the Hero5 Black is it.
Simply fun
The Session, though, is just a lot of fun to use. Press the one big record button on top and it kicks on and starts recording. Press it again and it stops and turns itself off. Don't want to touch a button at all? GoPro added voice controls for starting and stopping recordings, snapping photos, changing modes and even tagging highlights in your clips.
Voice control always seems like one of those features no one really needs, but it works great for when you've mounted the camera out of reach, or you don't want to take off gloves to switch from recording video to a time-lapse, or maybe you just enjoy yelling commands at inanimate objects. The only time it fell short was in noisy environments like while I was biking around New York. The GoPro Remo waterproof voice-activated remote fixed this, making it possible to control the camera mounted on my helmet hands-free.
Still, if you want to get a look at what you're shooting before you press record, you can connect an iOS or Android device up to the camera via Wi-Fi and use GoPro's Capture app to preview and review and control the camera. GoPro streamlined the setup process to make it as painless as possible and it also uses Bluetooth LE to maintain a persistent connection between the camera and your device.
The square body is much easier to position and with the included low-profile mount, even if it's on top of your head, it doesn't look and feel nearly as awkward as GoPro's other cameras. And since it's waterproof without a housing down to 10 meters (33 feet) and has a user-replaceable lens cover, you really don't have to worry about weather or dirt or it getting banged around.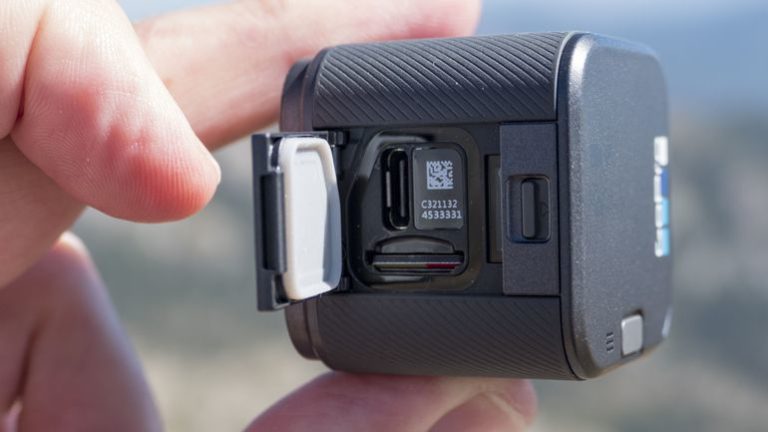 Video quality is much improved from its predecessor, with less visible noise, fewer blocky artifacts and sharper fine details. Low-light results look way better, too, though with any small-sensor camera, the more light you have the better your picture is going to be.
Also, GoPro finally added electronic image stabilization. It's not available at the camera's max 4K resolution, but you can drop down to 1080p at 60fps and use it. While you won't get the same smoothness of a motorized gimbal, it does help take down camera shake a couple notches. And, if you're not a fan of GoPro's trademark wide-angle lens distortion, a linear-view setting puts an end to it.
The camera also supports GoPro Plus, the company's new $5-per-month cloud service. Plug in the camera to charge and your photos and movies will automatically upload to the service for viewing and sharing your phone, tablet or computer. It doesn't replace storing your clips locally (video uploads are transcoded to 1080p at 30 frames per second, regardless of what you recorded them at), but it does mean they're not trapped on a microSD card somewhere.
The design makes the difference
The Hero Session was the first GoPro camera to do away with the need for a waterproof housing — one of the things I've always disliked about them. The camera's tiny square design makes positioning much easier and allows you to put it in places the others won't fit. And the simple one-button control lets you start shooting almost instantly.
The only thing really missing was excellent video quality, which is fixed with Hero5 Session. If you need all the features GoPro offers, you'll still want the Black, but for a tiny camera to toss in a bag and go, this is pretty perfect.
(cnet.com, https://goo.gl/lqKyCp)
Comments
comments