GoPro has given us a first look at the upcoming Fusion 360-degree action camera. Like the Hero and Session, it's designed to be strapped to virtually any part of you, your bike, shoes, car or any number of accessories. It's just as much an action camera as the others, except this one shoots in 360 degrees and has some impressive features.
It's worth noting, the units we saw were very much pre-production models, and this was more a sneak peak teaser than a full-on product announcement. That means some (or most) details and specs aren't being shared, but we've seen enough of how it performs and works to at least give you a taster of what to expect. If pre-launch models are anything to go by, the real thing won't just be what the 360/VR capture market needs, it could revolutionise action camera video.
GoPro Fusion preview: Design
GoPro kept things fairly simple on the design front. It's a square camera that's noticeably larger than the Hero 5, but it is roughly the same thickness and has a similar finish. GoPro retained the dual-tone grey colour scheme and the grippy diagonal lines around the edges. As you'd expect, it also has the same two-button control system to keep things familiar and simple for existing users.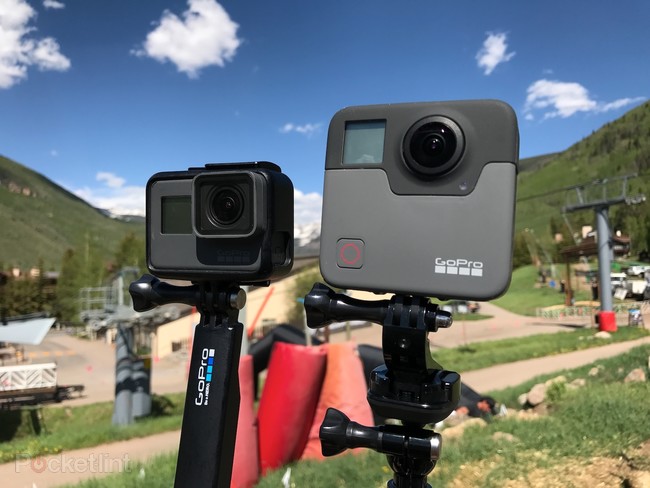 There's a camera on the front and the back of the Fusion, as well as the usual small, square monochrome screen on the front which will show basic information during shooting, just like the Hero does. The one thing it doesn't have is a touch screen or viewfinder. Arguably, having one on a 360-degree system doesn't make any sense, so it's a fair omission.
Using the usual mounts, you can attach the Fusion to most of the existing selection of GoPro accessories, although due to its size, it obviously won't fit in the Karma mount. That means no drone flying for this gadget just yet.
While GoPro hasn't officially confirmed as much yet, it seems the Fusion is built to withstand water. We noticed one (accidentally) being submerged in water at least 1 metre deep for a few minutes, and it worked just fine afterwards. That's not a surprise though, with its similarities to the Hero 5 in terms of finish and build, it looks like it will cope with all your rainiest, wettest action cam sessions. It's not confirmed, but we'd be very surprised if it wasn't waterproof.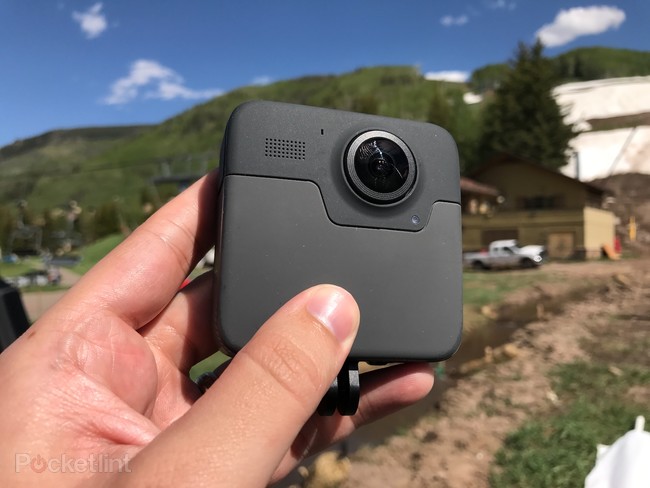 GoPro Fusion preview: Cameras and OverCapture
Being a 360-degree camera, the Fusion is equipped with two 180 degree lenses that capture everything all around the device. It shoots 5.2k video, and its sensors and optics make this one of the best action cameras we've seen. Strangely, it's not because its footage can be viewed in a VR headset like the Gear VR (as cool as that was). It's what it does to transform the 360 video in to a flat video that anyone can watch.
With so many consumers using their phones to consume media on the go, GoPro decided it made sense to develop a way to transform its 360 captures in to videos that look great on a flat screen. With 5.2k resolution and something called OverCapture, the company looks like they've cracked it.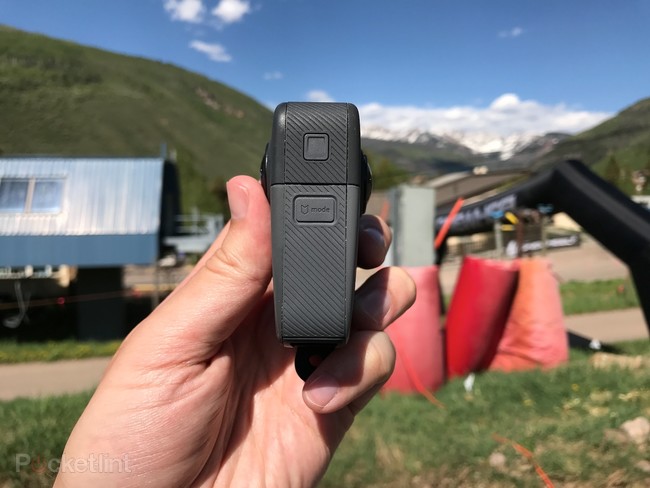 Using its OverCapture feature, you can choose to have a nice flat shot of one part of the action, or select a wider one, or even have a "tiny planet" like experience that shows all of the video. More importantly though, when editing the footage you can pan through select parts, or transition between the tiny planet and more traditional flat video scenes smoothly in one motion.
As an example, you could have the Fusion set up on a tripod, completely still and have a bike or dog run past it, and in the edit, you can follow that action almost as if you were moving a regular single video camera. So when you go to show your friends, or watch it back on a TV, you don't miss any of the important action.
As you're watching it back, it looks as the the camera itself was being moved, but it isn't. It's all in the Over Capture technology and the way it can switch, transition and edit. It's pretty phenomenal.
What this does for regular consumers, and technophobes, is it gives them the ability to make amazing action videos. You'll be able to make professional looking, immersive video, and barely lifting a finger to do it. Arguably then, you actually get a better experience from it on a flat mobile or TV screen than strapped into a headset, although even then, the video quality was good.
As with many of the other features, we don't have any information about the camera sensor resolution in terms of regular still photos or an idea about battery performance. There's more to come in that regard, sometime later this year.
GoPro Fusion: When can I get it?
There's no concrete release date yet for the Fusion. Currently, the company has opened up registration for a pilot program where it will select a few experienced prosumers to test out the camera before it's officially available. You can sign up at GoPro's Fusion web-page. Actual retail launch hasn't been nailed down just yet, neither has a price, but the plan is to have the camera starting to roll out by the end of 2017.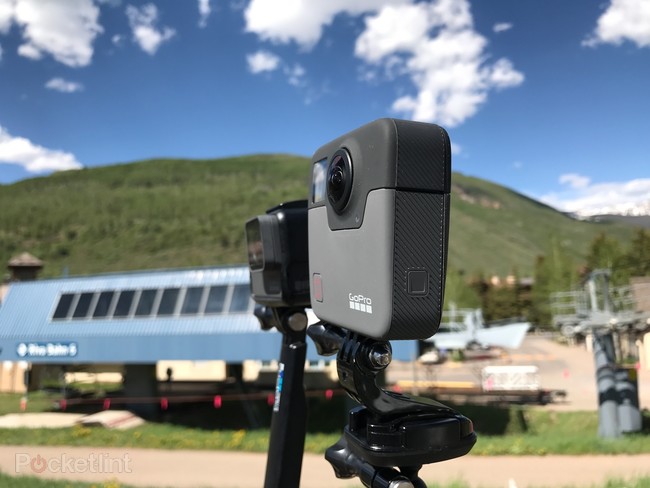 First Impressions
Although we're short on official specifications, we've seen enough to excite us about what's coming up, when the company eventually reveals everything we need to know about the new 360 degree action camera. For us though, the experience is more than just about numbers on a screen. What's going to make this camera unique is its ease of use and the OverCapture feature.
With OverCapture, being able to smoothly switch between a regular sized photo or video frame to the tiny planet effect in a single transition, editing on the fly on a smartphone, it's impressive to say the least. We think this is the real story here and something which has the potential to shake up the VR camera industry, and reinvigorate the action camera market.
(pocket-lint.com, https://goo.gl/nwIl05)
Comments
comments