Fujifilm has unveiled the XQ2, an ultra-portable, high-end pocket camera that keeps both form and function a top priority. Part of their X-Series, the Fuji XQ2 is a successor to the company's XQ1, a powerful, pocketable beast in its own regard.
As with its predecessor, the XQ2 features Fuji's award-winning X-Trans sensor technology with an identical 2/3-inch 12-megapixel X-Trans CMOS II sensor. Behind that sensor is the company's EXR II processor, which 'more than doubles' the processing speed of the previous generation used in the XF1. The Fuji XQ2 also keeps the XQ1's impressive manufacturer-specified startup time of one second and 0.015 second shutter lag.
Although Fujifilm calls it "newly developed," the XQ2 appears to retain the exact same Fujinon lens as the XQ1. The 25-100mm (35mm equivalent) Fujinon zoom lens features a 4x optical zoom with a max aperture of f/1.8 on the wide end, though it drops off to a rather paltry f/4.9 when at full telephoto. Inside are seven elements in six groups, four of which are aspherical elements and three are extra low dispersion. Additionally, each element has been coated with Fuji's HT-EBC (High Transmittance Electron Beam Coating) to reduce ghosting and flare. The lens also features optical image stabilization, said to be good for up to 3 stops of correction.
Like Fuji's other X-Trans cameras, the XQ2 lacks an optical low-pass filter, thanks to the sensor's proprietary randomized color filter layout which helps avoid moiré and false colors. In addition, Fuji's Lens Modulation Optimizer technology helps to remove unwanted fringing and diffraction when shooting wide and far.
As with its older sibling, autofocus performance is claimed to be one of the best in the business, with a blazing response time of 0.06 seconds. Powering the XQ2's AF performance is over 100,000 on-sensor phase detection pixels used in combination with Fuji's contrast-detection AF in their auto-switching system. Like the XQ1, the XQ2 also has a dedicated focus peaking mode, which makes for easier manual focus.
Other features within the XQ2 stay mostly the same as the XQ1. The ISO range remains unchanged, going from 100 up to 12,800. Video can be shot up to 60p at full 1,920 x 1,080 resolution and is kept in focus thanks to Fuji's AF tracking technology. Wi-Fi capabilities remain largely unchanged, with the same dedicated button to quickly transfer photos and videos wirelessly to your smartphone via Fujifilm's camera app for iOS and Android devices, though you can now send photos directly to Fuji's Instax SHARE SP-1 Smartphone Printer for instant prints.
There's little disputing the fact that Fujifilm has found its mojo again. As far as the smaller camera companies go, Fuji's put out some of the most innovative camera technology in the past few years. From X-Trans to incredible film simulation modes, to wireless printing onto instant film, we're always excited to see what Fuji will come up with next.
Unfortunately, the company's strong suit hasn't always been in the point-and-shoot segment. While theX30 was a pretty solid camera, other cameras in the lineup are rather stale. Fuji's hoping to change that with the faster XQ2 (MSRP $399.95). It's easier to use than past Fujifilm point-and-shoot cameras, and it looks like an affordably priced option for those who like to keep it simple.
Design & Usability
Small, sleek, pocketable
With a camera of this class, there are really two things we're looking for. First, we want it to be approachable, with as few controls as possible. Second, we really love to see a camera that is as compact as can be, making it trivial to slip into a pocket or bag.
The model citizen in this class is the great Canon PowerShot S120, which gives users enough control, while collapsing in on itself to fit anywhere. Fujifilm has done a great job making the XQ2 about as compact: It features a tight rear control cluster, a mode dial up top, and a zoom switch surrounding the shutter button.
Thankfully, Fujifilm learned an important lesson with its first attempt at an X-type point-and-shoot. The XF1 had a convoluted opening mechanism that involved pulling and turning the lens in a special sequence, and it was very confusing. The XQ2 turns on quickly with a simple button press, no secret handshake required.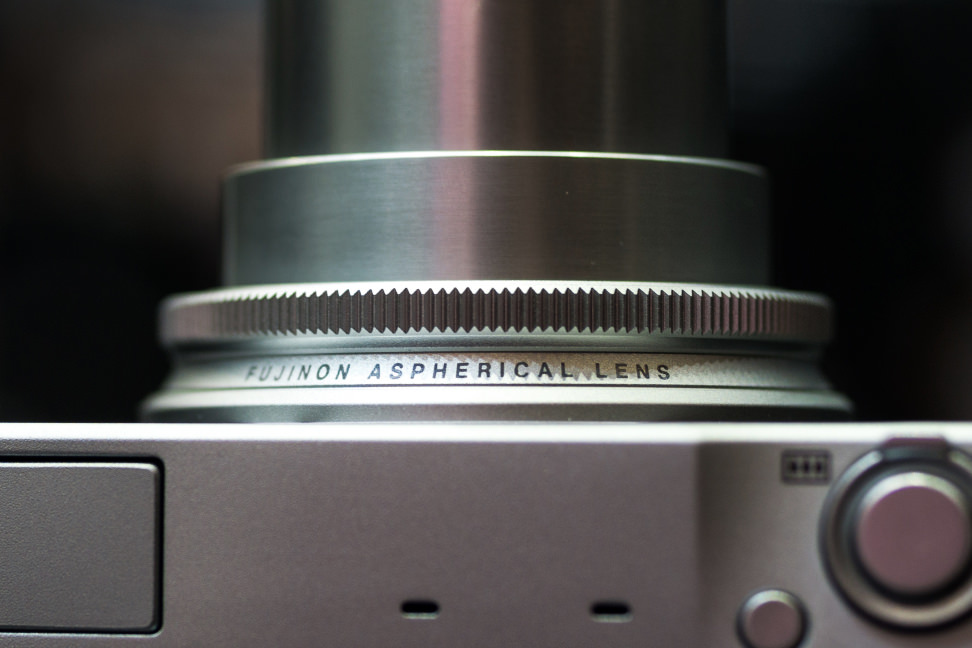 The XQ2 is surprisingly light for a camera with its specifications, and we were generally pleased by its construction. Perhaps our favorite feature is the control ring around the lens, which turns smoothly without much wobble. The overall construction feels sufficiently durable, and the camera's mostly metal build feels great in our hands.
Features
Between 1-inch and 1/1.7
Fujifilm did something really interesting with the XQ2: It pretty much built the camera around the sensor at the heart of the X30 advanced compact. At 2/3-inches, this sensor is bigger than some of the competition.
That means it's smaller than Sony's formidable 1-inch sensors, but way bigger than the Canon 1/1.7-inch unit. Moreover, this sensor is an X-Trans sensor, which interprets colors differently than your garden variety CMOS sensor.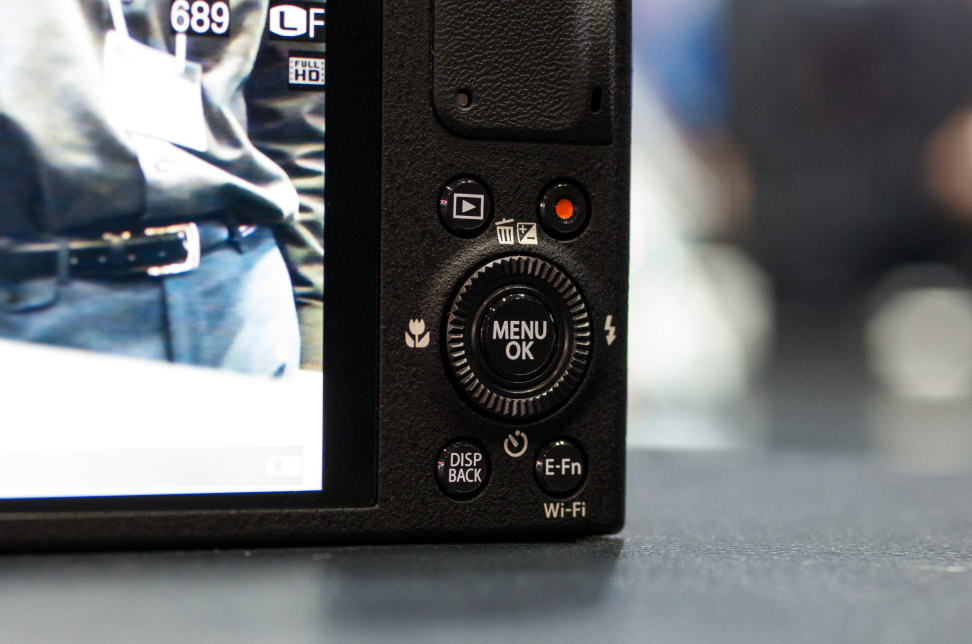 The rear control cluster of the XQ2 should be familiar to those who have used competing point-and-shoot cameras.
The 4x optical zoom lens is also surprisingly bright, with an f/1.4 max aperture at full wide. In our experience with the X20 and X30, that should be fast enough to get you halfway decent subject separation.
" You can print wirelessly from the XQ2 onto Instax instant film. "
Our impressions of the XQ2 were generally positive, although our time using it was brief. Autofocus speed was impressive, and the camera spent little time hunting for subjects, as long as they were far enough away. If your subject is closer, there's a macro mode that will limit the primary focusing range so the XQ2 can lock onto objects as close as 1.1 inches away.
Finally, you'd expect the XQ2 to include WiFi, and you'd be right. Using the aptly-named Fujifilm Camera Application, you can quickly share photos straight from your camera. You can also print wirelessly from the XQ2 onto Instax instant film using the Instax Share SP-1 printer, which is pretty awesome if you ask us.
Conclusion
Nicely priced to fend off the PowerShot S
The advanced point-and-shoot market is shrinking, thanks to the explosive growth and competing performance of smartphones, and we were surprised to see Fujifilm push another option out there. But someone's gotta stick it to the man, and the XQ2 may be the right camera to teach Canon not to rest on its laurels.
We came away impressed with the XQ2 after checking it out, and we hope to get it into our labs soon. From its high-quality build, to its clean design, to its impressive imaging specs, we think this is a point-and-shoot worth considering if you're in the market.
In addition to the standard film simulation lineup that emulates Fuji's classic Velvia, Astia and Provia films, the XQ2 tosses in the new 'Classic Chrome' look that Fuji has been graciously introducing to its newer cameras.
Basic Specifications
Full model name:
Fujifilm XQ2
Resolution:
12.00 Megapixels
Sensor size:
2/3 inch
(8.8mm x 6.6mm)
Kit Lens:
4.00x zoom
(25-100mm eq.)
Viewfinder:
No / LCD
Native ISO:
100 – 12,800
Extended ISO:
100 – 12,800
Shutter:
1/4000 – 30 seconds
Max Aperture:
1.8
Dimensions:
3.9 x 2.3 x 1.3 in.
(100 x 59 x 33 mm)
Weight:
7.3 oz (206 g)
includes batteries
MSRP:
$400
Availability:
02/2015
Manufacturer:
Fujifilm
Full specs:
Fujifilm XQ2 specifications
The Fujifilm XQ2 is set to be released in February 2015 in black, white or black and silver with a suggested retail price of US$399.95.
(cameras.reviewed.com& imaging-resource.com)
Comments
comments