Back in the spring of 2012, Canon launched a camera which got us incredibly excited. The industry's first large-sensor, fixed-lens zoom digital camera, the Canon G1X was something we'd been requesting for years, and while it was larger than we'd hoped, we were thrilled. Until, that is, the Sony RX100 stole Canon's thunder. That camera compromised on sensor size, but it still provided a significant advantage over existing camera phones and compacts — even enthusiast models — and yet was small enough to fit in a pants pocket.
We weren't alone. Despite a relatively high pricetag for a compact camera, the RX100 and its subsequent siblings have sold in droves, and until now, Sony has had the market pretty much to itself.
And yet suddenly, with the Canon G7X and the near-simultaneously launched Panasonic LX100, Sony has a battle on its hands. These two cameras each have some fairly important differences from the RX100-series cameras, but they also share much of what made Sony's cameras so popular: the advantages of a fairly large sensor, a fairly compact body and an optical zoom lens that helps get the framing you're after.
Of the two new models, it is Canon's which is closest to the Sony formula in size. In fact, the Canon G7X is nearly indistinguishable from the Sony RX100 III in terms of its dimensions, and only slightly heavier. It looks to have a very similar 20.2-megapixel image sensor, if not perhaps even the same one, and yields the same maximum sensitivity of ISO 12,800.
Yet despite having near-identical dimensions, Canon packs in almost 50% more zoom reach than in the RX100 III while retaining the same maximum aperture range. Essentially, the Canon G7X pairs the wide-angle possibilities of the RX100 III with the telephoto possibilities of the RX100 and RX100 II, and somehow manages to cram in the brighter aperture of the former. We're not sure how they've managed it, but in one fell swoop Canon has brought forth a convincing rival for all three cameras in a single model, at least on paper.
And the Canon G7X shoots significantly faster than Sony's rivals with autofocus enabled, too, even if it still trails them in performance with focus locked. Better still, it has a touch screen that makes it easier and quicker to focus precisely where you want, so you can really take advantage of that greater AF speed.
Let's take a closer look at Canon's first large-sensor enthusiast compact camera that can actually slip inside a pants pocket!
Canon G7X Walkaround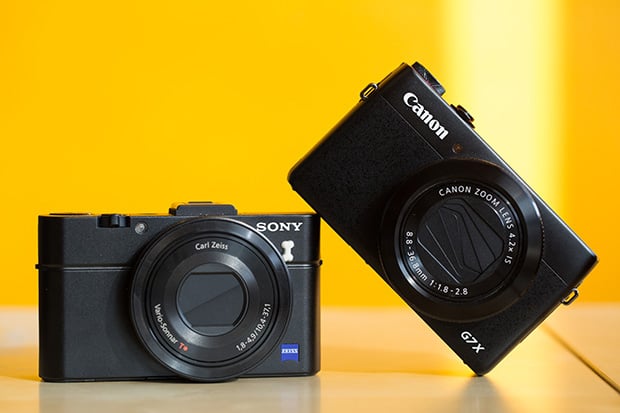 With dimensions of 4.1 x 2.4 x 1.6 inches (103 x 60.4 x 40.4mm) the Canon G7X is near-indistinguishable in size from its nearest competitor, the Sony RX100 III. It's just fractionally taller and wider, but despite its longer-reaching lens, just microscopically slimmer than the Sony.
At a weight of 10.7 ounces (302g) loaded and ready to shoot, it's a little heavier, though. By way of comparison, the Sony RX100 III weighs about a half-ounce (15g) less, with battery and flash card loaded.
Its lightest and smallest competitor in the class is the original Sony RX100. Although that model has a shorter, less-bright lens and lacks quite a few of the G7X's features — most notably, its tilting screen and Wi-Fi connectivity — it's about 0.2 inches slimmer and weighs 2.2 ounces (62g) less while retaining the same 1″-type sensor size.
Seen from the front, the Canon G7 X cuts a clean, unassuming profile. With the exception of a ring surrounding the 4.2x optical zoom lens, there are no controls on the front deck.
Nestled above and to the right of the lens (as seen from the rear) is a small LED that serves double-duty as an autofocus illuminator and self-timer lamp. And as you can see, the lens itself includes a built-in, sliding lens barrier that negates the need for an easily-lost lens cap.
From above, the G7X shows its colors as an enthusiast camera with a dedicated Exposure Compensation dial, stacked wedding cake-style beneath the Mode dial at the right end of the camera body. Both dials are diamond-knurled around the outside, just as is the dial that surrounds the lens ring, providing plenty of grip.
Just a little to the left of the Exposure Compensation and Mode dials sits the Shutter button, surrounded by a Zoom rocker that functions both in Record and Playback modes. Left of and behind this is the Power button, while a popup flash strobe can be seen at the far left end of the top deck. In between are two ports for the stereo microphone, and a single three-hole port for the speaker.
The rear of the PowerShot G7X is also quite clean and straightforward, although the controls are clustered very near to the edge of the camera. With no protruding front grip, a two-handed hold is required to reach and use most of these controls with your thumb. A modest thumb grip at the top right corner helps secure your purchase when shooting stills single-handed, though.
Left of the control cluster is the 3.0-inch LCD monitor, surrounded by a fairly large bezel. The monitor is mounted on a hinge that allows it to swing upwards 180 degrees for shooting selfies or from the hip, but since it's a fixed hinge, no downward tilt is possible. That means it won't help out when shooting over your head, and nor can the screen be turned to face inwards for protection, unlike side-mounted tilt/swivel types.
With that said, none of the G7 X's nearest competitors have a tilt/swivel screen either, although Sony's RX100 II, III and IV all provide for overhead or waist-level shooting, and the latter two are also selfie-friendly. At least there's nothing obscuring the bottom of the G7X's LCD when in selfie mode, unless you raise the flash.
As for the controls, there are four buttons surrounding the four-way controller, which sits at the center of the rear dial and has a central Function / Set button. Above the Four-way controller are a Ring Func. button that switches which variable will be controlled by the lens ring, as well as a Video Record button. The latter is close enough to the edge of the camera that you'll want to shoot videos two-handed to avoid shake.
Beneath the Four-way controller are Playback and Menu buttons, as well as a small card access lamp that sits just above and left of the Playback button. The four-way controller itself also offers controls for Drive mode / Wi-Fi, Focus mode, Flash and Display on its cardinal directions.
Switching to the right-hand side of the Canon PowerShot G7X, you can see that the lens telescopes out an inch or more from the front of the barrel when in use.
There is but one control on this side: The Mobile Device Connect Button, for quick connection to smartphones or tablets. It sits beneath a small flap that covers the connectivity compartment. Beneath are the G7X's combined standard-definition A/V output and digital USB data port, and a Micro HDMI port for connection to high-definition displays.
Switching to the left-hand side, there's only one control: a mechanical release for the built-in, popup flash strobe that sits above on the top deck.
And finally, we come to the base of the camera. There's not a lot to see here, but it's worth noting that the release on the card / battery compartment door and the base of the tilting LCD monitor both share the same diamond-knurling as the various control dials and lens ring.
The metal tripod mount sits off the central axis of the lens, which isn't ideal for tripod-mounted panorama shooting, but it'd be easy enough to correct for with a short bracket if you plan to shoot a lot of panos. And finally, a small logo imprinted into the bottom of the camera indicates the location of its NFC antenna. (Sadly, this remains Android-only, as Apple doesn't allow third-parties to access the NFC radios built into its latest devices.)
Canon G7X Image Quality Comparison
Below are crops comparing the Canon G7X with the Canon G1X II, Canon S120, Fuji X30, Panasonic LX100, and Sony RX100 III. The Canon G1X II and S120 are both siblings with larger and smaller sensors respectively, and the others are a few competitors to the G7X.
Canon G7X vs Canon G1X II at Base ISO
Canon G7X at ISO 125

Canon G1X II at ISO 100
Canon G7X vs Canon S120 at Base ISO
Canon G7X at ISO 125

Canon S120 at ISO 80
Canon G7X vs Fuji X30 at Base ISO
Canon G7X at ISO 125

Fuji X30 at ISO 100
Canon G7X vs Panasonic LX100 at Base ISO
Canon G7X at ISO 125

Panasonic LX100 at ISO 200
Canon G7X vs Sony RX100 III at Base ISO
Canon G7X at ISO 125

Sony RX100 III at ISO 125
Canon G7X vs Canon G1X II at ISO 1600
Canon G7X at ISO 1600

Canon G1X II at ISO 1600
Canon G7X vs Canon S120 at ISO 1600
Canon G7X at ISO 1600

Canon S120 at ISO 1600
Canon G7X vs Fuji X30 at ISO 1600
Canon G7X at ISO 1600

Fuji X30 at ISO 1600
Canon G7X vs Panasonic LX100 at ISO 1600
Canon G7X at ISO 1600

Panasonic LX100 at ISO 1600
Canon G7X vs Sony RX100 III at ISO 1600
Canon G7X at ISO 1600

Sony RX100 III at ISO 1600
Canon G7X vs Canon G1X II at ISO 3200
Canon G7X at ISO 3200

Canon G1X II at ISO 3200
Canon G7X vs Canon S120 at ISO 3200
Canon G7X at ISO 3200

Canon S120 at ISO 3200
Canon G7X vs Fuji X30 at ISO 3200
Canon G7X at ISO 3200

Fuji X30 at ISO 3200
Canon G7X vs Panasonic LX100 at ISO 3200
Canon G7X at ISO 3200

Panasonic LX100 at ISO 3200
Canon G7X vs Sony RX100 III at ISO 3200
Canon G7X at ISO 3200

Sony RX100 III at ISO 3200
Canon G7X vs. Canon G1X II, Canon G7X, Fuji X30, Panasonic LX100, Sony RX100 III
Canon




G7X


ISO 125
ISO 3200
ISO 6400
Canon
G1X II
ISO 100
ISO 3200
ISO 6400

Canon




S120


ISO 80
ISO 3200
ISO 6400

Fuji




X30


ISO 100
ISO 3200
ISO 6400

Panasonic




LX100


ISO 200
ISO 3200
ISO 6400

Sony




RX100 III


ISO 125
ISO 3200
ISO 6400
Detail comparison. High-contrast detail is also important, pushing cameras in different ways, so we like to look at it too. At base ISO, the two 20-megapixel cameras come out ahead, easily resolving the fine lines inside the lettering as well as producing very good contrast, though sharpening is a little more obvious from the G7X versus the RX100 III. The G1X II produces excellent contrast as well, but its 13-megapixel resolution struggles to fully resolve the fine lines. This is also true of the 12.7-megapixel LX100, though contrast isn't quite as good. The S120 and X30 both struggle to fully resolve the lines even at base ISO, but offer good contrast. At ISO 3200, the G7X pulls ahead of the Sony, resolving more detail, but contrast isn't as good and there's also some discoloration. The G1X II and LX100 continue to do well, but their contrast has dropped as well. The S120 and X30 fail to resolve any fine detail within the lettering at this sensitivity, and the Fuji's saturation has dropped so much that the small red lettering is monochrome. At ISO 6400, the two larger sensors in the G1X II and LX100 are clearly on top. The G7X does a bit better than the Sony in terms of detail, but the Sony has better contrast and color. And once again, the S120 and X30 trail the pack with mushy detail and funky color.
Canon G7X Print Quality
High-resolution prints up to 20 x 30 inches at ISO 125-200; Good 11 x 14 inch prints at ISO 1600; and acceptable 4 x 6 inch prints are possible up to ISO 6400.
ISO 125 images are able to produce pleasing, vibrant prints up to 20 x 30 inches. There's lots of fine detail upon close inspection at this print size and any larger would be pushing the limits of the sensor's resolution, but we'd certainly be happy to take it up a notch for 24 x 36 inch prints for wall display in this case.
ISO 200 prints look extremely similar to base ISO prints, and we're calling it here at 20 x 30 inches as well. Examining the prints very closely, there's ever-so-slightly less very fine detail in some areas compared to ISO 125, but not nearly enough to cause a drop in print size.
ISO 400 images print up to 16 x 20 inches with no problem. There's a slight reduction in fine detail compared to a similar-sized print at the previous ISO level, but visible noise is very well controlled and colors also remain vibrant.
ISO 800 prints look great up to 13 x 19 inches. We see a subtle increase in visible noise at this ISO and a further reduction in very fine detail, but contrast, colors and overall detail still look very nice and pleasing. Troublesome areas, such as many of our fabric swatches, begin to display a notable decline in detail, though.
ISO 1600 images have become noticeably softer overall, though prints still look good up to 11 x 14 inches.
ISO 3200 shots still display enough detail and low enough noise for pleasing 8 x 10 inch prints.
ISO 6400 images have become quite soft and lacking in fine detail, though there's enough detail as well as pleasing colors and contrast for a usable 4 x 6 inch print. A 5 x 7 inch print may be usable, though, for less critical applications.
ISO 12,800 is overall too soft and lacking in detail for us to comfortably consider any size a usable print. However, for less critical applications, we'd be okay with a 4 x 6 inch print.
With a larger 1-inch-type sensor, the Canon G7X does a solid job in the print quality department, especially a lower ISOs, with nice, large 20 x 30 inch prints at both base ISO and 200. In the middle ISO range, images become softer in detail, though visible noise is still well-controlled. Prints as large as 13 x 19 and 11 x 14 are acceptable at ISO 800 and 1600, respectively. At the extreme end of the ISO scale, prints become very soft due to noise and NR processing, with 4 x 6 inch prints topping out at ISO 6400.
(imaging-resource.com)
Comments
comments