The Good: The Canon EOS Rebel T7i/800D delivers reasonable photo and video quality and respectable performance in a time-tested body.
The Bad: Relatively large compared to other cameras in its class and its photos aren't as sharp as competitors'.
The Bottom Line: For a step up in photo quality or performance from a phone or compact, the Canon EOS Rebel T7i/800D remains a fan favorite.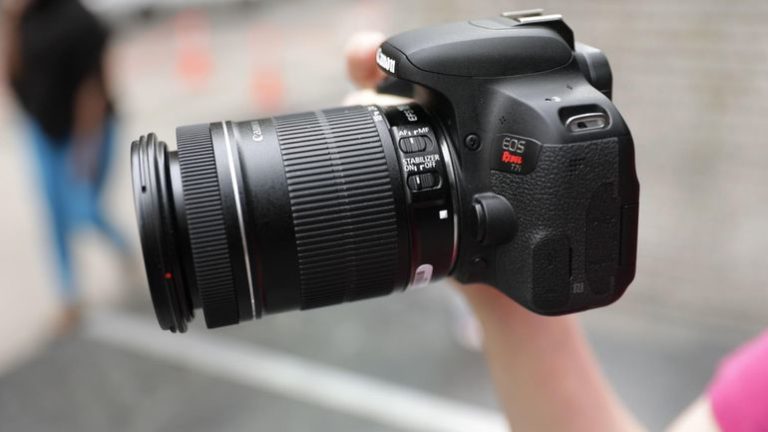 I usually steer people toward last-generation (or more) models for the best value on a budget, and that's especially true with Canon's entry-level dSLRs, the Rebel series in the US. Canon tends to trickle down technology from older, higher-end models whose prices have dropped, and it just makes sense to buy those better models instead of the new one with the ancient insides.
But the Rebel T7i (called the 800D in the UK and Australia) represents Canon's first truly significant update to the series, really since the T2i in 2010. The T6i got a new-to-it sensor and autofocus system in 2015, but that was a transitional change. But somehow, Canon manages to make this big change feel incremental: It delivers roughly the same photo quality as before and shoots a little bit faster once you discount how fast the lens drives. It still doesn't really match the Nikon D5600 for photo quality or continuous-shooting speed, though it still has the lead for video autofocus.
The camera costs $850 with the 18-55mm f4-5.6 STM lens (£895, AU$1,400) though regionally other kits are available.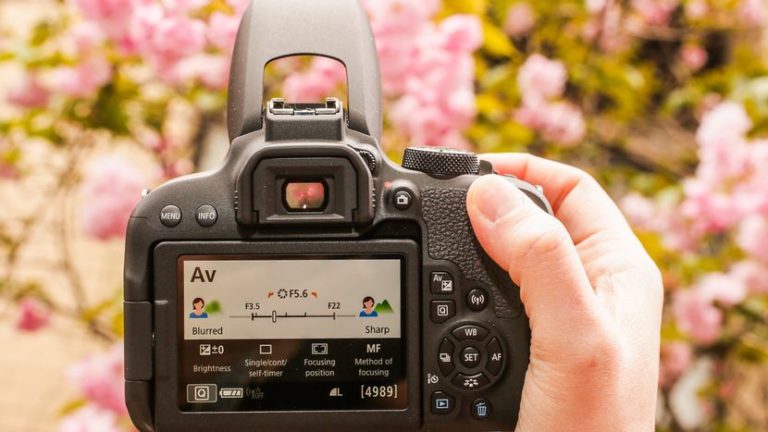 Old faithful
The T7i's body remains the same as its predecessor's, but it finally incorporates Canon's Dual Pixel CMOS sensor, a 3-year-old technology with on-chip phase-detection autofocus that's in almost all Canon's other interchangeable-lens camera lines. But it's a current sensor and metering system, the same ones that are in the EOS 80D, but with an even newer image-processing engine (Digic 7).
Canon still uses an antialiasing filter, which blurs edges slightly, on its sensors; Nikon does not. So Nikon's shots look tons sharper than Canon's. And Canon's automatic white balance isn't as smart in cloudy conditions (or situations where the light color is similar).
While the T7i doesn't look as good when you do side-by-side comparisons, judged on its own most people will be quite happy with the results they get, especially if you'll just be viewing the photos on a mobile device. The colors pop nicely, skin tones look correct and it has a dynamic range that meets the expectations for its class — like most low-to-midrange cameras the default settings increase contrast, which means you lose some detail in the brightest and darkest areas.
If you shoot raw, you can pull out a lot of detail from underexposed areas, though not in overexposed areas. Once again, that's pretty typical for this class of camera. In practice, you can shoot as high as ISO 3200 — that allows for relatively low light, like the level in a bar — without worrying about noise or other artifacts.
The camera's adequately fast for typical kids-and-vacation photography, but it doesn't support continuous autofocus and autoexposure on its High setting. The camera doesn't automatically drop back to low or simply deliver a slower burst like it did with the T6i, so if you have it set to continuous AF and High-speed continuous shooting, don't be surprised when the shots come out inconsistently exposed with only the first few in focus. The safest thing to do is keep it on the slower setting (4.5 frames per second).
It's OK in low light, but like the 80D is a bit slower than the rest at low-light autofocus. You probably won't notice, though. It also depends on the lens; some are faster than others at driving to the correct position.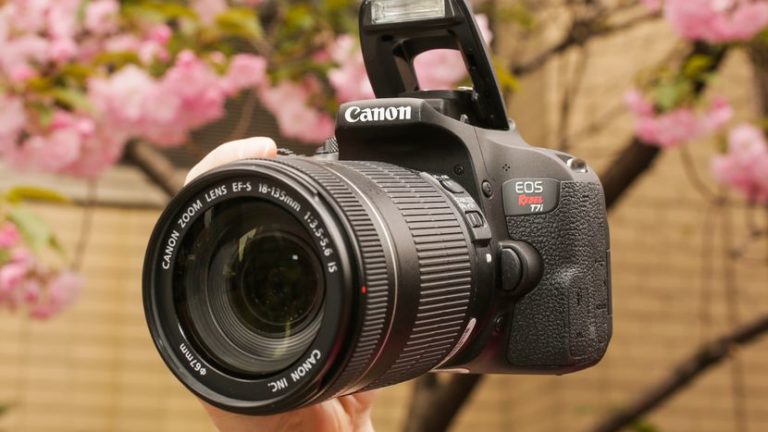 As with the 80D, the T7i has very nice live view performance, just a little slower than when using the optical viewfinder. That will always be true on a dSLR because it has to flip the mirror for every shot. It's still much better than on the Nikon D5600, so if you plan to shoot using the back LCD a lot — this goes for video, too — then you still need to get one of the recent-vintage Canons.
New interface
While the camera body hasn't changed since the T6i, Canon did introduce a new "easy" interface with the T7i generation to replace the last "easy" interface. The shooting display doesn't offer any different options, but does look more modern and attractive, with bright imagery and more explanatory text. The guided menu option, simply pops up an interstitial screen telling you what a given submenu does. The feature guide isn't new, and gets old really fast.
The rest of the body is pretty standard for a dSLR, comfortable to grip but big compared to competitors like the Nikon D5600 or smaller mirrorless models. It feels sturdy, if a bit plasticky. There are direct access controls for most functions, something you get when you step up from a bare-bones entry-level model, and a nice set of autofocus options for its class — including selectable zones — thanks to the upgrade to Canon's Dual Pixel CMOS sensor.
It also supports full wireless flash control, if you're looking for a relatively cheap camera with it. However, as with most inexpensive dSLRs, there's no 4K video.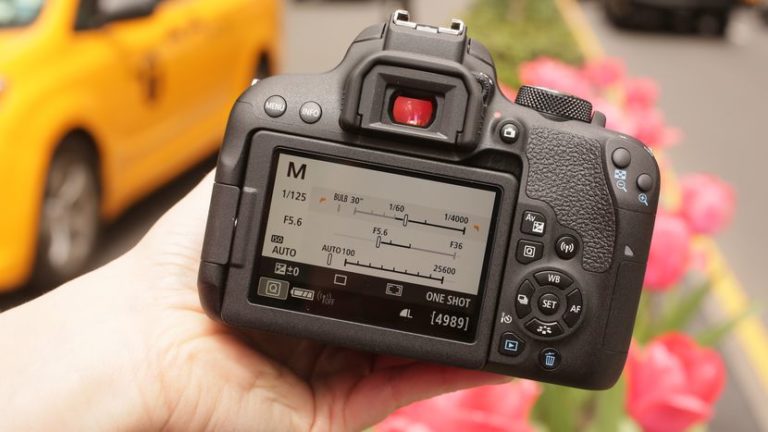 Why not?
There isn't a lot to say about the camera; Canon has been incrementally improving it since the series launched in 2009 and it's always been a good-but-not-great camera with a lot of fans. Unless you have specific speed needs for shooting action or need something with better build quality, you probably won't regret buying this; it's a solid all-around choice.
Comparative specifications
Canon EOS Rebel T7i
Canon EOS 800D
Nikon D5600
Sensor effective resolution
24.2MP Dual Pixel CMOS
24.2MP CMOS
Sensor size
22.3 x 14.9mm
23.5 x 15.6 mm
Focal-length multiplier
1.6x
1.5x
OLPF
Yes
No
Sensitivity range
ISO 100 – ISO 25600/ISO 51200 (exp)
ISO 100 – ISO 25600
Burst shooting
4.5fps
27 raw/unlimited JPEG
(6fps with fixed focus)
5fps
100 JPEG/raw n/a
Viewfinder
(mag/effective mag)
Optical
95% coverage
0.82x/0.51x
Optical
95% coverage
0.82x/0.55x
Hot Shoe
Yes
Yes
Autofocus
45-point phase-detection AF
all cross-type
39-pt AF
9 cross- type
AF sensitivity
-3 – 18 EV
-1 to 19 EV
Shutter speed
1/4,000 to 30 secs; bulb; 1/250 sec x-sync
1/4,000 to 30 secs; bulb; 1/200 sec x-sync
Metering
7,560-pixel RGB+IR
2,016-pixel 3D color matrix metering II
Metering sensitivity
1 – 20 EV
-1 – 19 EV
Best video
H.264 QuickTime MOV
1080/60p,30p, 25p, 24p
H.264 QuickTime MOV
1080/60p, 25p, 24p
Audio
Stereo, mic input
Stereo, mic input
Manual aperture and shutter in video
Yes
Yes
Maximum best-quality recording time
4GB
20 minutes/29m59s
Clean HDMI out
Yes
Yes
IS
Optical
Optical
LCD
3 in/7.7 cm
Articulated touchscreen
1.04m dots
3.2 in/8.2 cm
Articulated touch screen
1.04m dots
Memory slots
1 x SDXC
1 x SDXC
Wireless connection
Wi-Fi, NFC, Bluetooth
Wi-Fi, NFC, Bluetooth
Flash
Yes
Yes
Wireless flash
Yes
Yes
Battery life (CIPA rating)
600 shots
(1,040 mAh)
820 shots
(1,230 mAh)
Size (WHD)
5.2 x 4.0 x 3.1 in
131.9 x 100.9 x 77.8 mm
4.9 x 3.9 x 2.8 in
124 x 97 x 70 mm
Body operating weight
19.3 oz
536 g
16.8 oz
476 g
Mfr. price (body only)
$750
AU$1,310
$700
AU$1,200
Primary kit
$900
£902
AU$1,430
(with 18-55mm f4-5.6 IS STM)
$800
£800
AU$1,300
(with AF-P 18-55mm VR lens)
Alternate kit
$1,300
$1,730
(with 18-135mm STM lens)
$1,200
£990
(with 18-140mm lens)
Release date
April 2017
January 2017
(cnet.com, https://goo.gl/Wx1Kow)
Comments
comments