T3I SUMMARY
Staking out the high end of the Rebel line, the Canon T3i shares the excellent image quality of its predecessor (the T2i), and offers the articulating LCD, remote flash control, and creative filters also found in the 60D. With Full HD video support, fast autofocus, and good quality optics, the Canon EOS Rebel T3i is easy to recommend.
PROS
Excellent image quality; Good grip; Full HD video recording; Swiveling LCD; Very fast autofocus; HDMI output.
CONS
Slow frame rate for sports shooting; Tendency to overexpose in bright sunlight; Live View AF is slow; No microfocus adjustment.
PRICE AND AVAILABILITY
The Canon Rebel T3i shipped from early March 2011, priced at US$799.99 body-only, US$899.99 with the 18-55mm IS II kit lens, and US$1,099.99 with the 18-135mm IS kit lens.
IMAGING RESOURCE RATING
5.0 out of 5.0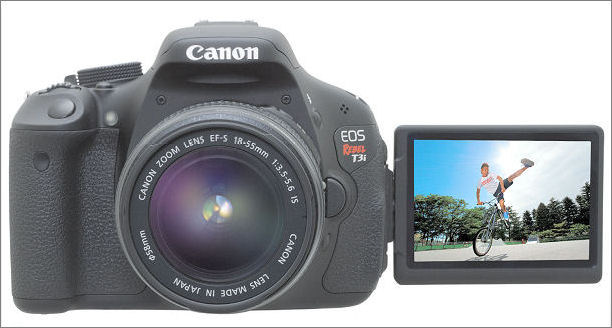 Just as the Canon 60D was aimed squarely at the Nikon D90 and D7000, the new Canon Rebel T3i has the D5000 and D5100 in its sights. We've now spent quite a lot of time with the Canon T3i, which sports a swiveling LCD screen and a slightly heftier build, and both looks and feels a little more serious than past models. Bundled with a new 18-55mm IS II kit lens, or the 18-135mm IS lens that's also available with the 60D, the new T3i looks and feels like its prosumer sibling, except for the grip spacing. It'll be ideal for those with small to medium hands, but those with larger hands might be more comfortable with the 60D.
Indeed, the major differences between the T3i and 60D are few. It's down to frame rate (3.7 vs. 5.3 fps), maximum shutter speed (1/4,000 vs. 1/8,000), AF sophistication (only one cross-type vs. all nine cross-type), viewfinder size (0.85x vs. 0.95x), buffer depth, battery type, and grip size. There are other, more minor differences, but those are the big items. As such, the T3i seems like a pretty good deal.
Compared to the T2i, the T3i adds the swivel screen, the new lens, more reduced-resolution JPEG options, and an Auto Picture Style mode. The Canon T3i (body with battery and card) also weighs a little more than the T2i, coming in at 20.6 ounces (583g) compared to the T2i's 18.5 ounces (525g). As mentioned, it's a few millimeters larger in all dimensions: 133.1 x 99.5 x 79.7, compared to 128.8 x 97.5 x 75.3. Some of those differences will matter, and I think many fans of swivel screens will opt for the T3i, while those who don't like them can settle happily into a T2i without feeling like they're missing a lot.
Walkaround
At a glance, the Canon T3i looks very much like the 60D. That's especially true when I have the 18-135mm lens mounted, which feels quite at home on the T3i. Even picking it up, though the grip is smaller, the texture is very much like the 60D's, which is very grippy with a good leather feel.
With the new 18-55mm lens attached, the T3i is much lighter. On the front we find the usual fare: an aggressively canted shutter button, an IR remote port on the front, and a self-timer lamp all in close proximity. On the right there's the flash release button, a four hole microphone grill, the lens release button, and the depth-of-field preview button. Not too different from the T2i at this point.
The top of the Canon T3i, too, is pretty similar to the T2i, with changes on the Mode dial and a new Display button just left of the ISO button. The purpose for this seems to be to turn off the rear LCD display when you're approaching the optical viewfinder, preventing night blindness, since the infrared switch is now missing from the rear of the camera.
The IR proximity sensor was displaced, of course, by the addition of the Canon T3i's 3-inch Vari-angle screen, whose specs match those of the 60D's LCD: 3:2 aspect ratio, 1,040,000-dot resolution, scratch-resistant fluorine coating, and the ClearView display technology that sandwiches a layer of optical elastic material between the coverglass for a remarkably crisp image both indoors and out. Controls on the back are a little smaller compared to those on the T2i, as they've had to move over a bit to make room for the hinge and frame around the LCD. The Menu button is off to the left for thumb actuation, and the Info. button is where the old Display button used to be. Otherwise, buttons are in the generally same position, a bonus for those upgrading from a T2i. There's also a little less of a thumbpad, but the design still allows for a secure hold.
When in all but Movie mode, the small round button just right of the viewfinder serves as the Live View activation button; when in Movie mode, you use this button to start and stop recording. You cannot start recording a movie when in still capture modes, but you can capture a still image while shooting a movie. You can also autofocus while shooting a movie. More on Movie mode below.
The Canon T3i isn't necessarily a compelling upgrade for T2i owners, but it does offer a lot for those who might have been considering a 60D for its swivel screen and more advanced Movie mode. It feels a little more substantial in the hand than the T2i.
Sensor and processor
There's little new about the Canon T3i's sensor and processor combination. Representatives mentioned that they've again reduced the gap between the microlenses, as they've said many times in the past, but they were declared gapless a few versions back, so it's tough to know how much more gapless they can get. We're guessing that it's the same four-channel readout as is found in the T2i's sensor, as the frame rate is the same 3.7 frames per second rating. (We measured 3.6 fps for L/F JPEG or RAW, 3.3 for RAW+L/F JPEG.) Maximum image size in pixels is 5,184 x 3,456, with a pixel pitch of 4.3µm.
According to Canon, the Rebel T3i's DIGIC 4 processor and buffer enables capture of about 34 large/fine JPEG images, six RAW frames, and four RAW+JPEG frames. With our tough compression target, we measured only nine, five, and three frames respectively. DIGIC 4 also allows capture of 14-bit RAW images, and the 8-bit JPEGs are created from 14-bit data.
Peripheral illumination correction
Vignetting, a darkening of the corners produced by some lens designs, is reduced via Peripheral Illumination Correction in the Canon T3i. Using a database of lenses, the amount of correction is customized for each lens mounted. Selecting the item from the menu brings up a screen where you can see which lens the camera detected, and whether correction data is available. You can then choose to disable the correction if the wrong lens is showing (as sometimes happens with non-Canon lenses), or else re-enable it.
Autofocus
The Canon T3i offers nine-point focusing with a central cross-type f/2.8 focus point and eight single-axis points. Though the number of AF points is the same as the 60D, the later has a significant advantage in that all of its AF points are cross-type, which are sensitive to both horizontal and vertical detail. The focusing screen is of the etched variety, with boxes surrounding dots, which light up red to confirm focus.
Metering
The Canon T3i inherits Canon's latest metering system, previously seen in the EOS 7D, T2i, and 60D. It's a 63-zone iFCL sensor, which stands for Intelligent Focus, Color, and Luminance metering. The name hints at how the sensor works: the iFCL chip has a dual-layer design with each layer sensitive to different wavelengths of light, allowing subject color to be taken into account when determining exposure. Information on focusing points is also taken into account in metering calculations. In this area, the Canon T3i, T2i, and 60D's iFCL chip differs from that of the EOS 7D.
ISO Expansion
The Canon T3i has an expanded sensitivity range, from a minimum of ISO 100 to a maximum of ISO 12,800. You have to enable ISO Expansion via a Custom Function setting. Instead of offering EV compensation from -2.0 to +2.0 as do some cameras, the T3i offers a much wider +/-5.0EV exposure compensation range.
CA and A+
CA mode is relatively familiar, giving the more novice user an easy way to adjust the exposure, flash, resolution, drive mode, and Picture Style. Setting aperture and shutter speed are converted to simpler concepts of background blur (blurred or sharp), and exposure level (darker or brighter) with a slider that's adjusted with the Main dial. The more complex exposure decisions remain under the Canon T3i's control in CA mode. The exposure slider is the more useful, standing in as a more comprehensible EV adjustment.
What's new is the Auto+ mode (A+ on the Mode dial), which is similar to Smart Auto on Canon PowerShot cameras. Employing what Canon calls EOS Scene Detection Technology, the new setting replaces the old "Green Zone" Auto icon. Auto+ combines information from five of the Canon T3i's systems, including Auto Exposure, Autofocus, Auto White Balance, Auto Lighting Optimizer, and Picture Style Auto into one smart exposure mode, according to Canon.
Picture Style Auto is a separate setting of its own, naturally selected as one of the Picture Styles, which you can bring up either via the down arrow on the back of the camera or through the Quick menu, or even the main menu. With this new setting, the camera will consider the scene and change the Picture Style accordingly.
Live View
Of course, the Canon T3i offers Live View mode, a fairly mature mode at this point, with contrast-detect focus as well as Quick AF focus, which uses the camera's phase-detect autofocus system. It seems pretty full-featured as Live View modes go. You can move the AF point around, you can switch between Contrast-detect and Phase-detect (Quick AF) modes, and you can even zoom in to 10x. Activating it is as easy as pressing the Live View/Record button on the back.
The Canon T3i has the best excuse for using Live View mode: its swiveling LCD screen, which allows you to compose images from odd angles. You won't want to use it all the time, because both autofocus methods are slower than autofocusing through the optical viewfinder, but when you need it, both the swiveling LCD and Live View mode are ready for action. Be aware that Live View mode also burns through battery life, typically cutting the number of shots per charge by more than half.
Movie mode
While the T2i included significant upgrades to Movie mode, the Canon T3i receives only a few, as the former's offering was pretty complete. We're talking Full HD 1,920 x 1,080 pixels at 24, 25, and 30 frames per second. 720p is available at 50 and 60 fps and VGA video is recorded at 30 and 25 fps.
Movie Crop mode has been enhanced from the T2i's offering, now called Video Digital Zoom, which allows a cropped zoom from between three and 10x magnification in 1080p resolution at all frame rates. You have to enable it from the Movie Record Size menu option, and when you do, it starts out zoomed to 3x. From there, you can zoom in to 10x and back out smoothly, with no steps in-between. (Note that camera shake can be quite an issue when in Video Digital Zoom mode, particularly as you get out to 10x. A tripod definitely makes sense.)
Video Snapshot
A new video mode imported from the PowerShot line is designed to help you shoot and create very simple videos in short segments. Set the mode to shoot 2, 4, or 8-second snapshots during the day, and the Canon T3i will splice the snippets into a movie. You can also add a soundtrack. Just set the mode in the Quick menu screen, or on the Movie Record Menu 2. Select among Disable, or 2, 4, or 8 seconds. When enabled, pressing the Movie Record button records a fixed-length segment, rather than the normal toggle on/off behavior. Clips of the same length will be combined by the camera into albums. After shooting each clip, you have the option to add to the existing album, save to a different album, playback the latest snapshot, or delete without saving to an album. You can also edit the Video Snapshot albums on the included Video Snapshot Task software included on the software disk.
Choose among five standard background music tracks, or you can import your own music to the SD card via the EOS utility.
Audio level control
Omitted from Canon's early video-capable SLRs, an audio level control is included on the Canon T3i. Users can adjust levels with very fine-grained control (the scale has 5 tic marks on it for reference, but the record level varies smoothly), and apply a wind filter, or they can opt for letting the camera adjust the levels automatically. The level-indicator bar graph shows levels for both stereo channels, and operates like a standard VU meter, with an indicator for the peak level that persists for a few seconds. You can see the peak level indicated in the screenshot at right by the pair isolated dots towards the right of the bar. The two frames show the result of dialing down the sensitivity with roughly the same sound level presented.
Creative filters
First introduced on the 60D are a series of Creative Filter functions, similar to those seen previously in the company's PowerShot compact camera models, and fairly common in digital SLRs from rival manufacturers. The Canon T3i's creative filters include Soft Focus, Grainy Black & White, Toy Camera effect (which has strong vignetting and some color shift), Miniature Effect (which simulates shallow depth of field by applying a graduated blur near opposite edges of the image), and a new Fisheye mode for simulating the distortion seen through a fisheye lens. The strength of each effect is adjustable, as is the angle of the Miniature effect. Unlike filters available from other companies, Canon's creative filters are only applied after capture, and are not available for videos.
Multi Aspect
The Canon T3i also offers a selection of aspect ratio settings in-camera, allowing photographers to shoot their images with a specific print format in mind, avoiding the need to manually crop images in post-processing. Called Multi Aspect mode, the Canon T3i can shoot in the native 3:2, or 4:3, 16:9, and 1:1.
Flash
Like all Canon consumer SLRs, the T3i has a pop-up flash, with an X-sync of 1/200 second and a guide number of 43 feet (13m) at ISO 100. It lacks a PC Sync terminal, a feature that mostly studio photographers use for their lighting setups, something we really don't expect from a Rebel, but did miss on the new 60D. What the Canon T3i's pop-up flash does have for those interested in experimenting with lighting is the ability to function as a wireless flash controller, or as Canon calls it, an Integrated Speedlite Transmitter.
The mode is new to the Rebel line, and includes the ability to control up to two groups of flashes, selecting from among four channels, using a ratio spread from 8:1 and 1:8. It's not quite as thorough as the mode found on the Canon 7D, which can control up to three groups with considerably more nuance, but it's nice that it's there all the same. There's also an Easy Wireless mode that gives you just one channel and one group and the ability to adjust flash power via exposure compensation. Attach a 580EX II and you can set up wireless control for up to three groups right from the back of the camera, which works a whole lot better than using the confounding interface on most Canon flashes.
New flashes
Canon also announced two new flashes designed to appeal to the Rebel T3i user, with size and functions to match. The 270EX II is an upgrade to the 270EX introduced with the T1i. The new design still zooms and tilts vertically for bounce flash, and includes a more prominent LED ready lamp on the back, as well as a Slave setting, so it can serve as a small slave flash, activated by the Canon T3i's built-in flash, or by any other compatible flash in the Canon wireless flash system. When used in wireless mode, the Canon 270EX II can only serve in A group, and responds to all channels. It comes with a small foot to hold the flash, as well as attach it to a tripod. But wait, there's more: the Canon 270EX II can also serve as a remote control for the camera. Just put the T3i into remote mode, press the button on the right side of the flash, and the camera fires in two seconds. With the Canon T3i in wireless flash mode, we were able to get the 270EX to both trigger the shutter and fire as a flash under command of the Integrated Speedlite Transmitter, a potentially handy trick. It's a nice touch for a small pocketable flash, making it twice as useful, and twice as important to bring along. It runs on two AA batteries and retails for US$169.99.
The second new flash, the Canon 320EX, takes a retro approach to flash design, while simultaneously acknowledging a new need among the latest digital SLRs: It includes a very bright LED for shooting video. The LED covers the area of a 50mm lens on a full frame sensor, or 32mm on an APS-C sensor camera like the T3i. The color temperature range of the LED varies from 4,500 to 6,500 Kelvin, at 75 lux. It offers up to 3.5 hours of continuous shooting and has a range of 1 meter at ISO 3,200 with the lens at f/5.6.
The 320EX bridges the gap between the 270EX II and the 430EX II above it by also offering a manually zooming flash head that swivels and tilts for bounce flash. On the back, instead of a convoluted digital interface, you'll find analog switches for setting up the 320EX as a wireless slave flash. Just like the 270EX II, the 320EX can also serve as a wireless infrared remote trigger. The Canon 320EX runs on four AA batteries and retails for US$249.99.
HDMI output
The Canon T3i has a the same HDMI-CEC compatibility as the T2i, which not only allows you to play back your images on your HDTV, it also allows you to control the camera's Playback functions via the Consumer Electronics Protocol (CEC). Be aware, though, that you'll need to purchase a separate HDMI to mini-HDMI (Type C) adapter or cable. The cables are about $50 at retail stores, though much cheaper online; the adapters are cheaper too, but harder to find.
The Canon T3i also includes a 3.5mm stereo mic jack, a wired remote port, and a combined AV Out / USB port.
Lenses
Canon's EF-S 18-55mm lens included in the less expensive T3i kit is a revision of the last image-stabilized version. Now called the EF-S 18-55mm f/3.5-5.6 IS II, the new lens claims up to four stops of stabilization effectiveness, and has a "leathertone" texture. The new lens will be available for sale separately, and has a suggested retail price of US$200.
Opting for the more expensive kit gets you the more versatile EF-S 18-135mm f/3.5-5.6 IS lens, equivalent to a 29-216mm lens on a full-frame 35mm camera. Note that the lens is not USM (ultrasonic motor) drive, so it makes a little noise while focusing, but it's really not bad. We tested the lens on SLRgear.com, so check out ourEF-S 18-135mm review if you'd like to know more, as well as read reviews from other users.
Storage and battery
The Canon T3i can accept SD, SDHC, and SDXC memory cards, as well as Eye-Fi wireless cards.
The camera uses the same LP-E8 battery pack used by the T2i which is CIPA rated for 440 shots in the T3i. And though the Canon T3i is slightly larger than the T2i, it uses the same battery grip, model BG-E8.
Availability. The Canon Rebel T3i started shipping in early March 2011, priced at US$799.99 body-only, US$899.99 with the 18-55mm IS II kit lens, and US$1,099.99 with the 18-135mm IS kit lens.
Canon T3i Image Quality
Most digital SLRs will produce a reasonable ISO 100 shot, so we like to push them and see what they can do at ISO 1,600 at their default noise reduction settings. Recent advances in sensor technology have made ISO 1,600 look a lot more like ISO 100, but there are still cameras whose quality starts to fall apart at this setting. We're also comparing ISO 3,200 shots below, as well detail shots at ISO 100, 3,200, and 6,400. Be sure to check our Thumbnail and Gallery pages for more image quality samples.
Canon T3i versus Canon T2i at ISO 1,600
Canon T3i at ISO 1,600

Canon T2i at ISO 1,600
Canon T3i versus Canon 60D at ISO 1,600
Canon T3i at ISO 1,600

Canon 60D at ISO 1,600
Today's ISO 3,200 is yesterday's ISO 1,600 (well, almost), so below are the same crops at ISO 3,200.
Canon T3i versus Canon T2i at ISO 3,200
Canon T3i at ISO 3,200

Canon T2i at ISO 3,200
Canon T3i versus Canon 60D at ISO 3,200
Canon T3i at ISO 3,200

Canon 60D at ISO 3,200
Canon T3i versus Nikon D5100 at ISO 3,200
Canon T3i at ISO 3,200

Nikon D5100 at ISO 3,200
Canon T3i versus Nikon D7000 at ISO 3,200
Canon T3i at ISO 3,200

Nikon D7000 at ISO 3,200
Detail: Canon T3i vs. T2i, 60D, Nikon D5100, and D7000
Canon T3i
ISO 100
ISO 3,200
ISO 6,400

Canon T2i
ISO 100
ISO 3,200
ISO 6,400

Canon 60D
ISO 100
ISO 3,200
ISO 6,400

Nikon D5100
ISO 100
ISO 3,200
ISO 6,400

Nikon D7000
ISO 100
ISO 3,200
ISO 6,400

Detail comparison. When it comes to the detail shot, the Canon T3i does well. These five are so close to one-another, there's not really much to say. They all manage to render the lines between the letters, though the Canons may have an advantage here over the Nikons thanks to their higher resolution; but at ISO 6,400 I really don't have a preference. They're all five top-notch cameras and their image quality attests to that.
Canon T3i Print Quality
ISO 100 images are excellent, with sharp detail when printed at 20×30 inches, with good color and no trouble with noise. ISO 200 and 400 shots are essentially identical, with excellent detail across the board.
ISO 800 shots also look good at 20×30, though the slightest softening occurs in very low-contrast areas. Color and detail, though, are good.
ISO 1,600 images start to show some of the noise in shadow areas, and detail begins to soften as well. Yet the print size is still 20×30. Low-contrast reds, especially our red leaf swatch, starts to show the first signs of "creative interpretation" of what the fabric looks like.
ISO 3,200 shots are usable at 20×30, luminance noise is noticeable in the shadows, and the red swatch continues to deteriorate. Even higher-contrast detail softens from the noise suppression, so reduction to 16×20 is warranted, where all these elements improve.
ISO 6,400 images are usable printed at 13×19 inches, though at this setting the red leaf swatch is very soft and would look so even at 4×6 inches. (Many cameras have this problem, so we'll stipulate it from here on.) Better image quality is obtained at 13×19 inches.
ISO 12,800 files print surprisingly well at 8×10, though close inspection reveals dark grain in shadow areas. 11×14-inch images would be usable provided the subject background was dark enough (a setting in which you'd expect a little more noise).
Overall, the Canon EOS T3i does just about as well as its 18-megapixel brothers, and fares very well against the competition. Safely shooting at ISO 800 and still expecting to produce a 20×30-inch print really opens up some possibilities for a photographer. Finding excellent usability at even its highest ISO setting is comforting.
(imaging-resource.com)
Comments
comments