Introduction
Meet the Canon EOS M100. It's a new entry-level mirrorless camera in Canon's EOS M range, aimed squarely at those looking to find their first 'proper' camera for better pictures. In form and function, the camera represents a logical upgrade from using a smart phone.
The Canon EOS M100 is dinky – without a lens attached it's essentially a compact camera. That's impressive because you'll get the same Canon DSLR image quality you would expect, in a much smaller package and with flip up LCD screen for those selfies and v-logs.
Simplicity appears to be the ethos behind the EOS M100, with pared down design and function. Scene Intelligent Auto takes full picture making control. Modes like Creative Assist avoid confusing camera terminology, providing a simple language for users to get the pictures they want. But there is the PASM control available too, once you find it.
Being part of the EOS M series, the EOS M100 is compatible with Canon's EF to EOS M adaptor, so it is possible to use any one of many Canon EF lenses. It seems like a miss match – all those pro lenses at your fingertips with such a small and simple camera. But hey, it's good to have the extra options.
For this test of the EOS M100, we had our hands on the Canon EF-M 15-45mm f/3.5-6.3 kit lens, EF-M 22mm f/2 (pancake) lens. And yes, we went there and used the EF to EOS M adaptor with two of Canon's most popular EF lenses – the Canon EF 50mm f/1.8 and 24-105mm lenses.
The EOS M100 with EF-M 15-45mm lens, choice of colour 'Face jacket' and 50GB of irista storage space (iOS or Android) will set you back £569.99 / $599.99. Read on to find out how we got on with the camera.
Ease of Use
For an interchangeable lens camera it is staggering how small the EOS M100 is. Its design and size is reminiscent of the Canon Powershot S range of compact cameras. The exterior is made from a smooth plastic, with a textured thumb grip.
Of course, once a lens is attached all is changed. Any lens sticks out, so you won't fit the combination in a trouser pocket. That said, for an APS-C format camera, the EOS M lenses are all impressively compact in size – being comparable to smaller format micro-four-thirds lenses.
We had the EF-M 22mm f/2 pancake lens on the camera for a lot of this test – it's about the shortest EF-M lens. The combination is rather tiny, it'll slide into a jacket pocket no problems.
There's not too much to be intimidated by in this camera. On the top you'll find the on/off button surrounded by a three-option automatic shooting mode dial with; intelligent auto, record mode and Movie Auto Exposure (video).
Alongside the on/off is a shutter release, surrounded by dial that is used for navigation and changing camera settings, plus the video record button.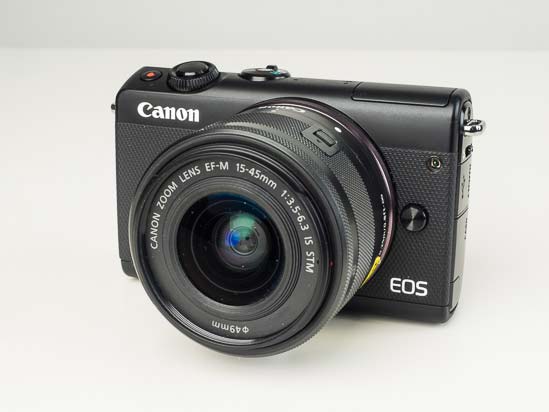 Front of the Canon EOS M100
The camera rear is pared down too. It is dominated by the 3.0in tilt-up touchscreen and to the right of that is a four-way control pad. If you are a photo enthusiast it will take next to no time to work your way around the EOS M100. If you are a beginner, it won't take you much longer either.
The EOS-M series of cameras are seen as an ideal second smaller camera for existing Canon DSLR users. The main menu has the same look and there is the Canon EF to EOS M lens adaptor.
For our test we used the adaptor and it works seemlessly – AF speed with the two EF lenses appears to be uncompromised. Yet, when it comes to size and ethos, there is a bit of a miss-match here.
The Canon EF 24-105mm f/4 lens sits well with a Canon DSLR but positively dwarfs the EOS M100. Using this lens with such a tiny camera feels, well, wrong.
It is fairly easy to operate the camera through its LCD touchscreen, which tilts all the way up to 180° for selfies and v-logging. There is a pop-up flash that erects in front of the screen and it does in part obstruct a view of the screen.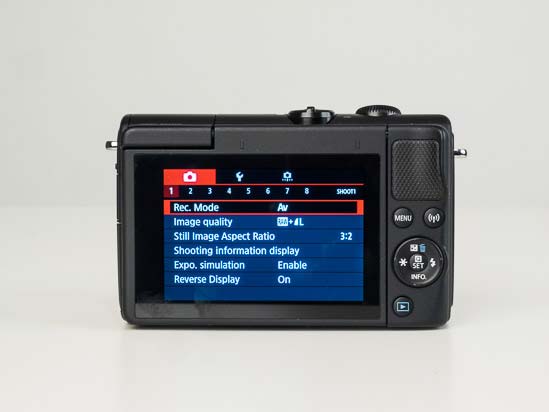 Rear of the Canon EOS M100
The LCD screen has a 1.04-million-dot resolution and is lovely and bright. Its touch function is both responsive and comprehensive. You can use touch shutter, touch AF, plus scroll and pinch-to-zoom in image playback. Nothing is lacking.
The design of the LCD screen works well for selfies and you do of course benefit from the full range of angles between 0° and 180°. This means you can tilt the screen up for ground and waist-level shooting, but it won't tilt down for above the head shots.
We did not have to clean the screen too often despite all the touch use, which can otherwise leave marks. A dirty screen is increasingly harder to see when in bright daylight. In such conditions it can be worth manually dialling up the brightness of the screen to its maximum setting in order to maintain a clear view.
There is no viewfinder in the EOS M100, nor an option to add one. No, this is not the camera for through-the-eye finder composition. It's all in the screen, which works perfectly well.
This camera would not operate nearly as well were it not for the excellent dual-pixel AF. Even in low contrast light autofocusing is impressively quick. It's not as quick as the dedicated phase detection AF in Canon's DSLRs, but it will satisfy the users of the EOS M100. Video AF is excellent too.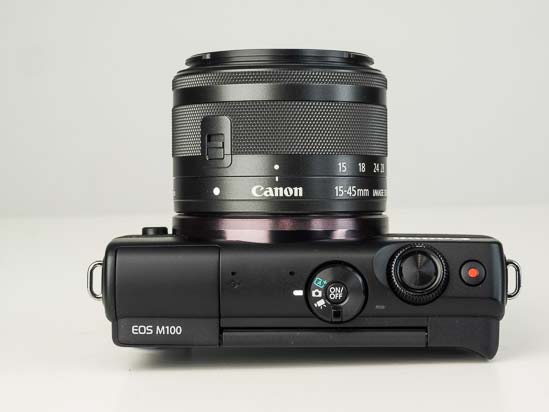 Top of the Canon EOS M100
There's nothing much new to say about the autofocus speed that hasn't already been said before in our EOS M6 review – it's snappy but definitely not class-leading. This is not a camera to take to the races, but it will cater for a family weekend break.
There are a few occasions for us when touch AF for a specific part of the frame has produced back-focused results. For example, we've had close up portraits with the ears sharp rather than eyes, plus sharp focusing beyond people walking in the distance through in a forest.
Back focusing happened a little too often for our liking, but if one is trigger happy then the accurate sharp images will be there. Generally, with the camera setup for face detection, those portraits will be sharp.
It is possible to shoot single images or select the high-speed continuous mode, where you can get 6.1fps for up to 89 JPEG images. That is a long sequence of action, although the focus is locked to the first picture.
Start up time is around 2 seconds, which is ok but we'd like to see that improved. Nor is there a silent shutter so it's hard to shoot discreetly given the camera's defined shutter clunk.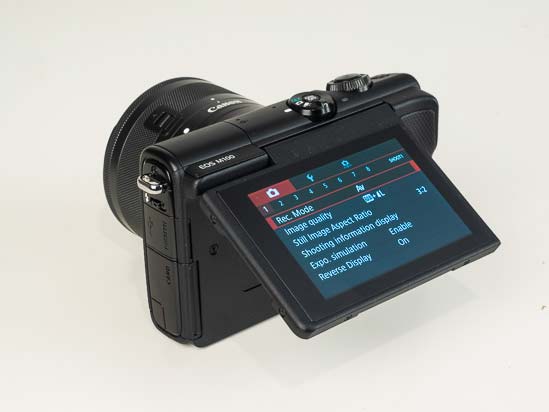 Tilting LCD Screen
You get three shooting mode choices; Scene Intelligent Auto, Record Mode and Movie Auto Exposure (Video).
In Scene Intelligent Auto there is absolutely no control over exposure settings. You can choose Image Quality (including raw), Movie record size, Drive mode (single or continuous high) self-timer and aspect ratio.
Next up is Record Mode. By default the camera is set to Creative Assist. This JPEG only mode provides some exposure control, but only within certain parameters and it is all communicated in a language for those that know nothing technical about cameras.
Rather than dials to switch between exposure settings, there are sliders. If you want the image darker or lighter, which to a photographer means exposure compensation, you move the Brightness slider towards 'Dark' or 'Light'.
Likewise, 'aperture' control is gained through the Background slider with 'Blurred' and 'Sharp' at either end. It makes sense to an extent, but you don't get full control over these sliders. For example, the user can make the image background blurrier (a wider aperture), but cannot choose the exact aperture they want.
Root into the menu or tap the option on the top let of the LCD touchscreen and the camera Record Mode can be switched from Creative Assist. Here you will find the usual PASM exposure controls, as well as a host of picture effects, such as Hybrid Auto, Self Portrait and HDR. We can see how this whole area of other Record Modes could be overlooked.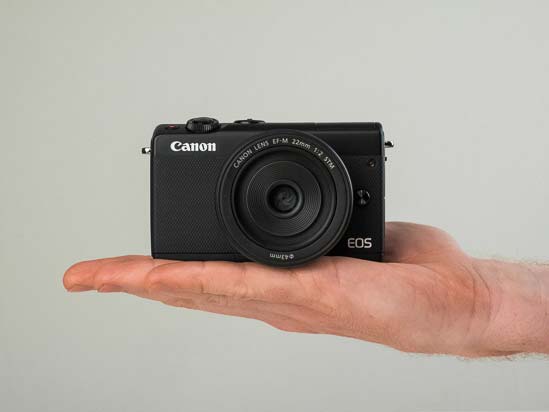 The Canon EOS M100 In-hand
With such few camera controls on the body, it is often necessary to use the touchscreen to navigate the various camera settings, which works well enough, though doesn't make for the quickest way of making several manual changes.
In Movie Auto Exposure mode there are the same options as in Scene Intelligent Auto, but in addition there is exposure lock and exposure compensation, picture style (colour mode) and white balance control.
As an entry-level camera it is a little surprising not to see the type of interface we have come to expect – those illustrations and real-world examples that demonstrate what each setting achieves when you change it.
Like other EOS-M cameras, the M100 has a battery life quoted at 295 shots, or 410 shots in Eco-mode. That's not too bad for the target crowd as it will handle moderate shooting over a weekend.
A button on the rear initiates wireless connection between camera and smart device. Once the smartphone or tablet is connected to the EOS M100, a push of this button will automatically link the two devices. After setup, a wireless connection is as easy and quick as one could hope for.
Users can shoot remotely via live view on their smart device and load images that are already on the memory card. The EOS M100 is about as simple and effective as it gets for paring with a smart device.
Image Quality
All of the sample images in this review were taken using the 24 megapixel Fine JPEG setting, which gives an average image size of around 8Mb.
The EOS M100 features the same 24.2-million pixel APS-C sensor as found in some other EOS-M cameras and some of Canon's DSLRs, like the EOS 77D. We have commented extensively on the image quality in these cameras, for example in our EOS M6 review.
All the images you see in this review are taken using the 24MP Fine JPEG setting, which gives an average image size of around 8Mb. With the EOS M100, it is possible to achieve the same image quality as these other Canon cameras, over the full ISO 100-25,600 range.
We have used the EOS M100 in a wide variety of scenarios and in general we have been very pleased with the image quality with those two EF-M lenses and two EF lenses. It is possible to get sharp detail even with the 15-45mm kit lens, but even more so with the 22mm f/2 pancake lens and Canon EF lenses.
All images taken in good light at ISO 100 to ISO 800 are sharp and vibrant. From ISO 1600 and up there is a gradual loss in crispness and saturation. We'd say images at ISO 12,800 and ISO 25,600 are less useable.
We have looked in greater detail at JPEGs, given most users will not know too much about raw. Pictures in bright light are where these Canon EOS M cameras shine, though this camera is no slouch in low contrast light either.
JPEG processing in images at ISO 1600 and higher smoothes over detail because of corrections to counter noise. The overall performance for noise and resolution is solid without being class-leading.
We suspect that most users of the Canon EOS M100 will set the camera to Scene Intelligent Auto and let the camera do its thing. On that basis we took a lot of our pictures with the camera in this mode.
There is 'Real-time metering from the image sensor', with 384-zone evaluative metering, partial metering from centre, centre weighted average and spot metering modes.
The camera seems to switch between exposure modes, depending on the extent of touch focus. Without touch or subject tracking, that 384-zone evaluative metering is active. On the whole, the brightness of images is accurate, if a little bright in certain situations where there is a wide range of tones between light and dark areas.
Where there is input to exposure setting in Record Mode or Creative Assist, we at times used the exposure compensation/ Brightness slider to make the image a little darker.
It's likely that other metering modes are linked to the 49-point autofocus system. For example, pick a single focus point in the image by touching the screen in single point AF and you get spot metering for the right brightness in the image of the subject in focus – like detail illuminated in a shaft of light.
Spot metering works most of the time, but some times the chosen AF-point/ zone is too big to hone in on a detail and the highlight detail will be too bright. If a face is detected in the scene, the camera will automatically create an image with the right brightness for the face.
Again, in Scene Intelligent Auto there is no way to select the white balance setting, it is automatic. Thankfully, in good light and bad, under different ambient light temperatures, the EOS M100 is able to deliver excellent JPEG images straight out of the camera. That's one of the highest praises we can give this camera, one that is designed to be as easy to use as possible.
JPEG colour is faithful and accurate. For those with a critical eye, the PASM record modes give manual control over white balance. Also, when the camera is in a mode that allows for manual adjustment of the Picture Style (movie), we sway towards a more neutral setting than a vivid one.
All in all we suspect that those new to an interchangeable lens camera like this will see no issue with the camera's automatic functioning and the resulting images. Knowledgable photographers will at times find the leaning to going automatic a tad frustrating.
Of course with a large APS-C size sensor, the range of tones in a single image is superior to what is possible with a smart phone camera. The detail in highlight and shadow areas is again good, without being class-leading.
The EOS M100 will shoot some lovely looking full 1080p videos at up to 60fps.  Dual Pixel AF makes for quick and accurate focusing through video live view and those 60fps and will allow users to slow those videos down for lovely and sharp B-roll.
That flip-up screen is really useful for v-logs and we suspect this camera could be have been popular in this area had it included a microphone port of some kind, which sadly it does not.
Noise
ISO sensitivity can be set between ISO 100 and ISO 25600 in full-stop increments. Here are some 100% crops which show the noise levels for each ISO setting, with JPEG on the left and the RAW equivalent on the right.
| | |
| --- | --- |
| JPEG | |
| ISO 100 (100% Crop) | |
| | |
| | |
| ISO 200 (100% Crop) | |
| | |
| | |
| ISO 400 (100% Crop) | |
| | |
| | |
| ISO 800 (100% Crop) | |
| | |
| | |
| ISO 1600 (100% Crop) | |
| | |
| | |
| ISO 3200 (100% Crop) | |
| | |
| | |
| ISO 6400 (100% Crop) |   |
| | |
| | |
| ISO 12800 (100% Crop) | |
| | |
| | |
| ISO 25600 (100% Crop) | |
| | |
Flash
The flash settings on the Canon EOS M100 are Auto, Manual Flash On/Off, and Red-Eye Reduction. Here are some portrait shots. As you can see, neither the Flash On setting nor the Red-Eye Reduction option caused any amount of red-eye.
Flash Off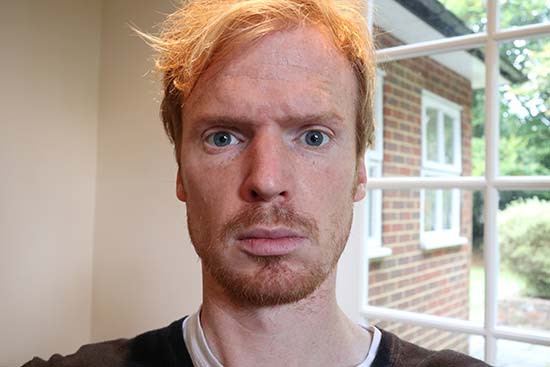 Flash On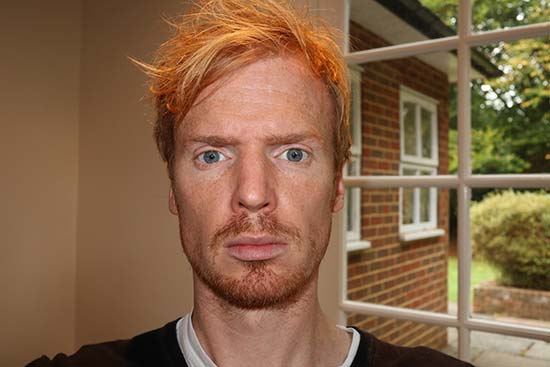 Night
The Canon EOS M100's maximum shutter speed is 30 seconds and there's a Bulb mode for even longer exposures, which is excellent news if you're seriously interested in night photography.
Night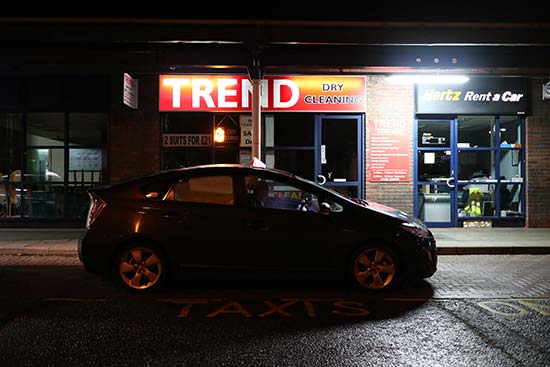 Creative Filters
Essentially a more extreme version of the well-established Picture Styles, Creative Filters offers 7 options, all of which can be interactively tweaked to suit your taste.
| | |
| --- | --- |
| Grainy B/W | Soft Focus |
| | |
| | |
| Fish-eye Effect | Toy Camera Effect |
| | |
| | |
| Miniature Effect | Water Painting Effect |
| | |
| | |
| HDR Backlight | |
| | |
Sample Images
This is a selection of sample images from the Canon EOS M100 camera, which were all taken using the 24 megapixel Fine JPEG setting. The thumbnails below link to the full-sized versions, which have not been altered in any way.
1/400s · f/2.8 · ISO 100
1/320s · f/5.6 · ISO 100
1/60s · f/5 · ISO 160
1/320s · f/5 · ISO 200
1/60s · f/2.8 · ISO 400
1/40s · f/2 · ISO 6400
Product Images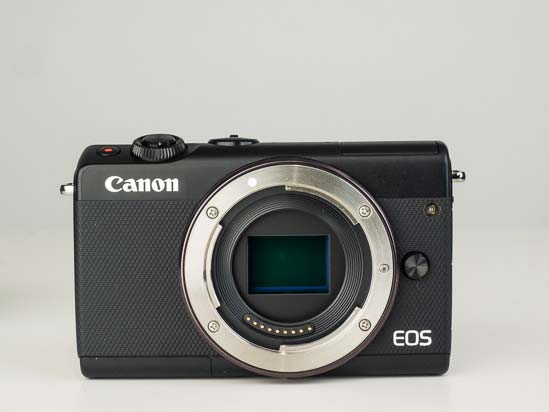 Front of the Canon EOS M100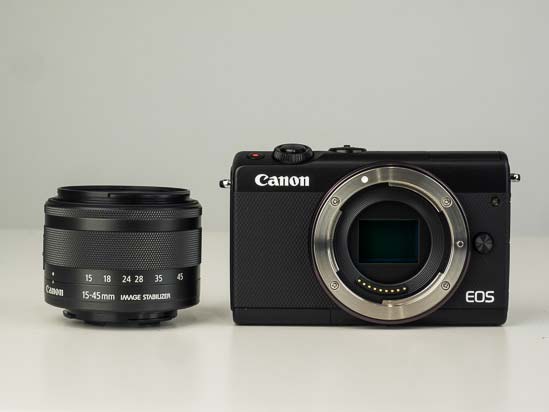 Front of the Canon EOS M100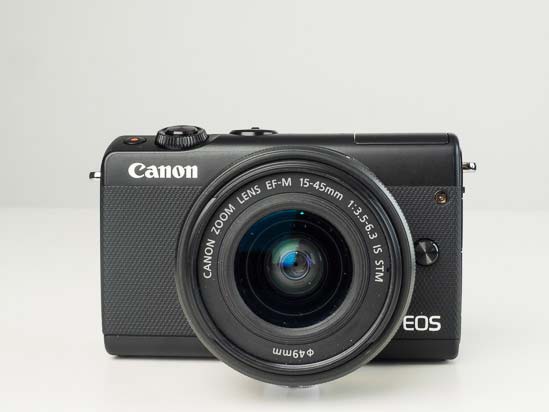 Front of the Canon EOS M100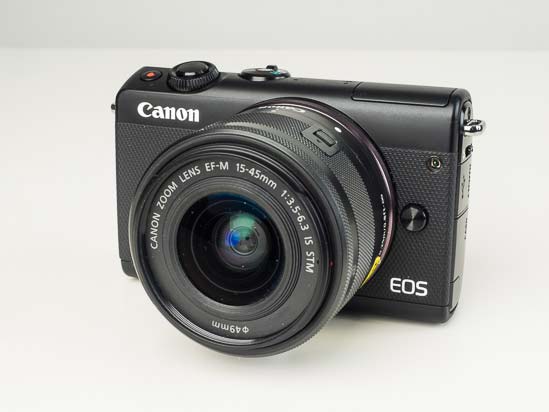 Side of the Canon EOS M100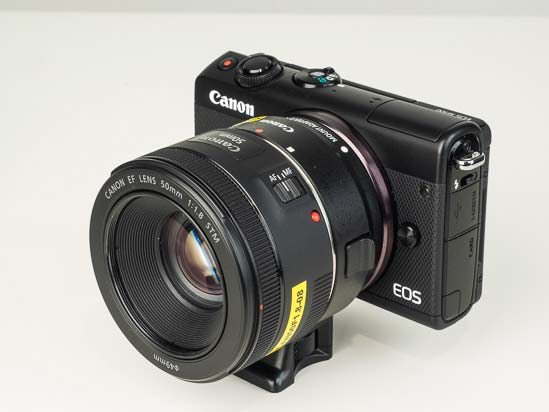 Side of the Canon EOS M100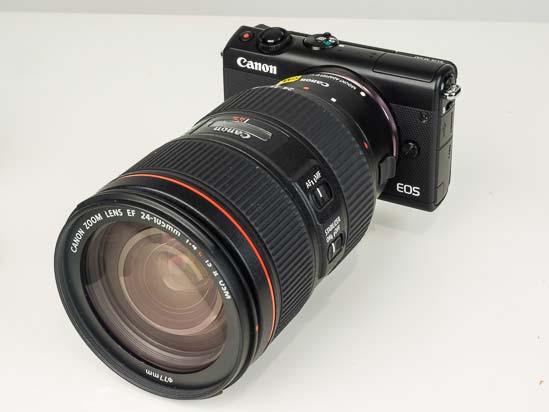 Side of the Canon EOS M100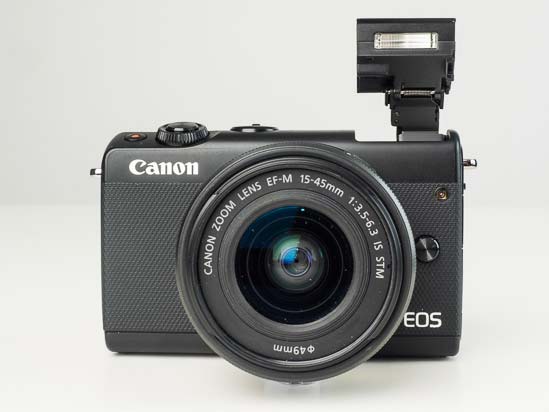 Front of the Canon EOS M100 / Pop-up Flash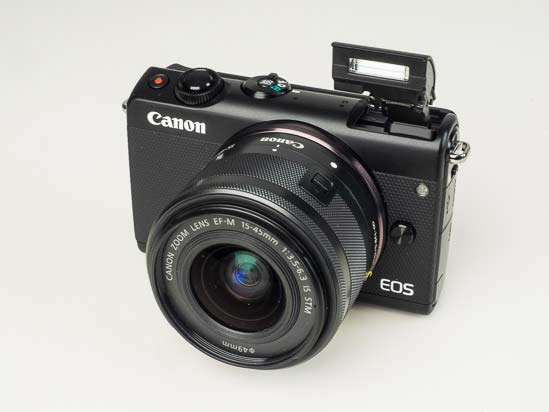 Side of the Canon EOS M100 / Pop-up Flash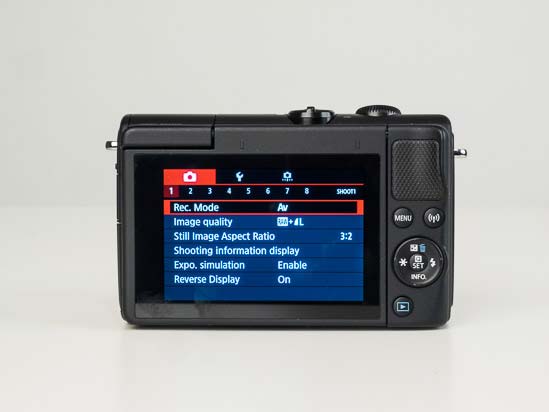 Rear of the Canon EOS M100 / Main Menu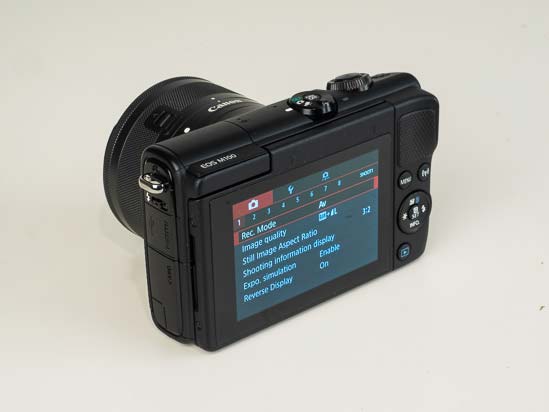 Rear of the Canon EOS M100 / Main Menu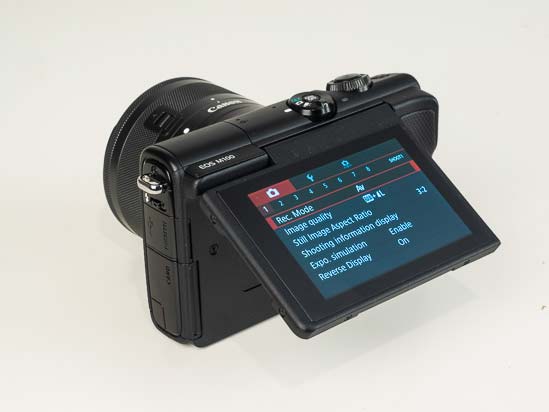 Rear of the Canon EOS M100 / Tilting LCD Screen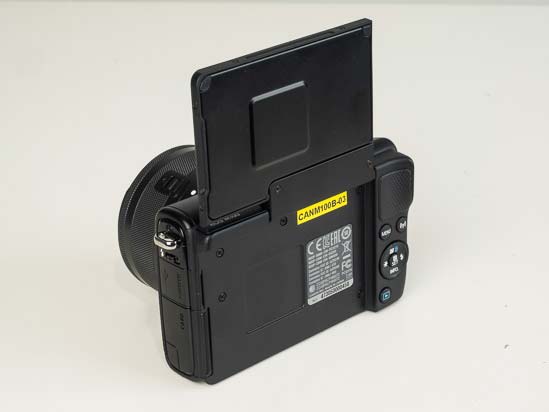 Rear of the Canon EOS M100 / Tilting LCD Screen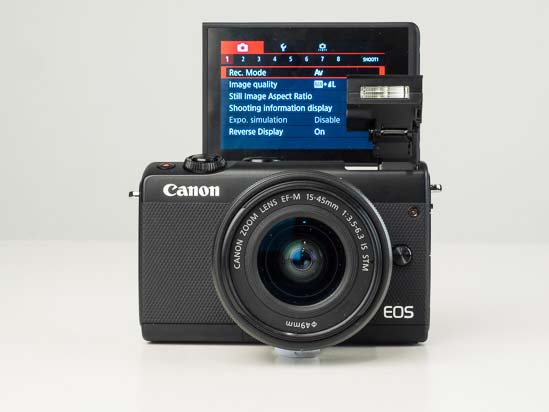 Front of the Canon EOS M100 / Tilting LCD Screen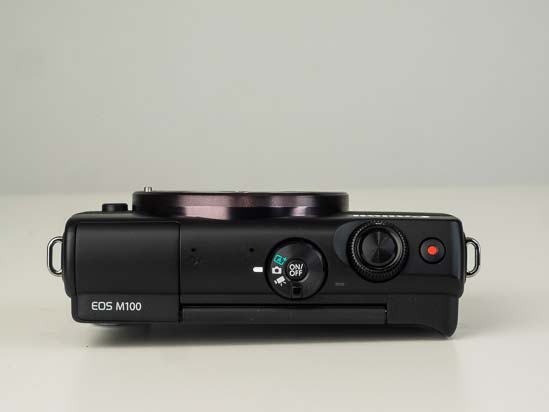 Top of the Canon EOS M100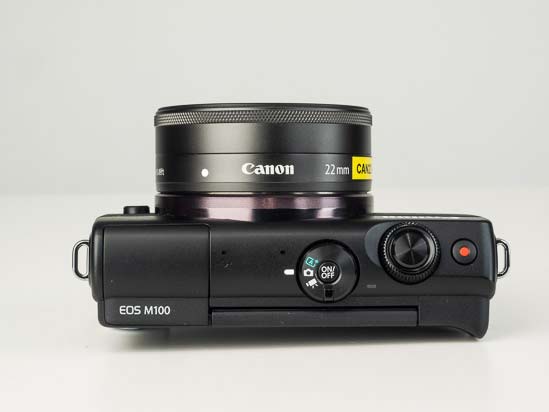 Top of the Canon EOS M100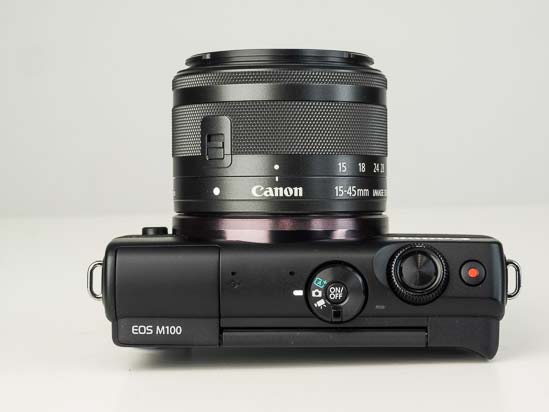 Top of the Canon EOS M100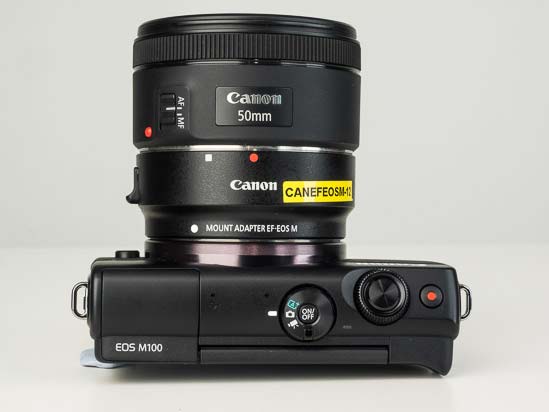 Top of the Canon EOS M100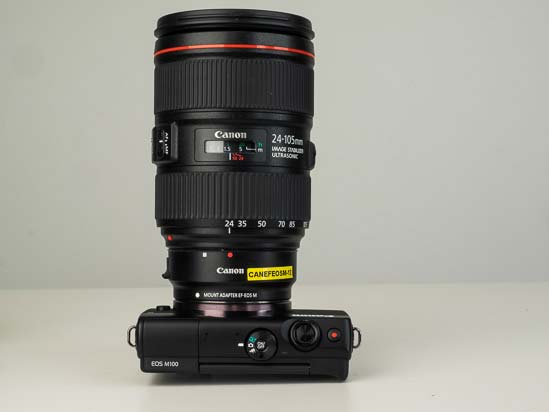 Top of the Canon EOS M100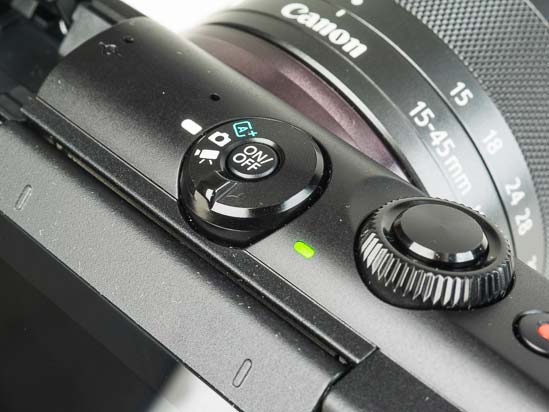 Top of the Canon EOS M100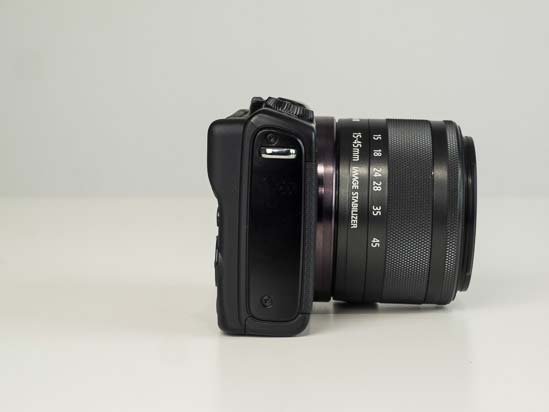 Side of the Canon EOS M100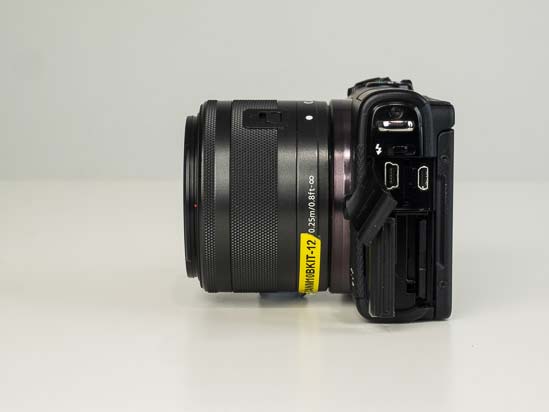 Side of the Canon EOS M100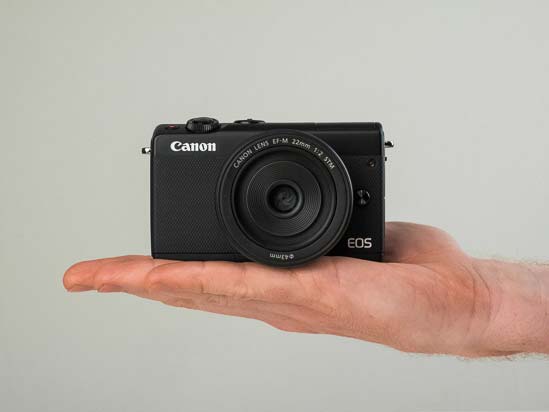 Front of the Canon EOS M100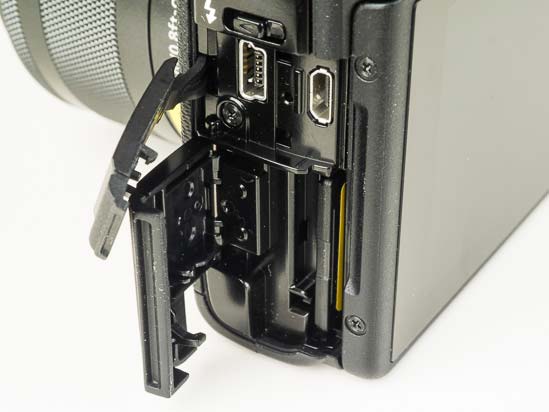 Memory Card Slot
Specifications
Image Sensor
Sensor Cleaning
EOS integrated cleaning system
Lens
Lens Mount
EF-M (EF and EF-S lenses compatible via Mount adapter EF-EOS M)
Focal Length
Equivalent to 1.6x the focal length of the lens
Image Stabilisation
Optical Image Stabilizer on compatible lens
Movie:Enhanced 3-axis Digital IS with compatible lenses
Focusing
Type
Dual Pixel CMOS AF System. Phase detection pixels built onto imaging sensor 1
AF System/ Points
Maximum 49 AF points (Fixed location on 7×7 grid) via camera automatic selection 2
Freely position 1 AF point/ 1 AF Zone (9 points, 3×3 grid) via manual selection 3
AF working range
EV -1 – 18 (at 23 °C, ISO 100, with EF-M 22mm f/2 STM)
AF Point Selection
Face + Tracking: Face and subject tracking via automatic recognition/ manual selection via touchscreen. Automatic selection over 49 AF points when no face recognised within frame.
Smooth Zone AF: Manual zone selection, plus automatic selection over 9 AF points within selected zone
1-point AF: Manual selection via touchscreen/ buttons
Selected AF point display
AF Lock
Locked when shutter button is pressed half way or customisable AE Lock Button
Manual Focus
With EF & EF-S lenses – Select via AF/MF switch on lens
With EF-M lenses – Select via dedicated MF Button/ other customisable buttons (toggle AF/MF).
MF Peaking available
AF+MF available (Manual focus adjustment after One-Shot AF)
Magnify image available during MF (5x or 10x)
Exposure Control
Metering modes
Real-time metering from the image sensor
(1) Evaluative metering (384 zones)
(2) Partial metering at center (approx. 10% of Live View Screen)
(3) Center weighted average metering
(4) Spot metering (approx. 2% of Live View Screen)
Metering Range
Still image: EV 1 – 20 (at 23 °C, ISO 100)
Movie: EV 2 – 20 (at 23 °C, ISO 100)
AE Lock
Auto: In One-shot AF mode with evaluative metering exposure is locked when focus is achieved.
Manual: By AE lock Button in creative zone modes.
Exposure Compensation
+/-3 EV in 1/3 stop increments
ISO Sensitivity
ISO AUTO (100 – 25600), 100 – 25600 in 1/3 stop increments4
Movie: ISO AUTO (100 – 6400), 100 – 12800 in 1/3-stop increments
Shutter
Type
Electronically controlled focal-place shutter
Speed
30 – 1/4000 sec (1/3 stop increments), Bulb (Total shutter speed range. Available range varies by shooting mode)
White Balance
Type
Auto white balance with the imaging sensor
Settings
AWB, Daylight, Shade, Cloudy, Tungsten light, White
Fluorescent light, Flash, Custom, Colour Temperature (100 Kelvin increments)
White balance compensation:
1. Blue/Amber +/-9 levels
2. Magenta/ Green +/-9 levels
Custom White Balance
Yes, 1 setting can be registered
LCD Monitor
Type
7.5 cm (3.0") Touchscreen LCD (TFT). 3:2 aspect ratio. Approx. 1,040,000 dots. Electrostatic capacitive type. Tiltable approx 180 degrees up
Brightness Adjustment
Adjustable to one of five levels
Display Options
Customisable and toggle via INFO. Button
(1) Liveview image with basic info
(2) Liveview image with full info
(3) Liveview image with no information
(4) Quick Control Screen
Flash
Built-in Flash GN (ISO 100, meters)
Built-in Flash Coverage
Maximum coverage at approx. 15mm (35mm equivalent: approx. 24mm)
Built-in Flash recycle time
Red-Eye Reduction
Yes – with red eye reduction lamp
Flash Exposure Compensation
+/- 2 EV in 1/3 increments
Second Curtain Synchronisation
Shooting
Modes
Scene Intelligent Auto, Hybrid Auto, Creative Assist, SCN(Self-Portrait, Portrait, Smooth Skin, Landscape, Close-up, Sports, Food, Handheld Night Scene, HDR Backlight Control), Creative Filters (Grainy B/W, Soft Focus, Fish-eye Effect, Art bold effect, Water painting effect, Toy camera effect, Miniature effect (Stills and Movie), High Dynamic Range), Program AE , Shutter priority AE, Aperture priority AE, Manual exposure, Movie (Movie auto exposure, Movie manual exposure, Time-lapse movie)
Picture Styles
Auto, Standard, Portrait, Landscape, Fine Detail, Neutral, Faithful, Monochrome, User Defined (x3)
Image Processing
Highlight Tone Priority
Auto Lighting Optimizer (4 settings)
Long exposure noise reduction
High ISO speed noise reduction (4 settings + Multi Shot NR)
Lens peripheral illumination correction
Chromatic aberration correction
Diffraction correction
Creative Assist:
Background Blur (5 settings)
Brightness (19 levels)
Contrast (9 levels)
Saturation (9 levels)
Color Tone (19 levels)
Monochrome (Off/Black and white/Sepia/Blue/Purple/Green)
Drive modes
Single, Continuous, Self timer (2s, 10s, custom)
Continuous Shooting
One shot AF: Approx. 6.1 shots/sec for up to 89 frames in JPEG and 21 frames in RAW 6
With Servo AF: Approx. 4 shots/sec for up to approx 1000 frames in JPEG 7
Live View Mode
Coverage
Approx. 100% (horizontally and vertically)
File Type
Still Image Type
JPEG: Fine, Normal (Exif 2.30 compliant) / Design rule for Camera File system (2.0)
RAW: RAW (14-bit, Canon original RAW 2nd edition),
Digital Print Order Format [DPOF] Version 1.1 compliant
RAW+JPEG simultaneous recording
Yes, RAW + various JPEG compression possible
Image Size
RAW: (3:2) 6000 x 4000, (4:3) 5328 x 4000, (16:9) 6000 x 3368, (1:1) 4000 x 4000
JPEG 3:2: (L) 6000 x 4000, (M) 3984 x 2656, (S1) 2976 x 1984, (S2) 2400 x 1600
JPEG 4:3: (L) 5328 x 4000, (M) 3552 x 2664, (S1) 2656 x 1992, (S2) 2112 x 1600
JPEG 16:9: (L) 6000 x 3368, (M) 3984 x 2240, (S1) 2976 x 1680 (S2) 2400 x 1344
JPEG 1:1: (L) 4000 x 4000, (M) 2656 x 2656, (S1) 1984 x 1984, (S2) 1600 x 1600
In-camera RAW processing & Image Resize available in playback
Movie Type
MP4 [Video: MPEG-4 AVC/H.264, Audio: MPEG-4 AAC-LC (stereo)]
Movie Size
Full HD – 1920 x 1080 (59.94, 50, 29.97, 25, 23.976 fps)
HD – 1280 x 720 (59.94, 50 fps)
VGA – 640 x 480 (29.97, 25 fps)
Movie Length
Max duration 29min 59sec, Max file size 4GB
Folders
New folders can be automatically created monthly or daily
File Numbering
(1) Consecutive numbering
(2) Auto reset
Other Features
Custom Functions
4 Custom functions with customisable shutter and record buttons
Metadata Tag
User copyright information (Author's Name, Copyright Details)
Image rating (0-5 stars)
Intelligent Orientation Sensor
Playback zoom
2x – 10x enabled in 10 steps plus smooth pinch-to-zoom
Display Formats
(1) Single image with information (toggle up to 8 options)
(2) Single image
(3) Index display (6/12/42/110 images)
(4) Jump Display (1/10/100 image, by shot date, by rating)
Slide Show
Playback time: 3/4/5/6/7/8/9/10/15/30 seconds
Repeat: On/Off
Transition Effects: Off, Fade
Image Erase/Protection
Erase: Single image, Selected images, Selected range, All images
Protection: Selected images, Selected range, All images. Unprotect all images
Menu Categories
(1) Shooting menu (x8)
(2) Playback menu (x5)
(3) Setup menu (x4)
(4) Custom Functions menu
Menu Languages
25 Languages
English, German, French, Dutch, Danish, Portuguese, Finnish, Italian, Norwegian, Swedish, Spanish, Greek, Russian, Polish, Czech, Hungarian, Romanian, Ukrainian, Turkish, Arabic, Thai, Simplified Chinese, Traditional Chinese, Korean and Japanese
Firmware Update
Firmware update possible by the user.
Interface
Computer
Hi-Speed USB (Mini-B compatible)
Other
Wireless LAN (IEEE802.11b/g/n), (2.4 GHz only, 1-11 ch), with Dynamic NFC support 8
Bluetooth® (Specification version 4.1, Bluetooth low energy technology) 910
Direct Print
Canon Printers
Canon Compact Photo Printers and PIXMA Printers supporting PictBridge
PictBridge
Yes (via USB or Wireless LAN)
Storage
Type
SD, SDHC, SDXC (UHS-I compatible)
Supported Operating System
PC & Macintosh
Windows 10 / 8.1 / 8 / 7 SP1 11
Mac OS X 10.9 / 10.10 / 10.11 / 10.12
For Wi-Fi connection to a PC:
Windows 10 / 8.1 / 8 / 7 SP1
Mac OS X 10.9 / 10.10
For Image Transfer Utility:
Windows 10 / 8.1 / 8 / 7 SP1
Mac OS X 10.9 / 10.10 / 10.11 / 10.12
Software
Image Processing
Digital Photo Professional
Other
Picture Style Editor, EOS Utility, Image Transfer Utility
Camera Connect app available on iOS and Android devices 12
Power Source
Batteries
1 x Rechargeable Li-ion Battery LP-E12E
Battery life
Approx. 295 shots (at 23°C, AE 50%, FE 50%) 13
Eco Mode: Approx. 410 shots
Movie Recording: Approx. 125 mins
Playback time when playing back a slideshow of still images: Approx. 4 hrs
Power saving
Display off (15, 30 sec or 1, 3, 5, 10, 30 mins)
Auto Power Down (30 sec or 1, 3, 5, 10 mins, Disable) ECO mode
Power Supply & Battery Chargers
Battery charger LC-E12
Compact Power Adapter CA-PS700 DC Coupler DR-E12
Accessories
Cases / Straps
Face Jacket EH31-FJ
Neck Strap EM-E2 (light brown)
Neck Strap EM-E2(BW) (brown)
Neck Strap EM-E2(BK) (black)
Neck Strap EM-E2(WH) (white)
Neck Strap EM-E2DB
Lenses
EF-M lenses
All EF and EF-S lenses compatible via Mount adapter EF-EOS M
Other
Interface cable IFC-400PCU
Mount Adapter EF-EOSM
All data is based on Canon standard testing methods except where indicated.
Subject to change without notice.
Dual Pixel CMOS AF – AF is possible over an area of approx. 80% Vertical x 80% Horizontal of the frame
Maximum number of AF frame is dependent on selected image aspect ratio
Dual Pixel CMOS AF – AF is possible over an area of approx. 80% Vertical x 80% Horizontal of the frame
Recommended Exposure Index
When battery is fully charged
Continuous shooting speed is measured with EF-M 15-45mm f/3.5-6.3 IS STM and requires SDHC/SDXC UHS Speed Class 1 memory card. Total number of frames captured and continuous shooting speed may vary depending on camera exposure settings, type of lens used, battery level, light level and memory card used.
Continuous shooting speed is measured with EF-M 15-45mm f/3.5-6.3 IS STM and requires SDHC/SDXC UHS Speed Class 1 memory card. Under Servo AF, maximum continuous shooting speed and total number of frames captured depends on subject condition, camera settings and lens used
Wi-Fi use may be restricted in certain countries or regions.
Equipped with Bluetooth® low energy technology. The Bluetooth® word mark and logos are registered trademarks owned by the Bluetooth SIG, Inc. and any use of such marks by Canon Europe Ltd. is under license. Other trademarks and trade names are those of their respective owners.
Bluetooth functionilty with Camera Connect app requires smart device to be equipped with Bluetooth version 4.0 (or later). Also requires smart device to be using operating system iOS 8.4 (or later) or Android 5.0 (or later)
Software applications compatible with Windows 10 in Windows 10 Desktop Mode only
Bluetooth functionilty with Camera Connect app requires smart device to be equipped with Bluetooth version 4.0 (or later). Also requires smart device to be using operating system iOS 8.4 (or later) or Android 5.0 (or later)
Based on the CIPA Standard and using the batteries and memory card format supplied with the camera, except where indicated

Conclusion
Canon has created its simplest and smallest EOS M mirrorless camera with an APS-C sensor yet. The M100 can slide into a pocket and is capable of some lovely looking images.
You'll get DSLR image quality, with the control of a point-and-shoot compact. Although the manual control is there, the Canon EOS M100 is definitely set up and geared to those that want the camera to get on with the job, with as little input was possible.
On one hand the camera says Leave this to me, I've got this. You won't find any beginner-friendly tutorials in-camera. Plus that manual control seems hidden from the off. Once you've rooted around and got used to navigating through touch screen, the experience is fine.
Ease of use aside, what new photographers will enjoy is the excellent image quality right-off-the-bat. Canon cameras like the EOS M100 are able to produce sharp images with accurate colour rendition, without the need for editing in post.
Add to this the comprehensive touchscreen and seamless wireless connection with a smart device, the EOS M100 functions like a camera for today. Canon clearly has worked hard on getting its app and wireless functioning just right.
The camera's compact size will also please. With an EF-M lens attached, it's a lightweight and dinky combination. After a while it even becomes novel to pair what can be pro-level glass with an automatic point and shoot camera and still get good quality images.
All in all, the Canon EOS M100 is a bit hit and miss. It may appear simple from the outside, but it doesn't feel so intuitive in use. You'll get excellent quality images when the camera's Intelligent Auto mode gets it right and frustration when it picks the wrong settings.
(photographyblog.com, https://goo.gl/1aNmTZ)
Comments
comments