Need to keep an eye on your abode from anywhere? Small, standalone Wi-Fi security cameras (also called IP cameras) are easy to set up, can stream video to your phone, tablet or PC, and will send you notifications if they detect motion or loud noises. Most cameras also provide night vision and automatic motion-activated recording.
We tested several of the best IP cameras on the market and rated each based on its performance, ease of use and affordability. Based on these criteria, our top pick is the Netgear Arlo Q ($150 at Amazon). We found that it had the best software, the most flexible options and the most affordable cloud-storage subscription plan of the cameras we tested.
A close runner-up is the Nest Cam Indoor ($199 at Amazon), which matches similarly excellent software with an attractive and sturdy design.
How We Tested
We evaluate each Wi-Fi security camera's design, setup process, feature set, mobile app, video performance and overall value. In terms of design, we note each camera's aesthetics but pay particular attention to its size relative to other cameras.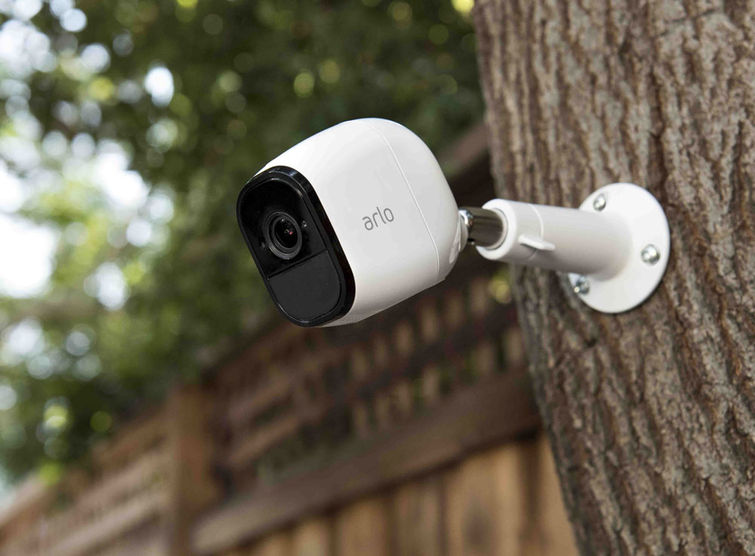 We penalize a camera if it requires an excessive amount of time to set up, or suffers from a confusing setup process. We also dock points if a camera lacks important features offered by the competition, such as programmable security modes or scheduled recordings. However, this can be offset if a camera provides other unique or particularly helpful features.
We rate each camera's mobile app for its reliability and its design, and pay particular attention to the intuitiveness of the interface. We gauge performance by the camera's resolution and field of view, the reliability of remote viewing and the quality of the video (colors and detail).
Finally, we factor in whether a camera offers cloud storage for recorded video clips. Although manufacturers charge up to $30 per month for this service, cloud storage lets you access video without the hassle of removing a storage card from the camera and inserting it into your computer using an adapter. Cameras that use only local storage also run the risk of losing any recorded video if the camera itself is stolen.
NETGEAR ARLO Q – Best Security Camera Overall
VIDEO RESOLUTION/FRAME RATE : 1080p/30 fps
FIELD OF VIEW : 130 degrees
NIGHT VISION : 25 feet
CONNECTIVITY : 802.11 b/g/n
With its top-notch video quality, excellent motion detection, flexible scheduling and intuitive user interface, the Netgear Arlo Q would be a contender for the top prize even without its very generous basic cloud-subscription plan. That plan gives you the past week's recordings at no cost for the lifetime of the unit (although higher tiers aren't free), and more than justifies the unit's relatively high price. The Arlo Q is the Wi-Fi security camera to beat.
NEST CAM INDOOR – Runner-Up
VIDEO RESOLUTION/FRAME RATE : 1920 x 1080/30fps
FIELD OF VIEW : 130 degrees
NIGHT VISION : 8 IR LEDs, 25 feet
CONNECTIVITY : 802.11b/g/n Wi-Fi, Bluetooth Low Energy
The Nest Cam Indoor is the third generation of the celebrated Dropcam, and bumps up its predecessors' video quality to 1080p. It's easy to set up and, thanks to its magnetic, swiveling base, can be installed almost anywhere indoors. The video looks sharp; night vision is clear; the camera can be used as an intercom; and it interacts with the Nest Thermostat and the Nest Protect smoke detector, as well as several third-party devices. But to really make use of the camera's features, you'll have to shell out $10 or more per month for the Nest Aware program, which gives you access to cloud storage and much more.
NETGEAR ARLO PRO – Best Outdoor Camera
VIDEO RESOLUTION/FRAME RATE : 1280×720/Variable, up to 24fps
FIELD OF VIEW : 130 degrees
NIGHT VISION : 8 IR LEDs, 25 feet
CONNECTIVITY : 802.11n Wi-Fi, 2.4GHz
Netgear's new Wi-Fi camera works both inside and outdoors, and is powered either by a battery or a power cord. Like its older sibling the Arlo Q, the Pro has motion detection, night vision and an intercom function, but like the original Arlo, it's weatherproof, has 720p video resolution with a 130-degree field of view, and needs a base station to operate. You'll also get Netgear's generous cloud-subscription plan, which offers 7 days' worth of footage for free.
BELKIN NETCAM HD+ – Best Smart Home Integration
VIDEO RESOLUTION/FRAME RATE : 1280 x 720/25fps
FIELD OF VIEW : 95 degrees
NIGHT VISION : 850nm IR LEDs, 26 feet
CONNECTIVITY  : 802.11b/g/n
The Belkin NetCam HD+ is easy to set up, offers cloud storage for $9.99 per month and doubles as a two-way intercom. Plus, you can use the NetCam to control WeMo home accessories like lights and electrical switches, which transforms this device from a simple security camera into a home-automation system. We were a bit disappointed with the video quality and the fact that the camera's WeMo functionality is contained in a separate app, but the NetCam's combination of features and affordability makes it a top contender.
CANARY – Best Environmental Sensors
VIDEO RESOLUTION/FRAME RATE : 1920 x 1080/30 fps
FIELD OF VIEW : 147 degrees
NIGHT VISION  :IR LEDs, 16 feet
CONNECTIVITY : 802.11b/g/n Wi-Fi, Ethernet
The sleek-looking Canary has environmental sensors that monitor heat, humidity and air quality. It also includes an intercom, a very loud siren that should scare off any intruder, and a geofencing feature that automatically turns on motion detection when the user leaves the house. The Canary can also interact with Wink smart-home devices. The 1080p video looks crisp and clear, the sound quality is excellent, and the mobile app is intuitive.
D-LINK DCS-2630L – Best Local-Storage Camera
VIDEO RESOLUTION/FRAME RATE : 1080p/30 fps
FIELD OF VIEW : 180 degrees
NIGHT VISION : 16 feet
CONNECTIVITY : 802.11 b/g/n/ac
The D-Link DCS-2630L offers very good video quality and motion detection, clear sound and an intuitive user interface for less money than other security cameras. But it has limited scheduling options and its web interface isn't compatible with all browsers. The D-Link doesn't offer cloud storage — you'll have to store recorded videos on a microSD card.
NETATMO WELCOME – Best Facial Recognition
VIDEO RESOLUTION/FRAME RATE : 1920 x 1080/24 fps
FIELD OF VIEW : 130 degrees
NIGHT VISION : IR LEDs, 20 feet
CONNECTIVITY : 802.11b/g/n Wi-Fi
The Netatmo Welcome is a small, unobtrusive stand-alone security camera with a killer feature: facial recognition that works remarkably well. It quickly learns the faces and names of everyone in a household, and creates personalized user profiles for each of them so that they all can keep track of who's coming and going. The Welcome's mobile app and desktop interface both need refinement, but the actual camera is a solid effort.
New & Notable
Ring, known for its smart doorbell, at CES 2017 debuted the Ring Floodlight Cam, a $249 device that combines a pair of motion-activated floodlights with a camera. The Floodlight Cam has a two-way intercom function, a 110-decibel siren, and 1080p video with night vision and a 140-degree field of view. It's rated for operation between minus 20 degrees to 120 degrees Fahrenheit, and the optional cloud-storage plan costs $3 per month. Like some other outdoor cameras, it mounts into a pre-existing outdoor light fixture. You can preorder the Floodlight Cam now, and it should start shipping in April.
Hubble Connected calls the Hugo a "butler" rather than a security camera. It's pretty clear that the cute robot-looking devices is meant to have friendly interactions with humans, including even reading their emotions. It also has Amazon Alexa built in and comes with 500 apps. But it also has noise, movement and temperature alarms, a 110-degree wide-angle lens, and a pan/tilt/zoom function, and it records 1080p video to either the cloud or a 32GB microSD card. Hugo wil be available in the second half of 2017 for $300.
LG's wedge-shaped camera may look odd, but it's got hidden talents. Not only does it detect heat and humidity, but it's a full-fledged smart-home hub with Z-Wave connectivity. You can view the feed live for free, but for anything else, including online clip storage, continuous recording and schedulng,you'll have to subscribe to the Canopy monitoring service provided by the home-protection firm ADT, which starts at $10 per month.
D-Link's newest camera is the first security camera that works with Apple's HomeKit, and for the moment, it's sold only by Apple. As you might guess, the Omna 180 has a 180-degree field of vision, as well as motion detection, night vision and an optional companion app. (You can also use it with Apple's Home app.) All footage is recorded on a microSD card (not included, up to 128GB), and as a result, there are no subscription fees.
Nest's newest camera has enough on-board processing power to discern between humans and animals without a paid Nest Aware subscription. (The camera still needs Nest Aware to recognize individual persons, however.) The Nest Cam IQ also features 4K video imaging, which may seem like overkill on a security camera, but makes it possible to zoom in on individual objects with greater detail, and to even digitally pan around a room.
(tomsguide.com, https://goo.gl/vOV28m)
Comments
comments