Dash cams are becoming an increasingly popular addition to cars, giving drivers peace of mind in the event of an accident. Need some help choosing yours? Read on for our pick of the best dash cams you can buy.
In-car cameras have long been a favourite accessory among Russian commuters, and have lead to some amusing and downright scary videos posted online.
Not only do dash cams provide you with evidence when it comes to accident disputes, but some insurers will offer discounts of up to 15% on your premiums if you fit a dash cam, offsetting any initial outlay.
Best dash cams – Buying advice
As with all technology, dash cams come in a variety of forms. Some feature a single, forward-facing lens, while others include both forward and rear-facing cameras. These are the type you'll want if you are worried about being rear-ended.
Others feature multiple lenses capable of recording various angles or have a wide-angle lens that gets in almost as much as you can see with your eyes. You can even get cameras that incorporate GPS technology that are able to measure your speed.
So what makes dash cams different from other mountable cameras such as GoPros? First, most dash cams ensure you don't run out of memory by splitting recordings into small chunks. Although the camera will be recording continuously, the stored files will be broken up into 1-3 minute recordings. This allows the camera to record over the oldest file once the memory becomes full, ensuring you don't miss any important events or fiddle around with deleting unneeded footage
Many dash cams will record to a microSD card, so you can install a larger card to record more footage. Factor in the cost of a memory card, because many dash cams won't come with one in the box. Some dash cams make it easy to access this footage through a smartphone or tablet, too, so you don't have to take the card out of the dash cam.
All dash cams should support at least 720p resolution as the quality of the footage needs to be as high as possible to ensure it can be used to determine blame in disputes over accidents. Grainy grey blobs that aren't clear won't help you win a case.
The same goes for night vision: you'll want to make sure that footage recorded during low-light driving is as good as the day time.
More sophisticated options might include a G-sensor, which can detect when you've been involved in an accident due to a sudden change in movement. This could be an impact or heavy braking. This will then tell the dash cam to record the event and save it to a protected section of the memory card, ensuring it doesn't get overwritten, safeguarding your precious evidence.
No matter what you're looking for we've got the dash cam for you. We've reviewed dozens and picked the very best dash cams available to buy right now.
Thinkware F770
Key features:
1/2.9-inch 2.19MP Sony Exmor CMOS
Full HD, 30fps
GPS sensor and G-sensor to detect accidents
Speed camera alerts
Rear-view camera option
The Thinkware F770 looks a little different to the average dash cam, sitting horizontally on the dashboard with no screen. To get a view of the road, you download the Thinkware app on your phone and connect to the F770 via Wi-Fi.
This will also give you a variety of options on your phone screen, including live monitoring of what the camera can see, with guide marks so you can ensure positioning is correct.
The F770 runs on a Sony Exmor CMOS, with 2.19-megapixel resolution. There's no Super HD resolution available – just Full HD at 1080p, 30fps. Footage is recorded at a fairly respectable 9.5Mbps bitrate on the front camera, and you get a 16GB microSD in the box for storing footage.
This 16GB will keep around 200 minutes of footage from the front camera only. The footage will loop if the storage hits full capacity, unless an incident has been tagged via the G-sensor.
Built-in GPS will store the location of incidents, and there's a range of useful notifications for while you're driving. You get a warning when you approach the car in front too closely, notifications when you're straying from your lane on a motorway, and an audible message when the car in front moves in a stationary traffic queue.
At the time of the review the Thinkware F770 was available for £249.
Snooper DVR-4HD
Key Features:
Full HD camera
2.7-inch screen
Safety camera locations
16GB microSD card included
With a 2.7-inch screen, the Snooper DVR-4HD is much smaller than a sat-nav and attaches to your windscreen using a suction cup. The power cable is also long enough to be routed around the windscreen.
Footage is recorded to a microSD card and the DVR-4HD comes with a 16GB module included. Set-up is straightforward and recording is started simply by sliding the switch on the bottom of the unit.
The device will record in 1080p with a 17Mbits/sec data rate, although there is also a 720p option. In 1080p mode, the 16GB storage card will store around two hours of footage.
Once the card is full, the device will begin recording over the oldest files unless specific footage has been marked as an 'event', in which case it will be saved indefinitely.
Overall, image quality is good in both bright daylight and night-time, although in low light you'll need to be fairly close to another vehicle to make out details such as the licence plate number.
Features of note include an accelerometer to detect collisions or emergency stops, a GPS receiver to record your position and speed alongside the video, and speed camera warnings.
At time of review the Snooper DVR-4HD was available for £149.99.
Thinkware X550
Key features:
Full HD resolution
G-sensor to detect accidents
GPS with speed camera alerts
High-quality sensor for good low-light performance
While the Thinkware X550 might not have the super high resolution of some of its competition, it does have a high quality sensor. That means it's one of the better sat navs for recording in low-light conditions, thanks also to some clever software trickery.
If you want to make the most of the X550's features, you'll want to connect it to your car's electrical system (or have someone in the know do it). Fiddly but perfectly easy to use once done.
Connecting it this way lets you take advantage of the Parking Mode option which means the X550 "wakes up" and starts recording when it feels a shock or movement.
The X550 also comes with highly accurate GPS, handy speed camera alerts and the ability to use two cams together for better coverage.
It might not have the sharpest image quality but the X550 is a well-rounded dashcam.
At time of review the Thinkware X550 was available for £169.99.
Garmin DriveAssist 50LMT-D
Key Features:
5-inch capacitive touchscreen
Sat nav functionality
Full HD dash cam
Dual microSD slots
The Garmin DriveAssist 50LMT-D is not only a dashboard camera but also a fully-featured sat nav. The dash cam captures video at your choice of Full HD resolution or 720p, both at 30 frames per second.
There are two microSD card slots, one dedicated for the sat nav's maps, and the other for the dash cam's recordings. You'll get a 4GB microSD card included for the latter, which amounts to about 76 minutes of Full HD footage.
Features include automatic collision detection as well as loop recording. There's also Forward Collision Warning, which lets you know if you're approaching the vehicle in front too quickly, and a Lane Departure Warning, which will tell you if you're drifting across lanes on a motorway.
A Go Alert will even give you an audio notification if the car in front starts moving while you're stationary, ensuring no angry beeps from impatient drivers behind.
Coupled with the top-notch sat nav functionality, the DriveAssist 50LMT-D is a great car companion.
At the time of review the Garmin DriveAssist 50LMT-D was available for £249.99.
Aukey DR-01
Key features:
Full HD
2-inch LCD panel
G-sensor for detecting incidents
Motion sensor and time-lapse modes
You're probably more familiar with the Aukey name from its USB hubs and audio gear, but the DR-01 dash cam puts the brand inside your car for road-recording on a budget.
It keeps things simple with a limited list of features, but what it does, it does well. It offers only Full HD video recording, which is sufficient for basic use, and can drop to 720p at 60 and 30 frames per second to save battery life, too.
Its 2.19-megapixel Sony Exmor CMOS chip gives it a good picture in low light situations, as well as in broad daylight.
There's no storage option included, so you'll have to grab an 8GB microSD card yourself, which should be enough for about 80 minutes of Full HD footage  – more than some of the more high-res cams out there.
Features include incident detection with three optional sensitivity levels, and the ability to time and datestamp video. Unfortunately there's GPS to track where knocks and bumps happened though, sadly.
Elsewhere, there's timelapse recording to capture the highlights from your journey, and a motion detection mode which lets the DR-01 transform into a parking protector.
Simple, solid, and easy to use, the Aukey DR-01 is a great budget option if you just want an eye on the road to keep you feeling safe.
At the time of the review the Aukey DR-01 was available for £69.99.
VicoVation Vico-MF3
Key features:
2,560 x 1,440 maximum resolution
G-sensor for detecting incidents
Optional GPS accessory
The VicoVation Vico-MF3 is a simple, reasonably priced dash cam that does the basics really well.
If you're after high-quality road footage, its top resolution of 2,560 x 1,400 at 30 frames per second should keep you happy, producing impressively detailed video akin to that of some of the more pricey dash cams.
At max resolution, the MF3 can keep just under an hour of footage on the 8GB microSD card before looping kicks in. Five buttons flanking the cam's large 3-inch display offer easy access to its features.
One of these is for for marking events, which sets the current video file as not to be overwritten. Pressing this will automatically send that file to a separate Events folder on the microSD card for you to review later.
The MF3's lack of built-in GPS is the only real let-down. You have to buy an external device for £35 to track your location, which also adds features like lane departure, forward-collision warnings and speed camera alerts.
Without the GPS, you'll get features that include a G-sensor for incident detection, a headlights-on reminder, driver fatigue alert and a lead car departure alert. The latter feature will detect when the car in front moves in stationary traffic and let you know – just in case your mind has drifted.
At the time of the review the VicoVation Vico-MF3 was available for £139.
Garmin Dash Cam 35
Key Features:
Full HD camera
3-inch widescreen
Built-in GPS
The Garmin Dash Cam 35 is up there as one of our favourite dash cams we've tested, due to its pure ease of use. Although the video quality isn't as high as offerings from RAC, you can still record in 1080p Full HD at 30fps.
Footage is recorded direct to a microSD card, with a 4GB card supplied as standard, allowing you to record just over an hour of footage.
If you want to increase the storage capabilities, the Dash Cam 35 supports up to a 64GB MicroSD card. It's worth considering, as once the card is full, Garmin's device will automatically begin recording over the oldest video files.
Helpfully, if the built-in G sensor detects an incident, the files associated with that incident will end up in another folder where they won't be deleted. Plus, you can manually mark specific files to be saved too.
In terms of extra features, the Dash Cam 35 comes with collision detection and speed camera warnings, but you'll need to pay a subscription if you want regular updates to the speed camera detection.
It might not be as feature packed as some of its rivals, but it does enough for most, making it one of the more reliable and easy-to-use offerings on the market.
At time of review the Garmin Dash Cam 35 was available for £149.99
RAC 03
Key Features:
'Super HD' 1,296p camera
4.3-inch screen
Safety camera locations
A dashboard camera with a twist, the RAC 03 is actually a massive rear-view mirror which straps over your existing one. Not only will the RAC 03 record the road ahead, but you get an enhanced rear view at the same time.
It records footage in 2,340 x 1,296 resolution, with a 2,520 x 1,080 setting that doesn't actually widen the view, just narrows the window vertically whilst increasing the horizontal resolution.
There's a microSD slot available for video storage, with an 8GB card included. At the top video resolution and quality settings, this will be enough for a little over 50 minutes of footage.
The RAC 03 comes with a built-in GPS, so your location information is recorded alongside the video, as well as safety camera warnings, collision detection, and the ability to set alerts for when you exceed a certain speed.
With decent footage quality and plenty of extra features, the RAC 03 is a novel and very functional dashboard camera.
At time of review the RAC 03 was available for £169.99.
Garmin Dash Cam 55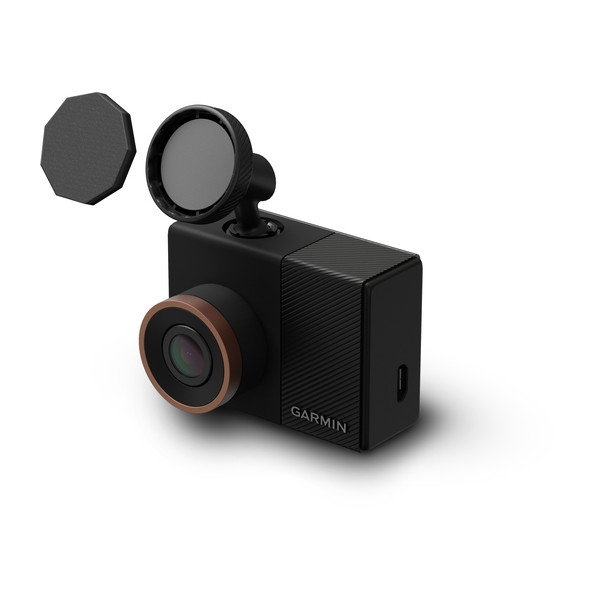 Key features:
2560 x 1440 maximum resolution
GPS for tracking location with video
Wi-Fi with smartphone app
The compact, attractive Garmin Dash Cam 55 builds upon Garmin's dashboard prowess with a host of handy features for capturing life on the road.
It automatically starts recording when connected to a power source so it doesn't miss a trick, capturing footage in a maximum 2.5K capacity – or 2560 x 1440 pixels at 30 frames per second, to be precise.
It's possible to record in Full HD at 60 frames per second too, or at a minimum of 720p to conserve memory.
It comes with 8GB storage as standard, but you can add anything up to a 64GB microSD card. At top resolution, the 8GB card should be able to keep around 56 minutes of footage before looping begins.
On the features front, the Garmin Dash Cam 55 brings Travelapse recording into the mix, which will pick the highlights from your journey to make a short reel that's easy to watch when you park up. You can also use the dash cam like a normal camera to take snapshots of vehicle or property damage.
Like Garmin's previous cams, it comes with GPS-enabled G-Sensor tech that automatically detects incidents and saves the footage on impact to show exactly where the event happened.
There's also built-in voice control for starting/stopping audio recording, taking pictures and activating the Travelapse feature.
When you're ready to view the footage, you can do so either on your computer or the dash cam's own display while sitting in your car. Built-in Wi-Fi lets you wirelessly sync footage with Garmin's VIRB app on your smartphone, too.
At the time of the review the Garmin Dash Cam 55 was available for £149.99
Nextbase 512GW dash cam
Key features:
1440p, 1080p and 720p, 30fps
GPS location tracking
3in screen
G-sensor for incident detection
Wi-Fi
Nextbase's dash cams are readily available from Halfords and are allegedly endorsed by the AA, so it's no surprise that the specification and build of the Nextbase 512GW – its mid-range dash cam – make for a promising start.
Recording is available up to 1440p at 30fps, though you can also choose from Full HD and 720p too. At the top resolution, a 16GB memory card will be enough for 77 minutes of footage before the recoding loops to replace the oldest files with new ones. There's no microSD card included though, which is a shame for a dash cam that is well out of the budget territory.
The rear of the 512GW is dominated by a 3-inch LCD screen with touch-sensitive buttons on either end for working your way around the menus. Features include a G-sensor for detecting incidents, GPS for location tracking (but no speed camera notifications), timelapse and parking modes and built-in Wi-Fi for viewing footage on your phone.
Image quality is up there as one of the best too, giving you plenty of detail should you require it at a later date. It doesn't have the largest list of features to rival some of its competitors, but it's a well-built device that's easy to fit and very reliable where it counts.
At the time of review, the Nextbase 512GW was available for £149.99.
Mio MiVue Drive 65 LM
Key features:
1296p and 1080p recording
6in display
Built-in sat nav
Safety camera alerts with lifetime updates
The Mio MiVue Drive 65 LM kills two birds with one stone by combining a sat nav and dash cam into one device, helping you to cut down on windscreen clutter and the powering issues that come with two devices.
Its 6in screen is pretty chunky though, and comes with some pretty sizeable bezels to boot. It's not the easiest to position for doing both jobs at once either, plus misses a trick with no quick release on the mount for hiding it out of sight when unattended.
Still, the Super HD resolution (2304 x 1296 at 30fps) camera does a good job, with a 1080p option available too. There is some image compression at speed, but text is easily readable from a distance.
It comes with a 16GB microSD card, which would be enough for 135 minutes at top resolution before looping occurs, with a second microSD card slot for adding maps.
Other features include a speed camera alerts, a Lane Departure Warning System and Forward Collision Warning System. All that, plus of course the built-in sat nav, which is clear and easy to read, and comes with 44 European countries pre-installed.
It's not perfect, but offering two invaluable in-car accessories in one package is no mean feat, especially at this price. Certainly one to consider.
At the time of review, the Mio MiVue Drive 65 LM was available for £259.99.
(trustedreviews.com, https://goo.gl/ZcPoeR)
Comments
comments