If your household has a furry family member, you know how hard it is to leave them home alone. Even if you have a caregiver stopping by, summer day-trips and weekends away can make you fret over how they're doing. If you've ever wished you could just peek in and say hello, or maybe play a quick game of chase, you are going to love Petcube.
At its heart, Petcube is a WiFi camera, accessed through a free app, similar to Nest or Withings. Streaming 720p through a 138º wide-angle camera, Petcube allows you to see an entire room in a single view. Like some baby-monitor systems, there's also a built in speaker and microphone, so authorized app users can hear what's going on at home, and literally say hi. Oh, and there's a laser pointer. Because kitties (and some puppies) love them some laser chasin.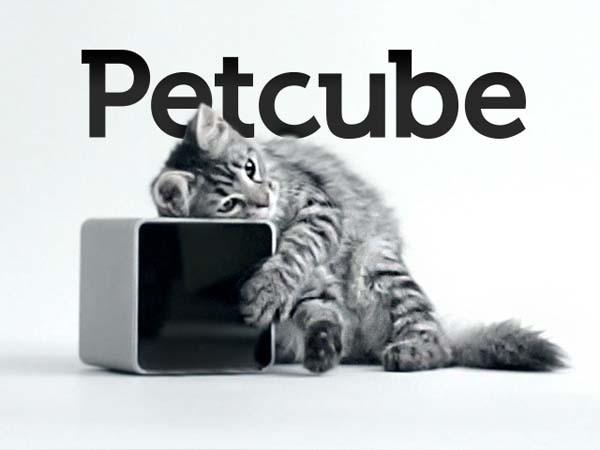 'At 4 "x 4" x 4", the Petcube isn't the smallest net-cam you can find, but it's not massive either. I managed to wedge my test unit on a bookshelf with no problems. It's smaller than most portable Bluetooth speakers, but bear in mind, it's not a hidden nanny-cam. There is an indicator light on the face that's illuminated whenever the Petcube is on, which draws the eye immediately. (And could get annoying if you like a dark room.) Speaking of dark, one big bummer is that Petcube doesn't have night vision, so if you don't leave a light on a timer when you're away, pretty much the only thing you'll see after sunset is the laser dot.
The sound on the Petcube is akin to a baby monitor or speaker-phone quality, intelligible, but certainly not hi-res audio. That said, I managed to carry on a test conversation with my husband via the app, and we were able to understand each other perfectly fine. Which means the cats I spoke to were also able to hear me, but actively chose to ignore me. Figures.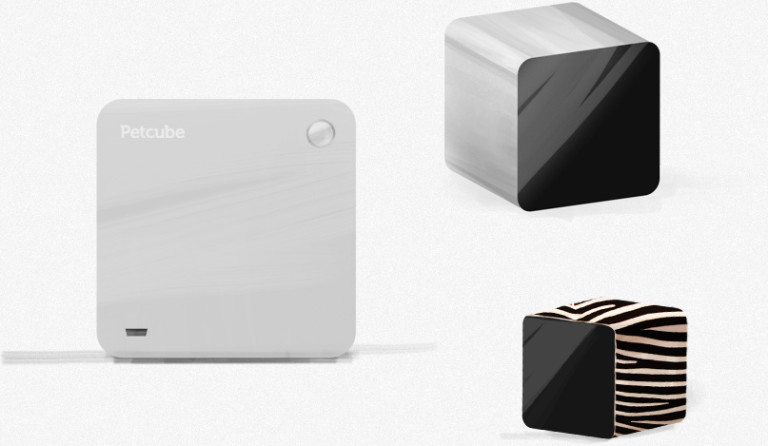 But let's face it, what makes this a pet-centric device is that laser-pointer. And man, if you have a fur-kid that's into lasers, it's pretty much the best thing ever. Here's how it works: while viewing the live-stream of your home through the app, you touch the screen to move the laser dot all over the room in real-time. I know, it sounds simple, but it's super addictive, and it's a great way to keep your pet active and engaged while you're away. I found myself popping into the app to both play with my pups and irritate my husband during my breaks from work.
Interestingly, what makes the Petcube more than a gimmick is the functionality of the app. Access to your camera is highly customisable, with three levels of accessibility: family, friend, and public. Approved family members can view at any time the Petcube is on and connected to WiFi. Invited friends are granted access during certain designated hours of the day/days of the week: from all-day-every day to never. The public view is, naturally, public, but like the friend level, has it's own set of customisable broadcasting hours and days. Petcube owners also can determine whether the sound and/or laser are enabled for friends and the public, and, there's an optional chime that will sound from the Petcube itself to alert you that you have a viewer. (Just in case you are home with a cold and forgot to power the device off.)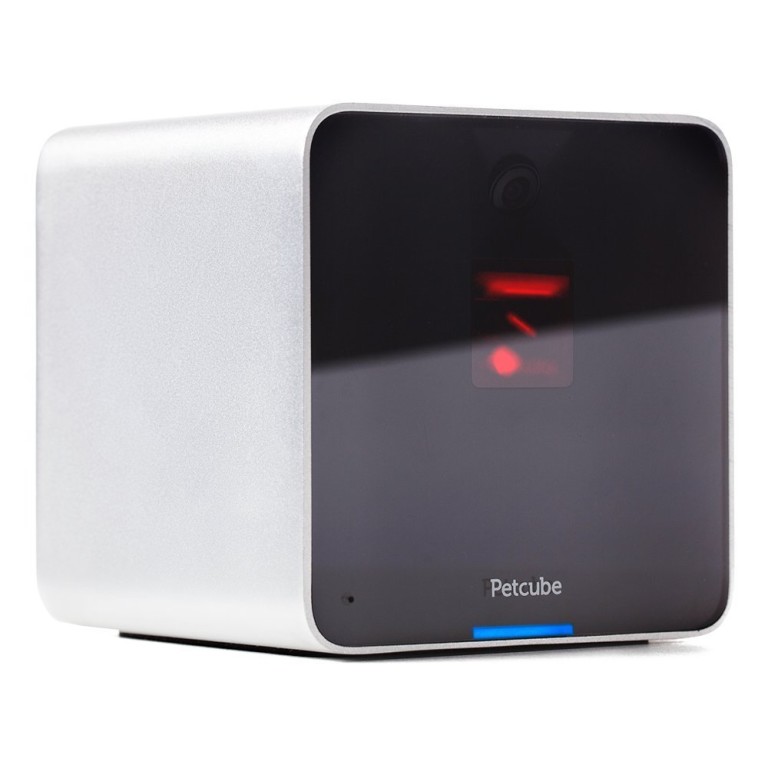 If you're concerned about barking while you're away, or want to know when your kitty has come into the room, but don't feel like staring at your smartphone, Petcube has optional notifications that will alert you to motion and significant noise. Even in a rather dim room, I was able to trigger the motion detector, and a few solid claps were all it took to get a noise alert. There's also an "autoplay" feature that will start the laser pointer moving about on its own whenever motion or the noise triggers are tripped.
If you spot Spot doing something particularly adorable, you can snap a picture or capture video within the app as you watch and play. And of course, there are galleries to share your favorites with other animal-lovers, or you can just save them to your phone. Be aware though, that public viewers can also record video and snap photos, so bear that in mind when you consider your sharing options. (I mean, you are streaming live, so you should probably consider that anyway)
I knew I'd get a kick of checking in on my fur- (and feather-) kids. What I didn't expect to love so much about the Petcube is the ability to check into the streams of animal shelters and adoption centers. After a few days, I had a list of favorites that I liked to check in with regularly.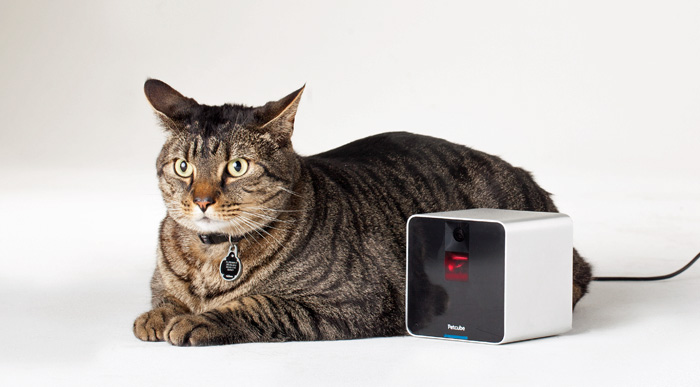 Seriously. Every shelter should have a Petcube, paired with social media. I got the biggest charge out of playing with kitties and puppies who were waiting to find their forever home. Not only did I feel kinda good about giving the animals activity, but I found myself wondering about certain individuals as I played. The ability for people to interact with shelter pets before visiting could really mean an increase in adoptions and donations. It's the kind of outreach that you just can't get through adoption fairs or pre-recorded videos.
Competitively priced at $199 for one or $359 for two, Petcube does a lot more than most home security cameras, and honestly, is way more fun. While it may not make me miss them less, at least I'll feel more connected.Petcube is available in matte silver, rose gold, and carbon black, on www.petcube.com, and the app (which if free to use even if you don't own the device) is available through the Apple App Store and Google Play.
(soundandvision.com, http://goo.gl/2EyvGB)
Comments
comments