THE GOOD: The Viewsonic PJD7828HDL offers very good image quality for the price, with full HD resolution, a bright image and solid contrast. A short-throw lens helps it project a larger image in smaller spaces. There's a nook that's perfect for a streaming stick.
THE BAD: Somewhat lighter black levels and less accurate color than some more-expensive competitors; poor remote.
THE BOTTOM LINE: If you're short on space yet crave the huge image only a projector can deliver, the Viewsonic PJD7828HDL is worth a close look.
Projectors typically require a lot of space, but ones with short-throw lenses can achieve that huge projected image without needing quite as much distance between the projector and the screen.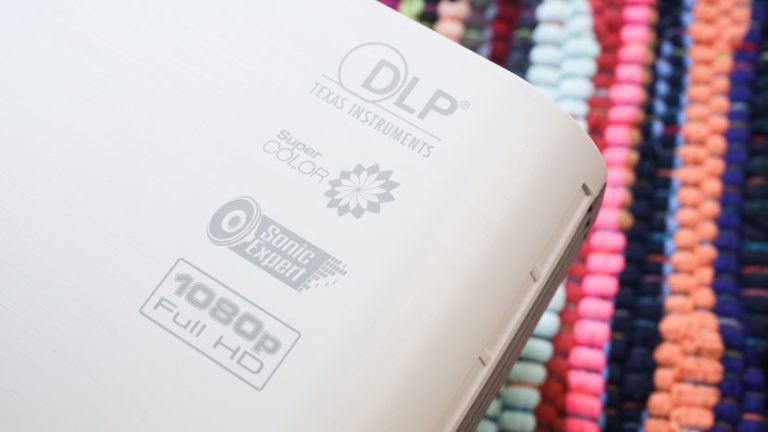 The Viewsonic PJD7828HDL is one of the cheapest short-throw projectors with full-HD resolution available, and its image quality is very impressive for the money. It also comes with a couple of unusual conveniences like a "hidden" HDMI input perfect for wireless dongles (and streaming sticks) and a cable management cover to improve its looks.
Its main competition among projectors I've reviewed recently is the Optoma HD142X ($550). The two have very similar image quality that's good enough to please the most persnickety of viewers, to the extent that it's tough to justify a better performer like the BenQ HT2050 ($800). While I liked the Optoma a bit better than the Viewsonic overall, the two were close enough to earn the same picture quality score.
The Optoma and most other projectors in this price range require more room to get huge, however, so if space is tight and you want to maximize that screen size, go with the Viewsonic.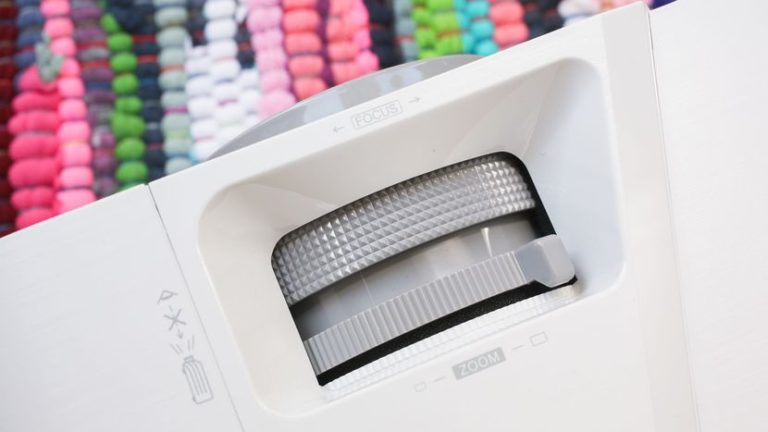 Basic specs
Native resolution: 1080p
Lumens spec: 3,200
Zoom: Manual (1.3x)
Lens shift: No
3D-compatible: Yes
Lamp life (Normal mode): 4,000 hours
Replacement lamp cost: $220
The Viewsonic's lumens rating is legit; this thing measured brighter than any home theater projector I've tested this year, which makes it a better choice than many projectors if you have some ambient light in the room. Of course, for best results you should turn off as many lights as possible.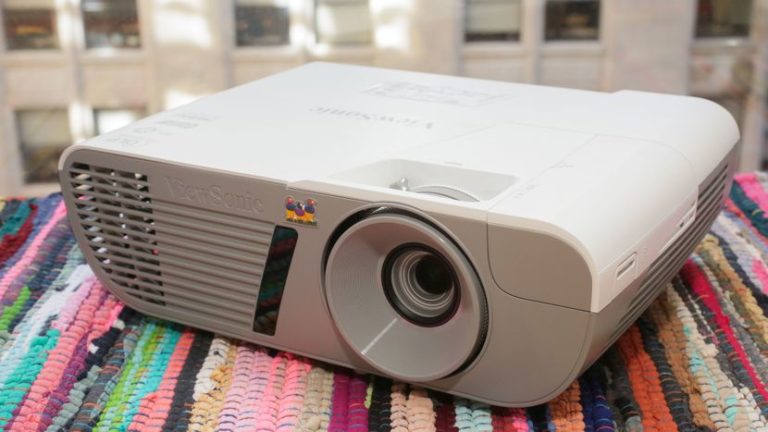 The Viewsonic has a relatively short-throw lens, so it can sit closer to the screen than some other projectors to get an image of the same size. To fill my 120-inch test screen, for example, it could be as close as about 10 feet, compared with 13 feet for the Optoma. The 1:1 ratio holds at closer distances too; at just 7 feet from the screen the Viewsonic's image was about 7 feet (84 inches) diagonal. Have you checked the prices on 80-inch TVs recently?
If you want to use 3D with the Viewsonic you'll need to buy 3D glasses. The projector uses DLP Link, which should be compatible with numerous third-party glasses (starting at $25 each on Amazon) or Viewsonic's own like the PGD-350 ($50 each).
The lamp will burn out faster and cost more to replace than the Optoma, judging by the two projectors' specifications using their brightest default ("Normal") settings. Both units, as usual, have modes that dim the bulb and extend that lifespan.
Connectivity and convenience
HDMI inputs: 2
AV input: 2 (composite and S-video)
PC input: Analog RGB
USB port: 1
MHL: Yes
Remote: Not backlit
Built-in speaker: Yes
The Viewsonic stands apart in this category, with a full complement of analog jacks and a "hidden" HDMI port behind a hatch on top. I actually prefer both HDMI ports to be on the back for easier connection, like they are on the Optoma, because using the second doesn't require running a wire around to the front of the projector.
The idea of the second port is to "discreetly stream multimedia content from an optional wireless dongle," and even includes a Micro-USB cable for power. The dongle costs $160, however, so you'll probably want to use another device. Both a Roku Streaming Stick and an Amazon Fire TV Stick fit fine, and even pass audio via the Viewsonic's audio output so you don't have to suffer listening to the built-in speaker. The HDMI port is compatible with MHL as well.
You can't directly connect a USB drive for photo or video viewing. The USB port is only for power or using the projector's remote as a makeshift mouse.
Viewsonic's remote is small and confusing, and worst of all lacks backlighting. I did appreciate the inclusion of a detachable cover to hide the cables, although it expands the projector's footprint. Sans cover the PJD7828HDL measures 12.44 by 8.98 by 4.08 inches (WHD).
Picture quality details
Like the Optoma and other full-HD projectors I tested, the Viewsonic easily outperformed the two less expensive projectors I tested recently, the iRulu BL20 and the Epson Home Cinema 640. The biggest obvious improvement was in resolution: blown up to 120 inches diagonal, the picture really benefitted from having all of its 1,080 pixels on the screen. Details were sharp, edges were smooth and there was no visible pixel structure (screen door effect) so the entire picture looked much closer to what I'm used to, detail-wise, from a 1,080p TV. Just much, much bigger.
Compared with the Optoma the Viewsonic held its own, although I liked its image a bit less overall. The two were similar in terms of overall color accuracy (and both had their flaws), but the Viewsonic's gamut coverage was much smaller according to my measurements. For its part the Viewsonic put out a somewhat brighter image while maintaining similar black levels, for a win in overall contrast on paper.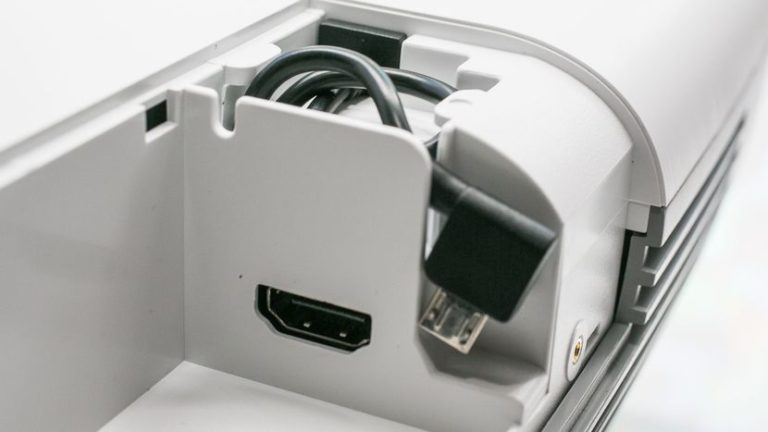 Comparing the two directly with the colorful Chapters 3 and 4 of the "Samsara" Blu-ray it was tough to see the difference, but with the subtler "Tree of Life" (Chapter 2) the Viewsonic showed a slight disadvantage in skin tones and the greens of the plants. The two were neck-and-neck overall, however, and both scored the same in this category.
The higher-end BenQ HT2050 ($800), another 1080p DLP, outclassed both by delivering a deeper shade of black, and comparing it with the Viewsonic I could see a slight difference on my big screen. The BenQ delivered just a bit more realism in dark scenes like the void of space in "Gravity." That said, the difference was subtle enough it would be tough for truly budget-minded buyers to justify the price difference based solely on that advantage.
It's worth noting that all of these units suffered from an artifact I found distracting at times that's common to DLP: the rainbow effect. It caused brief rainbow "trails" to appear when I looked across or away from the screen in high-contrast areas (like white text against a black background). It didn't bother me much during the course of a movie, but if it bugs you, a projector like the Epson Home Cinema 2045, which uses LCD instead of DLP, might be a better bet.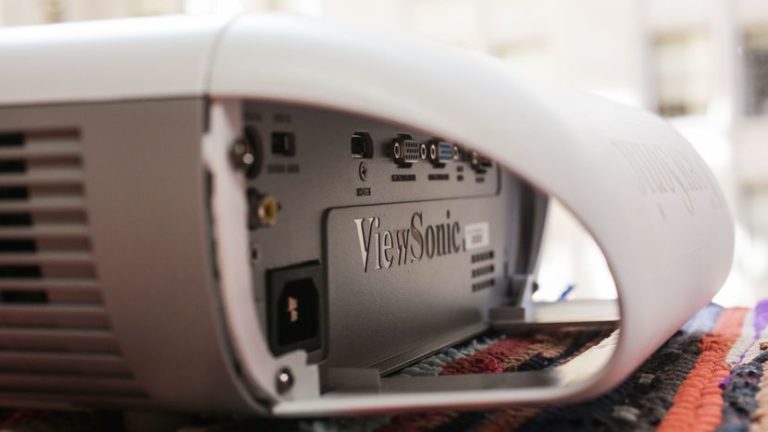 Measurements
To arrive at all of results below I measured the Viewsonic's best default picture setting, Movie (I did not perform any calibration). The exceptions are peak white luminance and derived lumens, which were measured in Brightest mode (thanks to Chris Heinonen for the lumens calculator). All observations and measurements were taken on my reference 120-inch Stewart StudioTek 130 screen, and comparisons with other projectors performed by alternately blocking their light.
GEEK BOX
| | | |
| --- | --- | --- |
| Test | Result | Score |
| Black luminance (0%) | 0.035 | Average |
| Peak white luminance (100%) | 93 | Good |
| Derived lumens | 3038 | Good |
| Avg. gamma (10-100%) | 2.35 | Good |
| Avg. grayscale error (10-100%) | 5.586 | Average |
| Dark gray error (20%) | 4.727 | Average |
| Bright gray error (70%) | 6.064 | Average |
| Avg. color error | 8.193 | Poor |
| Red error | 5.067 | Average |
| Green error | 16.025 | Poor |
| Blue error | 3.629 | Average |
| Cyan error | 13.105 | Poor |
| Magenta error | 2.519 | Good |
| Yellow error | 8.812 | Poor |
| Percent gamut (Rec 709) | 85 | Poor |
| 1080p/24 Cadence (IAL) | Pass | Good |
| Motion resolution (max) | 300 | Poor |
| Motion resolution (dejudder off) | N/A | N/A |
| Input lag (Game mode) | 33 | Good |
(cnet.com, https://goo.gl/jLDlQj)
Comments
comments