Pros
Incredibly good value
Good HD pictures for the money
Decently effective smart features for the money
Cons
Poor sound quality
Standard definition footage looks pretty rough
No DLNA multimedia streaming support
Key Features: 50-inch LCD TV with LED lighting; Full HD native resolution; Smart TV features including Netflix and BBC iPlayer; Multimedia playback via USB; Cheap price
Manufacturer: Techwood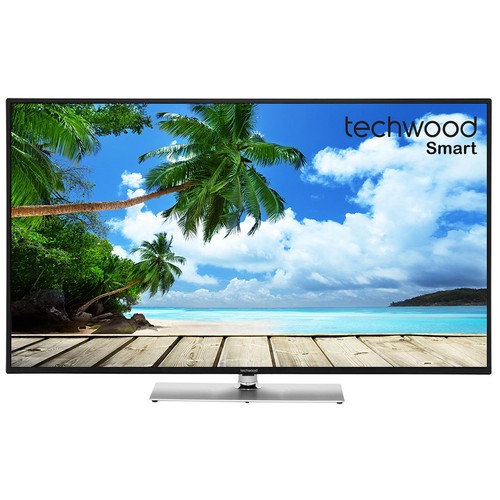 What is the Techwood 50AO1SB?
Unless you've been a regular shopper at Morrisons supermarkets, you may well not have come across the Techwood brand before. But that's about to change if new distributor ao.com has anything to do with it. Since taking the brand over, AO has wasted no time getting in a range of extremely aggressively priced models.
We thought it was high time we got hold of one – the 50-inch Techwood 50AO1SB for £349/$524 (yes, £349/$524!) – to see if AO's latest move into the AV space is worth the attention of bargain hunters.
Design and Features
The 50AO1SB isn't going to win any design awards with its fairly straightforward black fascia and hardly original silver rectangular desktop stand. However, that stand is startlingly robustly built, there's a nicely shiny silver trim around the TV's edges, and both the bezel and the rear are surprisingly skinny for a 50-inch TV costing less than £350/$525. Certainly you couldn't accuse the 50AO1SB's of wearing its budget nature on its sleeve.
Connections are surprisingly decent too. Three HDMIs are provided for HD digital video duties, there's a pair of USB ports for playback of multimedia files from USB sticks, and most impressively of all the set is equipped with both wired and wireless network connections so that the TV can get online.
There are direct access buttons on the remote control for accessing Netflix and YouTube, while a 'browser' button opens up other options that include the BBC iPlayer, BBC News, BBC Sport, ITN, Flickr, Tunein Radio, CineTrailer, iConcerts, Accuweather, an open Web browser, Dailymotion, Twitter, Facebook, Viewster, Foreca, Joomeo, eBay, Google, Drivecast, and muzu.tv.
Clearly there are some pretty big hitters missing off this list – the ITV Player, 4oD, Demand 5 and Amazon Instant, in particular. But actually it's not a bad smart offering for such an incredibly cheap big-screen TV. And we were gently impressed, too, to find the Techwood smart interface including the facility to have your Twitter and Facebook timelines appearing in a dedicated box on your home page. Even though we'd always say social media stuff belongs better on your phone or tablet rather than your family TV.
The 50AO1SB's 50-inch screen contains a Full HD 1920 x 1080 pixel count, a Freeview HD tuner, a simple noise reduction system, a dynamic contrast system, skin tone and red-to-green colour sliders, and even the ability to adjust the gain of the red, green and blue colour elements.
There's no motion processing, meaning you're left with a straight 50Hz image. Though to be honest, given how poor motion processing would probably be at this price level it may be a godsend that the 50AO1SB doesn't bother with any.
Setup
The 50AO1SB doesn't work as hard as most TVs these days to guide you through all the elements of initial installation. Really you just get an (incredibly slow) autotune system, and the option to tell the TV whether you're watching at home or in a shop. Everything else – including setting up a Wi-Fi connection if you need one – you'll have to hunt down in the onscreen menus yourself.
The menus and the remote control immediately make it obvious that the 50AO1SB is yet another European TV sourced from Turkish manufacturing giant Vestel.
The remote control is reasonably effective, with very responsive buttons – the click you're rewarded with following a button press is almost too potent, actually! – and while the onscreen menus look dated by modern standards, they're well enough organised to make navigating around them straightforward. The main and Smart menus are a bit sluggish to respond at times, but seldom frustratingly so – except, perhaps, when trying to type in long email addresses or internet search fields.
You have to be pretty specific with your settings to get the best pictures from the 50AO1SB, at least when watching films seriously. For normal day-to-day TV viewing you can probably just stick with the Natural preset, but for films we'd suggest choosing the Cinema preset, and then making sure the dynamic contrast option is set to Low. Switch the noise reduction off – especially if you're watching an HD source – set the backlight to high or possibly Auto, and reduce the contrast to around its 50-52 level.
Picture Quality
How good the 50AO1SB's pictures are depends very much on how realistic you are with your expectations. Clearly no sub-£350/$525 50-inch TV is ever going to challenge the kings of the big-screen TV world, and there are obvious flaws in its picture make up. That said, with its £349/$524 price given due weight, its pictures are actually much better than you've got any right to expect.
The most welcome surprise comes in the area of black level response. When set up as suggested earlier, the screen proves capable of producing deeper, more convincing black colours and dark tones than some TVs – especially those that use IPS-style panels – that cost twice or even three times as much.
There's good consistency in these surprisingly effective blacks too. Provided you don't try to run the image too brightly, you don't have to put up with the overt backlight clouding problems witnessed on many previous Vestel-sourced TVs, nor any really distracting backlight "steps" when using the dynamic contrast setting.
There's even a solid amount of shadow detail to be seen in dark areas, meaning you don't have to put up with that hollowness or glowing look to really dark areas that's so commonly seen with cheap TVs.
The inevitable catch is that delivering its credible black levels does mean the 50AO1SB has to sacrifice a hefty chunk of brightness versus the more expensive TVs out there that use some sort of local dimming. But the set can do punchy and bright via its Dynamic or Natural preset if you need to watch it in a bright room, and actually we'd argue that providing the flexibility to sacrifice enough brightness to get a believable black level for dark room viewing is a real strength at this price, not a weakness. Especially given the lack of blue or green "glow" over low-lit areas that so commonly destroys the images of cheap TVs with less impressive native black level response.
Being able to achieve a credible black colour – even at the expense of a lot of brightness – also means the 50AO1SB outguns almost all similarly cheap rivals with its colours. Its palette exhibits a warm, balanced tone and plenty of blend subtlety in cinema mode that's far removed from the gaudy, uneven, cartoonishly flat approach often taken by budget TVs.
The relatively natural feel of the 50AO1SB's colours holds up better than expected during dark scenes too, despite the lack of luminance.
The 50AO1SB's sharpness with HD content is another very pleasant, budget-beating surprise. HD images look crisp, detailed and textured, avoiding the common soft budget finish, with the deftness of colour touch mentioned previously joining the simple pixel performance in helping to create a genuinely HD experience.
Inevitably for the money, and given there's no motion processing, there's some reduction in this sharpness when there's motion in the frame. But again this isn't nearly as severe as might have been expected for the 50AO1SB's money – and there's no serious judder to worry about either.
The biggest area of picture weakness for the 50AO1SB is its standard definition performance, as a lack of upscaling prowess leaves standard definition broadcasts looking noisy, soft and painfully devoid of the colour subtlety that's so in evidence with HD. Something to think about, we guess, if for whatever reason you still spend a lot of time watching non-HD channels.
Sure, spending more can get you richer, subtler colours, much more brightness, more extreme contrast, and cleaner motion. However, this only applies if you spend your extra cash wisely. The 50AO1SB actually humbles a few sets with much higher price tags from much bigger brands.

Sound Quality
While the 50AO1SB delivers surprisingly good pictures for its money, it's much more par for the cheapo course in the audio department. Its speakers deliver an at times painfully thin, compressed sound that distorts readily under pressure, causes wince-inducing harshness when there's any serious amount of treble. It struggles to keep voices sounding rounded and clear, even with undemanding content. You'll probably want to add a soundbar or soundbase at some point, in other words.
Other things to consider
If you're after an inexpensive TV that can double up as a proficient gaming monitor, the 50AO1SB is a very credible option. For as well as delivering more contrast and motion clarity than the majority of its uber-cheap rivals, our tests also recorded an input lag of just 36ms when using its gaming mode. This is pretty low by LCD TV standards, and shouldn't severely hamper your gaming skills.

Should I buy a Techwood 50AO1SB?
If you fancy some big-screen action but you're on a tight budget, or you want a crazily cheap big-screen TV for a second room, the Techwood 50AO1SB should definitely be high on your list of options.
If you can find another £120-£150/$180-$225 then the attractive (but slightly smaller) Samsung UE48H5500 comes within your grasp, along with the decent Sony 48W605. But there's really nothing else around at quite the 50AO1SB's price that gets the budget TV job done as effectively.g
Verdict
There's no doubt that the 50AO1SB is a cut above the ultra-budget competition – especially if you stick with HD as much as possible. In fact, AO's cut-price champ even teaches some TVs from much bigger brands a trick or two.
Scores In Detail
Design : 

8

/10

Features : 

7

/10

Image Quality : 

7

/10

Smart TV : 

7

/10

Sound Quality : 

5

/10

Value : 

10

/10
(trustedreviews.com)
Comments
comments