Pros
Ground-breaking value
Stunning UHD picture quality
Phenomenal upscaling processing
Very little input lag
Cons
Minor crosstalk with 3D
Occasional missing shadow detail
Key Features: 4K projector; Sony SXRD projection technology; 1500 Lumens; 3D playback; Input Lag Reduction mode
Manufacturer: Sony
What is the Sony VPL-VW300ES?
The VW300ES is potentially the most exciting 4K product yet. It's a native 4K/UHD projector using Sony's impressive SXRD technology that can be yours for the astonishingly reasonable sum of £5,850/$8,775. Which begs just one question, really: what's the catch?
Design and Features
The VW300ES doesn't show any outward signs of compromise. Its large, bulky, vaguely elliptical shape with its central lens and front-mounted cooling grilles make the VW300ES basically identical in appearance to its much more expensive VW500ES 4K sibling.
Connections are tucked down the projector's left side (as you look at it), and comprise two HDMIs, an Ethernet port, a USB service port, a 9-pin RS-232 port for integrating into wider home entertainment control systems, an IR input, and two 12v trigger outputs. Please note, however, that you don't get a typical three-line component video input on the VW300ES, or a D-Sub PC port.
Inside the VW300ES is a 'true' 4K video engine. By which we mean that you get 4096 x 2160 pixels on its SXRD chips rather than the 3840 x 2160 pixels of so-called 4K TVs – more accurately called UHD (Ultra High Definition) TVs.
Of course, essentially all of the 4K/UHD content that's slowly creeping through is arriving in the 3840 x 2160 format, but don't worry; the VW300ES doesn't engage nasty scaling processing to remap such sources to its true 4K resolution. Rather it just doesn't use the extreme edges of its chips – something you'll notice if you use the provided built-in test patterns when setting the projector up.
The SXRD chips at the VW300ES's heart are unusually well set up for 4K playback. They need hardly any gap between each pixel and respond fast enough – in theory, at least – to react to changing image content without causing 4K-damaging blur and resolution loss.
We've also noticed Sony's SXRD chips coming on leaps and bounds in contrast terms over the past couple of years – but actually this is one area we do feel concerned about with the VW300ES, as it doesn't employ a dynamic iris arrangement like the step-up VW500ES does. Underlining our concerns is the way Sony doesn't give a claimed contrast ratio figure for the VW300ES, while it's perfectly happy to go public with the 200,000:1 contrast figure claimed for the VW500ES.
It's worth considering, though, that not having a dynamic iris could lead to a more stable-looking image and potentially less operating noise.
The lack of a dynamic iris and resulting drop in contrast isn't the only difference between the VW300ES and its more expensive VW500ES sibling. Its maximum brightness is also 200 Lumens down on the 1700 Lumens delivered by the more expensive projector, and you don't get the VW500ES's auto-calibration feature.
One other key cutback on the VW300ES is lens memory, meaning that people with 'cinemascope'-ratio (2.35/2.4:1) screens can't establish different, easy-to-access sets of zoom and focus parameters for the many different aspect ratios the movie world uses.
Another slight limitation – although this is one the VW300ES actually shares with Sony's other 4K projectors to date – is that despite carrying an HDMI 2.0 socket with HDCP 2.2 support, the VW300ES's chroma subsampling support tops out at 4:2:0 rather than the full 4:4:4 system. To be fair, though, the VW300ES is far from alone in this regard, and it doesn't mean that the VW300ES won't necessarily be able to deliver natural and punchy colours. Especially as it still employs Sony's Triluminos technology for delivering a wider colour gamut than typical projectors.
The VW300ES also joins the VW500ES in supporting 3D playback, and while no 3D glasses are included you don't necessarily have to buy a pair of Sony's TDG-BT500A models – Sony is part of the 3D glasses initiative, so you should be able to use other brands of active 3D glasses you may already own if they're compatible with this initiative. We had no problem getting a pair of Samsung's latest 3D TV glasses to work with the VW300ES. That said, we have heard reports that some glasses from brands (including Epson and Panasonic) that are part of the 3D glasses initiative actually don't work. We're trying to find out more about this from Sony, and will update this review if we hear anything.
The VW300ES even introduces a new feature not originally found on the VW500ES: a video game-friendly low latency mode designed to reduce the time it takes for the projector to produce its images. This is a potentially very welcome move given that input lag measured a little high on the VW500ES – and actually it's a feature that can now be added to the VW500ES via a firmware update.
Setup
The VW300ES is fairly easy to set up on a basic level, for the simple reason that, as with Sony's latest TVs, it features a well-thought-out and sensitively calibrated set of picture presets. Film 1 and Film 2 are especially useful for dark-room viewing, although it's also good to see Sony being pragmatic enough to include a bright, more heavily saturated TV mode for viewing video content in relatively bright conditions.
If you want to go beyond the presets into something more specifically optimised for your room conditions, though, then the VW300ES is reasonably well set up for that, too. It's got 10 different gamma-correction settings, for instance, including the 1.8, 2.0, 2.1, 2.2, 2.4 and 2.6 values. It's got four different colour temperature presets, multiple colour-space settings including BT.709, and multiple settings for Sony's MotionFlow motion processing – which is definitely one of the more accomplished examples of this sometimes dark video art. There are also multiple 'strength' settings for a useful contrast-enhancer system, and you can switch the lamp between low and high brightness outputs.
When it comes to the rather more straightforward business of getting the image to the right size and right position for your screen, the VW300ES handily provides fully motorised lens controls for zoom, focus and vertical/horizontal optical shift. We did find it a little tricky to get the focus exactly right using the automated controls, but with a little toing and froing we got there in the end.
Picture Quality
After the stunning Sony VPL-VW500ES our hopes were understandably sky high for the VW300ES. But the VW300ES doesn't just live up to these hopes – it makes them look like truly puny underestimations of Sony's projector ambitions.
For starters, with native 4K footage not the tiniest fraction of the 4K detailing, density and richness experienced on the VW500ES seems to have gone missing in the step down to the VW300ES. In fact, bizarrely we almost felt at times as if the VW300ES's images actually looked slightly better!
Without having a VW500ES to compare with directly, this impression may just be an 'optical illusion' brought about by our incredulity at seeing such stunning 4K image quality for so little money. But we did also wonder if the slightly reduced light output and lack of dynamic iris on the VW300ES was helping to deliver a more stable and balanced image than its more aggressive sibling.
It's stunning, too, to see that the 4K image's sensational clarity is retained almost fully when there's motion in the frame, such as with the 4K/60p World Cup footage we've got on one of our video servers. It's hard to think of any projector apart from super-expensive models such as the Sim2 Lumis series that can handle motion as well as the VW300ES.
Seeing the VW300ES deliver so much 4K pixel density and raw detail so noiselessly and pristinely on our 100-inch test screen is basically a sight so mesmerising that you'll never want to watch projected 1080p again.
At which point you'll probably be thinking that this is all well and good, but what about the small problem of there being hardly any native 4K content around at the moment? Actually, with the VW300ES this isn't really a problem at all – its upscaling capabilities are nothing short of stellar for its money.
In fact, we could see no drop off in upscaling quality at all versus the VW500ES. It somehow manages to quadruple the pixel count of even really tricky HD Blu-rays – such as the final Harry Potter films – as if it was the easiest thing in the world, with pitch-perfect colour blending, palpable extra detailing, no exaggeration of source noise and no sense of the image looking processed or 'forced'.
There are times, in fact, when upscaled images genuinely fool you into thinking you're watching native 4K, and there can be no greater praise for the VW300ES's upscaling processing than that. Especially when you consider that you're watching images delivered at such unforgivingly prodigious sizes.
Another brilliant surprise about the VW300ES is the quality of its handling of dark scenes. It doesn't take much calibration effort at all to get the VW300ES reproducing dark scenes outstandingly well, shooting down our concerns about the projector's lack of dynamic iris. Black colours look much more natural and less greyed over than we'd ever expected. It's great to see, too, how stable dark scenes look with no dynamic iris activity in play to cause 'leaping' brightness levels.
Images still look superbly punchy and dynamic, despite the VW300ES having 200 Lumens less brightness to play with than the VW500ES, and colour resolution and range are both superb. Plus, of course, you get that stunning extra quality of colour blend that's part and parcel of 4K's extra resolution.
With the use of SXRD technology also meaning you don't have to worry about the 'rainbow effect' (colour striping) that you get with single-chip DLP projectors, it's really hard to find anything negative to say about the VW300ES's pictures. It's providing an emphatic big-screen showcase for the joys of 4K for so little money. But it's our job to be tough, so there are a trio of little things to mention.
First, just occasionally really dark parts of the picture can look a bit hollow, as some shadow detail is crushed out of the image – perhaps because the VW300ES doesn't have a dynamic iris to draw on when dark scenes might benefit from a little brightness 'push'. Second, while black level response is excellent and way better than expected, JVC's D-ILA models still get deeper still, while also retaining more shadow detail. But crucially, of course, at the time of writing none of those otherwise brilliant JVC projectors carry native 4K playback.
The last thing is that some shades of green look slightly dull versus the overall colour mix, though this really doesn't happen often.
3D Picture Quality
Unless you're a dedicated hater of 3D, it's definitely worth factoring in the price of some compatible active-shutter 3D glasses when you buy a VW300ES. While its 3D performance isn't flawless, it is very, very good.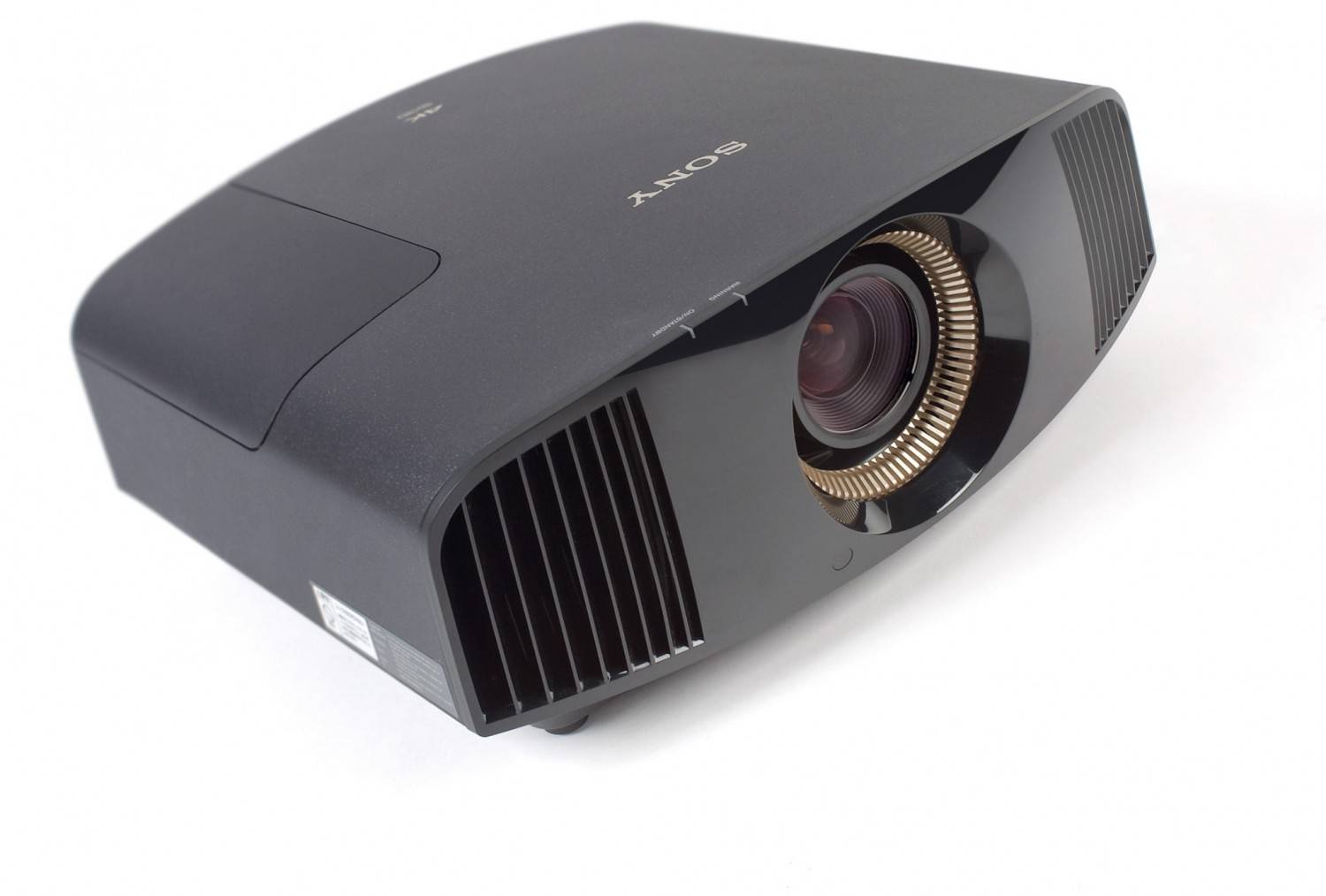 For starters the outstanding performance of Sony's upscaling processing is arguably even more effective in 3D mode, as its ability to add detail and density to the image does an awesome job of making good 3D worlds feel more tangible and involving. Plus, of course, it's when you experience 3D at the sort of 'life-sized', view-filling dimensions possible with a projector that the format's immersive charms really kick in.
Motion is handled superbly well in 3D, too, as the projector totally avoids the juddering/billowing problems you still get with many rival 3D displays. This really helps keep the 'real life' illusion intact.
The VW300ES also retains excellent colour saturations and subtleties in 3D mode, and despite the missing dynamic iris and reduced maximum luminance versus the VW500ES, 3D images enjoy good shadow detailing and enough contrast 'punch' to serve up most if not quite all of the luminance-defined depth markets that good 3D images rely on.
The only problem with the VW300ES's 3D images is that there's a little crosstalk double-ghosting noise around objects in the mid and far distance when they stand in stark contrast to their surroundings. This is usually subtle enough not to prove much of a distraction, especially given how sharp, detailed and vibrant 3D images look. It's certainly these positive qualities that define your 3D experience, not the minor crosstalk.
Other things to consider
As noted with previous Sony 4K projectors, the substantial bodywork built around its optics enables the VW300ES to run much more quietly than typical projectors, even if you're using its high lamp setting. Excellent.
Also very good for the most part is the remote control that Sony supplies with the VW300ES. This features a bright button backlight to aid use in dark rooms, and its unusually large size means there's plenty of room for buttons to be well spread out.
Yet more good news – for video game fans, at any rate – is that the VW300ES's input lag is supremely low. Using the Game picture preset in conjunction with the new Input Lag Reduction option, we measured a figure of just 30ms. This is one of the lowest such figures we've seen from a projector, halving the figure recorded from the VW500ES.
Turning the new Input Lag Reduction option off sees the measurement rise to as high as 100ms, showing that the feature is far from the gimmick we'd initially suspected it might be.
Should I buy a Sony VPL-VW300ES?
If you're serious about home cinema and can accommodate a projector, the VW300ES is one of the most irresistible models we've ever tested. Contrary to our fears, it doesn't just go through the motions of delivering a 4K resolution; it also delivers the goods in all the other key picture quality areas, plunging a knife into the heart of its main home cinema projector rival, JVC.
JVC assures us it believes it will be in a position to respond to the VW300ES's game-changing price and capabilities in 2015, and it's important to stress, too, that the JVC DLA-X500, which can now be found for around £4,000/$6,000, outguns the VW300ES in the black-level department. But it doesn't offer a true native 4K resolution.
For now at least, if you're in the market for a projector and you want that projector to be both future-proof and startlingly affordable, the VW300ES is uniquely qualified.
Verdict
With no real competition in the 4K projector market yet, Sony's decision to release the VW300ES feels like an early Christmas present for home cinema fans. As an all-round package, it's one of our favourite projectors of all time.
Scores In Detail
2D Image Quality : 

9

/10

3D Image Quality : 

9

/10

Design : 

8

/10

Features : 

9

/10

Value : 

10

/10
(trustedreviews.com)
Comments
comments