KEY FEATURES
65-inch LCD TV
Full array direct LED
Discrete LED control
Native 4K UHD resolution
HDR 10 support
Android 6.0 operating system
Manufacturer: Sony
Review Price: £4,000.00/$6,000.00
HANDS-ON WITH SONY'S NEW FLAGSHIP TV
The ZD9 series is Sony's secret weapon for 2016. It's an all-guns-blazing option that sits above the existing Sony KD-75XD9405 flagship, which was already a magnificent TV.
On top of a native 4K resolution and high dynamic range (HDR) support, the ZD9 comes with a new and improved processor, plus a backlighting system that gives LG's OLED screens a run for their money.
The Sony ZD9 comes in three sizes. The one discussed here is the 65-inch KD-65ZD9, yours for £4,000. You can also get the 75-inch KD-75ZD9 for £7,000/$10,500 and the 100-inch KD-100ZD9 for £60,000/$90,000. My impressions from the launch event: if you can afford one, I think you're going to be very happy.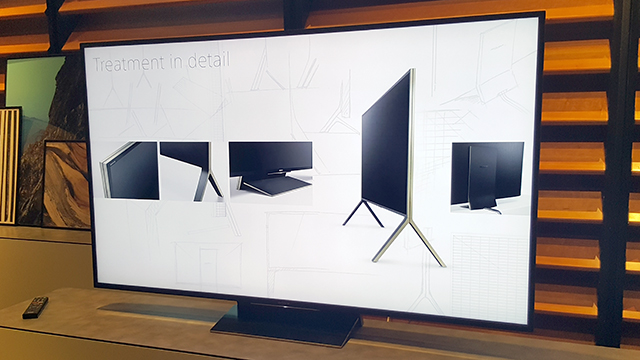 SONY KD-65ZD9 – DESIGN
You might expect a range-topping TV to be a bit jazz hands and bling, but that's not the case. Sony has gone for an understated, sophisticated look, consistent with its other high-end TVs this year. The 65-inch screen sits on top of a slab of metal with no visible neck. From the sofa, it just looks like a dull rectangle. The narrow footprint also means you don't need a park bench to rest it on.
It's a world apart from the attention-seeking chrome-plated sweeping arcs of some rivals. I'm told the design is supposed to avoid attracting too much attention. Mission accomplished, I'd say. You really don't need a Klingon bat'leth holding up your TV.
Sony seems to have given up on the big 'magnetic fluid' speakers that straddled its past hero TVs. The reasoning, it seems, is that anyone who can shell out for a £4,000 (minimum) TV will just get a proper sound system. It makes sense, but it is a pity. Those speakers sounded great and will be missed.
Without gigantic speaker wings, the one hint of this TV's boss status is only visible when you step to the side, where a thin band of gold adorns the screen's edge. Apparently the engineers spent a long time looking for a shade of gold with the right balance of prestige and subtlety. None of that rose gold nonsense here: this is the brassy gold you might find on a padlock, hinting at treasures within.
It's not often one stops to admire the rear end of a TV, but Sony has made an effort here nonetheless. At first glance it seems clean and unblemished, decorated with a subdued grid pattern. Bits of this grid can be peeled off to reveal the connections, along with a nice cable-management system that feeds cords through the stand.
SONY KD-65ZD9 – FEATURES
Those connections, then: four HDMI, three USB, Scart, digital optical and Ethernet. That's a generous lot, to be expected of a high-end TV. But what's really exciting is on the inside.
For starters, there's a new processor. This is the first time Sony has used the X1 Extreme chip, which promises 40% more power than the current X1.
For years, Sony's party trick has been 'database processing', which analyses bits of your image, compares it to a database and uses that information to improve detail. Now there's 'dual database processing', which is the same thing, only it handles noise reduction too. The goal: a cleaner picture with sharper edges.
The X1 Extreme chip is also capable of 'object based HDR remaster'. Individual objects (e.g. leaves and fabric) are analysed when standard-definition and HD content is upscaled to 4K HDR. This means the TV can tweak the colours and contrast in specific sections of the picture, rather than ramping the whole thing up.
Now for the panel, which uses full-array direct LED. That's exciting in itself because I've yet to see a single edge-lit LED TV that can match direct LED in control and uniformity.
Direct LED just got better, because Sony has introduced discrete LED control. No longer are there vague zones of light; each LED is operated individually. This addresses one of LCD TVs' greatest weaknesses – precision lighting is OLED's big selling point, and Sony undermined LG's advantage.
Sony wouldn't be drawn on precise figures such as maximum luminance, but a representative declared the ZD9 to be beyond the 1000 nits required for UHD Premium certification.
Finally, the ZD9 will be running on version 6.0 of the Android TV interface. It also supports 3D, which Samsung and Philips decided to drop this year. Bad news for those hoping for Dolby Vision is that LG remains the only brand to offer it.
SONY KD-65ZD9 – PICTURE QUALITY
The brightness of a direct LED panel, plus the precision of OLED? That sounds like a match made in TV heaven, because it is. At least that's what it looked like during my brief time with the ZD9.
I was shown the same test footage from previous Sony events, and what I saw was a clear step above Sony's other 2016 efforts – including the flagship XD94. I've lost count of how many times Sony has shown me its 4K footage of night-time Las Vegas, with all its lights and traffic, but I've never been this impressed.
The ZD9 managed to juggle inky deep blacks with ferocious neon, all without any hint of the sort of clouding or halo effect that many LCD TVs suffer from. But it's not just about separating light and dark, because the shades in between matter too, and the ZD9's remarkable dexterity also applies to subtle gradation.
We leave Las Vegas for the beach, where a surfer is doing his thing and splashing water everywhere. It's a great demonstration of subtlety, as the sun and the light glinting off the water are not vague swatches of blinding light. There are fierce heat spots where the light is strongest, but these are surrounded by fine increments of varying brightness. Not only does this more accurately mimic how our eyes perceive light, but it helps to add a sense of depth to the picture.
Sony demonstrated the ZD9 against 'unbranded' competitors, but it wasn't hard to tell we were looking at an LG 65OLEDE6 and a Samsung UE65KS9000. I never take these manufacturer side-by-side demos too seriously, as it's impossible to verify the settings applied to each TV.
That being said, I noted that Sony maintained a firm grasp of motion handling, which has been one of its great strengths this year. I also felt the ZD9's separation of light and darkness was on par with the LG.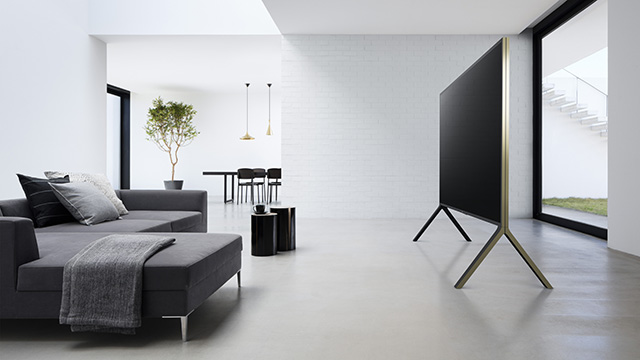 EARLY VERDICT
Of course, the real test of the ZD9 will have to wait until I take delivery of a review sample. But what I saw at the preview event was deeply impressive and very exciting.
I make no secret of my support for OLED technology, and I remain convinced that it's the future. Right now, however, Sony's discrete LED tech seems to have evened the playing field. I imagine LG has some very sore toes.
(trustedreviews.com, http://goo.gl/GMtO6Q)
Comments
comments