PROS
Sensationally bright and colourful HDR pictures
Brilliant upscaling of SDR/HD images
Good sound quality
CONS
Backlight blooming around bright HDR objects
Input lag could be lower
Limited effective viewing angle
KEY FEATURES
55-inch Ultra HD TV with edge LED lighting
Slim Backlight Drive+ backlighting
Triuminos colour technology
HDR 10, HLG, Dolby Vision HDR support
Android TV smart TV system
Manufacturer: Sony
Review Price: free/subscription
WHAT IS THE SONY KD-55XE9305?
The KD-55XE9305 is the first TV to reach us from Sony's 2017 TV line. It's a premium model that combines Sony's most powerful video-processing engine with an improved version of the brand's proprietary Slim Backlight Drive technology.
Even though the latter isn't without its flaws, it does play its part in making the XE9305 a major improvement over its 2016 predecessor. It's also one of the most dramatic HDR performers we've seen to date.
DESIGN AND BUILD
The 55XE9305 is one seriously well-built TV. At nearly 30kg, it weighs far more than most modern 55-inch TVs. Every aspect of its finish – from its glassy front to its gold-tinted, cross-hatched rear – looks suitably posh.
The hint of gold extends tastefully to its centrally mounted stand. The crisp, minimalist lines of its 1232(w) x 715(h) x 40(d)mm frame are backed up by an unusually comprehensive cable-management system.
Sony has mercifully improved the remote from 2016's disastrous design. There's still too much going in the central area for comfort, but at least the nearly flush buttons have been replaced by more tactile keys that you have a chance of locating by touch.
The remote's dedicated Google Play and Netflix buttons are much appreciated too, and the mic button should come into its own later in the year once the Google Assistant voice-recognition/control system is added via a firmware update.
SETUP
The XE9305 features some of the most effective out-of-the-box picture presets around, minimising the need for most users to get too involved with the setup menus.
There are a few areas worth tinkering with. First, I'd suggest treating Sony's "Reality Creation" technology with caution, as it tends to over-sharpen both native 4K and upscaled HD content to the point where things start to look noisy.
The set's noise-reduction systems also tend to be unnecessary – disruptive, even – when watching native 4K or good-quality HD. The True Cinema setting from Sony's motion-processing options is your best bet for movies, though you could shift to the Standard setting for sports viewing.
The Clear motion-processing option actually delivers the most consistently natural-looking results, but for me it dims the picture too much to be usable.
One last feature to be wary of is Live Color. I found it preferable to turn it down from its Medium default position to Low when watching standard-dynamic-range content. That stops colour tones starting to look too forced.
FEATURES
Two things really set the XE9305 apart from last year's XD9305: an improved backlight and more powerful processing.
Like its 2016 predecessor, the XE9305 uses two sets of edge LED lights and two sets of light guide plates to deliver more localised light control than you usually get with edge-lit LCD TVs. However, the XE9305 apparently increases the number of dimming zones to provide light management down to an even more localised level.
The XE9305's processing is delivered by the X1 Extreme chip first introduced in Sony's fantastic ZD9. This delivers 40% more processing power than the original X1 chip, as well as two key new features. Firstly, a dual-database system improves upscaling and video noise management. Secondly it provides enough power and flexibility to handle the addition of Dolby Vision via a firmware update due later this year.
Dolby Vision, if you're not familiar with it, is an advanced form of HDR that adds a layer of metadata to the base HDR signal to provide instructions to TVs on how best to show the images they're receiving. Samsung and Panasonic maintain that Dolby Vision is unnecessary, but it's yielded good results on LG OLED TVs already, and certainly seems to be a feature many AV fans want.
Sony has also confirmed that support for the upcoming Hybrid Log Gamma HDR format will be added to the XE9305 via a firmware update later in the year. And of course, the TV supports the HDR10 industry standard right out of the box.
One potentially useful feature due in the coming months is Google Assistant. This bolt on to the set's Android TV operating system will enable advanced voice recognition to make it easier to access content both online and on your connected devices. You could, for example, tell your Google Home to turn on Netflix.
I'm still no great fan of Android TV. The menu structure on the latest implementation carried by the XE9305 still feels over-complicated, counter-intuitive and more interested in 'pushing' content Google thinks you should like ahead of stuff you really do like. It still causes frustrating sluggishness in the OS too, both within the Android menus and the TV's setup and control menus.
Android TV also continues to lack support for the ITV Player, All 4 or My 5 UK catch-up TV platforms. Fortunately, Sony has addressed this by equipping the XE9305 with YouView. This gives you all the key UK catch-up TV services, along with an easy-to-use electronic programme guide that lets you scroll back in time to find archived shows.
Netflix and Amazon Video are supported in their full 4K/HDR incarnations – and the XE9305 will presumably deliver those services' Dolby Vision streams once the Dolby Vision firmware update has taken place.
One final key feature is the Triluminos colour system. This delivers an expanded colour range to support the wide-colour-gamut technology found on most HDR sources.
PERFORMANCE
Feeding the XE9305 a selection of Ultra HD Blu-ray discs uncovers a truly dazzling combination of extreme brightness and ultra-vivid colours.
Bright highlights of HDR images – sun beams, flickering torches, car headlights, etc – explode off the screen with more HDR-selling radiance than on any edge LED TV I've seen before.
What's more, despite their exceptional brightness (the screen measured a light output of 1400 nits on a 10% white window), all but the most extreme peaks contain subtle colour tones and details, delivering the "real world" look that's HDR's main attraction. The XE9305 avoids the clipping of details in bright areas better than the ZD9, even though that model beats it on overall brightness and black-level performance.
The intense brightness of the pictures feeds into its colour rendering too. The most dynamic, bold tones in HDR pictures enjoy a level of vibrancy, but also, crucially, naturalism that you just don't get with less intensely bright displays.
This sense of colour "volume" – the extent to which brightness affects colour – is set to become a major TV battleground this year, and the XE9305 marks a strong opening case for those arguing for its importance.
Without sufficient subtlety to go with their intensity, colours would just look gaudy, so it's great to find the XE9305 producing some of the most deft and delicate colour blends I've seen on any TV. What's more, thanks to Sony's Super Bit Mapping processing, these blends appear completely free of the sort of distracting striping witnessed on quite a few 2016 HDR TVs.
Some of the XE9305's colour prowess is down to Sony's enhanced processing and Triluminos colour system. But I'd also suggest that the ability to control light more locally and subtly than your average edge-lit LCD TV is another contributing factor.
The 55XE9305 renders fine detail brilliantly too. Native 4K images look fantastically detailed, hitting you in the face with the difference between 4K and HD in a way that few other 55-inch models can. Sony's excellent motion processing also means the screen holds on to that resolution during camera pans and action scenes.
By the time you've put the 55XE9305's colour finesse, light subtlety and exceptional detailing together, you've got images that often look nothing short of beautiful. They leave the HDR images of even Samsung's mighty KS9500 TVs from 2016 looking relatively pallid and dull.
Beautiful is also a pretty appropriate description of the 55XE9305's SDR HD pictures. The X1 Extreme chipset's dual-database system does a jaw-dropping job of adding detail and texture to HD sources without generating new noise or exaggerating source noise, even when the source material is full of grain or digital compression artifacts.
Sony's new Object-Based HDR Remaster system raises the dynamics and colour range of SDR sources almost mystically well, meaning you no longer have to feel miserable every time you return to SDR content after basking in HDR glory.
Some AV fans will undoubtedly balk at the idea of the Object-Based HDR Remaster system. Sony's confidence in it is such that there's only a single picture preset that doesn't undefeatably deploy it. For me, once I'd shifted the Live Colour feature from medium to low, not using HDR Remastering ended up feeling like I was just cutting off my nose to spite my AV purist face.
There are flaws, though. First, even the improved backlight system in the 55XE9305 can't prevent the appearance at times of pretty significant blooming problems with HDR. Where a bright object sits against a dark backdrop, you can usually see a halo of light bleed extending for quite a few inches around it. This clouding is distracting enough in itself, but it can also hide shadow detail and even slightly shift the tones of dark colours.
To be fair, the haloing isn't as far-reaching as it was on last year's XD9305s. It also doesn't manifest in quite such defined and distracting light 'blocks', and it disappears almost entirely when watching standard dynamic range content. With HDR, it crops up pretty often, and when it does you certainly don't need a trained eye to see it. At least if you're watching in a fairly dark room.
The XE9305 also fails to advance the cause of LCD viewing angles. Watch the set from any more than 30 degrees off axis and colour saturations and contrast both start to drop off. Worse, the backlight blooming issues become far more bright and obvious.
Finally, I was a little disappointed by the 55XE9305's input lag performance. The mean figure of around 38ms obtained from a couple of dozen test measurements isn't so bad (though ideally it would be below 30ms). But within those measurements the 55XE9305 cycled from as low as 10ms to as high as 52ms – and the 50ms+ measurements were comfortably in the majority.
Given the pretty drab audio performance of the XD9305 series, I hadn't expected much from the 55XE9305's sound. Happily, it comprehensively confounds those negative expectations. Its sound stage spreads so far away from the TV that there's occasionally even a hint of sound coming from behind you.
There's a convincing sense of depth and height to the XE9305's wall of sound too, which gives the sound stage a really immersive presence. Especially as speakers always keep dialogue clear and locked to the screen even,when there's all sorts of explosive audio stuff going on around it. Ideally there would be a bit more bass extension, though even here the XE9305 is better than many of its skinny peers.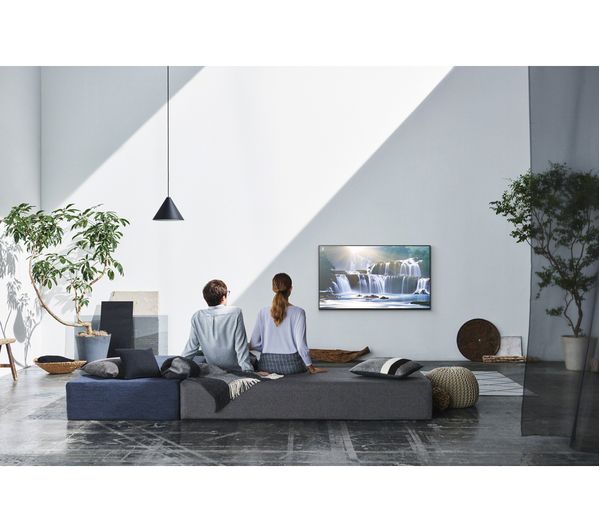 SHOULD I BUY THE SONY KD-55XE9305?
This is a tricky one. On the one hand, the XE9305 is capable of delivering ferociously, ground-breakingly intense and gorgeous HDR visuals. It's consistently stellar with SDR and HD sources too.
Yet there's a trade-off for all that yummy HDR intensity in the form of the significant backlight clouding, which becomes especially hard to take if you have to watch from much of an angle. This may persuade some AV fans to look towards direct LED TVs instead, or to trade a chunk of brightness for the pixel-level light control provided by OLED TVs.
The XE9305 is a big step forward from its XD9305 predecessors. At its HDR-toting best it's a big step forward from any LCD TV I've seen before, bar Sony's own ZD9 models. But even technology as clever as Sony's Slim Backlight Drive+ can't reconcile LCD's blazing light intensity with the deep and distraction-free black levels of OLED.
VERDICT
Stunning light performance – but those blacks are far from perfect.
(trustedreviews.com, https://goo.gl/3WBawZ)
Comments
comments