Key Features
Review Price: £399/$399
HDMI ARC
Amazon Alexa support
Google Assistant support (soon)
Apple Airplay 2 support (soon)
Sonos Beam smart soundbar – what you need to know
Sonos made speakers. Then they made a smart speaker. Sonos made soundbars. Then they made a smart soundbar. It's called the Sonos Beam.
I say 'smart soundbar', as distinct from a regular soundbar, because the Sonos Beam supports the Amazon Alexa voice assistant. It's a natural move following last year's Sonos One, which saw Alexa integrated to great success.
Sonos tells me they think too many smart speakers are made for the kitchen, as opposed to the living room. It's a fair point, since they generally don't control TVs. So now we have a soundbar that you can shout at, which will be extra handy when you lose the TV remote.
I'm currently covering the Sonos Beam launch live in San Francisco, and here's everything I know so far. Keep checking back today – I'll be taking a close look and updating this page as soon as I learn anything new.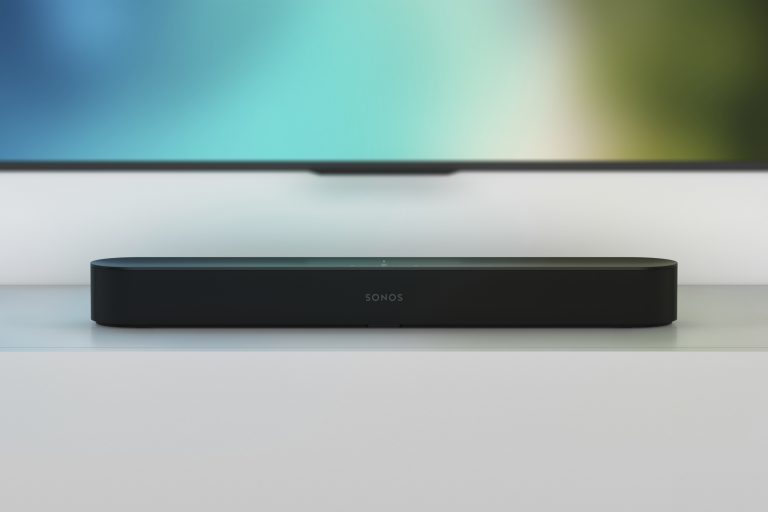 Sonos Beam price
The Sonos Beam will cost £399 in the UK, $399 in the US, and €449 in Europe.
Sonos Beam release date
The Sonos Beam will hit stores on July 17th.
Sonos Beam – Design
So the Sonos Beam is a soundbar, and they're being a bit literal with the name. Think beam in the architectural sense, as opposed to lasers. It's not nearly as chunky as the existing one in the range, the Sonos Playbar. The Sonos Beam measures 651mm long, 100mm deep and 68.5 mm high – it's compact enough not to block the bottom of your TV or precariously hang off your furniture. That said, you can get a dedicated wall-mounting bracket if space is tight.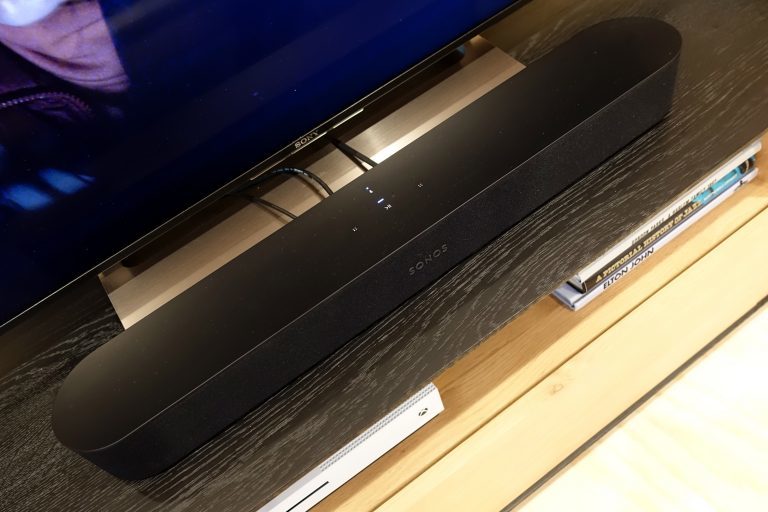 A fabric grille hides the audio components: a tweeter, four elliptical full-range woofers and three passive radiators. The fabric is a throwback to the Playbar, but elsewhere the Sonos Beam is aesthetically a lot closer to the Sonos Playbase. The ends are rounded, a contrast to the Playbar's boxy, angular approach. The colour scheme is a monotone matte all-black or all-white.
There are capacitive (touch-sensitive) keys instead of physical buttons: volume up/down, previous/next track, play/pause, and microphone mute.
The big news is that the Sonos Beam addresses the key problem of the Playbar and Playbase – the only physical link to your TV was via digital optical. Now there is HDMI, which is capable of controlling TVs. It uses your TV's HDMI ARC (audio return channel) socket – the majority of TVs have one. Alexa support means you can use your voice to change the volume, but you'll also be able to use your existing TV remote.
The other connections are an Ethernet socket and built-in dual-band Wi-Fi. As always there is no Bluetooth, since Sonos operates firmly in network-based audio when it comes to music streaming. Apple AirPlay 2 support is coming in July.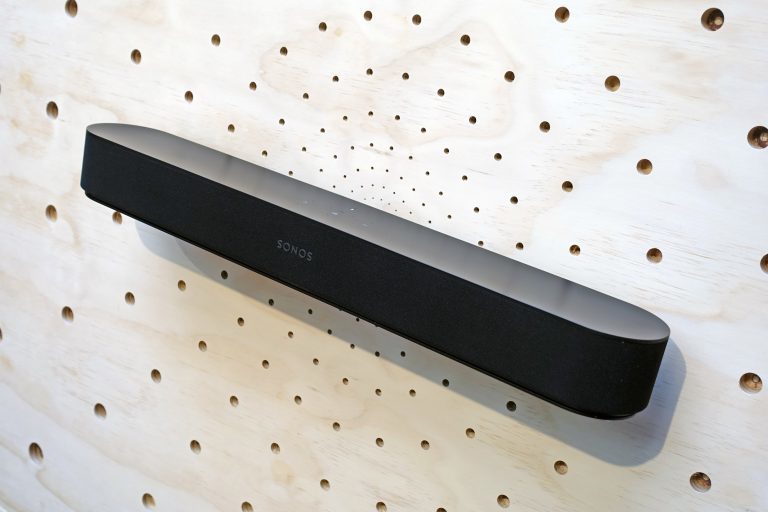 Sonos Beam – Features
The stand-out development is the inclusion of the Amazon Alexa voice assistant. You'll be able to use your voice to control any Alexa-enabled devices plugged into your TV, such as the Amazon Fire Stick. You can turn on the TV, pause and even search for programmes on Netflix, all without using your hands.
The Sonos Beam will support Alexa in the UK, US, Germany, Canada, Australia, New Zealand, with France to follow very soon.
Now, Sonos isn't technically the first to make an Alexa-toting soundbar – that honour falls to the Polk Command Bar. But Sonos is the first and only one to support Google Assistant as well, plus Apple Siri too. You can start get Siri to start a song on Apple Music, and then later control it with Alexa, seamlessly.
This platform-agnostic approach will surely help Sonos reach more people, since it's always easier to buy something that fits into your existing ecosystem. There's no firm date on when Google Assistant support will go live, but I'm told it's on track to be delivered some time in 2018.
Elsewhere, the Sonos Beam offers the same tricks and treats you get with other Sonos speakers. There's Trueplay, a feature that analyses your room's characteristics. It optimises the sound according to where the speaker is placed. For example, if you haven't got much space and have to place the Beam right next to a wall, you don't need to worry about there being too much bass.
There's wide support for more than 60 streaming services, apparently. I can't even name that many, but that includes the ones that matter: Spotify, Tidal, Google Play Music, Amazon Music, Apple Music, Deezer, Pandora, Soundcloud, Audible, and TuneIn.
As ever, the excellent Sonos app brings them all together, but some of these services (e.g. Spotify) can be controlled through their own apps. Then there's voice control – you won't be able to voice-search on every service, but you will be able shout to skip tracks or pause.
Five far-field microphones and multi-channel echo cancellation means you voice can be heard even with music playing. This worked very well on the Sonos One.
The one omission here is Dolby Atmos, but given the price of the product and the audience Sonos is going for, I'm not surprised. Sonos tells me a Dolby Atmos soundbar in the future isn't off the cards, but that would only come at a time when they can "do it right." I take that to mean a high-end (and quite niche) technology like that has no business on a £400 soundbar. Maybe some day we'll see a high-end replacement for the Sonos Playbar.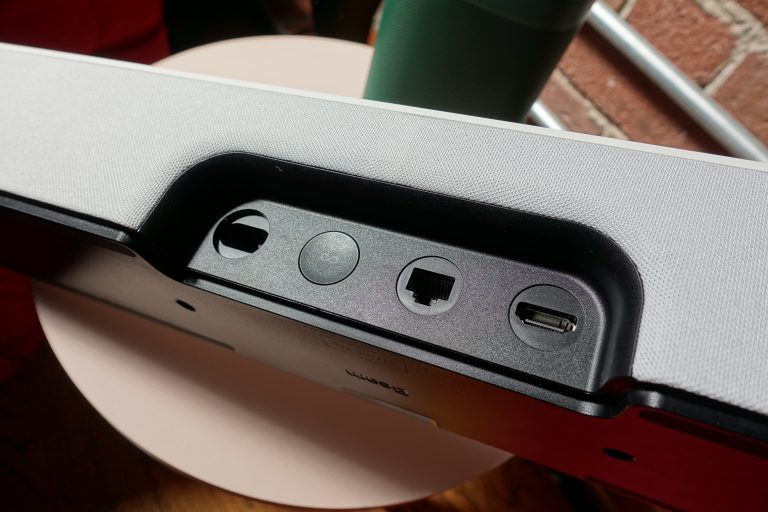 Finally, there's the Sonos multiroom element. It was a real party trick a few years ago but even now, with a flooded market, Sonos remains one of the best options for multiroom audio. The Sonos Beam can be part of a network with other Sonos speakers – they can play the same song at the same time, or a different song in every room.
If multiroom isn't your thing, how about wireless surround sound? The Sonos Beam can directly connect to other Sonos speakers (including the Sonos Sub) and be turned into a 5.1 configuration.
All of that – plus voice control.
Sonos Beam – Performance
Given that the Sonos Beam's price tag (£399/$399/$449) and footprint are almost half that of the Playbar, my instinct was to expect something half the performance. But but even with a 10-minute listening session, I can confidently say Sonos is on to something great.
It's always tricky when an audio product is tasked to handle both movies and music. A good device for watching films is not necessarily automatically good at pumping out tunes. Thankfully, the Sonos Beam excels at both. My demo had a good mix of songs and video clips, and I was impressed at every turn.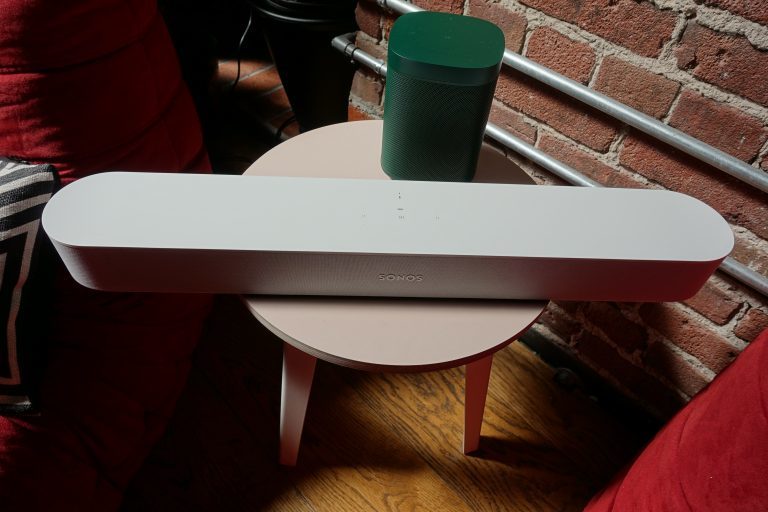 The first song was Leon Bridges' You Don't Know. My first thought was that the soundstage could be a little wider, but I was impressed by the solidity of the stereo image, which was neatly defined.
That comment about the width of the soundstage was shot to bits by the next song, Radiohead's Reckoner. The stereo image was just as defined, but this time I was confronted by a wall of sound significantly wider and taller than the Sonos Beam.
Such a dramatic difference between tracks is a great indicator of an audio product – it became very apparent that the songs had vastly different productions, and the fact that the Sonos Beam could convey the disparity is a very good sign.
Next up was Wow by Beck, a song with a thumping bassline and percussion scattered throughout the frequency range. This was a great demonstration of the Sonos Beam's dynamic headroom, but also its bass prowess in particular. Bass extension is far-reaching to the point that I began casting my eyes around the room for a subwoofer. But there was none. It's an impactful, authoritative sort of bass, with a remarkable agility.
As for video content, I was played a short conversation from Westworld, and found the dialogue to be very clear. There is a dialogue enhancer mode which made speech stand out a little more, but I didn't find it necessary.
What really surprised me was a clip from Wall-E, the scene where he uses a fire extinguisher to zip about in space. The accuracy and spread of effects placement was astonishing. The stereo image was so wide and solid that occasionally I felt the effects were behind me.
And it gets even better if you pair the Sonos Beam with a pair of rear speakers (two Sonos One units, in this case). A scene from the end of Stranger Thingsseason 1, where Nancy and Jonathan discover the portal in the woods, was properly immersive. There was palpable menace throughout, I really felt the panic in the actors' voices, and the precision of rustling leaves succeeded in transporting me to that creepy forest.
All in all, I came away astonished. This thing exceed all expectations.
Opening impressions
I'm really quite excited about this one. I've long been a fan of the Sonos ecosystem, but it's great to see another product support Amazon Alexa (and Google Assistant and Apple Siri). It's also great to see Sonos finally adopt HDMI, a sure sign that the company isn't just audio-focused, it's paying attention to the video world as well.
All of that, and it's a lot more affordable than Sonos' previous soundbar and soundbase. This might just be a winner.
(trustedreviews.com, https://goo.gl/x9tW3k)
Comments
comments