PROS
Bright, colourful HDR pictures
Excellent SDR pictures
Pretty design
CONS
Some backlight clouding
Occasional HDR colour striping
Limited viewing angle
KEY FEATURES
55-inch LCD TV with edge LED lighting
Local dimming
HDR10, HLG, HDR10+ support
Native 4K resolution
Multimedia playback from DLNA and USB
Manufacturer: Samsung
Review Price: £1,750.00/$2,625.00
WHAT IS THE SAMSUNG UE55MU9000?
If Samsung's new QLED TVs are beyond your wallet's reach, the MU9000 range is the next best thing.
The £1750/$2625 55-inch model here boasts an edge LED lighting system with local dimming, Samsung's new Eden 2 smart TV system, HDR support backed up by a high peak brightness of 1000 nits, and wide colour range support. Its specifications appear to make it pretty much equivalent to last year's premium KS9000 range, but at a cheaper price.
SAMSUNG UE55MU9000 – DESIGN AND BUILD QUALITY
The first thing to note about the UE55MU9000 is that its 55-inch screen is curved. This will immediately put off some people. As a purely aesthetic feature, though, it actually enhances the MU9000's looks, combined with a slinky black and silver frame, skinny rear and gleaming, well-made 'boomerang' stand to make it one of the year's most attractive TVs.
The only pity is that the cable used between the external connections box and the screen is a typically chunky affair rather than the incredibly thin, almost transparent one you get with Samsung's QLED sets, such as the Samsung Q9F.
As with Samsung's QLED TVs, the MU9000 ships with two remote controls: a standard, button-heavy one that's actually better laid out than most, and a much smaller, much more sparsely buttoned smart remote.
This smart remote is by far Samsung's best such streamlined handset; it does away with the over-complicated multiplicity of control systems its predecessors offered.
SAMSUNG UE55MU9000 – FEATURES
The MU9000 seems on paper to be a TV similar in quality and specification to last year's high-end Samsung KS9000 range.
The key specifications of its curved screen are a native 4K resolution and HDR support that encompasses the HDR10, Hybrid Log Gamma and HDR10+ systems.
If you're not familiar with the latter, it's a new format (currently only formally backed in content by Amazon) that adds dynamic metadata to the industry standard HDR10 system. It's kind of like a watered down version of the Dolby Vision system (which Samsung currently does not support).
The screen is illuminated by an edge-mounted LED array driven by a local dimming system able to deliver different amounts of light to different parts of the screen at any given moment. Note that there's no direct equivalent in this year's Samsung range for 2016's flagship KS9500 models, which sensibly used lights placed directly behind the screen.
Colour comes courtesy of Samsung's Dynamic Crystal Colour engine, which in the 10-bit configuration here is claimed to be capable of delivering more than a billion hues. The UE55MU9000's colours will benefit, too, from its 1000 nits of claimed peak brightness – a very high figure by the standards of sub-£2,000 LCD TVs. It's worth adding that Samsung's QLED TVs, by comparison, can hit 1500-2000 nits, depending on which model you buy.
Smart features on the UE55MU9000 are delivered by the latest generation of Samsung's Eden system. The Eden interface uses two tiers of icons to deliver an economical and efficient path to your favourite apps and content sources. The icons on the home screen are easily customised, too, and it's good to see the system working harder this year to incorporate more live TV coverage.
Samsung has had its umpteenth stab at introducing a voice control system with the UE55MU9000. This one differs from its predecessors, though, in that it actually works. You can access almost anything – even the most complicated picture calibration options – just by uttering a simple word or two. Talking to your TV no longer feels like learning a completely new language.
Services available on Samsung's online platform include all the big four UK catch up TV options, as well as HDR and 4K-capable versions of Netflix and Amazon Video.
As noted before, the smart remote can be used to control equipment the TV recognises that you've got attached to its HDMI inputs. I'm not convinced that many people will bother using this feature, as it's seldom clear how the buttons on the smart remote translate to the buttons of your source equipment.
There's multimedia playback support via DLNA streaming or a trio of USB ports, as well as integrated Bluetooth that provides the only way of listening to the TV's audio via headphones.
All of the UE55MU9000's connections are found on an external connections box, and are dominated by four v2.0 HDMIs, three USBs, satellite and Freeview HD tuner inputs, and an Ethernet port if you don't want to avail yourself of the built-in Wi-Fi.
One final feature worth pointing out (since it differentiates the MU9000s from step-down MU models) is its 40W, 2.1 speaker system.
SAMSUNG UE55MU9000 – SETUP
The MU9000 benefits from a straightforward and comprehensive 'first install' procedure. The set even seeks to recognise your external equipment automatically so that it can correctly label its HDMIs and let you control that external equipment via the TV's smart remote.
However, getting the best out of the UE55MU9000's pictures, at least where high dynamic range images are concerned, is far from straightforward. Chiefly due to you having to wrestle with a few backlight issues.
I'll discuss these in the Performance section, but the best solution for limiting their impact during dark room viewing is to set the local dimming setting to Standard or Low, and the Contrast Enhancer to low. Though you should know that this reduces the picture's peak brightness by nearly 25% from what you get with Local Dimming set to high.
In a bright room you should put the Local Dimming back to High for HDR content, and you will likely also feel the need to raise the Contrast Enhancer to High so that you can still see shadow detailing in the darkest areas.
I'd also recommend using the Standard picture preset for watching HDR movies rather than the Movie one. Although the Movie one is in some ways the most accurate, it actually looks disappointingly flat, soft and at times over-warm in its colour toning.
If you do opt for the Standard preset, you may find you want to nudge the colour temperature up from Standard to Warm, which helps to counter a slight purplish tinge that otherwise affects some mid-bright tones.
Finally, I'd suggest setting the TV's motion processing to Custom, and setting the Judder and Blur components to four and three respectively.
SAMSUNG UE55MU9000 – PERFORMANCE
Hopes that the UE55MU9000 might represent a performance/price sweet spot in Samsung's 2017 TV range are challenged by my first impressions of its picture quality. As usual I went straight for the jugular by feeding it a variety of very contrast-rich high dynamic range scenes from Ultra HD Blu-ray discs, and it was startling to see how much the MU9000 struggled with them.
The issue is a familiar one with edge-lit LCD TVs when they're trying to show HDR: pretty distracting amounts of backlight clouding spilling into the picture.
In this case there are a number of quite distinct clouds protruding a good few inches into the image along the top and bottom edges. These are especially visible if what you're watching has black bars above and below it, but can be seen in dark 16:9-ratio visuals too.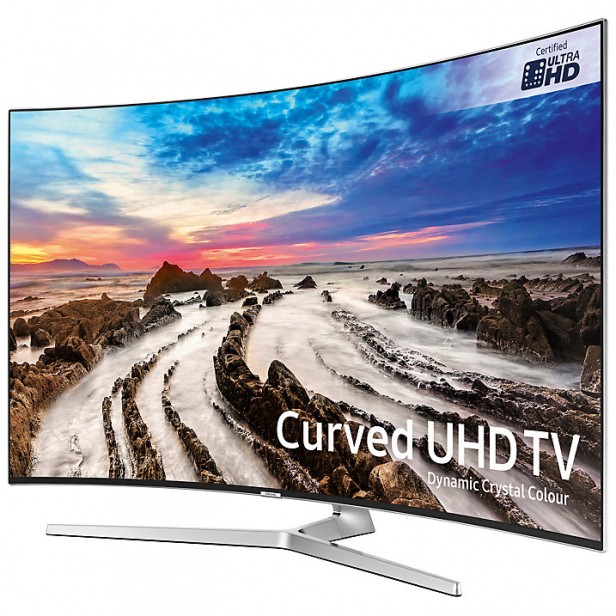 Unexpectedly, I'm talking more about rounded backlight clouds than the rigid vertical stripes of extraneous backlight usually associated with locally dimmed edge LED TVs. But that doesn't make the clouding any less distracting.
You can greatly reduce the distraction potential of these backlight clouds by reducing the contrast enhancer and local dimming settings to low. However, this hits the image's brightness pretty heavily.
To put some numbers on this, with local dimming on high, a 10% white HDR window delivers a brightness measurement of around 700 nits. This plummets to around 600 nits if you set the local dimming to Standard and around 595 nits with Local Dimming on Low.
In other words, the 55MU9000 presents you with a rather stark choice when viewing HDR between having lots of brightness but distracting backlight clouds, or sacrificing quite a lot of brightness to reduce the backlight clouding.
This isn't the end of the world; at least it gives you usable options for separate bright and dark room viewing conditions. But ideally I'd have hoped for its backlight to have handled its brightest output more effectively.
I also found a strange bug during my tests whereby the 55MU9000 doesn't switch into HDR mode properly if you've got its Standard picture preset selected and try to play HDR from a USB source. You have to cycle through the other picture presets and back to Standard before the screen correctly enters HDR mode. This shouldn't affect many users, though, and will in any case likely be fixed by firmware update.
Watching the 55MU9000 in a bright room can lead to a few screen reflection issues, as it clearly doesn't benefit from the same remarkable light filtering systems that make Samsung's QLED TVs so uniquely watchable in bright conditions.
The reflection situation isn't helped by the way the screen's curvature tends to stretch any reflections across more of the screen than you'd see with a flat TV. The best way to reduce the impact of the backlight clouding issues, therefore, is to set a dim lamp just off to the side and ideally slightly behind the screen in an otherwise mostly dark room.
Having started in a negative vein, I might as well get the MU9000's other problems out of the way, too. Firstly, it only delivers a pretty limited effective viewing angle; contrast starts to reduce considerably if your viewing angle takes you beyond around 25 degrees off axis.
Secondly, there's some noticeable colour striping with HDR. This doesn't crop up especially often, but when it does, it's quite noticeable – such as in the white clouds around the aliens in Arrival, or the twilight skies above Moses on the beach before the sea parts in Exodus.
At which point it's high time we got on to the good stuff. I'll start with the MU9000's really strong black level performance, where the blackness isn't affected by backlight clouding. Blacks really can look black, and they do so without any sense of the 'glowing' overtone that sometimes characterises LCD TVs when they're handling dark scenes.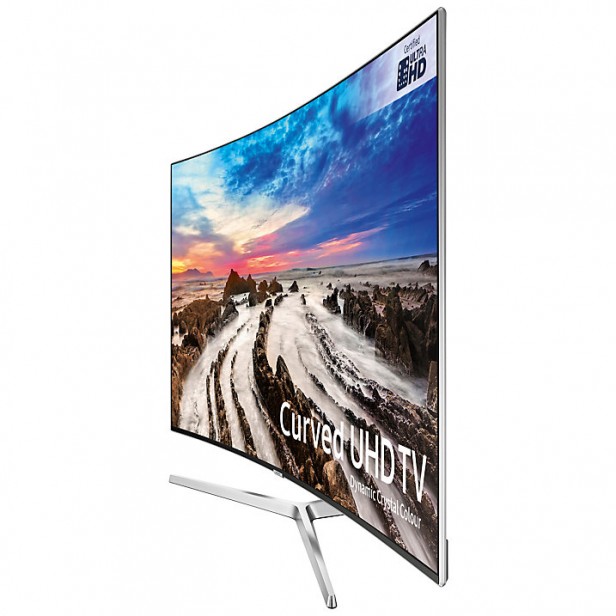 There's sometimes a little crushing of black detail in dark corners during HDR footage, but it's not severe (at least with the Contrast Expander on high), and doesn't diminish the image's strong sense of contrast.
It's worth adding that black levels look pretty much immaculate with standard dynamic range sources, since their reduced luminance range pretty much eliminates any backlight clouding concerns and makes it easier to balance light across bright and dark areas.
You can turn SDR sources into something approaching HDR via Samsung's HDR+ feature. However, while this uniquely aggressive SDR-to-HDR conversion system works well on many levels and could be used with typical 'daytime TV' sources, I'd argue that the extra backlight clouding it introduces might make it best avoided for movie viewing.
Detail levels are immensely high with native 4K sources, bringing out even the subtlest of textures – provided that you avoid the strangely soft Movie preset. The set retains its clarity during motion for the most part, as long as you follow the motion processing advice given in the Setup section.
The UE55MU9000 impresses when it comes to HDR 'clipping', retaining more details and subtle grayscale information in the very brightest areas of HDR pictures than most mid-range TVs.
More UE55MU9000 brilliance can be seen in its upscaling of HD sources to its native 4K screen. Detail levels are enhanced without source noise or grain being excessively exaggerated, and provided you don't push the sharpness setting higher than around its 30 level, edges look crisp without appearing stressed.
Aside from the rare outbreaks of striping mentioned earlier, colours are rich and refined, with plenty of tonal subtlety and detail – regardless of whether you're watching HDR or SDR material.
The good levels of brightness the screen can deliver in HDR mode ensure that these colours have a pleasingly real-world punch to them that you seldom get in the sub-£2000 55-inch TV price bracket.
Finally on the picture front, there's some excellent news for gamers: just 10ms of input lag when operating the UE55MU9000 in its Game mode. This is as good as it gets in the TV world, and should have pretty much no impact on your gaming abilities.
The UE55MU9000's sound is solid. Its curved design gives it a little more bodywork to play with than some rival ultra-skinny flat models, and this appears to help it deliver a nicely rounded sound. Trebles seldom sound harsh, bass is smooth and well integrated (if not especially deep), and the mid range is wide enough to rise to the challenge of an action scene.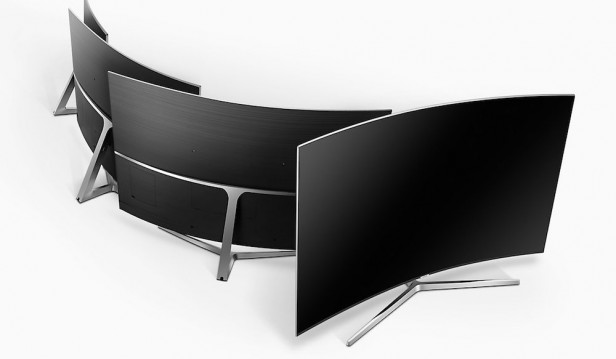 SHOULD I BUY A SAMSUNG UE55MU9000?
The answer to this largely depends on how you usually watch TV. If you're a home cinephile fond of blacking out your room when you want to watch a film, the backlight clouding issues could be an issue.
If you predominantly watch TV with at least some light in the room, on the other hand, then the UE55MU9000's brightness comes into its own, while the ambient light hides its backlight flaws. Just bear in mind that if you're likely to have any direct light sources reflecting on its screen, its curved finish will make those reflections cover more of your picture than a flat screen would.
The UE55MU9000's rather cloud-prone backlighting doesn't change my growing belief that it would have been a good idea for Samsung to include at least a couple of direct-lit series in its 2017 HDR TV range. That said, it still benefits from Samsung's renowned colour, brightness and sharpness strengths. Its input lag prowess makes it a potential beast for gamers, too.
VERDICT
A strong contender for typical living room set ups.
(trustedreviews.com, https://goo.gl/5U6NDV)
Comments
comments