PROS
Spectacular picture quality
Well-presented smart TV system
Cute design
CONS
Curved screen creates issues without much benefit
Backlight clouding and vertical banding
Too small for curved and 4K technologies
KEY FEATURES
43-inch LCD TV with edge LED lighting
Native UHD resolution
HDR playback to Ultra HD Premium specification
Tizen-based smart TV system
Multimedia playback via USB and Wi-Fi
Manufacturer: Samsung
Review Price: £799.00/$1198.50
WHAT IS THE SAMSUNG UE43KS7500?
The UE43KS7500 is a 43-inch TV with a curved screen, a native UHD resolution and support for HDR (high dynamic range) playback.
While this looks like a strong feature set for a £799/$1198.5 TV, its curved screen, small size and minor backlight flaws ultimately make other models in Samsung's 2016 range look like better options.
SAMSUNG UE43KS7500 – DESIGN AND BUILD
This Samsung's curved screen is questionable from a performance perspective, especially on a 43-inch TV, but it sure does make the UE43KS7500 look pretty.
Also contributing to its appealing design are a super-skinny screen frame, a surprisingly slender rear for a curved TV, and a smooth, polished back panel.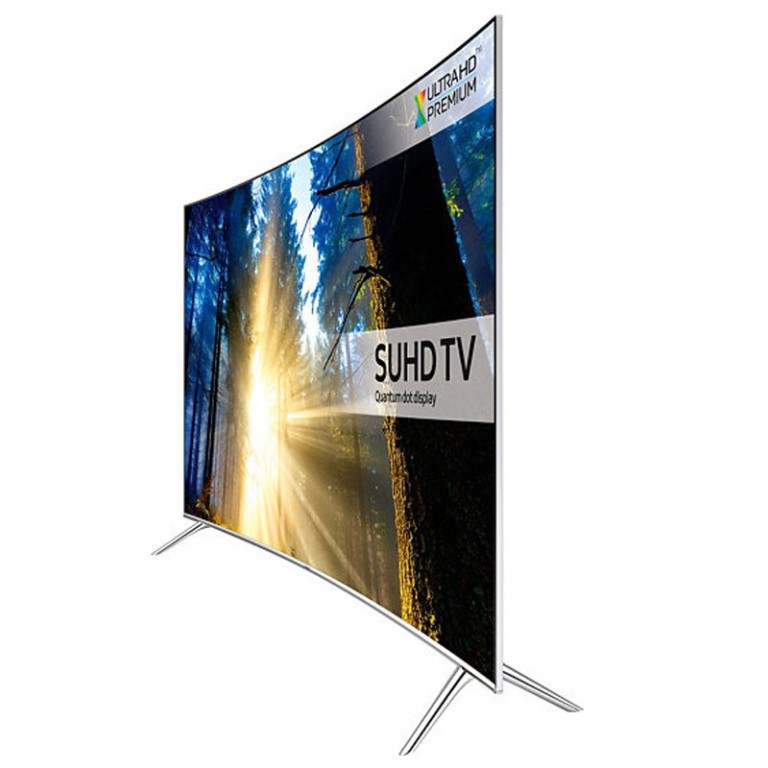 It becomes clear while popping the 10.6kg UE43KS7500 onto its small desktop feet that it's robustly built, and it takes up about as little space as any 43-inch TV could with its meagre 554.5(h) x 956.5(w) x 83.1(d)mm dimensions.
The UE43KS7500 ships with two remotes: a standard one and a smaller, 'smart' one featuring fewer buttons. Both are effective, although the smart remote takes a bit of getting used to.
SAMSUNG UE43KS7500 – SETUP
Getting the best from the UE43KS7500 is quite a complicated process, but the results justify the effort.
For HDR viewing, I recommend the Standard picture preset over the Movie one that's supposed to give the most accurate results. Also choose the medium Dynamic Contrast setting to try to minimise the colour banding issue – but more on that later.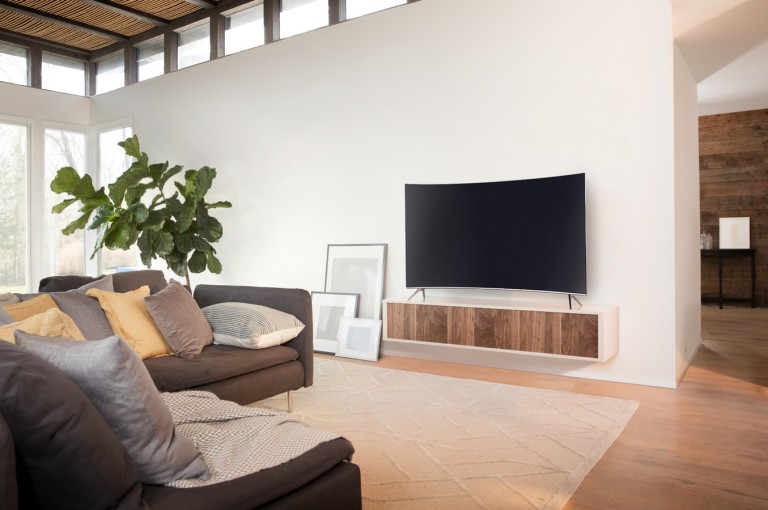 To get the best motion performance, at least for 24p viewing, choose the Custom motion-processing mode, set Judder to three, and turn LED Motion Control off, as it dims the image too much to be comfortable.
SAMSUNG UE43KS7500 – FEATURES
The most important features of the UE43KS7500 are its relatively small size (by 4K standards), its curved screen, and its ability to play HDR to the Ultra HD Premium specification. This means it can deliver brightness peaks above 1000 nits, cover more than 90% of the DCI-P3 colour spectrum, and reach black levels down to 0.05 nits.
I really question the usefulness of a curved screen on a TV as small as this, though. It's always felt like a big-screen feature to me. The UE43KS7500 does at least carry a moth-eye filter, though, to reduce the distorted on-screen reflections common with earlier curved TVs.
Smart features come courtesy of Samsung's in-house Tizen platform. This supports a slicker layout than 2015's version, and provides apps for the 4K and HDR versions of Amazon and Netflix. While you get BBC iPlayer and ITV Hub, though, there's currently no support for the All4 or My5 catch-up apps.
The UE43KS7500 uses a proprietary take on Quantum Dot technology to deliver its colours, and has an edge LED lighting system. Local dimming is on hand to ensure that sections of the LEDs can output independent levels of light.
Connections include four 4K/HDR-ready HDMIs, three USBs for multimedia playback or recording from the built-in Freeview HD tuner, and wireless and Ethernet network options. The network options support streaming from networked DLNA devices, as well as access to Samsung's online content.
SAMSUNG UE43KS7500 – PERFORMANCE
The UE43KS7500 delivers the same instant "wow" you get with all of Samsung's 2016 SUHD TVs.
The star of the show is the brightness. Aside from Samsung's own KS7000 models, there are no other TVs at the UE43KS7500's price level that deliver HDR brightness peaks with such impact.
What's more, these brightness peaks are full of detail and subtle colour information. There's precious little of the detail "clipping" typically seen in such areas with affordable HDR-capable TVs.
Impressively for an edge LED TV, the UE43KS7500 delivers its intensely bright HDR image elements alongside strikingly deep black colours. Samsung's VA panels have long been hard to beat for black level, and the local dimming works well, too. You can sometimes see vertical bands of extraneous light running down the screen around very bright HDR objects, but they're subdued enough to become seriously distracting.
The 43KS7500's HDR prowess is underlined by strong colour performance. The Quantum Dot system at the TV's heart delivers a spectacularly wide range of tones, enhancing the sense of resolution in native 4K HDR content, and joining with the screen's extreme brightness to make colours look explosively intense.
Few, if any, TVs, deliver native 4K sources with as much sharpness and detail as this. The sharpness holds up well when there's motion in the frame, too. However, the UE43KS7500's relatively small size limits the impact of its native UHD resolution.
Other negatives are that the curved screen foreshortens of the image if you watch from an angle of 30 degrees or more, and that there are striping/banding issues in areas containing subtle colour blends – especially skies – when watching Ultra HD Blu-rays.
During HDR viewing the UE43KS7500 also exhibits patches of general light clouding in the bottom part of the picture that weren't there with the recently tested UE55KS7000. This may be down to light being more difficult to control with curved LCD TVs than flat ones.
While not perfect, though, for most of the time the 43KS7500's HDR pictures are still excellent – as are its SDR (standard dynamic range) efforts. The backlight flaws noted with HDR pretty much disappear in SDR mode, while colours still look natural, rich and nuanced.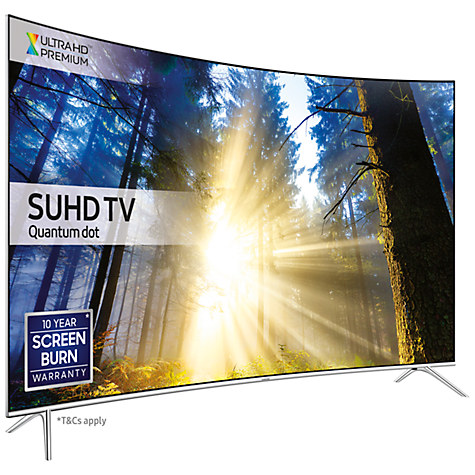 Samsung again proves itself one of the best upscalers of HD, too, so if you haven't stepped up to an Ultra HD Blu-ray player yet, your regular Blu-rays will still look crisp and clean.
The UE43KS7500 partners its strong pictures with decent audio performance. There are no distortions or cabinet rattles, and the set injects some genuine bass into proceedings. The soundstage is limited in width, though. There's also a slight over-emphasis on the treble, and the mid-range can sound slightly muddy under duress.
The small screen and relative affordability make this a potential hit as a gaming monitor, so it's great to discover that it suffers with less than 25ms of input lag in both HDR and SDR mode.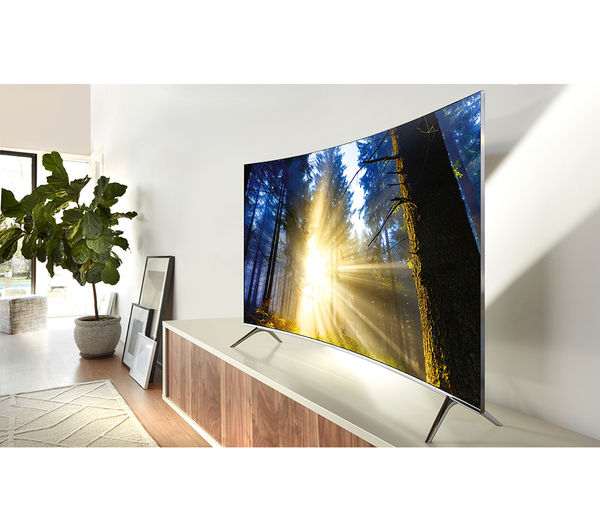 SHOULD I BUY A SAMSUNG UE43KS7500?
If its 43-inch size fits the bill and you don't have seating positions that are likely to be impacted by the curved screen's viewing-angle limitations, no other TV of the same size outperforms the UE43KS7500.
The problem comes from Samsung's KS7000 series: while there isn't a 43-inch KS7000, you can get the 49-inch UE49KS7000 for just £100 more than the UE43KS7500. As well as providing more UHD-friendly screen dimensions, the flat KS7000 exhibits less backlight clouding than the curved K7500.
VERDICT
The UE43KS7500 is a talented TV. It looks lovely, and delivers plenty of picture quality thrills. It's too small to do full justice to its native UHD resolution, though, and Samsung's KS7000 series offers better value.
(trustedreviews.com, https://goo.gl/x7WrqR)
Comments
comments