Pros
Great picture quality
Good design
Content-rich smart TV system
Cons
It's pretty expensive
Picture presets aren't helpful
Backlight clouding has to be worked around
Key Features: 40-inch LCD TV with edge LED lighting; Full HD resolution; Multimedia playback via DLNA or USB; Content-rich smart TV system; High picture specification
Manufacturer: Samsung
What is the Samsung UE40H7000?
The UE40H7000 is an £850/$1,275 40-inch high-end full HD TV. Which means it finds itself in a potentially tricky position this year thanks to the way ever-cheaper native 4K/UHD TVs are making it ever harder for high-end HD TVs to justify themselves. Will the UE40H7000 be up to the job?
Design and Features
The UE40H7000 is a looker. Its glossy black bezel is on-trend slim, and offset attractively by a shiny metallic outer trim and strip along the bottom. Its full-width silvery open-framed desktop stand is eye-catching too – especially as it sits immediately below the screen with no neck between the two.
Connections are strong. Four HDMIs get the ball rolling, and these are joined by both Freesat HD and Freeview HD tuners, plus all the 'smart' connections we'd expect of a premium HD TV these days (namely three USBs plus built-in LAN and Wi-Fi connections for multimedia playback and internet access).
While this internet access can be 'open' via a built-in Web browser, for the vast majority of the time you'll likely be happy to stick within Samsung's 'walled garden' of content specially organised and interfaced to work in a TV rather than computer environment. Especially as the quantity of this content is actually prodigious – ahead of any other Smart TV brand at the moment.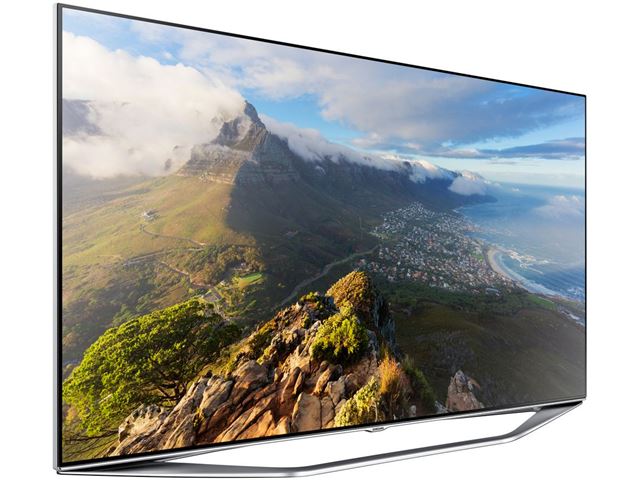 Panasonic has managed to join Samsung this year in offering all the 'big four' catch up TV services (the BBC iPlayer, ITV Player, 4OD and Demand 5) on its TVs, but Samsung is still ahead with app numbers overall. And many of these apps are of the genuinely useful video streaming variety rather than just half-arsed games and infotainment 'tools'.
The Samsung smart interface is attractive but sometimes a bit inscrutable, and it's been made to look a little cumbersome this year by Panasonic's Freetime system and, especially, LG's WebOS-based smart interface. For a detailed look check out our 2014 Samsung smart system review.
The UE40H7000 tries to tempt you to its relatively high-end cause with some strong picture specifications. It uses a VA panel type for a start, which immediately ups its chances of a decent black level response. And while it uses edge LED lighting rather than direct, Samsung has consistently proved one of the best brands around at manipulating edge LED lighting into delivering excellent picture quality results.
Playing a big role in this light manipulation process is Samsung's Micro-Dimming Pro system, which breaks the image down into a huge number of small zones within which elements of the picture reproduction can be tweaked to deliver optimum contrast and luminance settings on a more local level without going so far as employing a local dimming engine in the edge LED lighting array.
Motion should benefit from the UE40H7000's 600CMR (600Hz-emulating) processing system if it's delivered well, and it shouldn't do any harm to the quality of the video processing either that it's driven by a quad-core processor. This should propel the Smart TV features and menus along nicely too, though it's worth pointing out that the processing doesn't employ the significantly more powerful Quad Core Plus processors found in Samsung's H8000 series.
One last feature to mention here is the UE40H7000's 3D playback. This is of the full HD active shutter variety – as ever with Samsung TVs – and you can enjoy it right out of the box courtesy of two pairs of Samsung's stylishly lightweight, slender-framed active shutter 3D glasses.
Set Up
Since even Samsung's relatively entry-level TVs tend to be well-stocked with set up features, it's no surprise to find the high-end UE40H7000 carrying everything – including gamma, colour management and white balance controls – you could need to achieve a pro-level calibration (if that's your thing).
That's the good news. The bad news is that Samsung continues to deliver fairly unhelpful picture presets. So even if you're terrified of entering the picture set up menus we'd strongly suggest that you overcome your fear so you can get the best from your new TV.
In particular Samsung's picture presets are too aggressive with their contrast and backlighting, resulting in picture noise, reduced contrast performance and, with some models, pools of backlight inconsistency. Our top tips for countering these issues would be setting the backlight to between 12 and 14 and the contrast to 80-83 for bright rooms, but reducing the backlight to as low as 7-8 for watching films with the lights down.
When it comes to picture processing tools, we'd suggest you only set the dynamic backlight/contrast system to its lowest strength to avoid image instability; that you only use the Motion Plus processing system on either its Custom setting with blur and judder elements set to three or not at all; and that you don't use noise reduction with HD sources.
Picture Quality
As noted in the setup section, if you stick with the UE40H7000's picture presets you may be a little disappointed with the results. Backlight clouding (inconsistency) and excessive noise are both clear initial problems. But so long as you follow our setup advice, you should be able to rectify both these up-front issues very successfully. And once you have, you'll be left with some of the best pictures in town.
Contrast is particularly outstanding – especially against the backdrop of a year where we've found ourselves pretty underwhelmed by the contrast efforts of a disappointingly high number of rival LCD TVs. With the backlight set low when viewing in a dark room the UE40H7000 produces black colours that genuinely look black, immediately making dark scenes look more immersive and convincing.
Further evidence of the effectiveness of Samsung's backlight controls can be seen in how black areas continue to look deep and convincing when they appear in the midst of predominantly bright content. And as ever when we find rich blacks and bright colours co-existing so happily, the black level response proves a great foundation for the rest of the TV's colourscape. In fact, the 40H7000 delivers one of the richest and most expansive but also subtlest colour palettes we've seen on an HD LCD TV.
Colours look well balanced too despite their vibrancy, and best of all colours generally retain their naturalism even with very dark shades. This consistent intensity of the colours is a clear indicator of how strong the UE40H7000's native contrast performance is, for even after reducing the backlight sufficiently to remove the initial backlight pooling problems pictures still look punchy.
With HD sources pictures look exceptionally detailed and crisp meanwhile, and as noted earlier this crispness isn't accompanied by excessive noise if you've been careful with the picture settings.
The only serious issue with the UE40H7000's pictures is the way areas of very fine detail can seem to glow a little during camera pans. But you can minimise this artefact if nudge the set's sharpness down – something you can do quite a bit before things start to look even slightly soft.
It must be said, too, that the UE40H7000's excellent pictures aren't quite as strong as those of Samsung's flagship full HD TVs for 2014, the H8000s. The slightly higher level Micro Dimming system in the H8000s enables them to produce a more expansive contrast range with even deeper black levels. We also noticed that there's a touch more resolution loss over moving objects than you get with the H8000s. But then it's hardly shocking news to discover that a step-down HD model in a brand's TV range isn't quite as good as the flagship model!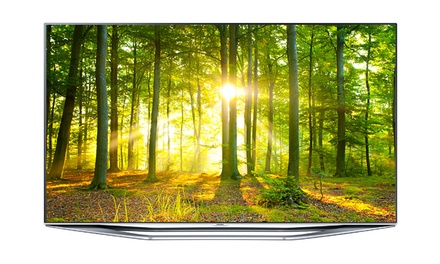 By the standards of the HD TV world at large, the UE40H7000's post-calibration picture really is very good indeed. Especially now that a recent firmware update has fixed what was previously the most irritating thing about the H7000 series' picture makeup: the way the backlights were switched off entirely when trying to show extremely dark scenes, resulting in distracting brightness shifting as the lights came back on once a picture was received that wasn't so dark. Now the lights are never fully turned off, resulting in a much more even luminance.
3D Picture Quality
First, it must be said that a 40-inch screen isn't really a big enough forum to deliver a truly exciting 3D performance, as it just can't fill enough of your field of view (unless you're sat unusually close to the screen).
That gripe aside, though, the UE40H7000 is actually one of the best 3D performers we've seen. It delivers exceptional levels of detail from 3D Blu-rays, and its 3D images enjoy much more brightness and colour intensity than we commonly see with the active 3D system.
Flicker is also well suppressed so that watching 3D doesn't feel as fatiguing as it can on active 3D screens. Finally there's remarkably little crosstalk ghosting noise on show, meaning that images look sharper and more detailed while also saving you eye strain as there's less temptation for your eyes to keep trying to refocus the crosstalking areas.
There's a touch more judder with 3D than you get with 2D, and occasionally the need for the panel to be driven harder to replace any brightness lost by the shuttering glasses can cause some backlight clouding during dark scenes. But for the most part the UE40H7000 is pretty much as good as 3D currently gets on a TV – notwithstanding the smallness of its screen.
Sound Quality
The UE40H7000 manages to sound like a much bigger TV than it is, thanks to the way its speakers propel audio some distance clear of its frame without the mix starting to sound stretched or dislocated.
Vocals remain nicely locked to the screen too despite the soundstage scale on show elsewhere, and there's also more dynamic range to be heard than is common on such slim TVs, with lots of harshness-free treble detail sitting opposite a reasonable and well-controlled amount of bass.
At loud volumes things can start to sound a touch muffled and the maximum volume the set can achieve may struggle to fill a really large room. But overall the UE40H7000 does pretty well for a super-slim design.
Other Things to Consider
In keeping with other high-end TVs from Samsung's current range, the UE40H7000 provides two remote controls. The normal remote is OK – a bit small and plasticky, but reasonably straightforward. Much more interesting, though, is the 'smart' remote, which strips away many of the buttons and provides a touchpad at its centre for easier navigation around the smart menus. You can even as an extra option use the remote as a point and click controller, like Nintendo's Wiimotes.
Initially the sheer volume of control options available over what's actually a very small area of remote control real estate (Samsung wants you to be able to accomplish most tasks with just a small movement of your thumb) can cause confusions and accidental mis-steps. But persevere, for once you've cracked it it's a much superior interface option than the standard remote.
If you're thinking of using the UE40H7000 for gaming, there's more good news. Our input lag tests produced a typical figure of 33ms, which is low enough to not have a serious negative impact on your gaming abilities.
Should I buy a Samsung UE40H7000?
If your main impetus for buying a 40-inch TV is maximising your feature count and picture quality, then the UE40H7000 could well be the TV for you. It's a truly excellent performer, in both 2D and 3D, and its video streaming support is uniquely comprehensive.
The only problem, potentially, is cost. Its £850/$1,275 price tag is very high by today's 40-inch TV standards, and there are some strong mid-range 40-inch rivals around this year like the £500/$750Sony KDL-42W705B.
Verdict
If you're on the look out for a bargain or a high-value TV, the UE40H7000 is not really for you given the quality of some of the mid-range competition this year. However, if money's no object – but size is – then the UE40H7000 is a stellar effort, bettered only by Samsung's own H8000 series.
Scores In Detail
2D Quality : 

9

/10

3D Quality : 

9

/10

Design : 

9

/10

Smart TV : 

9

/10

Sound Quality : 

8

/10

Value : 

7

/10
(trustedreviews.com)
Comments
comments