PRICE $899
AT A GLANCE
Plus
USB inputs for PC and iOS
Premium Wolfson DAC
Bluetooth aptX
Minus
No DSD decoding
No Wi-Fi, AirPlay, or Ethernet
No streaming services
THE VERDICT
The Rotel A12 accepts direct wired input from PCs and iOS devices and gets the best out of both digital and analog sources with its great-sounding DAC and amp.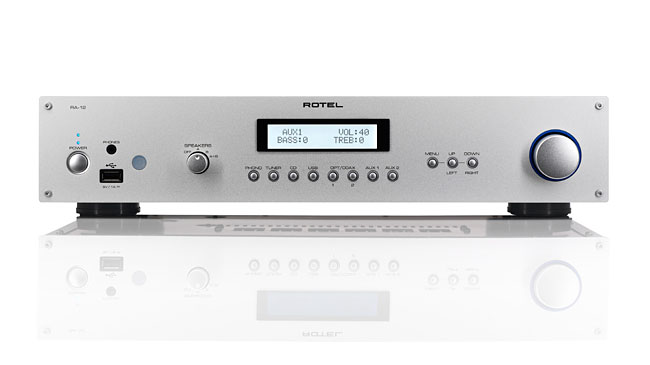 Connecting a computer to an audio system with a USB cable seems a perfectly logical idea. It's simple, it's direct, and it enables the computer to feed bits to the system and rely on the system's digital-to-analog conversion. Yet this desirable feature is tantalizingly rare. AVRs and streaming amps tend to rely on wired and wireless network connections rather than on a USB port and asynchronous digital-to-analog converter (DAC) that can take over the clocking functions of the digital bit transfer and reduce the effects of jitter. The Rotel A12 stereo integrated amplifier doesn't have network audio features—but it does have the desired PC-friendly USB input, along with an iOS-friendly USB input, a moving-magnet phono input, and the usual complement of digital and analog inputs. It's the amp for those who connect every conceivable signal source with cables but reserve the right to hedge their bets—in this case, with Bluetooth aptX that offers the convenience of pushing music to the system wirelessly from a compatible device.
A Foot in Each Camp
Rotel operates in both the two-channel and multichannel worlds. The company offers an assortment that includes integrated amps, a preamp, power amp, DAC, and CD player (remember CD players?); for home theater, there's a Class D AVR, a pre/pro, a fivechannel amp, and wholehouse distribution amps.
The A12 is one of two new stereo integrated amps. It has rated power of 60 watts per channel operating in Class AB. It uses the same 192-kilohertz/24-bit Wolfson WM8740SEDS DAC used in the RDD-1580, Rotel's standalone component DAC. (Though the 1580 uses two DAC chips for even higher performance.) The step-up A14 integrated amp ($1,299) is rated at 80 watts per channel and has a 768-kHz/32-bit DAC from AKM that supports DSD. Most download services offer PCM formats at 192/24 or less, so the main practical impacts of the step-up model are DSD and more power.

Rotel's front-panel aesthetic prizes simplicity and calm. On either side are a small volume knob at right and a hard on/off power button at left (standby mode requires the remote control). Near the center is a blackon-white fluorescent display (I'd have preferred white-on-black). Each input gets a button along a horizontal row. There are also three menu navigation buttons: menu, minus, and plus. They access bass, treble, tone bypass, display dimming, LED dimming, power on max volume, USB power (allowing the rear USB jack to provide power to a Google Chromecast audio dongle, Rotel says), auto-off inactivity timer, signal-sensing for automatic power on/off, fixed gain for each input, USB Class 1 or 2 for the PC input (Class 2 requires driver installation on Window/Linux PCs but is standard on Macs), general software version, PC-USB software version, and factory default. The full-sized remote has the expected input and disc navigation keys, adding further direct access to the tone and dimming controls.
If you're considering the A12 as an AVR replacement, be warned that it has no HDMI jacks. You'd connect a universal disc player with the digital coaxial, optical, or analog inputs. The non-USB digital-ins operate up to 192/24. Your phone or tablet could communicate via Bluetooth, with high-quality aptX signal compression if your device supports it—but for serious listening, you'd be using one of the USB or other inputs. AVR staples such as DLNA, Wi-Fi, AirPlay, streaming services, AM, and FM are absent, though the unit does have RS-232, 12-volt trigger, a third USB jack (alluded to earlier) strictly for powering a Chromecast or other audio streaming device, and remote jacks for both Rotel Link and nonRotel remotes.
Associated equipment included a pair of Paradigm Reference Studio 20 v.4 speakers, Paradigm Seismic 110 subwoofer (connected to the amp's full-range stereo pre-outs), Oppo BDP-83SE universal disc player, Micro Seiki BL-51 turntable, Shure M97xE cartridge, Denon PRA-S10 stereo preamp serving as phono preamp, and Lenovo Windows 10 (formerly 7) laptop.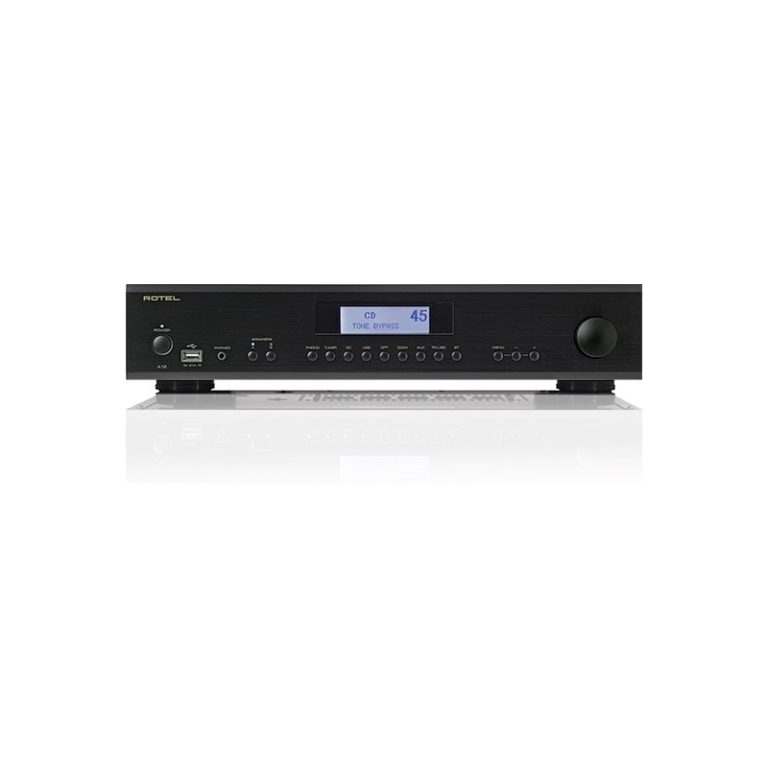 Analog
I've always loved the sound of Rotel's amps, having used a Rotel AVR for eight years prior to them moving to Class D amplification and away from Class AB. I was enamored by its vast, open, and involving midrange and the measured yet not unduly polite top end. So call me biased. But listening to the
A12 was like coming home. It reminded me of a dynamically slimmed-down version of the brawny RSX-1065 and -1067. I cheated a little by using the Paradigm sub; the modest-sized amp's bass response was good but not especially weighty. It often required more than half of its volume control's range to drive my Paradigm stereo pair (rated sensitivity 88 decibels) to satisfying levels. But even when pushed hard, the amp behaved well, with little in the way of discernible clipping.
I reconnected with the analog part of my music library for the initial demos, starting with the Debussy albums that Paul Jacobs made for Nonesuch. Recorded on analog tape, with Dolby A noise reduction, they are among the best-sounding piano albums I've heard. I return to them time and again, especially the Etudes and Preludes, but it's not often that I pull the Images/Estampes LP off the shelf. Jacobs' Baldwin piano had a distinctively dark tone that lesser playback gear tends to lighten up, with little ill effect—but the Rotel's approach, more faithful to the source, was more satisfying. It was a true reading of the rich, warm, unclattery, percussively fluent piano sound. The restrained overtone signature got even better focused as the amp warmed up.

With sessions dating from the 1940s and '50s, The Complete Blue Note Recordings of Thelonious Monk has a livelier top end in the Mosaic four-LP box than in the Capitol two-CD issue. The Rotel pulled a surprising amount of room ambience out of the mono recordings, despite the sepia olde-analogue glow. The clean, honest amp didn't let the soft breath of the distant-miked cymbals slip away. It delivered the saxes of Sonny Rollins and other luminaries with an almost vocal quality.
In Beatles for Sale, from the vinyl box set of The Beatles in Mono, the Rotel explored the pop instincts of the band and its producer with its relentlessly revealing midrange. Acoustic guitars and cymbals were soft focused, but some electric guitar parts and most of the vocals (especially John Lennon's lead on Chuck Berry's "Rock and Roll Music") had the intended cutting edge. The Rotel somehow found a unity that was part vintage AM car audio, part newfound hi-fi revelation. It crooned and rocked, and the image was as precisely centered between the two speakers as you'd wish for from mono material.
Digital
The chief strength of the Rotel in pretty much everything was its clean, ungimmicky, scrupulous midrange, and that was never as obvious as it was in the Martin Carthy and Dave Swarbrick CD Skin + Bone. Without being ruthlessly revealing, the amp nonetheless extracted both the slight developing rasp in Carthy's quirky tenor and the woody resonance in Swarbrick's fiddle. Especially thrilling was the double-stopped fiddle part on the hair-raising murder ballad "Lucy Wan." The amp zeroed in on its octave-jumping drone, with parallel but faintly wavering tones, maximizing the menace.
Next up was Sergei Rachmaninoff's Symphony No. 1 on a hybrid SACD recorded in 5.1 channels for the London Symphony Orchestra's LSO Live label, with the exceptionally able Valery Gergiev conducting. (Mily Balakirev's Tamara fills out the disc.) The native DSD recording sounded like the Golden Age of Analog at its best; if this had been vinyl playback, as opposed to SACD, it would have involved a better phono cartridge than I can afford. For this demo, I used the Oppo Special Edition player's high-end analog output employing its internal 32-bit ES9016 Sabre DAC—in other words, DSD to analog, no PCM conversion. By this time, I had realized that the warmth I often (but not invariably) heard from the Rotel amp was not an overlay, not a skew of tonal balance, but a commitment to getting the most out of recordings (or portions of them) intended to sound warm. The soundstage lifted clear of the speakers like a magic carpet.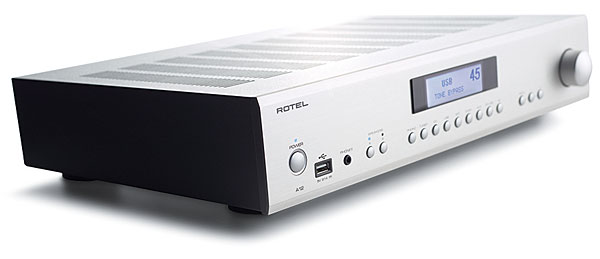 Macy Gray's Stripped came in the form of 192/24 AIFF, courtesy of HDtracks.com. The laptop fed the Rotel's PC-USB input and internal DAC directly; how I would love my reference system to do that. Gray is sort of a bluesier, more fragile, and more benign Marianne Faithfull. The Rotel integrated her sweetly creaky voice into the rich reverb that is a hallmark of Chesky recordings, without letting it get engulfed. The unusual mix—which puts the vocal and occasional trumpet parts in the right channel and the murmuring guitar in the left—leaves the center entirely for the rhythm section, which allowed the amp to trace that section's instruments' even longer decay without being crowded.
The Rotel A12 is one of the few amps we've reviewed with a PCfriendly USB input—and it does so for under $1,000. The amp's delicious midrange and overall musicality are practically miraculous at this price. Bluetooth sweetens the deal, though if you want network audio features, you'll have to look elsewhere or be willing to add an external gadget. But for those who want a fine cabled solution to most connectivity challenges, this little amp excels.
Specs
Power Output: 2 x 60 watts (8 ohms, 2 channels driven)
Dimensions (WxHxD, Inches): 17 x 3.6 x 13.5
Weight (Pounds): 17.6
Audio Inputs: Bluetooth, PC USB (1), iOS USB (1, front), coaxial digital (2), optical digital (2), stereo analog RCA (4), phono (1)
Audio Outputs: Speaker (2, A&B), Pre-out (1), ¼ in headphone (1)
Additional: Power USB (1), RS-232 (1), external remote (1) 12-volt trigger (2), Rotel Link (in/out)
Price: $899
(soundandvision.com, https://goo.gl/nm5lvx)
Comments
comments