PRICE $1,999 pr
AT A GLANCE
Plus
Ribbon tweeter for wide horizontal dispersion
Kevlar cone woofer with dual-chambered loading
Multi-layered, curved cabinet
Minus
Limited bass, typical of compact monitors
THE VERDICT
The Quad Z1 monitor uses a beautifully voiced ribbon tweeter to achieve improved room coverage versus a conventional dome tweeter.
Everything you think you know about Quad comes with a curve ball. Some might associate the name with quadraphonic sound, but in fact it originally stood for Quality Unit Amplifier Domestic. That name implies a mission involving amps, and Quad does make 'em—but as any longtime audiophile can tell you, the brand is best known for its large flatpanel electrostatic loudspeakers. Some of those graying audiophiles remember Quad as a British manufacturer, but it has been under the competent and enlightened ownership of Bernard and Michael Chang of Taiwan and their International Audio Group for more than a decade.
Incidentally, IAG has a deep well of engineering resources, which enhances the performance and credibility of their brands. These speakers, per their back label, are designed and engineered in the U.K. and manufactured in China (in Shenzhen); they are marketed in the U.S. by MoFi Distribution. MoFi is the parent company of Mobile Fidelity Sound Lab, the patron saint of the audiophile vinyl reissue, which has branched out into hardware, including turntables.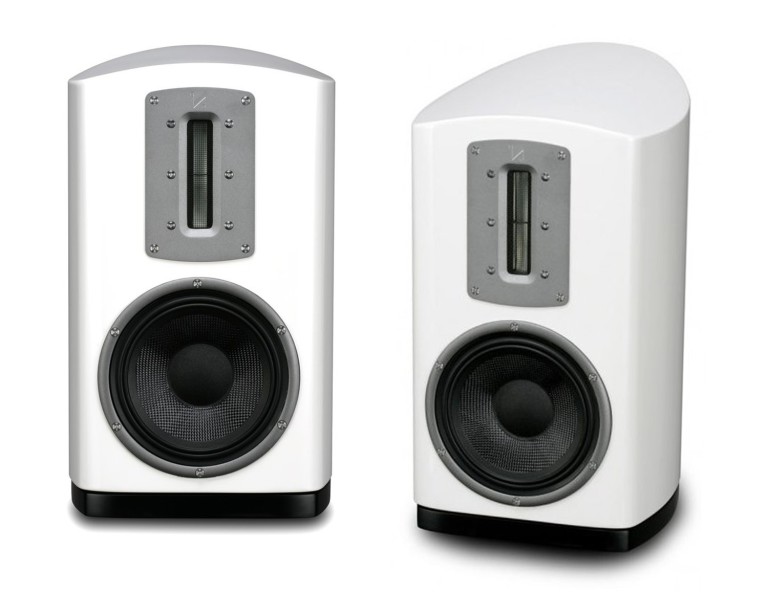 Quad still makes both amps and speakers, including two models of the famous ESL loudspeaker. But there are several other speaker products and lines as well, such as the L Classic Signature, a monitor designed for Quad's 75th anniversary; the S series, a full line with two monitors, two floorstanders, and a center; and the new Z series, a flagship line with two monitors and two floorstanders (but no center). Both the S and Z series—including the Z1, reviewed here—use ribbon tweeters. Note that the Z1 isn't available in odd-numbered configurations for surround use. We reviewed a single pair.
Ribbon History
Quad has been using ribbon drivers since 1949, eight years before introducing its first electrostatic model. The first ribbon-driver model was the Corner Ribbon, which as the name implies had a triangular footprint that fit snugly into a corner. The ribbon driver in that historic model was too fragile and ill suited to support high-power amplifiers. The Z series ribbon is better at power handling and is much more mechanically durable. It's a 0.5-inch-wide, 3.5-inch-tall composite ribbon tweeter (twice as tall as the ribbon in the S series). The ribbon's shape disperses sound in a wide horizontal arc while limiting ceiling and floor reflections. The conductive ribbon is made of a composite of materials for greater robustness. It is then suspended in a strong magnetic field to maximize sensitivity. In lieu of a dome, cone, or planar magnetic tweeter's separate diaphragm and attached electrically conductive voice coil/grid, a true ribbon tweeter combines both functions by passing the audio signal through the diaphragm material itself. Quad says the Z1 musters "our signature sound as found in the iconic ESLs."
The tweeter is mated with a 5.9inch Kevlar cone woofer, made of woven aramid-fiber material similar to that used in bulletproof vests. The woofer (and midrange drivers in Quad's tower models) has a doublerolled surround that is designed to control edge breakup. It's reinforced by a double-chambered "acoustic filter" cabinet design with a port that exits the inch-thick plinth from an expansion chamber filled with resistive foam. Quad says this strikes a balance between the sensitivity and extension of a bass reflex speaker with the clarity and transient attack of a closed box. The rounded enclosure is made of multiple layers of wood fiber. It curves all the way around the back from one side of the baffle to the other, which helps defeat internal standing waves and blends more gracefully into room décor than would a boxy enclosure. The top of the cabinet has a subtle curve of its own, which is visible at the top front edge of the baffle, and a gentle rise toward the rear. Available finishes are rosewood veneer and piano black or white.
On the back, in lieu of the gold-plated binding posts you'd expect from a fancy speaker, are unusual copper binding posts with a matte gray finish. (IAG has the luxury of rethinking the binding post because they don't buy parts off the shelf; they design, tool up, and make every part.) The four posts in strict vertical formation are biwirable and come with large, sturdy bridges that have very little flex. Specs are printed on the back: rated frequency response of 56 hertz to 20 kilohertz, rated sensitivity of 86 decibels, recommended amp power of 20 to 100 watts, and nominal impedance of 8 ohms (the manual adds a minimum impedance of 4.6 ohms). See our Test Bench for independent assessments of frequency response, sensitivity, and minimum impedance.
Associated equipment included a Pioneer Elite VSX-53 A/V receiver, Oppo BDP-83SE universal disc player, Micro Seiki BL-21 turntable, Shure V15VxMR/N97XE cartridge, and the phono stage of a Denon PRA-S10 preamp. When I used a subwoofer, it was my trusty Paradigm Seismic 110. Surround-encoded material played in 2.1 channels, with the Oppo downmixing soundtracks to stereo plus subwoofer.
Not a Paradox
The Z1 is both warm and revealing. Ordinarily, that might be a paradox; sometimes, warm-voiced speakers are hiding something, or at least sugarcoating the truth. But Quad's ribbon tweeter mustered its golden glow while simultaneously opening a big, clear window into instrumental and vocal color and texture. It conjured bold, detailed images in the prime listening position—but also did so off axis. The result can be more physically relaxing than with some other designs because you needn't hold yourself as rigidly in the sweet spot.
Somewhat unusually, I got the best imaging a couple of feet forward of my usual listening position, which arranged the speakers and myself in a perfect equilateral triangle. I dragged my armchair in front of the sofa to take advantage of it. That close to me, some speakers suffer from Hole-inthe-Middle Syndrome—contributing to this are my oddly shaped room and asymmetrical speaker placement which don't provide much side-wall reinforcement—but the Quads bucked my expectations with solid, dense images.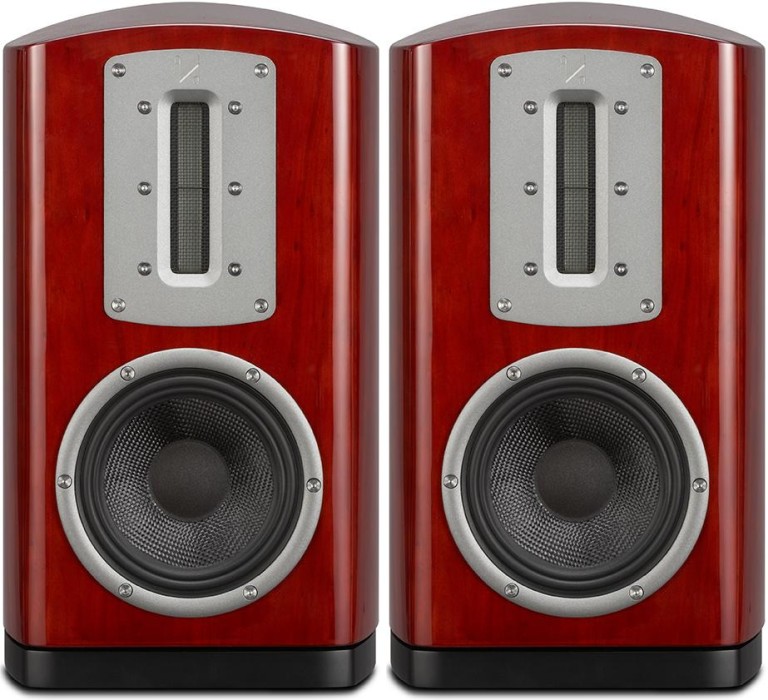 My Game of Thrones binge continued with season 4 on Dolby Digital DVDs from the public library. The highlight was the extended battle sequence that sprawls over episode 9. This was both a challenge to the Quads' dynamic prowess and a showcase for the listening comfort they afford. The drivers could easily handle plenty of power, stepping up the soundtrack's sonic assault in stages, almost the same way a concert pianist navigates the dynamic swings in a Beethoven sonata. The top stages weren't lost to compression but, instead, were clearly discernible. While the metallic sword clangs might have been more prominent with a brighter speaker, they really did sound like metal grinding on metal. It's hard to stay in one place for a ten-episode binge, so I spent some time on the exercise bike, to the left of the toed-in left speaker. But the speakers still seemed to be spreading vital midrange and high-frequency information to every corner of the room (literally, in this case). I didn't have to increase the volume to catch dialogue in this extremely off-axis listening position.
The Quads could play loud and proud in a high-decibel action movie like Extraction (BD, DTS-HD Master Audio), a Bruce Willis spy thriller. A shootout and a tire-screeching car chase played comfortably and without inducing fatigue. Dialogue was clear and natural, though not as clear as it could have been with a dedicated center speaker. The Kevlar-coned woofer responded tunefully to the aggressive synth score, though my Paradigm sub provided most of the physical force. The only thing I missed—in all the surround-encoded material—was the kind of room-filling soundfield possible only with the addition of physical surround speakers. Sometimes, my brain can adapt, but I've been listening to movies in surround for so long that stereo, even with a sub, is a letdown.
He Never Died (DVD, Dolby Digital) rides on the low-key gravitas of Henry Rollins as a loner who tries not to boast too much about being an immortal who eats human flesh (though he's on a diet). The key soundtrack element is a busy swirl of voices, screams, and sound effects that turns out to be the accumulated noise of his past lives playing through his troubled mind. This time, going from surround to stereo wasn't a deal breaker: Are the voices in your head ever in pure 5.1? The ribbon tweeter made the mélange of noises sound big and room filling, which was probably the intention.
Set the Controls for Magic
Sometimes, an audio product clicks with a particular piece of content in a definitive way. So it was with the live half of Pink Floyd's Ummagumma (LP). In the middle of "Set the Controls for the Heart of the Sun," the rhythm section falls away while Richard Wright and David Gilmour play a duet, with the reedy organ and slide guitar generating transparent neon filigrees that intertwine in outer space. The Z1's world-class treble response imaged them with a vibrancy unprecedented in my long experience with this album. It was almost heartbreakingly beautiful. Gilmour's tidal waves of slashing wah-wah guitar in "Astronomy Domine" required the ribbons to play loudly and clearly, and they didn't disappoint. A litmus test of a great speaker is cymbals, and the Quads made the most of them, from the gentle taps that start the dynamic ascension of "Careful with That Axe, Eugene" to the smashes that accompany its multiple screaming climaxes. The Quads practically spattered the walls with blood.
Prokofiev's Symphony No. 5, with Mariss Jansons leading the Royal Concertgebouw Orchestra, arrived on a hybrid multichannel SACD from the orchestra's RCO Live label; I used the two-channel SACD soundtrack. With orchestral demos, I listen for blending and layering, and most speakers tend toward one or the other. Here, however—in keeping with the Z1's love of swords, cymbals, and all other things metallic—I heard the brass lovingly detailed within the sound-stage but not detached from it. Reeds and wind instruments also made their voices known, but nothing was ever out of balance. The only thing that leapt out for an instant was the woodblock, whose loud knock smacked the ivory-colored walls of the Amsterdam concert hall in this live recording. A tinier moment was the long, graceful decay of the piccolo at the end of the third movement, indicating good low-level resolution. The Z1 can produce the acoustics of a familiar concert space, even in stereo, with great realism.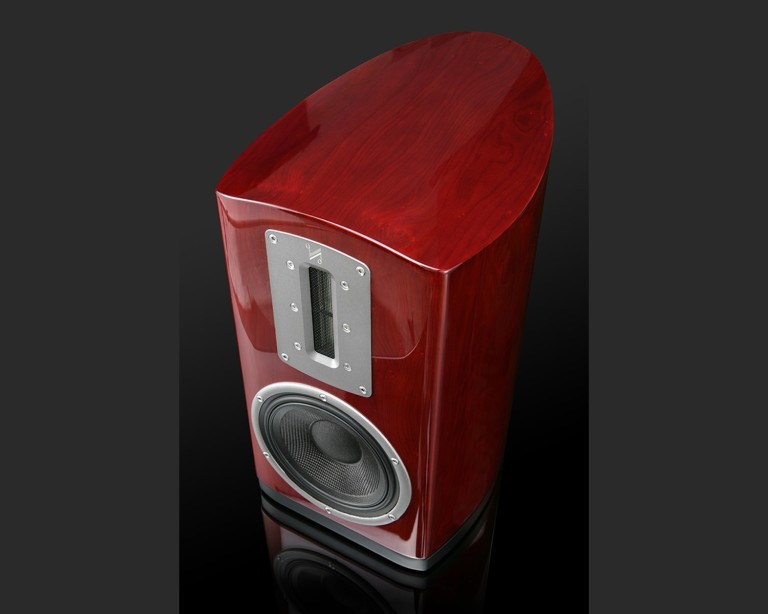 The Police's second album, Reggatta de Blanc (LP), always reminds me of the time when I saw them in the ballroom of the Hotel Diplomat in New York City. It was 1979, they were promoting this album, and I pogoed through the entire performance (for the first and last time). Instrumentally, at least, this was a drummer-led band, and to be in a room with Stewart Copeland's precisely propulsive reggaeinfluenced rock drumming was to feel weightless. So, naturally, when I listen to this album, I listen to the drums. The Quads needed the sub to fill out the bottom end, especially for a song like "Message in a Bottle," with that insistently pounding bass drum. But when I switched the receiver to pure direct mode and cut out the sub, what was left benefited from the woofer's adroitness. Again, the ribbon tweeter delved into a delicate effect—in this case, the spidery guitar that mates with the drums in the opening of the title track.
When you spend $1,000 per speaker, you expect something better than the norm, and the Quad Z1 delivers with its carefully tweaked ribbon tweeter, gracefully sculpted cabinet, and musical adeptness. I'm not an expert on Quad's electrostatic speakers, and if I say that the Z1 succeeds in emulating their venerated voicing, an ESL buff will probably write in to scoff at the sacrilege. But I do have a pretty wide frame of reference for stand-mount speakers, and this is a memorably great one.
Specs
5.9 in Kevlar/aramid-fiber cone woofer, 0.5 x 3.5 in composite ribbon tweeter (WxH); 8.6 x 15.1 x 11.1 in (WxHxD); 14.3 lb
Price: $1,999 pr
(soundandvision.com, http://goo.gl/qah3uN)
Comments
comments