Verdict
We really wanted to like this Pioneer, but it just doesn't do enough in its core areas
For
Low price
detailed sound
good effects steering
Airplay and Bluetooth
easy to use
Against
Sound lacks body and punch
dynamics not great
Who says home cinema amps have to be expensive? The Pioneer VSX-527-K is a stripped-down 5.1-channel amp aimed at the starter end of the market, but it also does AirPlay streaming out of the box and Bluetooth via a £50/$75 dongle.
Its socketry is fairly basic: terminals for five speaker channels, plus preamp outputs for surround-back or front-height channels, six HDMI inputs and one out, a smattering of analogue ins and outs, a couple of digitals and an Ethernet port.
Sound quality
After a simple set-up, we set a Blu-ray of Star Trek spinning and are met by an immediately attacking sound that's quite detailed at the price. Speech is clear, and the myriad of sci-fi beeps are steered atmospherically around our cinema room.
But we can't help wanting more authority. The Pioneer struggles with large dynamic shifts, with its bass in particular feeling far too restrained. While the amp can go loud with relative ease, it doesn't do so with the cinematic oompf we want.
Moving to AirPlay, a listen to Boards of Canada's Roygbiv flags up more of the same. It's a warm-sounding track, but has a fast, attacking drum sound – something that isn't quite done justice here.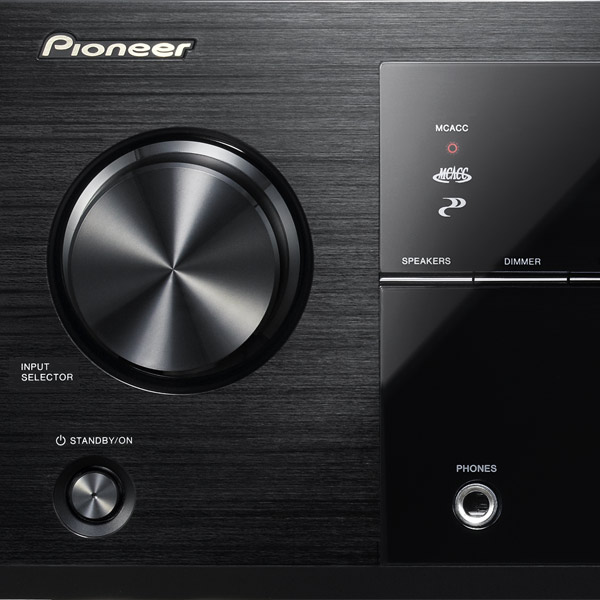 Specifications
Main Features
VSX-527-K
HD Audio Formats
Dolby TrueHD, DTS-HD Master Audio
Audio Return Channel
Yes
On-Screen Display (GUI)
via HDMI only in English, French, Italian, German, Spanish, Dutch and Russian
Firmware updates
Yes (via USB)
Internet Radio
Yes
vTuner
Yes
DLNA Certified
Yes (v1.5)
Windows 7 Certified
Yes
Input & Output connections
VSX-527-K
Bluetooth Adapter Port
Yes
Composite Input/Output
2/1
Digital Optical Input/Output
1/- (assignable)
Digital Coaxial Input
1/- (assignable)
HDMI Input/Output
6/1
Headphone Input
Yes
Large speaker terminals
Yes
Pre-amp Output
Yes
Apps
VSX-527-K
Control App
Yes
Apple Compatibility
VSX-527-K
Works with iPod
Yes
Works with iPhone
Yes
Surround Sound Formats
VSX-527-K
Dolby Pro Logic II
Yes
Dolby Pro Logic IIx
Yes
DTS-Express
Yes
Audio Features
VSX-527-K
Auto Level Control
Yes (2 channel)
Auto Surround
Yes
Headphone Surround
Yes
Front Stage Surround Advance
Yes
Loudness
Yes
Midnight Listening Mode
Yes
Power Output
VSX-527-K
Power Consumption (in use / standby)
450 W / 0,45 W
Auto Power Down
Yes
Construction
VSX-527-K
Design
Discrete Amplification Type
Main Features
VSX-527-K
Output Power per Channel
130W
Impedance at Output Level
6Ω
Number of Channels
5
Input Connections
• 6 x HDMI
• 3 x Composite
• 1 x Coaxial
• 1 x Digital Optical
• 1 x USB 2.0 host
• 1 x iPod/iPhone Digital via USB
• 1 x Ethernet
• 1 x Bluetooth adapter port for AS-BT200
Output Connections
• 1 x HDMI
• 1 x Composite
• 2 x pre out (Subwoofer & Surr Back/Front Height)
Plays
Via LAN/USB: MP3, WAV, AAC, WMA, FLAC
192 kHz/24-Bit Audio playback: WAV, FLAC
Remote Control
Glow-key, preset remote control
Input & Output connections
VSX-527-K
Ethernet
1
Apps
VSX-527-K
Air Jam
Yes
Apple Compatibility
VSX-527-K
Works with iPad
Yes
AirPlay
Yes
iPhone Control Button
Yes
Compatible Generations
iPad,iPad2, iPhone 4S,iPhone 4,iPhone 3GS,iPhone 3G,iPhone, iPod touch 4G/3G/2G/1G, iPod nano 6G(Audio only)/ 5G/4G/3G
Supported Functions
• Audio & video playback
• On-screen album art
• Charging
Surround Sound Formats
VSX-527-K
Dolby Digital
Yes
Dolby Digital EX
Yes
Dolby Digital Plus
Yes
DTS-HD High Resolution Audio
Yes
DTS-HD Master Audio
Yes
Surround Modes
9 + 1 for Phones
Audio Features
VSX-527-K
AM/FM Tuner with RDS
Yes
Tuner Pre-set Stations
30
DSD-to-PCM Convertor
Yes (2 channel)
Dynamic Range Control
Yes
Phase Control
Yes
MCACC
Yes
Sound Delay (LipSync)
Yes
Advanced Sound Retriever
Yes (2 channel)
Sound Retriever AIR
Yes
Stream Direct
Yes
Symmetric EQ
Yes
Video Features
VSX-527-K
Deep Colour
Yes
3D Ready
Yes
x.v.Colour
Yes
Power Output
VSX-527-K
Power output per channel
130W
Condition
1 kHz, 1 % THD, 6 Ω
Rated Power Output
130W per channel
Power Requirements
220–230 V AC / 50/60 Hz
Main Features
VSX-527-K
Control with HDMI
Yes
Surround Sound Formats
VSX-527-K
Dolby Pro Logic IIz
Yes
Dolby True HD
Yes
DTS
Yes
DTS-ES
Yes
DTS Neo: 6
Yes
DTS 96/24
Yes
Amplifier Specifications
VSX-527-K
Digital Signal Processor
Texas Instruments AureusTM TMS320DA788
D/A Converter
192 kHz / 24-bit
A/D Converter
96 kHz / 24-bit
Dimensions (W x H x D)
435 x 168 x 342.5 mm
Weight
8.9 kg

Pioneer KIT AV VSX-527-K + S-HS100
Verdict
It's a shame, really, because there's no denying this amp's value. You really can't not be tempted by the idea of a quality £300/$450 home cinema amp. The shame is this Pioneer just isn't as absorbing as we'd expect, even at this money.
(whathifi.com)
Comments
comments