Pros
Solid performance
Wide format support
Slick DLNA streaming
Cons
No built-in Wi-Fi
Comparatively limited web content
Overlapping video adjustments
Key Features: 3D Blu-ray playback; DLNA media streaming; Netflix, YouTube and Picasa; iControlAV2012 remote app; Optional Wi-Fi dongle available
Manufacturer: Pioneer
Introduction
The BDP-150 is the cheaper little brother of the BDP-450, a Blu-ray player aimed at those more interested in movie playback and build quality than flashy web portals and fitness apps. This version strips away a few of the BDP-450's features, allowing budget buyers to sample Pioneer's hi-def video prowess.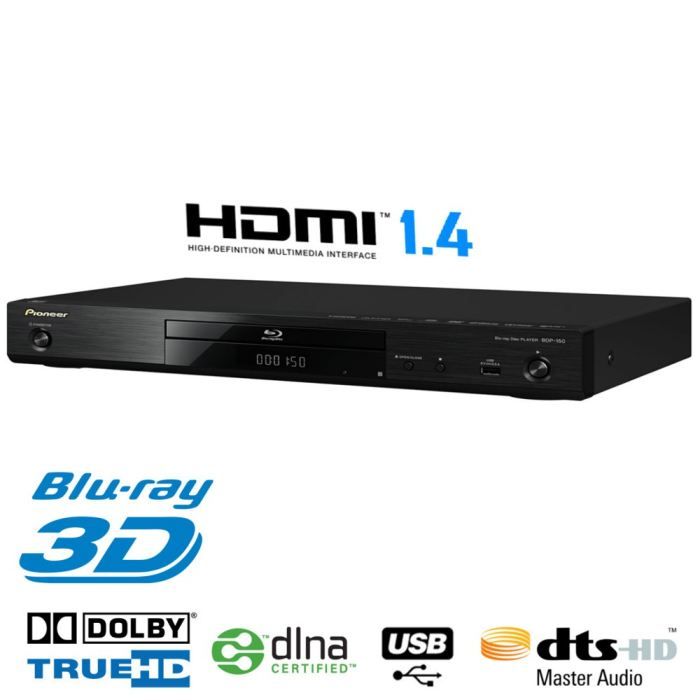 Design
At 58mm high, the deck itself is much slimmer than the 90mm BDP-450 and build quality isn't quite up to the same standard, with a front panel made of plastic as opposed to aluminium. But despite that, it's a tastefully designed deck in the classic Pioneer style, with a brushed finish and a low button count on the fascia. In the centre sits an LED display panel and the disc tray, plus there's a USB port for media playback from storage devices.
Connections
The rear panel is markedly different to that of the BDP-450. The step-up model houses two HDMI ports – which let you send video and audio signals separately to a TV and receiver – but here you get a single HDMI output. Thankfully it's specified as v1.4, which means the BDP-150 can output 3D signals to a compatible TV. Elsewhere, the BDP-150 actually offers sockets not found on its step-up sibling, including composite and analogue stereo outputs – sockets we presume Pioneer thought high-end buyers simply wouldn't need. The line-up is completed by a coaxial digital audio output, an Ethernet port and a second USB port.
Features
As well as providing a second port for media playback and BD Live storage, this rear USB port has another function – housing Pioneer's optional Wi-Fi dongle. The lack of built-in Wi-Fi is possibly the deck's biggest disappointment, given that most big-name Blu-ray players at this price provide it, plus Pioneer's optional Wi-Fi dongle (AS-WL300) will set you back around £50/$75, which isn't exactly peanuts.
If that's too much of a stretch you can simply connect to your router via Ethernet, a messier but potentially more reliable connection. It's worth doing one way or another, as BD Live content can be worth a watch plus you can access YouTube, Picasa and Netflix through the player. It's a limited selection with no catch-up TV services like BBC iPlayer, but YouTube and Netflix should offer something worth watching.
The other main benefit of the web connection is that you can stream your own video, music and photo files from networked servers, such as NAS drives, PCs and smartphones. Alternatively you can play media from USB sticks and hard drives hooked up to the front or back USB ports. Pioneer's long running reputation for universal format support ensures a impressive list of compatible files – DivX HD, WMV, AVCHD, AVI, MKV, MP3, WMA, AAC, FLAC, 3GP, FLV, JPEG, not to mention Super Audio CD, DVD and CD. It's also well versed in HD audio, as it can pipe Dolby True HD, DTS HD Master Audio, DTS HD and Dolby Digital Plus to an AV receiver in bitstream form, or as multichannel PCM.
There's more to get your teeth into – Sound Retriever Link boosts the quality of compressed music playback on compatible Pioneer receivers, Stream Smoother reduces picture artefacts when watching low-bitrate videos, while the catchily-titled iControlAV2012 app lets you operate the deck from your smartphone or table (Apple or Android).
Operation
It might not boast the eye-popping onscreen menus of the latest LG and Samsung players but Pioneer's displays have a quiet class about them, allowing you to explore features without getting bogged down in graphics and icons.
Everything kicks off from a black splashscreen with the Pioneer logo dead centre. Hit the Home Menu button and a menu box appears on the left, over a gradated grey background. A wholly superfluous but stylish monochrome graphic appears on the right to denote your selection.
The menu offers three options – Home Media Gallery, where you'll find all your digital media content from connected devices; Web Contents, where you can access YouTube, Netflix and Picasa; and Initial Setup.
Select any of these menus and they retain the same left-to-right layout, with crisp white text set against black backgrounds. They aren't particularly exciting to look at but are clear and easy to read. When navigating server/USB content, it uses a familiar folder sequence and displays cover art with track details during music playback.
Delve into the Initial Setup menu and there's tonnes to play around with, including display, audio, HDMI, network and playback options – all set out in clearly defined categories.
Of greatest interest to video perfectionists will be the Video Adjust settings within the Display section, where you can tweak brightness, contrast, hue and saturation. However, among the Video Mode presets found elsewhere is a Custom setting where you can make the same adjustments as above, alongside sharpness and CTI. It's complicated further by three Sharpness presets. These conflicting picture tweaks seem like overkill and could play havoc with picture quality if you start messing around with them together. The other presets comprise Standard, Vivid (avoid) and Cinema, plus there are three levels of noise reduction.
Also on board is 'Continued', which allows you to resume playback if you have to stop the movie, which not all Blu-ray discs allow you to do. To use it, simply press the dedicated button on the remote at the point you want to resume. That's great news if you have to adjust something in the setup menu, which can only be accessed when the disc has stopped.
We criticised the Pioneer BCS-SB626 system for its cluttered, unhelpful remote, but here Pioneer gets it right. It's a completely different zapper to that of the BDP-450, with a cheaper plasticky feel, but the rubber buttons are sensibly arranged into clear sections and the frequently-used playback and direction pad are perfectly placed for the thumb. There are dedicated buttons for Netflix, Media Gallery and Continued.
Performance
Disc loading is fast – Avengers Assemble fires up in just 25 seconds although it chews over Java-heavy discs for a bit longer. The BDP-150 also handles the tricky test patterns on our Silicon Optix HQV disc smoothly, with a little strobing in the Film Resolution Loss test being the only chink in its video processing armour.
And with our Avengers Assemble Blu-ray, the deck's picture quality is positively super-heroic. It pipes high-definition 2D pictures to your TV in their crispest, purest form – provided you haven't tampered with the Video Adjust picture settings too dramatically, that is.
The punchiness and lucidity of the picture is what strikes you first, particularly during brightly-lit scenes, such as the shots on SHIELD's huge aircraft carrier. The intricate CG detail on the sides of the ship and the texture of the water as the vessel emerges from the sea is sharply focused, with no artefacts to sully the clarity.
But it's equally assured when the light fades – it's easy to make out what's going on during the night-time scrap between Thor, Iron Man and Captain America in the woods, plus background detail and the different layers of shadow are clear and strongly contrasted.
This is backed up by sumptuously bold colours, seamless tonal blends, natural looking skin tones and fluid movement, with no judder or motion when both TV and player are talking to each other at 24fps. These qualities are in evidence with 3D Blu-ray discs, which look utterly absorbing. The images are rich and cinematic, with clean, emphatic edges and vivid colours that punch through active shutter glasses.
What you often get from brands like Pioneer, which you perhaps don't from mass-market budget decks, is high-quality audio playback. And sure enough the BDP-150 turns in a hugely enjoyable performance with CDs, boasting an open feel with plenty of detail and natural-sounding vocals. This is taken to the next level with SACDs, which sparkle with detail.
Verdict
At face value the Pioneer DBP-150 is a decent Blu-ray deck, offering wonderful hi-def pictures and some tasty features like 3D, Netflix, YouTube, DLNA and SACD playback. But up against decks in the same price bracket, things don't look quite so rosy – the Sony BDP-S490, LG BP620 and Samsung BD-E6100, for example, offer built-in Wi-Fi and web portals bursting with content (including BBC iPlayer).
The BDP-150, with its lack of Wi-Fi (only available with an optional dongle), limited web content and old-school onscreen design, simply can't compete with that sort of value. And while its picture performance is terrific, it simply matches, rather than betters, its midrange rivals.
But if you're a Pioneer die-hard and bells and whistles aren't top priority, then you'll probably be very happy with the BDP-150 – and you never know, its SACD playback, solid sound quality and excellent format support might be enough to earn a place on your shopping list this Christmas.
Scores In Detail
Design : 

8

/10

Features : 

7

/10

Performance : 

8

/10

Value : 

7

/10
(trustedreviews.com)
Comments
comments