Key Features: 48-inch TV with direct LED lighting; Full HD native resolution; Smart TV platform with Netflix and BBC iPlayer; Active 3D playback (two pairs of glasses included); Two-sided Ambilight technology
Manufacturer: Philips
What is the Philips 48PFS6909?
The 48PFS6909 is an affordable 48-inch Full HD TV with 3D and Smart TV features, although it's not one of Philips' Android TVs. Roughly in the middle of Philips' current UK range, it also boasts the brand's trademark Ambilight technology.
Design
Philips has turned out some of the best-dressed TVs in town in recent years, and the 48PFS6909 continues this theme with its slender glossy black frame, trim rear and distinctively angular, open-framed stand. It feels a little flimsier than it looks, but this isn't a big deal unless you're in the habit of stroking your TV regularly.
Tucked away on the set's rear side is a healthy roster of connections for a mid-range TV. Four HDMIs get the ball rolling, while multimedia playback is delivered via a pair of USBs and both Wi-Fi and Ethernet connections. The USBs also provide the option of recording from the built-in Freeview HD Tuners to an external USB HDD.
Some of Philips' current TV range have been built around IPS panel types, with fairly unhappy results. So it's a relief to find the 48PFS6909 using a VA-type panel instead – a fact revealed by its active 3D system, as IPS screens go the passive route. It ships with two pairs of active-shutter 3D glasses.
The 48PFS6909 uses a direct LED lighting system, where the LEDs are positioned directly behind the screen. This can lead to better contrast than you get with typical edge LED TVs – though the 48PFS6909's backlighting isn't accompanied by a true local dimming engine where separate zones of the lights can have their luminance adjusted individually. Instead there's something called 'Micro Dimming Pro', which breaks the image down into small segments for more accurate analysis and a degree of localised contrast manipulation.
When it comes to handling motion, the 48PFS6909 is a native 100Hz TV, but boosts this figure to 600Hz Perfect Motion Rate (PMR) via backlight scanning and Philips' HD Natural Motion frame interpolation processing.
The processing engine inside the 48PFS6909 is Philips' Pixel Precise HD system, powered by a dual-core processor. This isn't necessarily great news given that Pixel Precise HD is a couple of generations old – we're on to Perfect Pixel HD and 4K now – and some of the 48PFS6909's rivals now use quad-core engines. But Philips has a strong pedigree of making its processing power count more than most, so hopefully this will prove true of the 48PFS6909, too.
The 48PFS6909's dual-core processing also powers the set's Smart TV features. We've covered these in a previous dedicated feature, but briefly the system is currently a B-lister on account of its ineffective content-finding features – its recommendations engine, for instance, is far worse than that of some rivals – and some key missing streaming services, such as the ITV Player, 4oD, Demand 5 and Amazon Prime.
The set can stream multimedia via DLNA from compatible devices, share content on your phone or tablet with the TV via the Philips MyRemote app, and mirror your smart device's screen on the TV via MiraCast. It also has a Cloud TV feature that lets you access material stored in your Dropbox account, and client and server support to connect wirelessly to other TVs for sharing broadcasts and recordings between them without the need for multiple broadcast service subscriptions.
Setup
There's a bit of work to do if you want to get the best out of the 48PFS6909. For starters we strongly recommend that you only run the HD Natural Motion system on its lowest setting to stop the picture from starting to look overly processed. Also make sure the set's noise reduction is off or set to low, and we'd suggest that you set the TV's Contrast Mode to Standard to give pictures a slight contrast boost without causing brightness instability.
We'd also treat the provided Super Resolution sharpness booster with suspicion, as it tends to over-stress edges and cause a rather gritty look with all but the most pristine sources – and if those sources are so pristine, they arguably don't need a sharpness boost anyway!
Also worth tinkering with is the Ambilight setting, as we felt it was at its most effective at immersing you in the action when used on a gentle setting with a reduced brightness level.
One final surprising discovery is that the 48PFS6909's 'Light Sensor' mode proves cleverer than most, adjusting the qualities of the image in response to the amount of light in the room without leaving the results looking unstable, too flat or too aggressive.
Aside from being a bit sluggish, the 48PFS6909's initial setup menus are reasonably straightforward and well thought through, and include both a demo of the TV's abilities and a picture setup wizard.
Picture Quality
With HD content the 48PFS6909 delivers a much more traditionally Philips-like picture than some of the brand's other TVs this year. Which is a very good thing.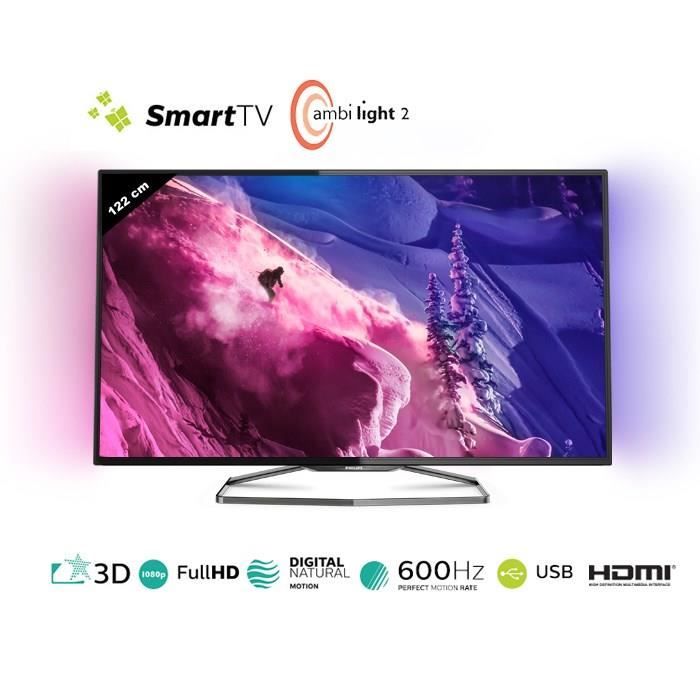 Particularly striking is how incredibly sharp and full of texture and detail HD pictures look. Even better, so long as you've got the Super Resolution feature turned off this exceptional sharpness is achieved without making the picture look noisy or 'forced', showing just how impressive Philips' processing can be – even when you're talking about a relatively mid-range processing engine like the one on show here.
More evidence of the quality of Philips' processing can be seen in the way the 48PFS6909 handles motion. For provided you haven't got the HD Natural Motion feature set higher than its Minimum level moving objects enjoy a seriously impressive combination of judder-free fluidity and extreme clarity, free of the resolution loss usually associated with LCD technology.
Some folk will refuse to use the HD Natural Motion processing on principle, and so it's good to find that the image still doesn't fall badly prey to motion issues even without the Natural Motion processing active. But as arch motion processing sceptics ourselves, we'd recommend that you at least experiment with the system on this Philips set, as it might just surprise you.
The other key area where the 48PFS6909 outguns some other models in Philips' current range – and a healthy number of TVs from other brands, come to that – is contrast. Feeding the set dark scenes once it's been set up to its best advantage finds some genuinely convincing black hues and tones that provide a pleasingly natural foundation to the rest of the colourscape.
What's more, the 48PFS6909's black level response is achieved without having to remove so much light from the image that large amounts of shadow detail and colour resolution get crushed out. We're not talking perfection here; there is a slightly hollower look to the blackest image sections than you get with the very best LCD performers. But dark scenes certainly look much more believable, natural and thus involving than they do on Philips' IPS TVs. In fact, they look better than they do on the majority of rival mid-range HD TVs right now.
Also contributing to the 48PFS6909's strong contrast showing is the evenness of its backlight. There's a little clouding around the edges with some picture presets (especially the Movie mode) if you don't rein in the backlight, but it really doesn't take much work to remove this.
Colours look good during bright HD scenes too, enjoying a reasonable amount of punch and some exceptionally deft rendering of subtle blends and tonal shifts, even when showing tricky skin tones. We have seen more expensive Philips TVs produce more aggressive colours, but for its money the 48PFS6909 is one of the stronger colour performers around, at least with HD content.
The only negative things to say about the 48PFS6909's HD performance, really, are that occasionally there's a slightly stressy look to contrasty edges, and some areas of very fine detail sometimes exhibit moire noise.
With standard definition the 48PFS6909 is hit and miss. With quality standard-definition sources like a well-produced DVD or relatively uncompressed standard definition broadcast Philips' set is pretty good, with minimal noise and decent sharpness. However, colours look strangely muted versus HD sources, becoming less natural in the process, and this issue increases as the quality of a standard definition source decreases. Rougher standard-definition sources also tend to look rather soft.
3D Performance
The 48PFS6909 does some good things in 3D mode. Its 3D Blu-ray playback delivers the HD detailing we expect from the active 3D system, and images look quite bright and colour-rich despite the inevitable dimming effect of the active-shutter glasses.
These glasses – which are extremely reminiscent of the models you get with Samsung TVs – are more comfortable to wear than they look, and aren't prone to reflections. Plus the sense of 3D space the TV creates is large but believable, and we only occasionally felt distracted by jaggedness around curved and diagonal edges.
Sadly, though, this good work is undermined by some pretty obvious crosstalk ghosting noise. This thankfully doesn't show up as often as it can do on some active 3D TVs, but when it does appear – predominantly in the middle and background areas of large-scale images – it's so obvious that it routinely distracts you from what you're watching. Which is, of course, exactly the opposite of what you want to experience with 3D.
Sound
Philips has delivered some interesting audio innovations in recent years, but the 48PFS6909 is one of its more average-sounding efforts. It's fine when handling relatively straightforward programming, but when asked to shift up a few gears for an action movie scene the mid-range starts to sound cramped and muddy. Also, while the set is quite good at picking out treble details, the higher end of a mix can sound a little thin and harsh at times – a situation not helped by the set being unable to deliver a convincing amount of bass.
Other things to consider
As well as the 48PFS6909's Smart TV features not delivering as much content, as much feature sophistication or as pretty an interface as those of some rival brands, they also ran a bit sluggishly during our tests.
Affordable but contrast-rich mid-sized TVs like the 48PFS6909 have great potential as gaming displays. So it's good to find this Philips set measuring just 33ms of input lag after we'd turned off all the picture processing. This means you should be able to game on the 48PFS6909 without it seriously damaging your performance.
Should I buy a Philips 48PFS6909?
At a time where good-quality mid-range HD TVs are frustratingly rare, you should definitely put the 48PFS6909 on your audition list. It really is a very strong HD picture performer for the money. Plus we remain firm fans of Philips' still-unique Ambilight technology.
If you're a heavy user of streamed video services, though, do bear in mind its lack of ITV Player, 4oD, Demand 5 and Amazon Prime Instant Video streaming support.
Verdict
More Smart TV services would have been appreciated and its audio isn't as effective as that of some other recent Philips sets. However, shifting away from IPS panels has allowed the 48PFS6909 to deliver a much more 'Philips-like' picture, full of contrast and sharpness, that combines with Ambilight to make the 48PFS6909 a strong mid-range contender.
Scores In Detail
2D Quality : 

9

/10

3D Quality : 

7

/10

Design : 

8

/10

Features : 

8

/10

Smart TV : 

6

/10

Sound Quality : 

7

/10

Value : 

8

/10
(trustedreviews.com)
Comments
comments