Pros
Really good 2D and 3D picture quality
Good value
Adaptable to dark or bright room situations
Cons
Colours occasionally look slightly unnatural out of the box
Slight squeak from the colour wheel
Built-in speaker is a let down
Key Features: Full HD DLP projector; 3D support; 3000 Lumens Brightness; 30000:1 contrast ratio; Optional wireless HDMI system
Manufacturer: Optoma
What is the Optoma HD36?
The HD36 is a Full HD home cinema projector that uses single-chip DLP technology. Available for under £750/$1,125 from some online retailers, the HD36's main attractions – aside from its unusual affordability for a dedicated home entertainment projector – are its extremely high claimed maximum brightness of 3000 ANSI Lumens, promising claimed contrast ratio of 30,000:1, and a built-in speaker system that apparently pumps out 30W.
Design and Features
The HD36 pulls off the impressive trick of managing to look simultaneously serious and fun. It's surprisingly beefy for such an affordable machine, possessing both more height and more depth than we'd typically expect – all promising signs of quality innards, efficient venting systems and, potentially, plenty of shielding to suppress running noise.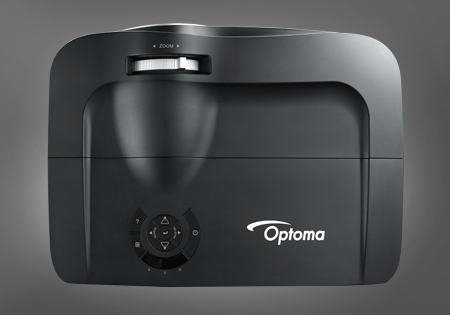 Also hitting the right note is the large size of the lens located to right of centre on the front edge. The circular housing for this actually stretches beyond the upper edge of the projector, creating a cute bulge in the projector's top that runs back for the whole length of the lens barrel.
The projector's black bodywork is nicely finished too, and both the top-panel buttons and optical zoom slider are large and easy to access. The only fiddly part of the design is the focus ring around the lens, which requires you to fit your fingers inside the cowling around the lens.
Connections are adequate, if a little odd. The odd bit comes from the way that instead of giving you two HDMIs as we'd normally expect, the HD36 gives you one HDMI and one DVI. This isn't a deal breaker, but it could mean that someone looking to install the HD36 permanently rather than just getting it out when they want to use it will need an HDMI adaptor for potential second sources.
Other key sockets include two VGA inputs with component video support, an S-Video input (remember those?!), a composite video input, a handy 12V trigger port, two USB ports – one for updating firmware, the other for powering USB devices and an unexpected variety of audio jacks including a mic socket!
It's unusual for a projector to cater so much for audio, but then the Optoma HD36's claimed 30W of built-in audio power is itself extremely unusual for a projector. We have a long-standing objection to speakers in projectors, built around the twin facts that a) any sounds they produce will inevitably appear far removed from the pictures they're supposed to be accompanying, and b) the speakers themselves tend to be garbage. But maybe the HD36's 30W will help it break the mould.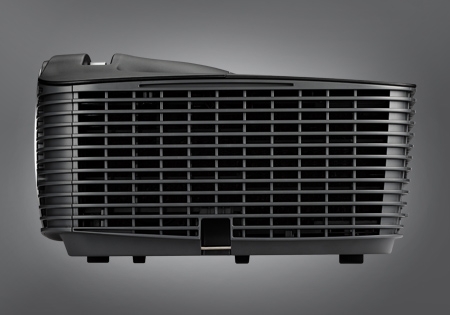 Its claimed maximum brightness of 3000 ANSI Lumens is extremely high, but more importantly this is joined by an also impressively high claimed contrast ratio of 30,000:1. It should be noted, though, that this 30,000:1 contrast claim is based on using the projector's Dynamic Black system; its native contrast is rated at a much more modest 2000:1.
The Optoma HD36 is capable of playing 3D (something DLP projectors tend to do well), though only if you splurge around £80/$120 more on a separate ZF2300 3D Starter Kit that gives you one pair of glasses and a small 3D transmitter.
There's one other potentially useful optional accessory: the £200/$300 WHD200 Wireless HDMI system. This lets you 'beam' full HD video from your sources to the projector without the need for the sort of long cable runs often associated with projector installations.
Setup
The HD36 is impressively straightforward to get up and running. For starters it offers a very respectable 1.5x amount of optical zoom, and its manual zoom and focus ring adjustments run smoothly and offer a decent amount of finesse. Even better, it offers optical vertical image shifting via an adjustor housed under a flap on the projector's top side. This is limited in the extent of movement it allows, but finding any optical vertical image shift at all on a sub-£800/$1,200 projector is a great result, meaning you may well not have to use image distorting keystone correction to get the edges of your picture straight.
Where picture calibration is concerned the Optoma HD36 again has plenty going on, including a noise reduction system, the Texas Instruments Brilliant Colour system for boosting colour saturations, and even a pretty fulsome colour management suite offering control over the hue, saturation and gain adjustments for the red, green, blue, cyan, magenta and yellow colour components.
The HD36 is more forgiving of set up than most Optoma projectors we've seen in recent times, but there are still a few recommendations we'd make. Firstly, if you're wanting to indulge in serious film viewing in a dark room set the Brightness level to one or, possibly, zero (don't worry; this won't result in total darkness as the brightness 'slider' goes into negative figures!). Contrast, too, achieves the best balance when set to around its one level, while the sharpness setting should be set between seven and ten to stop pictures becoming fizzy – especially if you're watching a grainy source. Colour temperature we set to 'Warm' while we preferred level 13 for colour saturation.
Noise reduction we left off for HD viewing (even though Optoma's system is actually impressively subtle), Dynamic Black we left on as it delivers more punch without leading to serious light instability, Gamma we set to 2.2 for movies (though it's a pity there's not also a 2.4 preset), and finally we set the BrilliantColor feature to seven. This is higher than we'd normally go with BrilliantColor, as it traditionally causes noise, but the HD36's image handling is good enough to support such a high setting without unpleasant side effects.
One final adjustment to regularly revisit is the lamp output. This is definitely best set to Eco for dark room movie viewing, but should always be kicked up to its Bright mode if there's ambient light around.
Picture Quality
We have to confess that when we first saw the 3000 Lumens brightness figure on the HD36's spec sheet alarm bells started ringing. Would the brightness destroy any hope of a decent cinematic contrast performance, as has happened with so many high brightness/low price projectors we've seen before?
Given that the HD36 uses a single-chip DLP system, we also expected the brightness to create issues with DLP's so-called 'rainbow effect', where you see distracting stripes of red, green and blue colour over bright objects or in your peripheral vision if you flit your eyes around the image.
As it turns out, though, the HD36 uses its light so intelligently that you get the positives of a bright light source with few of the potential downsides.
This can be seen most clearly when watching dark scenes. For starters, the overt grey 'wash' over dark pictures we've become accustomed to seeing with very bright but affordable projectors is surprisingly restrained on the HD36, even if you're watching in a completely blacked-out room. This is especially true of the Eco setting which still delivers ample brightness for a dark environment.
Thanks to the projector's innate brightness, though, sitting right alongside the impressive black level response are some strong, natural colours and, best of all, quantities of shadow detail and greyscale finesse that you'd generally have to spend way more than £800/$1,200 to see.
There's no overstating the beneficial impact seeing so much shadow detail has on picture quality, especially if you're a movie fan. It helps dark scenes look like they've got the same sort of depth of field as bright ones, and it means you're never distracted by the sort of hollow and/or glowing flatness to dark picture areas common with affordable projectors (and TVs, come to that). This makes for a more consistent and therefore immersive viewing experience ideally suited to home cinema.
It's important to stress, too, that while bright objects appear unusually strongly alongside dark areas, the dynamic range never feels stretched or forced – at least if you follow our earlier set up advice. Even better, the impressive dynamic range doesn't lead to an exaggeration of any noise or grain that might be in a source nor, mercifully, did we find ourselves distracted significantly by the rainbow effect. Even staring at notorious rainbow effect inducing sequences such as the opening title shot of Alien or the sequence in the final Harry Potter film where he tries to recover a Horcrux from a room full of magically-multiplying goblets reveals only the most subtle and rare instances of colour banding.
Rainbowing is even suppressed well if you're using the Bright lamp setting. A slight rise in video noise and reduced black level depth means personally we preferred the Eco lamp mode for dark room movie viewing, but it's a testament to the HD36's light management that fans of very punchy pictures could use the Bright lamp mode in a dark room without the picture being by any means ruined.
Yet more good news concerns the way the HD36 delivers really strong levels of sharpness with HD sources without over-egging the detail pudding. In other words, you get to see all the subtle texturing and image density that's HD's trademark without having to tolerate such issues as ringing around contrasty edges, over-emphasis of grain or obvious amounts of green dotting noise in dark areas of the sort DLP projection can sometimes create.
Colours, meanwhile, enjoy unusually high levels of pop for this level of the market. What's more, the projector is subtle enough with its colour rendering to deliver tricky blends and skin tones without them looking stripey or patchy. And, because the projector is so good at delivering good brightness without destroying black level response, colours in dark scenes avoid that flatness and reduced naturalism usually seen with affordable high-brightness projectors.
One final key strength of the Optoma HD36's pictures is the way they can also be adapted pretty handily to work in fairly bright room environments. This makes the projector as effective for a social afternoon watching the big match as it is for night-time movie sessions.
Our only significant complaints about the HD36's pictures are that camera pans can reveal a bit more judder than we'd like, while yellows and oranges can sometimes look rather dominant and strained – though the impact of this can be reduced via the fulsome colour management system.
3D Picture Quality
Getting 3D working was a royal faff. First we had to plug in the 3D transmitter. Then we had to head into the menus and turn the 3D Transmitter socket on. Then we had to make sure the 3D format option was set to VESA 3D. And finally, bizarrely, we had to turn the 3D Sync Inverter option on, as prior to this the whole depth effect of the 3D images felt reversed, causing an almost instant headache.
This isn't the first time we've had to use the 3D Sync Inverter option on an Optoma projector, even though we never have to use the same feature with any other brand of 3D device.
Once the initial issues were sorted out, though, the Optoma HD36 produced 3D pictures that were high contrast, unusually bright and really rich in colour, revelling in the advantage of having so much lamp brightness to play with.
Detail levels are high too, giving a full HD effect from 3D Blu-rays – it's great to see none of the bizarre red infusion you get with rival BenQ projectors when using them in 3D mode. Best of all there's practically no crosstalk ghosting noise to take the edge off the sharpness. Excellent.
Sound Quality
Sadly the HD36's integrated speakers didn't live up to the 30W promise. Even at fairly low volumes the sound appears rather boxy and artificial, and if you try to run it at the sort of volume levels best suited to cinema-scale picture quality all sorts of unwanted vibrations and distortions start to creep in. In short, we've heard 10W speaker set ups sound better, and you should only rely on its speakers for the most basic viewing moments.
Other things to consider
The Optoma HD36 ships with a nicely proportioned, brightly backlit remote control with a well-considered button lay out.
Also, as hoped, the HD36's large chassis helps it keep a lid on running noise. When using the Eco lamp setting you can scarcely hear the cooling fans at all, and they're still easily tolerable even with the Bright lamp setting.
There is an intermittent squeaking noise presumably caused by the colour wheel that can become irritating if you're sat close to the projector. But it's quiet enough not to interfere often if you've got the projector sat a typical distance in front of or behind you.
With its high brightness and affordable price tag the Optoma HD36 has obvious appeal as a big-screen gaming projector. So we're pleased to report we measured input lag at a very respectable 33ms with most of the image processing tools turned off. We wouldn't necessarily recommend the dedicated gaming preset though, as this makes images look too extreme for our tastes.
Should I buy an Optoma HD36?
If you're in the market for an affordable projector that's unusually adaptable to both bright and dark room conditions, the HD36 is a great option. If you're looking for a dedicated movie projector for a blacked-out room there are rival models from BenQ that deliver more authentic colours right of the box and cost slightly less. However, those models aren't as bright or as good with 3D as the HD36.
Verdict
Not just another data projector masquerading as a home cinema machine, with careful set up the Optoma HD36 can produce extremely satisfying images for movies and gaming that are unusually easy to adapt to both dark and light room conditions.
Scores In Detail
2D Image Quality : 

8

/10

3D Image Quality : 

9

/10

Design : 

8

/10

Features : 

8

/10

Value : 

9

/10
(trustedreviews.com)
Comments
comments