PROS
Good picture quality for games and films
Decent value for what it offers
Darbee processing works well without adding much gaming lag
CONS
Dynamic Black feature causes some obvious light instability
Pictures without using Dynamic Black lack black level
No vertical image shift or zoom
KEY FEATURES
Single-chip DLP projector
Full HD native resolution
Darbee processing engine
Game Enhance mode with low input lag
Powered USB
Manufacturer: Optoma
Review Price: £780.00/$1170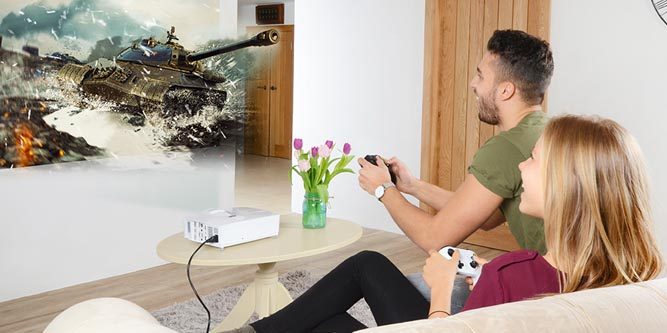 WHAT IS THE OPTOMA GT1080DARBEE?
Optoma's £780/$1170 GT1080Darbee is unique in the projector world for its combined focus on video-gaming and high-level video processing – two features that don't go together at all.
However, it really does make its unique combination work, and in doing so establishes itself as a seriously tempting home entertainment bargain.
DESIGN AND BUILD
While the GT1080Darbee is a relatively lightweight, small and plasticky projector compared with some of the upmarket models I've tested in recent months, it still manages to look attractive with its white finish, polished top edge and artfully domed lens cowling. Even its cooling vents are kind of stylish – and, happily, don't allow much light leakage.
This latter is particularly important given that the GT1080Darbee sports a short-throw lens, meaning it will almost certainly be sat in your line of vision when watching a film or playing a game.
The remote control shipped with the GT1080Darbee is a decent effort. It's made of lightweight plastic, but it fits comfortably in your hand, is brightly backlit to aid use in a darkened room, and features large, tactile, reasonably well-organised buttons.
SETUP
Unfortunately, the GT1080Darbee lacks optical zoom or optical image-shifting capabilities. This means you can adjust the size of the image only by moving the projector's position relative to your screen. Also, you'll likely have to use the built-in keystone correction system to get the left and right edges of your image perpendicular.
Using keystone correction is an issue, since it essentially means you're having to distort the image's geometry, rather than enjoying absolute pixel-for-pixel accuracy in the mapping of an HD source to the GT1080Darbee's Full HD native resolution.
The only physical setup aids are a focus slider accessed via the projector's top panel, and screw-down legs under each corner of the device to adjust the image's angle so that it appears in the right place on your screen.
The GT1080Darbee ships with a number of picture presets. Of these, the Cinema option is best avoided; bizarrely, it leaves black levels looking horribly washed out. The Vivid mode should only be used if viewing the projector in a fairly bright room.
The two best presets for dark room conditions are the Game and Reference settings. These offer the most useful balance for gaming and movie viewing respectively between black level response, brightness and colour saturation.
However, be sure to leave the Dynamic Black mode on with these two settings; otherwise, the image loses detail in dark areas. I'd also recommend adding a single step of brightness to the Reference preset, to boost shadow detail.
Impressively for its price, the GT1080Darbee carries enough colour management and gamma options to support professional calibration by an Imaging Science Foundation (ISF) engineer – if you want to pay one for the privilege. In many ways, though, this projector performs pretty well right out of the box, especially when it comes to the Gamma settings, which I'd recommend leaving on their defaults for both video and game-viewing.
Turning finally to the Darbee modes, I recommend the Hi-Def setting set to about 55% of its maximum strength for films, and the Gaming setting at about 40% strength for games.
The Full Pop mode is best avoided for reasons discussed in the Performance section.
FEATURES
The GT1080Darbee's name tips us off to two of its key features: a native 1080p resolution, and the option to activate the acclaimed – and now exclusive to Optoma projectors – Virtual Presence processing from video specialist Darbee.
According to Optoma's marketing blurb, the Darbee processing 'uses neuro-biologic algorithms to enhance detail and depth in skin tones, textures and relative surfaces'. In plain English this means it sharpens pictures and boosts their contrast range.
The GT1080Darbee's other big claim to fame is its potential for giving gamers a performance edge thanks to a specially designed Enhanced Game Mode setting. This boosts contrast and colour, and delivers an exceptionally low input lag measurement – the time a device takes to render its pictures – of just 16ms.
Optoma's new projector has some other impressive figures up its sleeve, too. Peak brightness is reckoned to be an unusually high 3000 lumens, while its contrast ratio is again a promising 28,000:1. Many potential buyers will also be attracted by its extremely short-throw lens, which can deliver a 100-inch image from a throw distance of just over a metre.
The GT1080Darbee continues to impress with its connections. For instance, one of its two HDMIs supports MHL connectivity, which makes it easy to wirelessly share content from MHL devices such as the optional Optoma HDCast Pro system, a Roku streaming stick, tablets and smartphones.
There's also a 12V trigger output that can be used for, say, firing up an external motorised screen; a powered USB port to power an HDMI dongle (such as a Google Chromecast); a port for adding an optional extra 3D sync transmitter; and an audio output.
While this audio output can be used for pushing sound out to an external audio system, the GT1080Darbee does have a built-in 16W speaker.
Other notable features include a Dynamic Black system that continually adjusts the lamp output depending on the assessed needs of the image being shown.
PERFORMANCE
Provided you stick with the Reference and Gaming picture presets, the GT1080Darbee is a remarkably strong performer for its money.
Particularly surprising is its black level performance. With the Dynamic Black feature active, pictures enjoy much deeper, more natural-looking dark scenes than you'd normally expect to see from an £800/$1200 projector.
The default picture settings can cause dark areas to look a little devoid of detail, but just nudging up the brightness a little reveals more shadow detailing and subtle dark colour information than you usually get with budget projectors.
The GT1080Darbee's strong black level performance also helps it deliver not only a more natural colour palette than many of its rivals, but also a more flexible one that adapts subtly but effectively to the slightly different needs of gaming graphics and video.
For instance, the Game preset ups the colour saturation a little, while the Reference preset appropriately focuses more on subtle toning and balance. This means the GT1080Darbee can be considered more than just a gaming projector.
More good news comes by way of the sharpness of the GT1080Darbee's HD pictures. Even without using the Darbee processing, it delivers some of the most detailed and clean-looking HD pictures I've seen from a sub-£1,000/$1500 projector – and, fortunately, this clarity isn't affected if you have to apply keystone adjustment to the image.
There's a touch more judder during camera pans than I'd ideally like to see, but there's no blurring and also none of the fizzing noise over skin tones during camera pans that was once a serious issue for single-chip DLP projectors.
The GT1080Darbee also suffers only relatively little with two other common single-chip DLP issues: dotting noise in dark areas, and the 'rainbow effect' where stripes of red, green and blue flit over stand-out bright image elements.
I'm not saying that either of these issues has been completely vanquished; if you're susceptible to seeing the rainbow effect, you'll see it on occasion here. But for most viewers its appearance won't be frequent or obvious enough to constitute a serious distraction.
The strengths I've pointed out so far all apply to the GT1080Darbee's standard pictures, with its key Darbee video processing engine turned off. Clearly, if you're going to choose this projector over Optoma's standard GT1080e, though, you'll likely want to use the Darbee engine. So it's just as well that it delivers startlingly good results with two of its three settings.
The one you'll want to stick with for film and TV viewing is Hi-Def. This does a remarkable job of making the image look sharper and more detailed, despite the fact that it's working with exactly the same number of pixels that the projector's non-Darbee images are using. Edges look less jagged, and the various improvements are achieved without causing common sharpness-enhancement issues such as exaggerated source noise or ringing effects around fine lines.
The Hi-Def mode also gently improves contrast – seemingly more with a focus on improving the delineation of colour shades and shadow detailing than trying to make the image dramatically more dynamic.
The Gaming Darbee setting cleverly ups the contrast expansion and perceived sharpness at the expense of a reduction in colour tone subtlety – a combination that's pretty much ideal for game graphics.
However, the Gaming Darbee preset can cause some distracting horizontal 'peaks' to erupt out from the edges of objects in high-contrast images when using its default values. Hence my suggestion earlier that you reduce the 'power' of the Gaming Darbee mode to around 40%.
The only really negative note in the Darbee engine is the Full Pop mode. This pushes the contrast so far that it starts to make the picture look unnatural. It can cause detail crushing in dark areas, and is excessively prone to the strange horizontal peaking issue noted with the Gaming mode's default setting.
It's important to stress, too, that the Darbee Gaming mode increases input lag to around 33ms from the sub-20ms I measured when using the Enhanced Game setting without Darbee in play. I suspect, though, that an extra 13ms of delay will seem like a pretty fair price to pay to all but the most competitive of gamers for the picture lift the Darbee engine provides.
The GT1080Darbee's only really significant picture flaw is some occasionally distracting brightness 'jumps' when you're using the Dynamic Black feature. In Harry Potter And The Deathly Hallows Part II, as the camera tracks slowly in towards Harry as he stands in the doorway of Ollivander's room, for instance, the Dynamic Black machinations cause at least four quite distinct brightness shifts in the image.
You can, of course, get round this by turning the Dynamic Black feature off. In reality, though, this isn't truly an option, since deactivating Dynamic Black grossly reduces the projector's black level performance.
If you're thinking of relying on the GT1080Darbee's built-in sound system, you might want to think again – at least if the projector is going into a room of any size.
Even at maximum volume it remains rather quiet, and the sound isn't thrown any distance from the projector's body. This means its audio is acutely detached from the on-screen action it's meant to be accompanying.
There's hardly any bass to speak of either, which can leave the audio sounding thin and tinny during action scenes. The best that can be said of its audio, really, is that it does a decent job of always ensuring dialogue is clear. It's also a relief, given how quiet its sound is, that the GT1080Darbee's cooling fan noise is fairly restrained.
SHOULD I BUY AN OPTOMA GT1080DARBEE?
With its gaming-friendly focus and Darbee processing, the GT1080Darbee is a pretty unique proposition for its price. And since both of its core attractions prove to be anything but a gimmick, it really does look like a bargain.
If you want to save £120/$180 or so then you could consider the BenQ W1110 instead – especially since this actually delivers an input lag figure even lower than that of the GT1080Darbee. Its pictures aren't as sharp or contrast-rich as those of the GT1080Darbee, though – especially once you've engaged the Optoma's Darbee processing.
VERDICT
The Optoma GT1080Darbee is a great projector, combining strong gaming and movie credentials for what is, under the circumstances, a very attractive price.
(trustedreviews.com, https://goo.gl/rdTeMH)
Comments
comments