The Good: The Onkyo TX-NR575 offers excellent design, solid build quality and superb usability. It includes a wealth of usable features including Dolby Atmos, Chromecast multiroom, Play-Fi and 4K HDR throughput. Sound quality is detailed and nuanced particularly for movies.
The Bad: For the same price, the Sony STR-DN1080 offers better sound.
The Bottom Line: The midpriced Onkyo TX-NR575 receiver is sounds good and comes fully loaded with Dolby Atmos and Chromecast built in, but it's not our first choice.
It's 2017, and despite the mainstream popularity of sound bars there are still people who prefer the flexibility and power of a real AV receiver. While the mechanics of your basic receiver has never really changed — they still switch inputs and drive large sets of speakers — they now boast more features than ever before.
The Onkyo TX-NR575 is a classic example of a modern receiver. It's a competent sonic performer, boasts an almost overwhelming number of gizmos, and is reasonably priced. Given that most receivers including the Onkyo sound similar to one another — voiced to sound good with movies and not terrible with music — it's arguable then that it is the features that will sell this receiver. And there's few models that will match the TX-NR575 this year or even next in that regard: Dolby Atmos, Chromecast built-in, 4K HDR, it's got the lot.
At its price, the Onkyo would be the go-to product if not for the Sony STR-DN1080 ($498.00 at Amazon Marketplace), which boasts even better sound quality and in terms of features only misses out on the other streaming system: DTS Play-Fi. But unless you have Play-Fi speakers already it's hardly an essential feature. In Australia, the Onkyo is clearly cheaper and makes the decision easier, but if you're paying the same money for either, the Sony is the better choice.
The Onkyo TX-NR575 is available for $549, £500 or AU$1,199.
Right from the source
Here's a question CNET doesn't often put to its readers: how do you feel about brutalist architecture? If you answered "I love it," then do we have the receiver for you! Seemingly sculpted by the designers of communist mausoleums, Onkyo's receivers have long embodied a minimalist, imposing look. And we love it, too.
This latest model retains one of our favorite design perks of Onkyo receivers — dedicated source buttons — and it arranges them across the front of the unit. The LED readout above it is a familiar Onkyo green and very readable from a distance.
Unlike some competitors, Onkyo has included a full-HD onscreen menu on its receiver, and it's relatively easy to use. Setting up speakers is easy with the helpful onscreen guide, for example, and most functions are easily accessible.
The remote control is Onkyo's familiar bee-colored clicker, and based on previous experiences we have no complaints about ergonomics or usability.
Bells and whistles
The TX-NR575 is an 7 x 80-watt-per-channel receiver that offers an extensive list of supported standards, including the prominent Dolby Atmos and DTS:X formats. It offers a dedicated powered Zone 2 out if you're looking to setup another room with a set of speakers.
The receiver includes a bevy of streaming protocols including Chromecast built-in, DTS Play-Fi, Spotify Connect, AirPlay and Bluetooth. Also included is the forthcoming FireConnect system if you want yet another option. Which music streaming protocol is best? We're really excited about Chromecast ($46.99 at Newegg.com) because the cost of entry is super affordable (from $35 for the Chromecast Audio ($35.00 at Dell Home)) and if you want to incorporate a voice assistant the Google Home ($109.00 at Crutchfield) ($129) is also relatively cheap and seamless. Meanwhile Play-Fi is offered on more products but it requires the use of a specific app that is one of the least user friendly multiroom controls out there. And BlackFire FireConnect? We'll wait till it's introduced to weigh in, but we're not holding our breath.
Compared to Yamaha, which only includes three HDMI inputs on the rear, the Onkyo includes a healthy six at the back. They will offer pass-through of the latest 4K standards, including HDR10 and Dolby Vision (later in the year).
Other connections include pairs of component and composite video inputs, six analog audio inputs, a phono preamp, three digital audio inputs (two optical and one coaxial) and a USB port.
Setting it up
For this review we used the Onkyo TX-NR575 with our reference budget speaker setup: a pair of ELAC Debut B6 ($279.99 at Amazon.com) bookshelf speakers in the front-left and -right positions, an ELAC Debut C5 center-channel speaker, ELAC Debut B5s as surround speakers and a Klipsch R-110SW subwoofer. For bass management all the speakers were set to "Small," with 80 Hz crossover settings, and the system sounded great without a lot of fiddling. Onscreen menus were easy to navigate and use.
How it sounds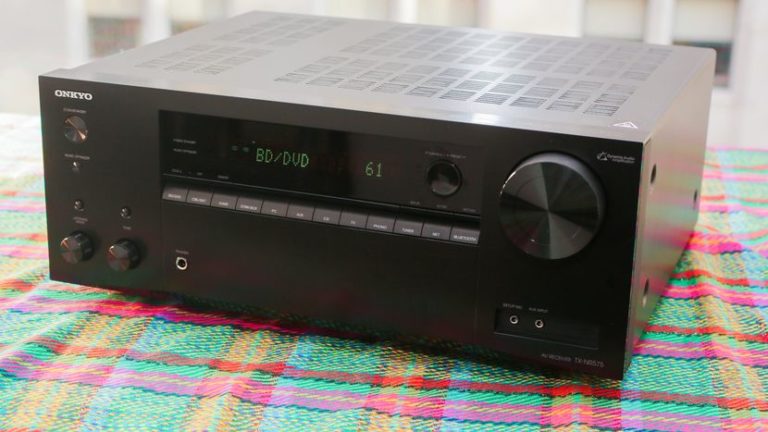 The TX-NR575 demonstrated its competence in the scene in the space drama "Gravity" when Dr. Ryan Stone (Sandra Bullock) pilots a fiery reentry vehicle as it  hits the atmosphere, then slows enough to deploy a parachute, and finally splashes into the ocean. When she opens the hatch, water rushes in threatening to drown her. She fights the torrents of water and escapes, and swims to the shore. All of that is a highly dynamic, visceral experience when played over a top-notch home theater system like this, and the TX-NR575 pulled it off without sounding like it was working hard.
We next turned to "The Revenant," a film we've used in many AV receiver reviews previously, but this time we focused on the film's astonishing music score by Ryuichi Sakamoto. The lush orchestration and somber synthesizer textures filled the CNET listening room. Switching over to the Sony STR-DN1080 receiver the sound took on a weightier tone, so the ELAC system seemed like bigger speakers. At first we thought the STR-DN1080's bass management or subwoofer settings were different than what we had on the TX-NR575, but the two receivers' settings were both correctly set. The STR-DN1080's sound also seemed to fill the room more completely.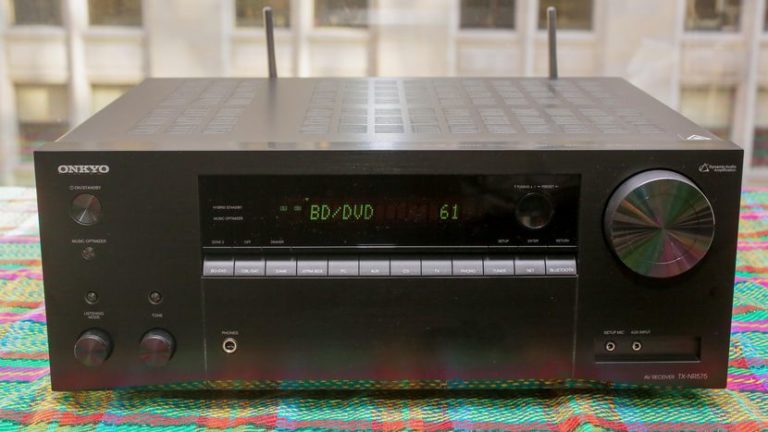 Next, "The Zero Theorem" is a dystopian future film where the main character, Qohen (Christoph Waltz), is tasked to find the meaning of life. The film features scenes set in Qohen's zany house filled with electronics and computers buzzing and beeping as birds flutter about and water drips from everywhere. All these noises had more detail and shading through the TX-NR575 receiver, though it was leaner but clearer than the STR-DN1080. Some listeners might find the STR-DN1080 a little too mellow for their tastes and prefer the TX-NT575. Matched with brighter speakers like the Focal Sib Evo, the STR-DN1080 would likely be a better match.
We followed with "Satie, E: Pieces," a terrific recording of Erik Satie solo piano works played by Patrick Cohen. We listened to the Onkyo in stereo, and the piano sounded wonderfully delicate with this music, the subtle shading of each note was exquisite.
While we wait for Play-Fi support to arrive at the end of September 2017, we tried the two other main protocols: Chromecast and Fireconnect. Chromecast worked as effortlessly with the Onkyo as we'd seen before, whether we used it with Tidal or the DSAudio app. Click the "Cast" button and it transfers to the receiver after a few seconds. One unusual problem we experienced was that the receiver would only play in "AllChStereo" when Casting — no Direct or Stereo mode was available — and this was very disappointing. Likewise, while FireConnect works on paper, selecting it from the smartphone app does nothing.  We have reached out to Onkyo for clarification on this.
(cnet.com, https://goo.gl/EYTKn5)
Comments
comments