There's a new Dot in town – here are our first impressions of Amazon's new third-generation Echo Dot revealed at today's launch event at the company's headquarters in Seattle.
The Echo Dot has long been one of our favourite pieces of tech because it's so simple and inexpensive and the new device continues at the £49.99/$49.99 price point. And you've been able to use a Dot to transform any hi-fi system or Bluetooth speaker with auxiliary input into a fully-featured Echo device.
When we heard there might be a new Echo Dot revealed we were a little worried because we felt that a new device – with extra features – might be detrimental to the simple experience that the Echo Dot offers (and that there might be a price hike, too). However, we needn't have worried – it's still as simple, but it is slightly larger than the old Echo Dot as you can see here: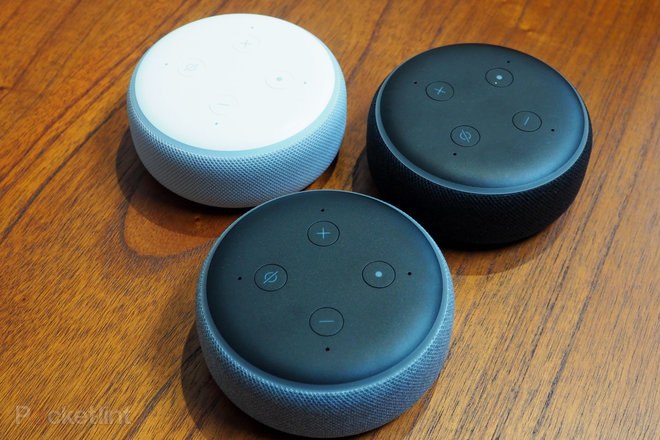 Design
99 x 99 x 43mm, 300g
Material covering
Available in three finishes
As you can see, this new model has a new design to match the other Echo devices launched since last year – everything is fabric now including the new Echo Plus and the Dot certainly looks better for its redesign. The Echo Dot still has the same controls on top (note that the microphone mute button has changed design). And there are still the same two ports on the rear – power and a 3.5mm headphone jack.
The charging cable has changed, though; it's no longer a micro USB cable. That's a bit of a shame in our book as it was possible to power the older Echo Dot from the USB port on the back of a speaker – although it wasn't recommended, you didn't need to use the plug.
As you can see, the new Dot is available in three colours known as charcoal, heather grey and sandstone.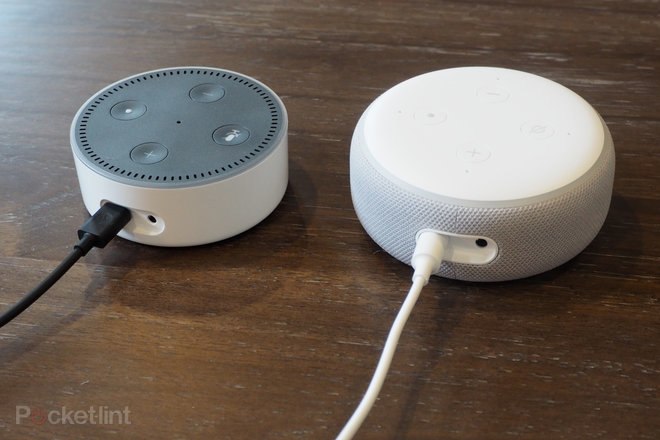 Audio and microphones
1.6-inch speaker
Able to stereo pair
Four far-field microphones
The main enhancement to this Echo Dot is a new 1.6-inch speaker that effectively makes the Dot into a fully featured Alexa device; it's no longer a device that usually used with a better, secondary speaker. The speaker is a lot better, but you won't want to use it for music a great deal. It's just not got enough power.
That shouldn't be a surprise given the price and the other Echo options available. However, it's a lot better than its predecessor for use with Alexa and that's really where you'll get the benefit of the improvement.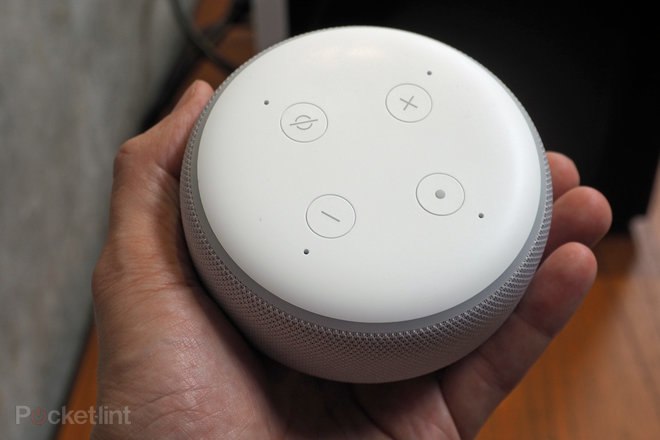 As before you're able to connect to another Bluetooth speaker should you choose to go down that route. Stereo pairing is new to Echo and you can pair two Echo Dots together using the Alexa app. We saw the stereo pairing demonstrated and while it's cool, if you're pairing two Dots rather than buying a better speaker in the first place then you're doing it wrong.
The microphone arrangement has changed this time, four far-field microphones instead of the seven mics previously. This should mean that the Dot can hear you from across the room – which the old model certainly can't.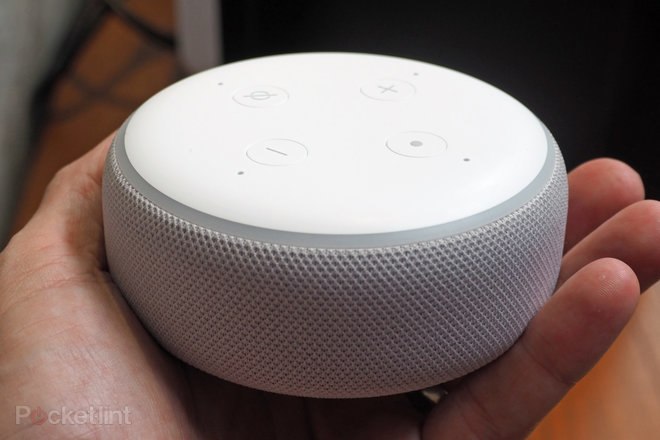 Verdict
Completely redesigned, the new Echo Dot is a super little puck that's an upgrade on its predecessor. The louder speaker is a welcome addition and the new design is certainly a lot more pleasant on the eye.
But the launch of the Echo Input raises some questions about the Dot – if you want to add Alexa to a hi-fi or Bluetooth speaker with the auxiliary input you're probably better off with the cheaper device. By adding a decent speaker to the Dot, Amazon has made it into a full Echo device and in launching the Input has repositioned it in its device lineup, too.
(pocket-lint.com, https://goo.gl/cJ2W67)
Comments
comments