Pros
Gorgeous build quality and customisable design
Exceptional video processing
Good sound quality
Cons
Backlight clouding suring dark scenes
Very limited video streaming support, with no Netflix or Amazon 4K streaming
Can get a Samsung HDR TV for nearly the same money
Key Features: 55-inch LCD TV with edge LED lighting; Native UHD resolution; Online smart TV features; Multimedia playback via USB or DLNA streaming; Customisable Design
Manufacturer: Loewe
What is the Loewe Connect 55?
After extensive restructuring under the watchful gaze of new owners, German AV brand Loewe is finally rolling out some typically extravagant new TVs. Here we're looking at the mid-range, 55-inch Connect 55 – the company's first 4K UHD model, and one which still seems to epitomise Loewe's unique way of doing things while simultaneously showing signs of a leaner, more commercially aware brand.
Design and Features
Despite the fact that it's the product of a new regime, the latest Connect 55 – Loewe has kept more or less the same product range names for multiple TV generations now – looks every inch a Loewe TV. For starters there's the trademark large, metal-framed circular remote control receiver and LED display protruding strikingly from the TV's bottom edge. The way the screen carries an integrated speaker bar along its bottom edge is also reminiscent of Loewe TVs of the past, as is the cute addition of a little "Connect" tag on the TV's upper right edge.
You only have to try lifting the Connect 55 out of its box to realise how spectacularly well built it is too, and most strikingly of all it supports a degree of design customisation. The main TV housing can be bought in any of three core colour combinations: black frame with black frame detail and black speaker section; black frame with silver frame detail and silver speaker section; and black frame with cappuccino frame detail and cappuccino speaker section.
Additionally you can buy a colour kit that converts the speaker section and frame detail areas into a gorgeous Petrol Blue. Kits are also available for switching between the core design colour schemes if you wake up one morning and fancy a change of TV scene.
There's plenty of choice, too, over how you mount your Connect 55. The screen we tested was perched atop a heavy, shiny cross-shaped desktop stand, which the TV can be manually rotated around on, but there's also a series of other options comprising static and flexible wall mounts, a floor-standing option on a pole attached to a circular aluminium base, a variant on the floor stand that includes a shelf, a striking free-standing "screen lift" floor-to-ceiling brushed aluminium pole the TV hangs on, a variant of the Screen Lift option that attaches to the wall, and a striking furniture "Rack" available in sizes and colours to match the Connect TVs. Phew.
Overall, despite all these options, there isn't quite as much design choice as you've had with some previous Loewe TVs – particularly the Individual series. But the new Connect still gives you far more aesthetic flexibility than you get with almost any other TV brand without pushing the price into the realms of the ridiculous. At £2,800/$4,200 the Connect 55 is much less "out there" in pricing terms than many of its predecessors.
The Connect 55 carries an onboard 5.1 audio decoder, so that it can easily be partnered with external speaker systems. You're not restricted to Loewe gear in this regard, though Loewe does of course recommend two subwoofer options – the Sub 200 and Sub 525 – as well as its Stand or Satellite speakers as ideal accompaniments for its new TVs.
The Connect 55's connections are housed under two detachable flaps on the TV's rear side, and are decently numerous. Highlights include four HDMIs (with support for the 4K at 60Hz-friendly 2.0 specification), USBs able to play video, photo or music multimedia from USB storage devices, and the now inevitable LAN and integrated Wi-Fi options. Well, it wouldn't be a very connected Connect if it didn't have those, would it?
The network options let you stream media from DLNA-enabled devices in your household, or connect the TV to the web – at least, Loewe's walled garden part of it. At first glance this garden seems decently well populated; we counted a grand total of 96 available apps across music, radio, video, photo, information and gaming genres.
Closer inspection, though, reveals that the vast majority of these apps are of niche interest to say the least. There's no sign of any of the UK's key catch-up TV services – not even the usually ubiquitous BBC iPlayer – and nor are there apps for Netflix or Amazon Instant Video. Not even normal HD versions, never mind UHD-capable versions.
These are serious omissions from any TV in 2015, especially when there remains precious little native 4K UHD content around outside of Amazon and Netflix with which you might fully unlock the Connect 55's 3840×2160 resolution.
To be fair, it's clearly difficult for a relatively niche brand like Loewe to compete with the big boys in terms of negotiating, paying for and verifying apps. But that doesn't alter the fact that there are plenty of other TVs out there that do offer lots more useful video streaming apps – including UHD ones.
Loewe argues that most people use external devices for on-demand TV viewing – games consoles, computers, Apple TV boxes, Sky receivers and so on. However, while there's undoubtedly some truth to this where HD video services are concerned, there are currently no external streaming devices in the UK that offer native UHD 4K support.
The Connect 55 fairs rather better in Smart TV terms with its offline features. Hit the Home key on the beautifully weighty remote control and you see a screen full of icon-based links to individual TV channels, favourite apps and potentially your own external content sources if you've got any connected.
The order these icons appear is completely customisable, and impressively each member of your household can set up their own home page, with their own customised set of links. One particularly handy trick made possible by the way the system treats TV channels as apps is the ability to shift the HD channels usually buried way down the Freeview HD channel list up to the top of the home page.
The Home screen also provides clear links to filtered menus for TV, video, music, etc, on the left-hand side, and a Settings link taking you to the setup menus – though you can also access these via a dedicated Menu button on the remote. Loewe is also to be commended for the way each filtered menu provides additional access to other useful, related features. For instance, the electronic programme guide and timer lists appear as icon links to the right of the main TV content links.
It was great, too, to find we could stream video from the TV's tuner to Android and iOS devices, and vice versa, via a Smart tv2Move app. Especially as the Connect 55's twin tuner means you could watch one channel on your portable device and another on the TV.
The new Loewe smart system works smoothly and reasonably quickly, leaving as our only complaints about it the fact that it takes over the whole screen rather than being overlaid over the TV picture, that it's rather inefficient with its use of the available screen real estate, and that it suffered one or two software bugs during our test period.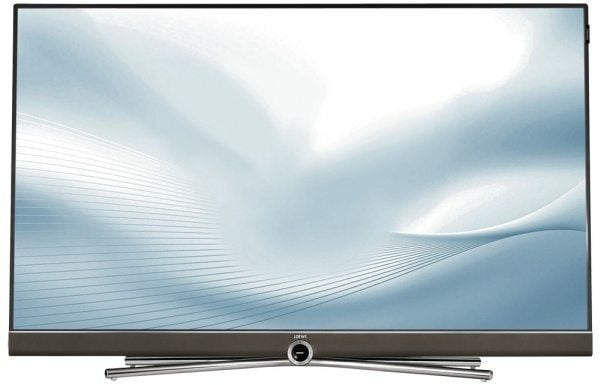 One of the most attractive features of the Connect 55 we haven't covered yet is its built-in DR digital video recorder. This records direct from the Freeview HD tuner, so the recording quality is essentially perfect and since the built-in HDD weighs in at 1TB you can store tons of recordings. Loewe's Smart Assist app means you can set DR recordings remotely from your smartphone too, and you can stream content from the hard drive on one Loewe TV to the screen of another Loewe TV if you're lucky enough to be in a position to install a multi-room Loewe system. There's even support for archiving recordings to USB, where copyright permits it.
Such in-built recording is a really great feature to find on any TV – especially as it integrates so intelligently with the electronic programme guide and uses such a helpful interface to help you manage your recordings. It's worth adding, too, that the DR system supports a recommendation engine of sorts, whereby if you select a show to record the TV will scan the listings for other "recommended" shows based on what you're recording and record them automatically if you so desire.
Turning to the Connect 55's picture technologies, it's an edge LED affair featuring local dimming for better light control, a 200Hz engine backed up by "Film Quality Improvement" (motion interpolation) processing and Loewe's proprietary Image system for managing everything from contrast and sharpness through to colour and video noise. Loewe only lets you turn Image on or off rather than giving you more detailed control over its various elements, so hopefully it will prove clever enough to manage without our help!
On a similar note, the Connect 55 provides a dynamic contrast system but again only lets you turn it on or off rather than providing any fine tuning. There's no colour management option either – unless you access the TV's service menus – which may not win the Connect 55 many fans with the serious calibration community.
The Connect 55 is, finally, capable of playing 3D. Though the TV doesn't ship with any 3D glasses included, and we didn't have access to any for this review.
Setup
The Connect 55 is reasonably straightforward to set up thanks to menus which are much more straightforward to navigate than the "bunched-up" efforts of Loewe's previous TVs. There are decent onscreen explanations for each feature you've got highlighted too. The menu structure doesn't feel wholly logical in places, and as suggested earlier it would be nice to have a few more calibration options, but at least Loewe is moving in the right direction. And actually, as we'll see in the picture quality section, its automated picture systems are cleverer than most. Up to a point…
For reasons we'll get to in the next section, you need to be pretty specific with how you set the Connect 55 up if you want to get the best from it. Particularly critical is that you make sure both of the Adaptive Contrast features are set to on (which they are using the TV's default settings). One of these adaptive contrast features bases its work on the image content, while the other adjusts picture settings based on the amount of ambient light detected in your room.
Normally we would suggest you turn the latter feature off; indeed, Loewe itself recommended that we turn it off for our tests. But we found that during dark room viewing at least, it really does need to be on.
You should turn off all noise reduction for HD and especially native UHD content viewing, and we'd recommend that you set the Film Quality Improvement mode to Soft. This is an unfortunate setting name as it makes you think it will result in pictures that lack detail, but actually it just means it's a relatively gentle setting less prone to throwing up unwanted processing side effects.
On balance we'd also suggest you set Loewe's Image system to On, especially, again, during dark-room viewing, since it tends to make the picture darker and thus less prone to backlight clouding. It can, though, make images start to look a bit unnatural if they contain a lot of source noise, so don't be afraid to turn it off with relatively poor sources.
Picture Quality
The Connect 55's pictures are a mixture of the outstanding and the slightly disappointing.
Starting with the outstanding stuff, pictures look gorgeously detailed. Native UHD images sparkle with their detail, texture and precision – especially as this precision is delivered without leaving the image looking in any way processed or unrealistic so long as you're careful with the motion and NR processing settings.
Impressively the sharpness and sense of detail is retained remarkably well with upscaled HD content. The Connect 55's knack for adding millions more pixels to HD pictures to make them UHD without exaggerating source noise or making the picture look digitised or artificial is mesmerisingly good – up there with the best we've seen so far from Samsung and Sony 4K UHD TVs.
Also worthy of a seat at the top table of picture quality is Loewe's latest motion processing. With most TVs we turn this sort of processing off as it can cause processing artefacts and make the picture look unnatural. But the Connect's Film setting at its Soft level does neither. There's no haloing around moving objects, no flickering over areas of really fast motion, no stutters… really hardly any trace at all that you've got motion processing on. Aside from the fact that moving objects look beautifully free of judder and blur.
The Connect 55 continues to impress with its colour handling. Skin tones look believable and infinitely subtle, even, again, when watching upscaled footage, and you never get a sense that tones have slipped off key, even during dark scenes.
Dark scenes often benefit from a decent contrast performance too – though sometimes if a shot is really dark or contains a really strong mix of light and dark elements, it also reveals a couple of weaknesses.
First, while black level response is good by LCD standards, it's not truly outstanding. Sony and Samsung in particular have both achieved deeper black levels from their relatively high-end TVs.
Our main concern, though, is the screen's backlight uniformity. If you're watching in a dark room without both the 'OPC' ambient light and picture content-related automatic contrast adjustment features on, dark scenes appear behind seriously distracting areas of backlight clouding/extra greyness. These grey patches aren't restricted to the image's corners as we sometimes see with edge LED TVs either. They can appear almost in the centre of the picture too, where they obviously become very distracting.
Mercifully the TV's two automatic contrast adjustments substantially reduce the clouding's impact, so that it only affects the darkest shots or shots that contain a particularly tricky mix of dark and light elements. However, even though this combination of automatic contrast features proves more intelligent than most, it doesn't reduce the clouding issue to the same extent that the best LCD TVs can.
The set's contrast setting is considered by Loewe to act as a virtual backlight adjustment, but while again it was possible to marginally improve things by reducing the contrast setting, nothing we did gave a completely satisfying balance between brightness, backlight uniformity and black level response.
It's worth adding that the best setting balance we managed for the Connect 55 has to remove substantial amounts of brightness from the picture – as highlighted by our recent experience with Samsung's high dynamic range TVs. But at least the Connect 55's post calibration lack of brightness doesn't damage colour tones. Also, while the level of light reduction required to deliver dark scenes in a dark room environment can crush out a little shadow detail, this isn't severe enough to leave pictures looking hollow.
In a bright room the Connect 55 fares much better, as the backlight clouding issue almost disappears, leaving you free to enjoy all the good things we discussed earlier. If you're a serious film fan prone to blacking out your room for a serious film-viewing session, though, there will undoubtedly be times where you see and feel irritated by the TV's clouding issues.
One other issue that affects the Connect 55's reproduction of dark scenes is that its screen is quite reflective of objects in your room – though of course, if you're watching in a dark room, there likely won't be any reflections for the screen to pick up!
Despite its flaws the Connect 55's pictures overall deserve to finish on a high note. So let's wrap up by saying that there are times when Loewe's superb image processing delivers an almost painterly beauty to UHD and even HD images, while the backlight issues we've discussed only affect very dark content in very dark environments – in other words, a relatively small portion of your viewing time.
Sound Quality
The Connect 55's sonics are a comfortable cut above those of the vast majority of flat TVs.
The soundstage it produces is exceptionally large, spreading far beyond the physical boundaries of the TV and enjoying an outstanding dynamic range by TV standards. Rich, smooth and powerful trebles are balanced by punchy, reasonably deep bass rumbles. The wide dynamic range also gives the mid-range plenty of room to play with, ensuring that voices are always clear, natural and well-rounded.
The only problem is the intrusion of a bit of crackly distortion at high volumes during very dense sound mixes.
Other things to consider
The remote control Loewe supplies with the Connect 55 is as beautifully built and weighty as the TV. However, its button layout isn't especially helpful; it feels like something designed for a pre-smart TV age in terms in the way it fails to give any real size or location emphasis to the most useful buttons.
Gamers need to treat the Connect 55 with a degree of caution. For even with its Game mode (found in the Connections menu) activated and as much picture processing as we could find turned off, we still couldn't get the TV's input lag to drop below 60ms. This is around twice as high a figure as we'd like to see, and could affect your scores in reaction-based games.
Please note, too, that if you forget to activate the Game preset for your console/PC input, input lag balloons to a frankly terrifyingly high 400ms.
Should I buy a Loewe Connect 55?
It's great to have Loewe active in the UK TV market again – especially as so many less imaginative brands have bowed out in recent years.
If you're a fan of excellent build quality, superior image processing, good sound quality and you like the idea of your next TV boasting a built-in hard disk video recorder and a customisable design, there's really nothing that fits the bill as well as the Connect 55. What's more, it delivers all these attractions for a fairly reasonable price by Loewe's premium standards.
On the other hand, if your motivations for upgrading your TV are more about the absolute best picture quality and having lots of built-in video streaming services – including Netflix and Amazon's UHD streams – then you can get the Sony 55X9005B these days for just £1900/$2,850 and the high dynamic range-capable Samsung UE55JS9000 for around £3100/$4,650. Though of course, neither of these rival TVs features a built-in PVR.
Verdict
The Connect 55 isn't a perfect picture performer, and its lack of key streamed video services is pretty painful. It does, though, enjoy some of the best video processing we've seen, it's integrated digital video recorder is a boon, and it still delivers Loewe's trademark premium customisable design and impressive sound – despite being markedly less expensive than previous Loewe TVs would have led us to expect.
Scores In Detail
Design : 

9

/10

Image Quality : 

8

/10

Smart TV : 

5

/10

Sound Quality : 

9

/10

Value : 

8

/10
(trustedreviews.com)
Comments
comments