THE GOOD: With support for both Dolby Vision and HDR10 formats, the UH8500 can access more high dynamic range content than other TVs. Color accuracy and bright-room performance are solid. The design is attractive, and the motion remote is one of the best available.
THE BAD: Similarly-priced TVs perform much better.
THE BOTTOM LINE: An attractive design and cutting-edge compatibility add the LG's UH8500's appeal on paper, but in person its image can't beat competitors.
There's a lot of ingredients that contribute to the picture quality you see on your TV at home, but the two most important are the quality of the source and the quality of the display.
High dynamic range (HDR) video, whether from streaming sources like Netflix and Amazon, or 4K Blu-ray discs, is the best source you can watch at home today. LG deserves credit for being the first TV maker to support both types of HDR content, Dolby Vision and HDR10, with its 2016 TVs. Today at least, that means TVs like the UH8500 can access more HDR TV shows and movies than other devices.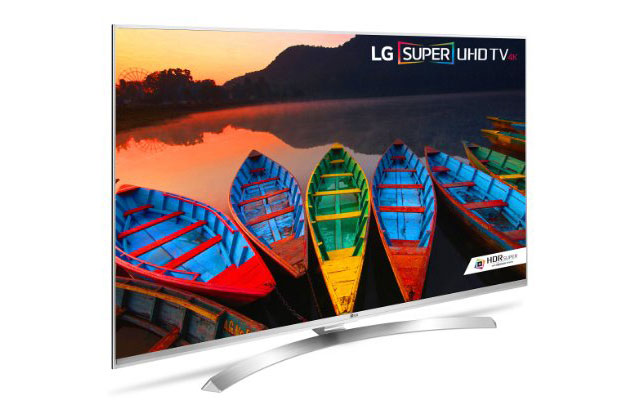 That leaves the display part of the equation, which is where the UH8500 comes up short. At CES I called out LG's "Super UHD" marketing term, denoting its best non-OLED TVs, as openly derivative of rival Samsung's SUHD brand. Now that I've had a chance to compare both TVs directly, side-by-side, it's clear that the LG UH8500 is the less "super" of the two.
LG's OLED TVs, on the other hand, really are super. In fact, the 55-inch member of the UH8500 series costs just as much as the 55EG9100, LG's cheapest OLED. In terms of source compatibility and cutting-edge features, the UH8500 is superior. But for pure picture quality, the lowly non-4K, non-HDR curved OLED is much better. It's not even close.
Series information: I performed a hands-on evaluation of the 55-inch 55UH8500, but this review also applies to the other screen sizes in the series. All sizes have identical specifications and according to the manufacturer should provide very similar picture quality.
LG also makes a couple of other related series grouped under the Super moniker, the UH7700 and UH9500 series. Both have similar picture quality to the UH8500 reviewed here, according to LG. The only image quality difference the company specified was in color gamut; the more-expensive 8500 and 9500 models cover 90 percent of the DCI/P3 color space, and the 7700 about 84 percent (see below for more). The 8500 and 9500 also have 3D while the 7700 does not. Between the 8500 and 9500, the only difference is styling; the 9500 has an "Ultra Slim design with 4-sided even bezel" according to LG.
Metallic TV, motion remote
TVs today look basically the same, with thin frames and more or less-thin cabinets, so the major external difference often comes down to color: black or silver? The quietly attractive LG UH8500 goes the mostly-silver route with its metallic finish, leaving just a thin strip of black butting up against the screen. LG also continues its recent quirk of coloring the back of the TV white.
The remote is basically the same as last year, and I'm a fan. LG kept its trademark motion control, which allows you to whip around the menus with a responsive cursor rather than a plodding directional keypad. That keypad is still available too, if you want it, along with a slick rubberized scroll wheel.
The clicker is bigger than many and relies more on buttons than the menu system, but since they're logically placed and easy to differentiate by feel, I don't mind. Cable box control is prominent, although control for other devices isn't nearly as advanced as Samsung's system. On the other hand, motion control did work on all the apps we tried, and LG says it works on every app in the system.
Web OS is OK, but not as good as other Smart TVs
I prefer the competing 2016 Smart TV systems from Samsung, Sony (Android TV) and especially Roku TV over LG's latest incarnation of its Web OS smart TV system. I appreciate that LG's menus are snappier and easier to use than before, and the new "focus zoom" to magnify on-screen selections is cool, but they seem more cluttered — especially now that there's an ad on the home page — and less intuitive than the others.
4K streaming with Dolby Vision HDR is available from Netflix, Amazon and Vudu, which outpaces the HDR selection of Samsung (which lacks Vudu's HDR) and Vizio (which lacks Amazon's) and matches Sony's. 4K-capable apps include YouTube and Xfinity's lame 4K sampler, formerly exclusive to Samsung, which only works for Comcast subscribers.
Other apps are hit or miss. You get Hulu, Crackle, MLB TV, Plex, Google Play Movies and TV, Spotify and Pandora, for example, but LG's system is missing both HBOs (Go and Now), Showtime (or Anytime), Pluto TV, Sling TV, Watch ESPN, CBS All Access, PBS, PBS Kids and more. Roku and Android TV have all of those, and many more niche apps too, while Samsung's selection is about the same, give or take a few services.
To browse new apps you'll visit the LG Content Store, which also lists TV shows and movies from different streaming services. It's a frustrating way to find new stuff to watch. The suggestions are sort of a hodgepodge, menu design is less than intuitive and pricing from Amazon isn't listed until you click through. You can also search TV shows and movies via voice or text, but results are presented in a confusing way, and again less satisfying than Roku, Samsung or Android TV, despite decent voice recognition.
In the end LG's system is good enough to get the job done, but today's external streaming devices, and many competitive Smart TV systems, are superior.
KEY TV FEATURES
| | |
| --- | --- |
| Display technology: | LED LCD |
| LED backlight: | Edge-lit with local dimming |
| Resolution: | 4K |
| HDR compatible: | HDR10 and Dolby Vision |
| Screen shape: | Flat |
| Smart TV: | Web OS |
| Remote: | Motion |
| 3D capable: | Passive |
Features and connectivity
The big standout here is compatibility with both types of HDR format, but even beyond that the UH8500 is well-equipped. Its edge-lit backlight uses local dimming, although since it has an IPS-style panel, its overall contrast is still limited (see Picture Quality for more). Like most 4K LCD sets the UH8500 has a 120Hz refresh rate; its "TruMotion 240Hz" specification is so much hooey.
LG's website lists "LG IPS 4K quantum display" as a feature, but don't confuse that with actual quantum dots, like those found in Samsung's SUHD TVs. Instead, according to LG, it refers to general improvements made to the panel (color gamut, screen brightness and contrast). There's also a "Tru Black Panel" feature that "reduces stray light from being emitted in order to create a deeper black level" according to the company. Not deep enough, according to me.
The UH8500 is one of the few TVs available today to include 3D, a particularly notable feature sinceSamsung canned that feature in 2016. The combination of LG's passive 3D and 4K resolution should warm the hearts of third-dimension fans everywhere. LG includes two pair of 3D glasses (I didn't test 3D performance for this review, and don't plan to do so unless there's a revolt in the comments section).
3x HDMI inputs with HDMI 2.0a, HDCP 2.2
3x USB ports
1x component video input
1x composite video input (shared with component)
Ethernet (LAN) port
Optical digital audio output
RF (antenna) input
Remote (RS-232) port (minijack)
Most competitors offer four HDMI but the UH8500 makes do with three, although all are state-of-the-art. Unlike many of Samsung's sets, this one actually has an analog video input for legacy (non-HDMI) devices.
Picture quality
Despite the fancy-sounding features and cutting-edge compatibility, the UH8500 is not among the best-performing TVs available. It shows some strengths, including accurate color and the excellent bright-room qualities of high light output and an effective anti-reflective screen. But washed-out black levels and excessive blooming, especially evident with HDR material (regardless of format) resign its overall picture quality to a level below most peers.
Click the image at the right to see the picture settings used in the review and to read more about how this TV's picture controls worked during calibration.
Dim lighting: Although better than the Sony in a dark room environment, the UH8500 still fell a good deal short of the Samsung, the Vizio and the OLED in this important category, and didn't look much better than the Insignia. As usual the difference was best revealed during some difficult dark scenes, including the evening and nighttime shots during Chapter 4 of "The Revenant." The letterbox bars, shadows and other dark areas of the LG's were relatively light, making the overall image appear much less contrasty and impactful than the three superior sets.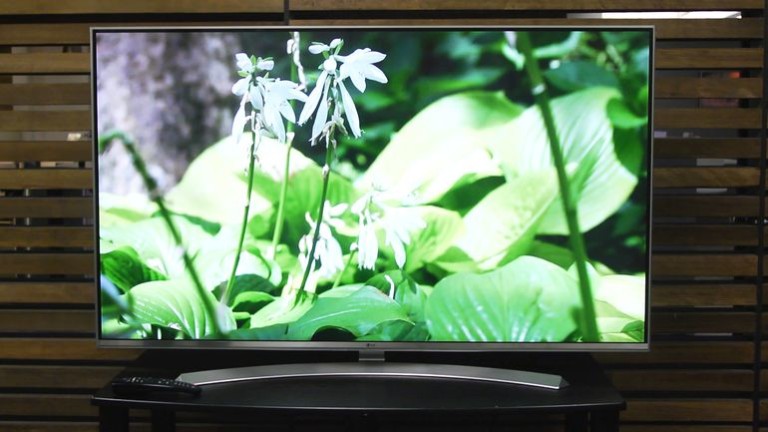 The LG also did a worse job controlling blooming than the others equipped with local dimming, with brighter spots interrupting shadows and letterbox bars, especially during the subtitles (or when I waved the motion remote's cursor around). I tried to address this issue by disabling dimming, but then the image looked even more washed out and worse overall — just as bad, in fact, as the Sony.
Bright lighting: The UH8500 is one of the brighter LED LCDs we've tested, similar to the Samsung KS8000 in its brightest picture mode, and significantly brighter than the Vizio and Sony. With HDR it posted similar numbers, dimmer than the Samsung but without that model's brightness fluctuations.
LIGHT OUTPUT COMPARISON
| | | | | | |
| --- | --- | --- | --- | --- | --- |
| Light output in nits | | | | | |
| TV | Mode (SDR) | 10 percent window (SDR) | Full screen (SDR) | Mode (HDR) | 10 percent window (HDR) |
| Samsung UN65KS8000 | Dynamic | 618 | 480 | Movie | 1346 |
| LG 55UH8500 | Vivid | 610 | 403 | HDR Bright | 601 |
| Vizio P65-C1 | Vivid | 502 | 572 | Calibrated Dark | 468 |
| Sony XBR-65X850D | Vivid | 427 | 461 | HDR Video | 432 |
| LG 55EG9100 | Vivid | 353 | 89 | N/A | N/A |
| Insignia | Vivid | 245 | 270 | N/A | N/A |
The LG's semi-matte screen works well to reduce the brightness of reflections, although not quite as well as the Samsung, Sony or Insignia. The OLED, Samsung and Vizio also preserved black levels better, and overall the Samsung is still a superior bright-room TV.
Color accuracy: With program material and test patterns the UH8500 was quite accurate, delivering the natural colors from "The Revenant," for example, with no major issues. The Samsung, Vizio and OLED did look a bit more saturated and impactful however, likely owing to their superior black level performance.
Video processing: The UH8500 performed well in this area if not as impressively as the Samsung. It can deliver the magic combination of correct1080p/24 cadence and relatively high motion resolution without resorting to smoothing (a.k.a. the soap opera effect). To do so you'll need to engage the TruMotion: User setting and choose De-Judder: 1 or 2 (depends on your preference, I liked 1 best) and De-Blur: 10. Unfortunately, the TruMotion controls don't seem to work at all in the ISF Expert picture modes, although they did function in the Cinema mode.
Motion resolution fell short of Samsung at 900 lines max, and that's only achievable with a smoothing mode called Clear Plus. All other modes max out at around 600 lines, while the Off position (which the Expert modes seem stuck in) hits 300 lines. The Samsung maxes out a 1200 lines, so it's a better choice for people sensitive to blurring. I'm not, so I decided to calibrate in the ISF Expert mode anyway and leave TruMotion off.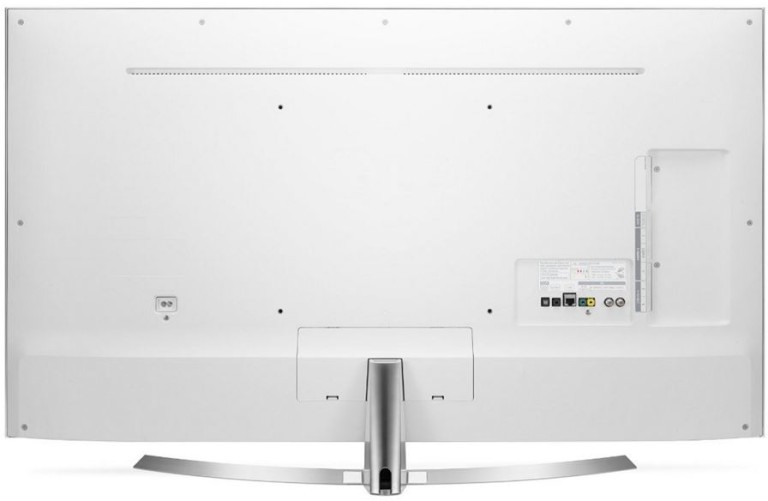 When I tried to test input lag the results were quite inconsistent. As usual, I posted the best Game Mode numbers I measured in several tries in the Geek Box — an impressive 29.2ms — but just as often they came out in the 30s, 40s and even 50s. The Samsung was consistent, and showed less lag overall (22.03ms).
Uniformity: The LG's image across its screen looked fine during program material, aside from the blooming issues noted above. Watching hockey, its "dirty screen effect" was similar to other sets in my lineup. With test patterns, some brightness variations were visible across the screen, but the Sony, Samsung and Insignia were worse.
From off-angle the LG's IPS screen maintained color fidelity a bit better than the Samsung, Vizio and Insignia, but washed out faster. Of course the OLED was the best of the bunch by far.
HDR and 4K video: Before I begin this section, a quick note on testing. The CNET TV lab recently bought a device, the AVPro Connect AC-MX88-UHD, that allows me to send any of eight sources to any of eight displays, allowing thorough side-by-side comparisons of HDR TVs. I've always relied on such direct comparisons, but the MX88's main advantage over my previous HDMI distribution amplifier is compatibility with the latest 4K HDR sources, like Samsung's UBD-K8500 4K Blu-ray player. For the first time in my lab, I'm able to watch that player's HDR output on multiple TVs simultaneously, comparing them directly. As far as I know, our lab is currently the only reviews publication with this capability.
For this comparison I included two higher-end TVs, the Samsung JS9500 and LG E6 OLED, and removed the Insignia from the lineup. I did keep in the LG EG9100 OLED, as well as the Vizio P series, feeding them both the SDR/1080p Blu-ray disc (the Vizio has yet to receive its promised HDR10 upgrade).
Watching "The Revenant" in 4K HDR, the UH8500 performed similarly to what I saw with SDR material. Black levels were relatively light compared to the Samsungs, the Vizio and of course the OLED TVs, but better than the Sony by a significant margin, thanks to local dimming.
That technology also caused significant blooming, however. In "Chapter 21," for example, the torches in the middle of the screen caused visible blocks of illumination in the letterbox bars and dimmed the edges severely; none of the other local dimming sets looked as bad. Since the backlight is maxed-out for HDR, blooming is even obvious in brighter scenes. White areas like snow also exposed more backlight structure and uniformity issues, something the Vizio and Samsungs were notably better at compared to the Sony and UH8500.
Overall, however, HDR still looked better on the UH8500 than SDR did. Highlights popped more, details in bright areas looked better, colors appeared more saturated and realistic, and as usual the whole image was more vibrant. On the other hand, SDR looked better overall on the Vizio and especially the EG9100 OLED than HDR did on the UH8500. In this case at least, the display hardware's performance trumped superior software.
Unfortunately I can't do the same kinds of comparisons with Dolby Vision yet, since it's streaming-only for now, but I did watch some streaming HDR too. Watching "Chappie" from Amazon in Dolby Vision on the UH8500, compared to the 4K Blu-ray disc on the other TVs, the first thing I noticed was bluer color temperature in the default picture settings, an issue easily fixed (the Warm 2 preset seemed closest by eye). Otherwise it was difficult to see any difference between the two sources beyond the differences in the displays noted above. The same went for another brief viewing of "San Andreas" from Vudu compared to the 4K Blu-Ray disc. It's too early to say whether Dolby Vision or HDR10 looks "better" overall, but on the UH8500 at least, any differences I could discern between the two formats was minor to nonexistent.
I also played through a suite of 4K test patterns by Florian Friedrich and the UH8500 passed most without issues. One exception: in the best picture modes (Cinema and ISF Exepert) the highest-frequency every-other-pixel 4K resolution section wasn't as clean as on the Samsung and Vizio sets. Changing to another mode fixed the issue, but I couldn't isolate the exact picture setting that caused it. The pixel phase pattern also looked a bit choppy, and the 25 percent resolution section of another pattern flashed occasionally.
I didn't see any effect with program material, however, and the UH8500 still passed the every-other-line 4K resolution patterns (both horizontal and vertical) with no issues, so I don't consider this a big deal. The LG's YouTube app also passed full 4K resolution.
I appreciate that when the UH8500 is sent an HDR signal from the Samsung K8500 Blu-ray player, the necessary "HDMI ULTRA HD Deep color" control is set to "On" and a little pop-up appears that asks you restart the TV so the setting can take effect. Samsung's 2016 TVs automatically handle HDR signals in a similar way (albeit without a popup or requiring a restart), but Sony's require you to know about and manually change the setting yourself.
GEEK BOX
| | | |
| --- | --- | --- |
| Test | Result | Score |
| Black luminance (0%) | 0.027 | Poor |
| Peak white luminance (100%) | 178 | Good |
| Avg. gamma (10-100%) | 2.12 | Poor |
| Avg. grayscale error (10-100%) | 0.962 | Good |
| Dark gray error (20%) | 0.439 | Good |
| Bright gray error (70%) | 1.185 | Good |
| Avg. color error | 1.830 | Good |
| Red error | 1.826 | Good |
| Green error | 0.776 | Good |
| Blue error | 4.238 | Average |
| Cyan error | 1.119 | Good |
| Magenta error | 2.673 | Good |
| Yellow error | 0.349 | Good |
| Avg. saturations error | 1.3388 | Good |
| Avg. luminance error | 2.2 | Good |
| Avg. color checker error | 2.9508 | Good |
| Percent gamut Wide (DCI/P3) | 87 | Average |
| 1080p/24 Cadence (IAL) | Pass | Good |
| Motion resolution (max) | 900 | Good |
| Motion resolution (dejudder off) | 600 | Average |
| Input lag (Game mode) | 29.2* | Good |
*Input lag measurement was not consistent; this is the lowest measurement. See above for details.
(cnet.com, https://goo.gl/JCdK88)
Comments
comments