Pros
Gorgeous, contrast-rich pictures
Stunning super-slim design
Slick webOS 2.0 operating system
Cons
Occasional colour flaws
Needs great care with set up
Doesn't yet support HDR, and will probably never support HDR via UHD Blu-ray
Key Features: 55-inch OLED TV; Native 4K UHD resolution; WebOS 2.0 Operating System; HDR compatibility coming via firmware update; Curved screen design
Manufacturer: LG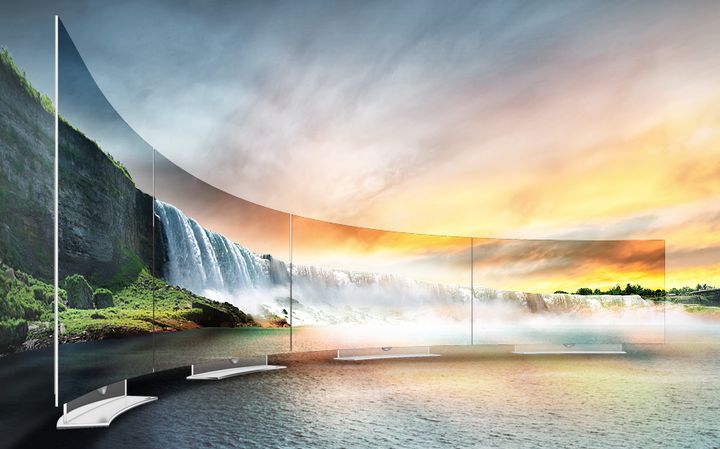 What is the LG 55EG960V?
After waiting for what feels like decades for the first 4K OLED TV to arrive, we're now faced with our second one in as many weeks. What's more, the 55EG960V is substantially more affordable than the previously tested 65EC970V, so if it turns out to be as good as its 65-inch sibling it could find itself right at the top of many an AV fan's wish list.
Design and Features
There really isn't anything quite like OLED when it comes to creating gorgeous-looking TVs. The 55EG960V's frame is incredibly narrow – well under one centimetre wide – and sits elegantly in the same plane as the curved screen. The frame's combination of glossy black with a thin silver trim creates a suitably high-end feel too, as does the shiny, elegantly sculpted aluminium stand.
If anything, though, the 55EG960V becomes even more attractive when you shift your gaze to its rear and clock its impossible slimness. It's just a couple of millimetres deep at its extremities, giving you a dazzling reminder of this remarkable aspect of OLED technology. The rear widens over its central third, but this depth increase is cunningly 'hidden' in the screen's backward curve. Plus you'll probably be too busy goggling at the rear panel's striking smooth white finish to notice any relative midriff paunch.
Tucked down the rear left side of the screen is a pretty strong roster of connections that includes three HDMIs (two built to the 2.0 standard capable of handling 4K UHD feeds at 50/60p), three USBs (one 3.0), and the inevitable LAN and integrated Wi-Fi network options.
The network options can be used, of course, for either streaming content from networked devices such as smartphones, tablets and computers, or for going online with LG's latest webOS-driven smart TV system.
We'll be looking at this system in depth shortly, but for now the main things to say are that it doesn't introduce many new features – a case of 'if it ain't broke, don't fix it', we guess – but it runs significantly more swiftly than the first webOS generation. In doing this it underlines its appeal as the most user-friendly and engaging smart TV system in town.
Weirdly the 55EG960V has webOS 2.0 whereas the higher-specified 65EC970V only has the first webOS. However, LG recently announced that it intends to update 2014 webOS TVs with the latest version via a future firmware update. That's good news, and that last year's sets can be upgraded to webOS 2.0 kind of highlights the fact that webOS 2.0 is a gentle evolution rather than a revolution over its predecessor.
While webOS 2.0 is nice, it's clearly the 55EG960V's combination of a native 4K UHD resolution and OLED technology that gives this TV its headline appeal. OLED, after all, has been wowing anyone who sees it for years now thanks to the way every single OLED pixel produces its own light and colour, resulting in unprecedented black levels and gorgeous colourscapes.
Samsung has, it must be said, potentially undermined OLED's 'moment' by launching a new era of high dynamic range-capable SUHD LCD screens (check out our reviews of the Samsung UE65JS9500 and Samsung UE65JS9000). But the 65EC970V still managed to wow us even after seeing those Samsung SUHD models, so the 55EG960V may well do the same. Especially given that LG assures us that both screens are essentially identical in picture quality terms, with the differences between the two series boiling down to different designs and the inclusion in the step-up EC970V series of a Harman Kardon-designed speaker system.
Having mentioned high dynamic range back there, it's worth adding that contrary to initial statements LG is now saying that it will be able to introduce HDR to the 55EG960V via a firmware update. This update won't happen until the HDR specification has been formally ratified, and will also likely only cover HDR video streams rather than HDR playback from UHD Blu-ray players. But it's still a very welcome development. The only pity is that since the update isn't here yet, we can't test the TV's HDR abilities. For now.
Other features of note are 3D playback via LG's passive system (which we've seen consistently coming into its own on 4K TVs), and compatibility with the H.265 Streaming format used by Amazon and Netflix to deliver their 4K video streams.
Setup
As with the 65EC970V, the 55EG960V requires a quite specific picture set up if you want to get the best from it. The main reason for this is that while the 55EG960V's contrast/black level performance is capable of being every bit as wondrous as we've long hoped for from OLED technology, it takes work to get there.
The TV's out of the box picture settings leave the picture a little too dark, resulting in a noticeable crushing of shadow detail in the darkest areas. But if you push the image's brightness too high the previously immaculate blackness suddenly becomes infused with an unexpected yellow tinge.
The balance that seemed to work best for us was to have brightness set at between 53 and 55, while the OLED brightness was set at around 90 and contrast was set at around 85. Please note, though, that some kinds of footage – stuff with lots of shadow detail – can cause black levels to drop off unless you reduce the brightness setting to around its 45-48 level (which is actually more in line with LG's own preset values).
Other tweaks we'd recommend are turning off noise reduction for all HD and native UHD content playback, and either turning off LG's motion processing completely or else only leaving it on its lowest power setting. Otherwise you'll find pictures suffering quite noticeable unwanted processing errors, especially with really fast motion.
One other point worth adding here is that, unexpectedly, the 55EG960V provides a more helpful set of calibration menus/tools than you get with the 65EC970V, which will make it a more appealing option for the pro installation market.
Picture Quality
Given the sort of production problems that have plagued OLED from the day it was first unveiled, we couldn't quite shake a worry that fitting 3840×2160 of OLED's self-emitting pixels into a 55-inch screen would be a technical stretch too far for LG to pull off without causing problems. But we're happy to say that on the basis of the model we worked with, these problems prove entirely unfounded.
In fact, the 55EG960V manages to match pretty much flawlessly the often insane quality experienced on the larger 65EC970V.
This is particularly true – so long as you've paid heed to our earlier set up advice – when it comes to black level response. The ability to deliver a deep black colour is for us the foundation stone to a great TV experience, and we've never seen any TV – even high-end plasma ones – able to deliver blacks as rich and deep as those you get from OLED screens.
It's not just the incredible grey-free deepness of the 55EG960V's black levels that's so mesmerising either. Also setting new standards is the amount of subtle greyscale and shadow detail information you're able to see during even the darkest sequences. As noted with the 65EC970V, for instance, Gravity's space-scapes contain stunning numbers of individual stars – far beyond the sort of numbers we've ever been able to see before on any previous type of television.
It seems a bit daft to us that LG's own picture presets for its OLED TVs currently keep the image's brightness a little too low, as this can cause some of the glorious shadow detail in dark scenes to get crushed out. We guess LG was feeling paranoid given OLED's black level promise about the yellowy tinge that can creep into dark scenes if the brightness gets too high.
One final brilliant benefit of the 55EG960V's incredible black level response is the way it's able to deliver those inky blacks without a trace of the backlight clouding or 'blooming' around bright image elements associated with LCD TVs. Seeing such deep blacks without being aware of or distracted by the manufacturing and processing techniques that have gone into creating them makes for a sensationally cinematic experience.
Great black levels usually lead to great colours, so it's no surprise to find the 55EG960V's colours looking in many ways gorgeous. Tones are bold and vibrant, yet also beautifully balanced and, usually, exquisitely natural. What's more, the richness and naturalism of colours hold up better during dark scenes than with the vast majority of LCD TVs, as OLED's self-emissive nature enables dark colours to retain more brightness without compromising black levels.
If you really want to see what makes OLED truly special, try watching a shot that contains small areas of high brightness in the middle of very dark areas. The distant shot of Hogwarts at night with lights in the windows as Voldemort looks down at it from a hilltop in the final Harry Potter film looks simply stunning – as if there are real candles glowing in your TV. No LCD TV – not even Samsung's SUHD TVs with their local dimming – can deliver anything like the same sort of impact with this type of shot.
The 55EG960V is not overall, it must be said, as bright as some of the latest LCD TVs starting to emerge this year. Most notably, Samsung's HDR-capable UE65JS9000 and, especially, UE65JS9500. But the interesting thing is that because the 55EG960V's contrast is so outstanding, the gap between its deepest blacks and brightest whites feels so extreme that its pictures still look superbly bright and punchy. The thought of how HDR content might look on LG's OLED screens once the necessary firmware update arrives is truly mouthwatering.
The 55EG960V does a good job of delivering on the detail and sharpness we've already come to know and love with UHD screens – at least when watching native 4K/UHD content. You can easily see the difference between native UHD and HD material despite the screen being 10 inches smaller than the 65EC970V we've tested previously (though as ever, we'd always say that UHD has more impact on larger screens, so do think bigger if your living room space and bank balance permit it).
Helping out the sense of UHD clarity is some decent motion handling for a flat TV. Although we should qualify this statement by saying that while the 55EG960V reproduces motion reasonably naturally without any motion processing engaged, if you do try to use LG's motion system it tends to result in some fairly aggressive flickering and glitching side effects.
While the 55EG960V shares the picture strengths of the 65EC970V, it also shares its weakness. For instance, while colours are bold and natural in tone, they do at times betray a lack of subtlety when rendering tonal blends, leaving skin tones sometimes appearing a little patchy, or some mid-tones – especially greys – appearing with mild infusions of pink or green. There's a little more banding over colour blends than we see with some UHD TVs too.
While upscaling of native HD sources is quite effective when it comes to colour tones and keeping a lid on video noise, the 55EG960V's upscaled pictures don't look as aggressively detailed and sharp as those of UHD TVs from Panasonic and, especially, Samsung and Sony. Its standard definition pictures look really quite painfully soft too – but then surely any owner of the 55EG960V will be doing everything in their power to avoid feeding it standard definition content.
Finally, if you make the mistake of trying to run the screen too brightly, so that dark scenes start to suffer even gently with the yellowish undertone discussed earlier, you'll feel as if the edges of the image are slightly darker than the centre. This is very hard to understand on a screen where each pixel creates its own brightness, and it's a relief that this edge dullness isn't obvious when the TV is sensibly calibrated.
3D Picture Quality
Tragically, just as interest in 3D – on TVs at least – seems to be on its death bed, we're starting to see some truly outstanding 3D TVs. The combination of a passive 3D system (with its freedom from flicker and, if you keep your vertical viewing angle small, crosstalk ghosting noise), native UHD resolution and OLED's gorgeous contrast performance works wonders on any 3D Blu-ray you care to throw at the 55EG960V, delivering pictures of gorgeous sharpness, clarity, depth, brightness and vibrancy.
If 3D on TVs had always looked this good, the format's fortunes may have been very different.
Sound Quality
The 55EG960V doesn't benefit from the same 40W, Harman Kardon-designed speaker system somehow fitted into the 65EC970V. As a result it fails to reach the same sort of volume levels comfortably, and sounds noticeably more cramped in the mid-range when the audio going gets tough. There's nothing spectacular about the amount of treble detailing you hear in the soundstage either, and deep bass is a bust.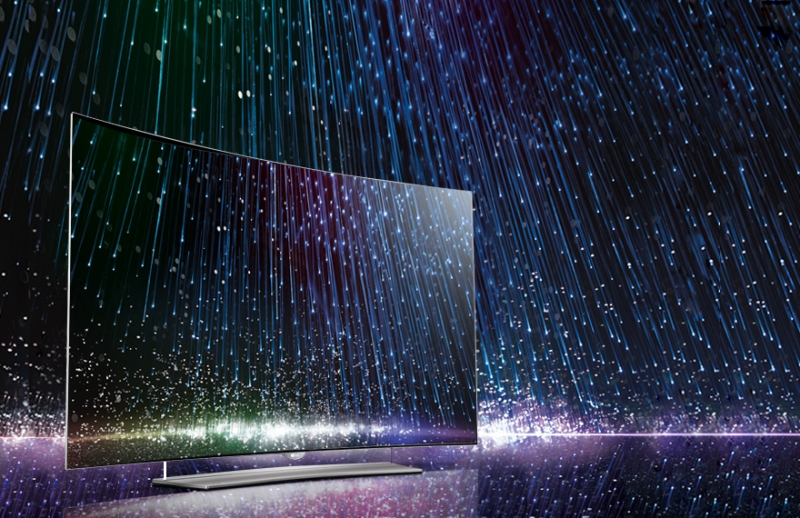 Voices still sound clear even if the rest of the mid-range starts to sound a bit muddy, though, and at least the 55EG960V is sensible enough to work within its limitations, ensuring that the speakers don't distort or phut.
It's worth noting that during our tests the TV tended to suffer a little with lip-sync errors when watching Blu-rays, though thankfully we were able to solve this problem almost completely via the AV Sync Adjustment options.
Other things to consider
The 55EG960V comes with one of LG's 'magic remotes', which let you select onscreen options just by pointing the remote at the relevant part of the screen and pressing select. There's also a spinning wheel interface for quickly running up and down menus more swiftly.
While the point and cllick interface approach works well for the large icons that make up most of the webOS 2.0 interface, it can feel a bit finicky to get the pointer in exactly the right place when you're trying to select something relatively small.
Gaming on the 55EG960V is great fun in some ways as the screen's impeccable contrast works a treat with the often quite stark and dynamic images used by many video games. Input lag, though, is slightly below average at around 50ms, meaning that the TV could cost you a few lives or points in reaction-based games such as Call of Duty and Guitar Hero.
One last point worth covering is image retention. The potential for OLED technology to suffer with this problem, where bright, static image elements (like certain channel logos) leave ghostly traces of themselves behind long after they're supposed to have disappeared, is well documented. And it's noticeable that LG has a screen saver system in play on the 55EG960V that you don't get with the brand's LCD TVs. However, we didn't notice any retention issue on our test model, despite leaving a Sky News logo in one place for a good few hours. So while you should always treat this issue with care, it isn't looking like as severe a problem as we'd feared.
Should I buy an LG 55EG960V?
As with the 65EC970V, this is a much trickier question to answer now than it would have been had the 55EG960V come out last year. Why? Because as noted earlier, 2015 has also brought us Samsung's SUHD TVs, with their HDR-friendly high brightness and wide colour gamut capabilities.
Having experienced native HDR content on the Samsung SUHD TVs we have no doubt that HDR and UHD make perfect bedfellows, and in doing so feel likely to become the standard visuals of tomorrow.
It's great news that the 55EG960V will one day be able to handle HDR sources after a firmware update, but only time will tell if OLED's reduced brightness but enhanced black level response will be able to do HDR full justice. Plus it's a shame that it doesn't currently appear as if HDR playback from UHD Blu-ray will be supported when Samsung assures us that its SUHD LCD TVs WILL be able to play back HDR from UHD Blu-rays.
Still, with its ground-breaking black levels and unprecedented design glories, the 55EG960V's OLED screen also feels like the TV of the future even if its HDR talents end up being limited.
The 55EG960V's picture strengths may appeal to you more than the SUHD approach if you're a die-hard plasma TV fan, and even if its HDR talents turn out to be compromised versus those of the Samsung SUHD TVs, the 55EG960V is arguably better positioned to make the most of today's picture standards despite its slight flaws.
Verdict
Although it isn't quite the slice of TV perfection AV unrealists may have been hoping for, the 55EG960V still sets the bar where black level response and design are concerned, and in doing so continues to make a hugely persuasive case for OLED's place in the AV landscape of tomorrow.
Scores In Detail
2D Quality : 

10

/10

3D Quality : 

10

/10

Design : 

10

/10

Smart TV : 

9

/10

Sound Quality : 

7

/10

Value : 

8

/10
(trustedreviews.com)
Comments
comments