PRICE $1,100 each; $2,200 as reviewed
AT A GLANCE
Plus
Powerful bass for a compact sub
Performs extremely well with music and movies
Minus
Lacks last half-octave of deep bass you can get from larger subs
THE VERDICT
If you're limited on space but have adequate funding, this is the strongest-performing compact sub I've auditioned.
It's another American business success story. A couple of kids, Jim Birch and Lucio Proni, begin building home loudspeakers during summer break in 1975. More than 40 years later, Jim and Lucio are still going strong, having seen JL Audio become one of the most respected consumer electronics brands in the world, branching out from the home to mobile and marine applications. I've experienced their products at some custom shops and have read glowing reviews of their subwoofers over the years. My favorite review was by my colleague Darryl Wilkinson, who said the company's Fathom f212 sub could play a 20-hertz test tone loud enough to liquefy his bowels! High praise, indeed.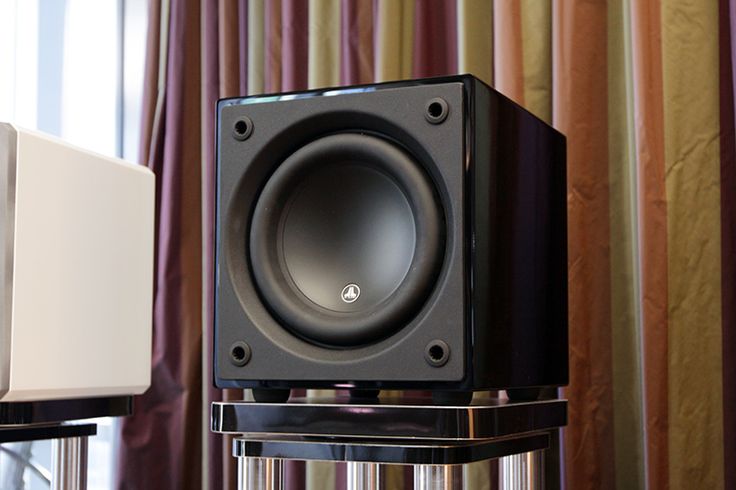 Needless to say, when I was asked if I wanted to review JL Audio's new Dominion d110 subwoofer, I couldn't hit the reply button quick enough to ensure an in-home audition. The Dominion line consists of four SKUs: 10-inch and 8-inch models with two finishes each, black gloss and black ash. JL sent me the black gloss d110 for review, which has an MSRP of $1,100. But if you don't need the piano finish, you can save $100 and go with the painted wood look; both models should sound exactly the same.
The Dominion d110 is at the upper end of moderately priced subwoofers, but it's also the lowest-priced offering from JL Audio. In fact, it's downright cheap compared with the previously mentioned Fathom f212, which goes for $7,000, and especially the Gotham v2, a $15,000 bass behemoth that those of us in the 99 percent club can only dream about owning! Given JL's rich history, could their entry-level model exceed my expectations? We'll have to see.
Judge Me by My Size, Do You?
Unboxing a Dominion d110 is relatively easy because of its small enclosure and manageable 38.2-pound weight, which made maneuvering it around the room a breeze; I could actually pick it up. Geometrically, it's not exactly a cube, measuring 12 inches wide x 13.4 high x 15.86 deep. The piano finish is flawless; after I had unpacked the d110 and wiped away my fingerprints, the sub was beautiful to look at. It boasts a sealed enclosure and is constructed from MDF with extensive internal bracing, in order to withstand the pounding it will take from the latest Hollywood blockbusters.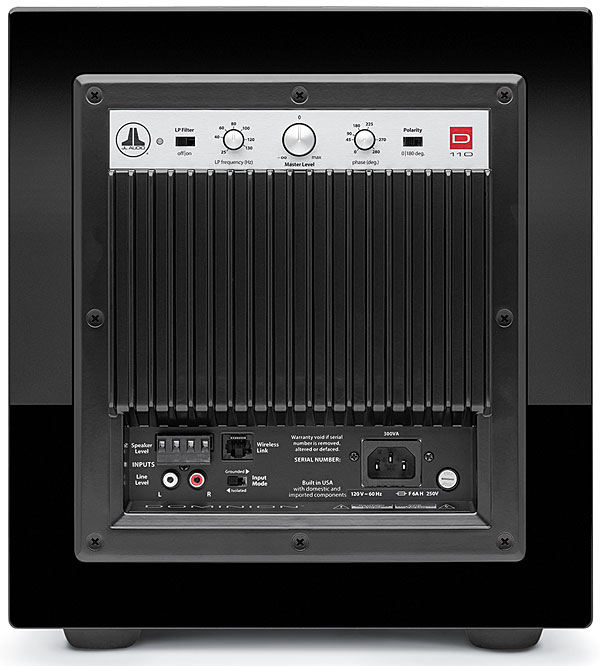 The d110 is powered by a 750-watt Class D amplifier designed to extract the most from the proprietary longexcursion driver platform. The 10-inch driver was designed using JL's exclusive DMA (Dynamic Motor Analysis) technology, which promises to deliver higher output levels with reduced distortion. In this model, the cone is claimed to have a full 2.7 inches of peak-to-peak excursion.
On the rear panel, above a rectangular heatsink, are the subwoofer controls: volume knob, Low Pass (LP) Filter switch (turning the internal crossover on/off), LP Frequency knob, Phase knob, and Polarity switch. There's a power indicator but no power switch since the sub kicks on when it detects an incoming signal and will automatically power down after 30 minutes without a signal.
Underneath the heatsink are both line- and speaker-level inputs, along with a wireless link connector, Grounded/Isolated switch, power connection, and fuse holder. The well-written manual explains that selecting the Grounded option can reduce hum in some systems. In my particular case, I didn't have any hum, so I left the setting at its Isolated default.
JL Audio sells a JLink TRX system ($200), which comprises a transmitter and a receiver that allow the d110, or any other sub, to be wirelessly positioned anywhere in the room for optimum subwoofer performance—as long as you have a power outlet available in that location. The d110 includes the JLink connector; hooking up the receiver via the Ethernet interface allows it to get power from the sub, reducing wire clutter during and after installation.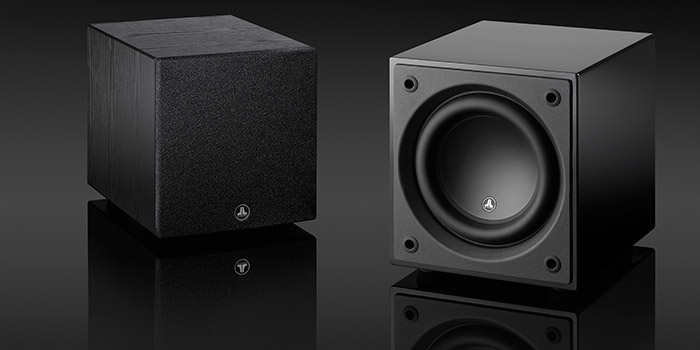 The only feature lacking from this subwoofer is built-in room correction, which is starting to appear now even in some mid- and budget-priced subs. This is a feature that JL offers in their expensive Fathom and Gotham lines. Granted, most buyers in this price class will forgo it, or use the room correction in their A/V receiver or preamp/processor, but that solution doesn't always handle the lowest frequencies optimally. Another feature, app-based control via Bluetooth, is also starting to catch on now with subwoofers, and is hopefully something JL is looking at for future models. It's a great convenience to do setup and make on-the-fly adjustments from your money seat without having to walk across the room.
Pick One…No, How About Two?
JL Audio sent me two d110s for my review, and given their dainty enclosures, I fully expected that I'd go with the subs positioned next to each other to allow mutual coupling to boost the output. But it turns out that size can be deceiving, and I never felt the output lacking in the majority of my listening tests when I had the d110s in my two subwoofer sweet spots: the front left corner of my room and about halfway down the right wall. My home theater is just under 5,000 cubic feet, so generally speaking, it takes quite a bit of output to adequately fill the full audio spectrum—something the pair of d110s did quite well.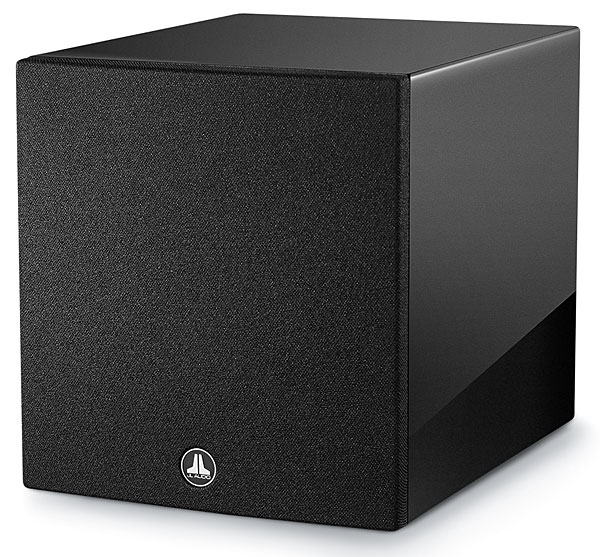 Considering its sealed enclosure, I expected the d110 to have the taut attack and lack of mudiness prized for music, and my suspicion was confirmed repeatedly. Regina Spektor's "Fidelity" (from Begin to Hope) is the most successful song in this artist's career. The track features some fantastic bass that complements the catchy tune, and the d110 never broke a sweat, even when I listened at high levels. The bass blended perfectly with my M&K Sound S150 studio monitors— especially after a full Audyssey calibration from my Marantz AV8802A pre/pro. Listening to only the front left d110, instead of the pair, wasn't quite as fulfilling, as I found the bass a bit too localized to the front of the room. However, when I engaged the second sub (and adjusted the subwoofer volume accordingly), I found the bass response much more satisfying and even.
I'm not sure what Taylor Swift has more of: No. 1 singles or ex-boyfriends. Regardless, she knows how to write engaging music, and "Blank Space" is no exception. The song has an airy feel to it and harks back to the year in the title of its host album, 1989, with a synthesized beat that draws you in from the first note. But when the young lady starts to sing, the bass track kicks hard—really hard—and again, the d110s shined brightly. The bass response was tight and articulate, and it didn't linger in the room for even a moment longer than it was supposed to. Impressive would be an understatement.
After hearing the d110s display such prowess with music, I was very intrigued about what they could do with movie soundtracks, which generally dig deeper than pop music and end up being the Achilles' heel of small-enclosure subwoofers. I can't seem to get enough of Game of Thrones, as I'm in the middle of watching the series for the third time. "Blackwater" (season 2, episode 9) is one of the best installments of the entire series. Not only does it have drama and intrigue, but it showcases that Tyrion is a master tactician. As Stannis Baratheon's fleet arrives to sack King's Landing, Tyrion sends out a lone ship to meet the armada. Little does Baratheon know that the ship is loaded with "wildfire" propellant and, at the right moment, will unleash hell upon the invaders. When the moment comes, the Dolby Atmos track engulfs your listening room with flames, as the bass plumbs the depths.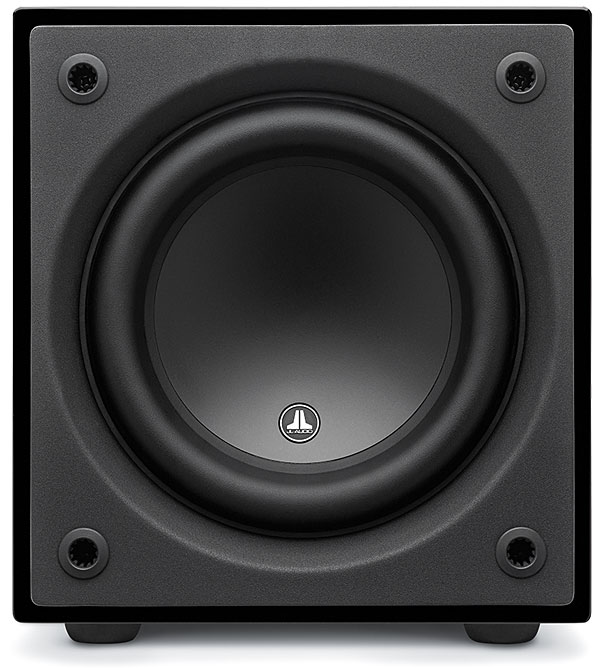 Surprisingly, the d110s delivered copious amounts of bass, and they even had enough energy to shake my subfloor! While my reference SVS PC-Ultra and Hsu Research VTF-15H MK2 subwoofers are much larger and capable of far more output below 20 Hz, I honestly didn't expect the dual JL Audio subs to have such a visceral impact in this scene. Not only could I fully hear the explosion of the ship, but I could feel it vibrate the room. It's true that my reference subs can shake the floor to a greater degree, and I can feel it in my chest—something the dual d110s couldn't quite match. But overall, I came away quite impressed.
Next up was a trip down memory lane with Star Wars, Episode II: Attack of the Clones. Specifically, chapter 28: the asteroid field. Jango and Boba Fett aren't too happy with Obi-Wan tracking them to Geonosis, so they decide to drop a couple of seismic charges on the Jedi knight. Once again, the d110s surprised me with their exploding-bomb bass. The room filled with energy, and I could feel the explosions through the subfloor due to the kinetic energy from the dual subwoofers. Solid performance, indeed.
Conclusion
I'm very impressed with the Dominion d110 for the amount of bass produced from such a small enclosure. While it doesn't go as deep or hit quite as hard as my reference subwoofers—nor should it, given the physical constraints of its diminutive size—it impressed me enough to make it my go-to recommendation for those who have concerns about space and aesthetics. If that's you, be sure to put the d110 at the top of your audition list. While a pair of these were definitely preferred for my copious listening space, more average rooms would likely have no problem being similarly energized by a single d110. Of course, two of them would sound even better and be a lot more fun.
Specs
10 in cone driver; 750 watts RMS; sealed enclosure; line-level stereo in, speaker-level inputs; 12 x 13.4 x 15.86 in (WxHxD); 38.2lb
Price: $2,200 as reviewed
(soundandvision.com, https://goo.gl/G44jAI)
Comments
comments