Inateck's MercuryBox BP2101 Bluetooth Speaker brings together a classic aluminium design that's also waterproof and impressively powerful drivers. Read our Inateck MercuryBox BP2101 Bluetooth Speaker review to find out how it fares. 
At £52.99/$79 from Amazon, the Inateck MercuryBox is twice the price of many of the budget speakers we review, but significantly cheaper than many of the better known brands with comparable performance. So, even at a touch over 50 quid, the MercuryBox still offers very good value.
Inateck's MercuryBox BP2101 Bluetooth Speaker comes in an elegant black case, internally covered with velvet fabric. This gives you a hint as to the quality of the product inside. However, we don't judge a book from its cover. So let's take a look at the actual characteristics of the MercuryBox speaker.
Its rectangular aluminium housing is sleek and essential. In a period when minimalism is en vogue, Inateck gains points for product design.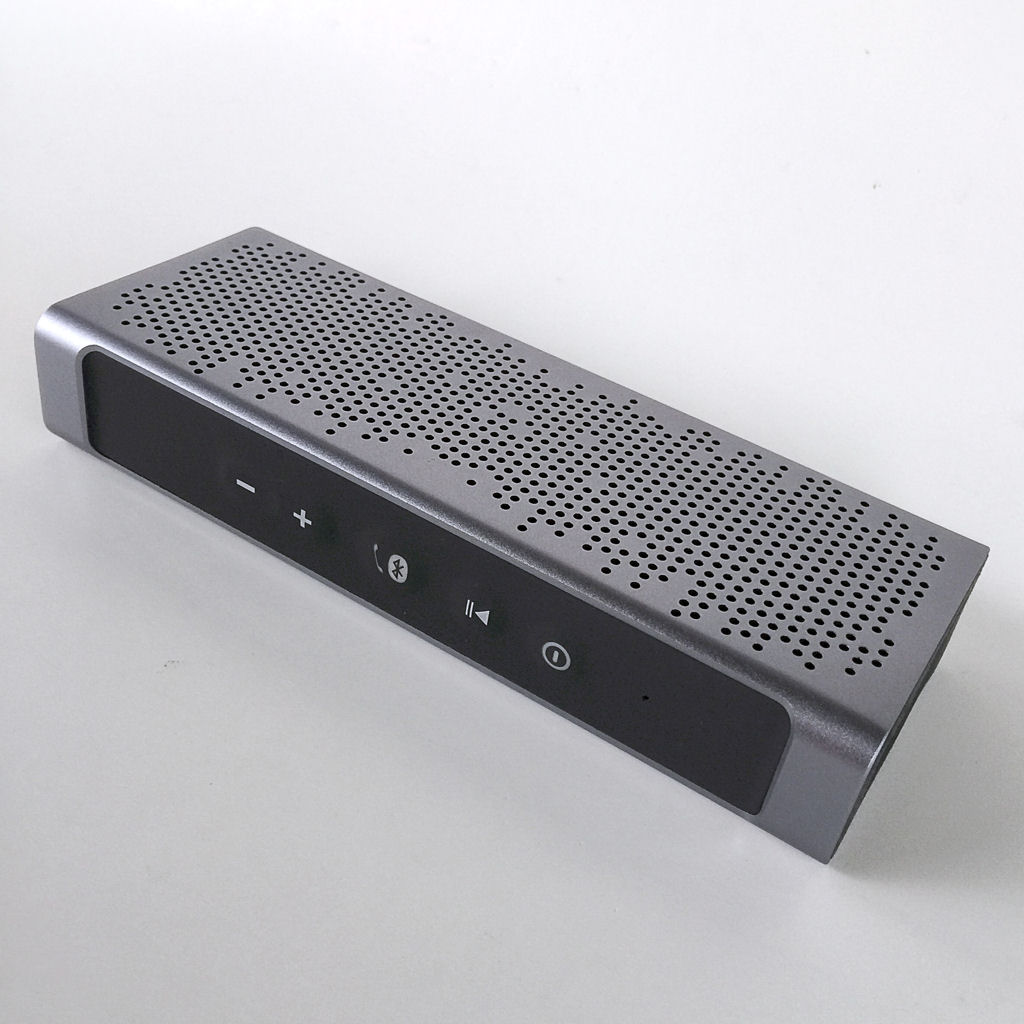 Inateck's MercuryBox BP2101 Bluetooth Speaker's upper end is rubberised and has a soft-touch texture. On this side of the speaker are buttons for turning on and off the device, playing/pausing music, answering calls over Bluetooth, changing the volume or skipping the track.
If you don't want to use the Bluetooth facility, you can opt for the AUX mode that allows you to connect your phone, tablet or laptop with the speaker though the included 3.5mm audio cable.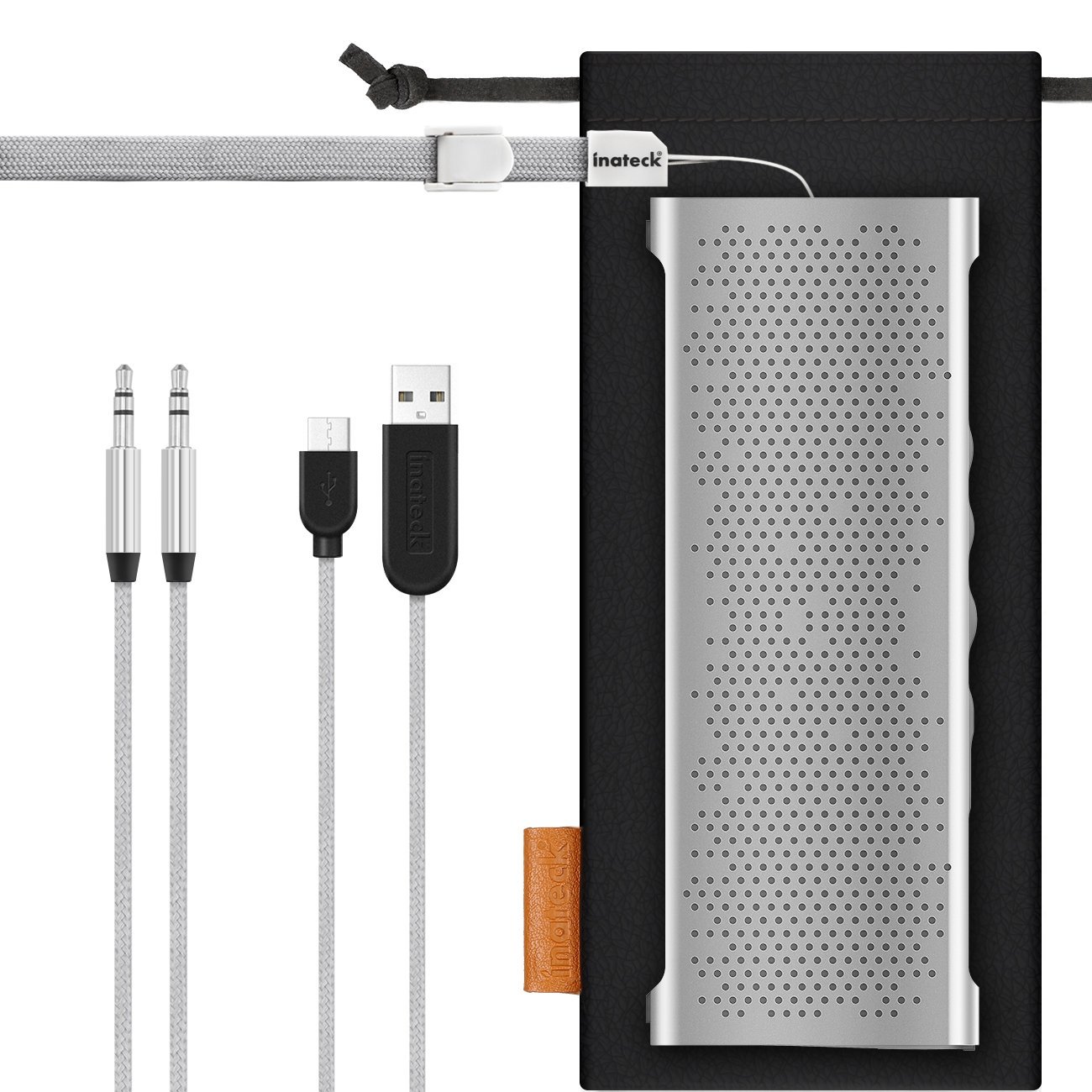 Another interesting feature of this chic device is its IPX5 waterproof design. Inateck's MercuryBox is splash-resistant, making it ideal for use in the bathroom – just don't submerge it in water.
In terms of battery life, Inateck claims the built-in 1800mAh rechargeable lithium-ion battery can offer up to 15 hours of playtime. Your results will vary, depending on audio volume and other factors.
When the speaker is low in battery, the buttons will light red. You can then charge Inateck MercuryBox with the included Micro-USB charging cable.
Another nice characteristic is how easily portable this speaker is. The MercuryBox is a reasonably small device (162.8×62.8×28.6mm) and lightweight at just 250g. You can carry it around easily and even fit it in your bag.
SOUND QUALITY
Given the small dimensions, we were surprised by how loud the MercuryBox could go. For such a small speaker, its room-filling sound is impressive and beats that of larger, heavier speakers.
Vocals are loud and clear, and highs are well reproduced. There is no unnatural metallic sound or weird buzz, even at maximum volume.
Its powerful dual 5W drivers deliver loud and rich sound and they perform well with different types of music, from rock music to Jazz.
The bass won't shake the room, but it is still quite good with a pleasant presence of warmth.
One fault of Inateck BP2101 Bluetooth Speaker is that it doesn't have any stereo separation.
SPECS
Bluetooth 4.0/AUX speaker
2x 5W drivers
IPX5 waterproof protection
built-in 1800mAh rechargeable battery (up to 15 hours life)
carry case
hand strap, 1.2m Micro-USB and AUX cables provided
162.8×62.8×28.6mm
250g
VERDICT
Inateck's MercuryBox BP2101 Bluetooth Speaker is a decent budget speaker, both sophisticated and attractive in design. We were sceptical about its performance, but the Inateck impresses with a rich, deep sound; even at max volume no sound defects are heard.
(pcadvisor.co.uk)
Comments
comments