OUR EARLY VERDICT
There's a lot to like about LG's new OLED. A wafer-thin design alone wouldn't have been enough to warrant the extra cost to upgrade to LG's latest panel. But the thin frame on top of a Dolby Atmos soundbar on top of four types of HDR support on top of the magnetic mounting system on top of the new webOS 3.5 operating system surely did the trick.
FOR
Insanely slim design
Offers four types of HDR
Magnetic strip mounts
Dolby Atmos soundbar included
AGAINST
Flat optical cable mars appearance
Soundbar is forced on you
The LG W7 Signature OLED TV is 2.57mm thin. Not just at the top. Not just at the bottom. It's nearly 2.57mm all the way through.
There's no other TV in the world that can make this claim, and any that come close don't have LG OLED's near-perfect black levels, infinite contrast and expanded color gamut.
It's what we as home entertainment enthusiasts have been waiting for since the first flat screen, and – take a breath – it's finally arrived.
The LG W7, also known as LG's Signature W Series, will come in both 65-inch and 77-inch versions and sit at the top of LG's OLED line-up this year that consists of new-and-improved B7, C7, E7 and G7 series. (The differences between them, LG tells me, are aesthetic-only – it's all the same hardware inside the panel.)
The W7 is the first of what we hope are many hyperslim TVs produced by the South Korean electronics manufacturer and offers, among other things, four types of HDR. That includes HDR10 and Dolby Vision, the two most popular forms of HDR, but also Hybrid Log Gamma and a completely new format called Advanced HDR by Technicolor.
If four types of HDR aren't enough, LG's latest OLED hopes to take the hassle out of wall-mounting with a completely redesigned system that uses magnetic strips to mount the TV to the wall. No levels. No professional installer. Just you and your gorgeous new TV.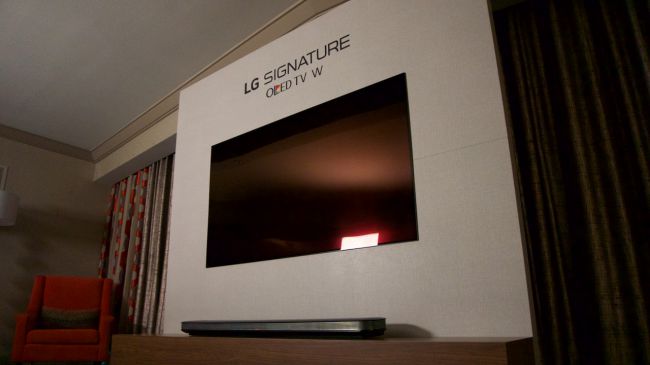 And while all of that combined should be enough innovation for one year, it didn't stop LG from doing one last thing. The W7 comes with a 5.1.2 Dolby Atmos-ready soundbar that houses all of the external connections – HDMI ports, optical audio and antenna-in – and tucks them far out of sight. If you're a cable neat-freak, this might be an even better feature than the ultra-slim profile. If you're someone who likes to have some control over where your audio comes from, however, then you might want to avert your eyes for that last part.
Regardless, LG's W7 is easily one of the slimmest, most eye-wateringly gorgeous TVs the firm has ever produced – one that we can't wait to have hanging on our walls at home.
Design
If you haven't gleaned this piece of information already, the W Series is really, really slim. It's thicker than a sheet of paper (we're not quite there yet) but it's far slimmer than darn near anything else out there. If we had to quantify it, it's probably closer to a thin brochure than it is to a single sheet of loose paper, but you get the idea.
Creating an OLED that thin all the way through, as you might imagine, caused a few problems for LG to solve, the biggest of which was where to put the cabling.
The solution LG came up with was to use a single flat cable that runs from the back of the screen to the included soundbar. It's a solution that should work fairly well as long as you don't mind a flat cable running shooting down from the TV or don't mind calling someone to pass it down through the wall.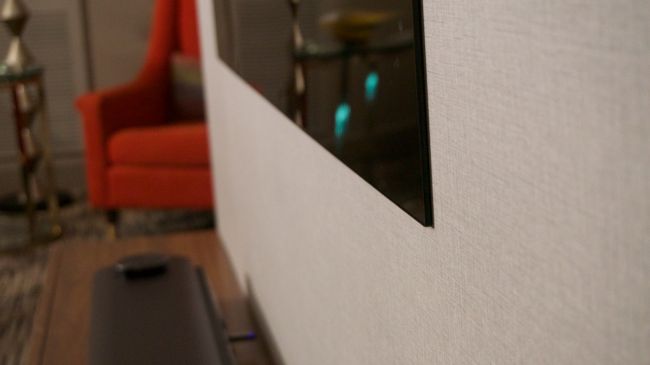 The operative word for the W7 OLED is flat. Besides describing the optical cable that connects the TV to the soundbar, that word also describes how the panel hangs on the wall. The solution LG developed to mount the TV effortlessly uses magnetic brackets to give the W7 a picture-on-wall appearance. It's like a moving, Ultra High-Definition wallpaper.
The 65-inch version of the screen weighs only about 18 pounds, and should be easy to lift with one hand. We didn't get an exact number for the 77-inch version of the screen, but from the sounds of it, the additional 12 inches would only add an extra pound or two.
Some of the folks outside of LG's press conference remarked that they'd be scared to hold the W7 for fear that it'd break. But while the screen is incredibly slim, it has a fair bit of flex to it. During our demo, Neil Robinson, Director of Technology Partnerships and Innovation at LG, had no qualms going over to the screen and bending it just to prove how flexible it could be.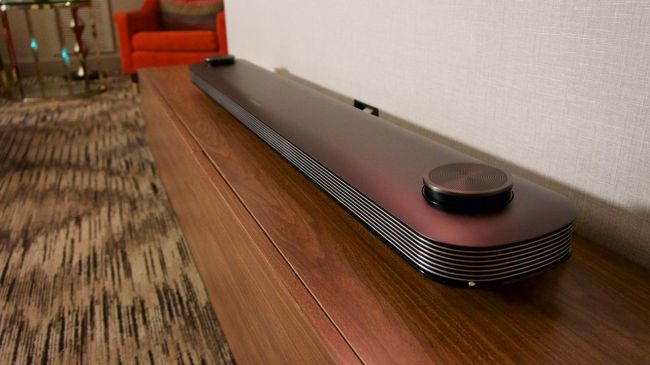 One of the ways LG saves space on the W7 itself is by not including any internal speakers – the only way to get volume out of the TV itself is through the included soundbar. And while the soundbar is quite nice – boasting a 5.1.2 Dolby Atmos configuration – the inability to better direct audio flow might irk some AV enthusiasts looking for complete control over their home entertainment setup.
All said, however, it's hard to hold that against a perfectly gorgeous and well-designed panel such as the W7 OLED.
Performance
Here's where we'd usually give the long spiel about how OLED offers infinite contrast, the best black levels, individually lit pixels, so on and so forth. But you've heard that all before. By now you know exactly what OLED offers – simply gorgeous color and contrast ratios that no LED screen can match, no matter how many Quantum Dots you throw at it.
This year's screen performed similarly to last year's E6 OLED, a TV that we quite enjoyed. While there were minor improvements made to the color, by and large the picture performance looked largely unchanged. Of course, all the content we were shown was localized HDR-optimized content. We didn't have a chance to see what the W7 would look like when given SDR content in something less than immaculate 4K resolution.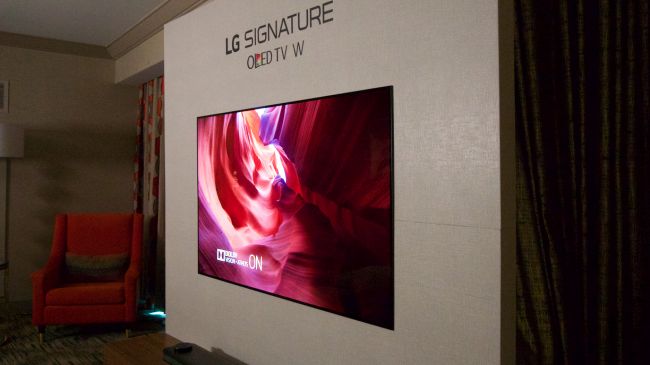 According to LG, however, that content should look just as good thanks to the new HDR Effect feature which processes standard definition content frame-by-frame to improve brightness in specific areas, enhance contrast ratios and render more precise images.
That said, you'll probably want to feed this premium TV premium content. And that's where the W7's support of four different types of HDR comes in handy.
This year you can expect both HDR10 and Dolby Vision support, which we saw on last year's models, as well as Hybrid Log Gamma which is used to transmit HDR signal through your cable provider and Advanced HDR by Technicolor. The jury is still out on what Advanced HDR by Technicolor will really bring to the table and which, if any, streaming services will support it, but it's nice to feel like your investment is future-proofed in case Advanced HDR suddenly takes off.
That, more or less, squares away the visual side of LG's W7 Signature OLED. On the audio side you can expect meaty bass and crispy mids thanks to the included Dolby Atmos soundbar.
Worried about finding content for your premium soundbar? LG says that there are over 100 titles currently available for Dolby Atmos with many more coming later this year.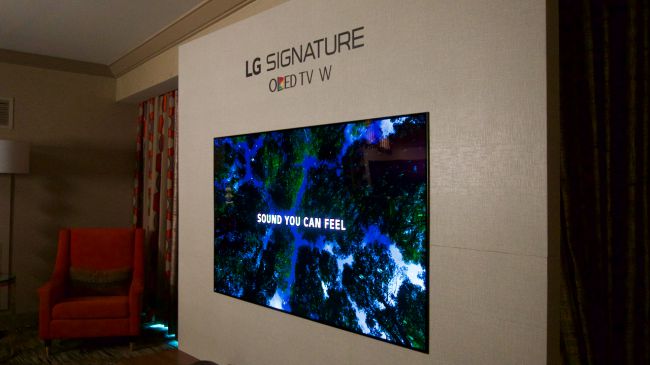 Smart TV (webOS 3.5)
Another item in the "radically unchanged" category is the W7 OLED's Smart TV system, webOS 3.5 – most of the changes made to the platform this year revolve around the idea of making content easier to find.
All screens in LG's OLED line-up will use webOS 3.5 and will include an updated motion-controlled Magic Remote. This year's update to LG's Smart TV platform includes Magic Link, a content recommendation service powered by LG, and Channel Plus, an aggregate of 70-plus free streaming digital channels including sports and news from national broadcast networks such as Fox Sports, Newsy, Sports Illustrated, TIME, Bloomberg, People, Funny or Die, Fail Army and more into your existing over-the-air TV channel options.
Besides those under-the-radar online channels, all the usual players including YouTube, Netflix, Amazon Instant Video and Hulu were present and accounted for on LG's premium panel.
Early verdict
There's a lot to like about LG's new OLED. A wafer-thin design alone wouldn't have been enough to warrant the extra cost to upgrade to LG's latest panel. But the thin frame on top of a Dolby Atmos soundbar on top of four types of HDR support on top of the magnetic mounting system on top of the new webOS 3.5 operating system surely did the trick.
There are still some unknown quantities to LG's W Series, not the least of which is the sell-your-house-now expensive price tag and long-term effectiveness of the magnetic mounts, but we're hoping that having LG's new OLED hanging on the walls of our own home will allay those fears.
So, LG, if you're reading, we'll take one of these bad boys – in either the 65-inch or 77-inch version – as soon as possible.
(techradar.com, https://goo.gl/IAHPcP)
Comments
comments