THE GOOD: The Erato Apollo 7 is a lightweight, totally wireless set of earphones that delivers mostly hiccup-free operation. They sound good, are sweat-resistant (they can be used for running), and a charging case with an integrated battery supplies multiple charges on the go.
THE BAD: They're expensive, the battery life is only 3 hours and the firmware isn't upgradable.
THE BOTTOM LINE: Although it's a bit too pricey, the Erato Apollo 7 is one of the first truly wireless headphones that works well and delivers decent sound.
ato, a Taiwanese startup, bills its Apollo 7 as the world's most compact true wireless earphones — that emerging category of Bluetooth headphones with separate left and right standalone earbuds with no connecting cable in between. Apple might dispute that claim now that it's unveiled its AirPods, but the Apollo 7s certainly are very small, lightweight and among the best of this new breed of headphone.
The key to all these truly wireless earphones is that the wireless Bluetooth connection between both your phone (the audio source) and the two buds needs to be rock solid. Or close to it anyway. And that's what's impressive about the Apollo 7s: they worked just like a standard in-ear Bluetooth headphones, with minimal hiccups and dropouts. It's also worth noting that after I paired them with my phone once, I had no trouble pairing them again.
How it works is that you pair one of the buds (I chose the right one) with your phone or another Bluetooth-enabled device, then you turn the other bud on and it pairs automatically to the first bud to form a stereo connection. If you want to use only one bud as a headset, you can do that.
During the nearly three weeks I used the Apollo 7, operation wasn't totally flawless. There were a few minor glitches. For instance, the headphone locked up once and wouldn't produce sound, even though it was paired to the phone. Solution: I powered off my phone, restarted it and the issue resolved itself.
I thought the Apollo 7 sounded quite good for Bluetooth earbuds, with a reasonable amount clarity and decent bass. Included in the box are various silicone and foam tips. Using one of the larger silicone tips I managed to get a secure fit and that tight seal really helps improve sound quality (if you don't like having eartips jammed in your ears, this isn't the headphone for you).
That said, like a lot of Bluetooth headphones, the Apollo 7's performance can be somewhat uneven. By that I mean that they sound very good with some tracks and not as great with others.
They're a touch bright in the treble and a bit forward in the midrange. For instance, with Amy Winehouse's "Valerie — Live, BBC Radio 1 Live Lounge, London 2007" I had to ratchet back the volume because her voice had a little bit of a harsh edge to it at higher volumes. The headphone will also distort with certain tracks at higher volumes, so it's best to use it at around 60-75 percent volume. (It does play loud enough, however.)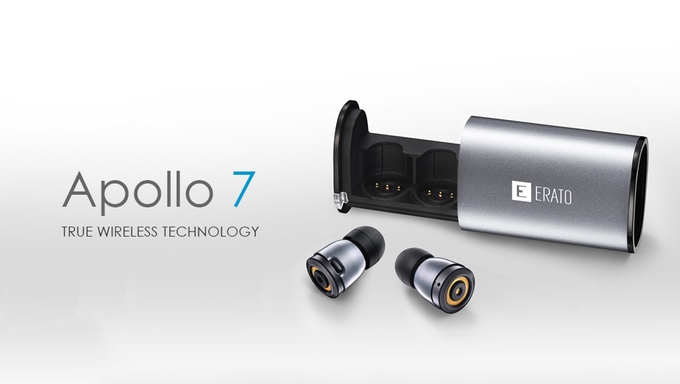 A good wired in-ear headphone, such as the $150 Bose SoundTrue Ultra, which both CNET contributor Steve Guttenberg and I like a lot, easily bests this headphone, with smoother, richer sound. Bose's SoundSport Wireless also sounds a little better than the Apollo 7 for about half the price. But the SoundTrue is a wired headphone, and the SoundSport is wireless with a wire connecting the left and right earpieces. The Apollo 7, by comparison, has absolutely no wires. Given that stipulation, they they sound relatively impressive, especially compared to the bulk of the current competition. It also helps that that they maintain a good connection.
Comparisons to rival full wireless 'phones
For comparison in that fully wireless realm, I pitted the Apollo 7 against the Bragi Dash and Earin, the latter of which also lays claim to being the world's smallest completely wireless earphones.
Of the three, the Apollo 7 had the most reliable connection by a long shot. Although I like the Bragi Dash and Earin — both fit me well — they had frequent hiccups, which made it it difficult to listen to them on the go (I ran with the Dash).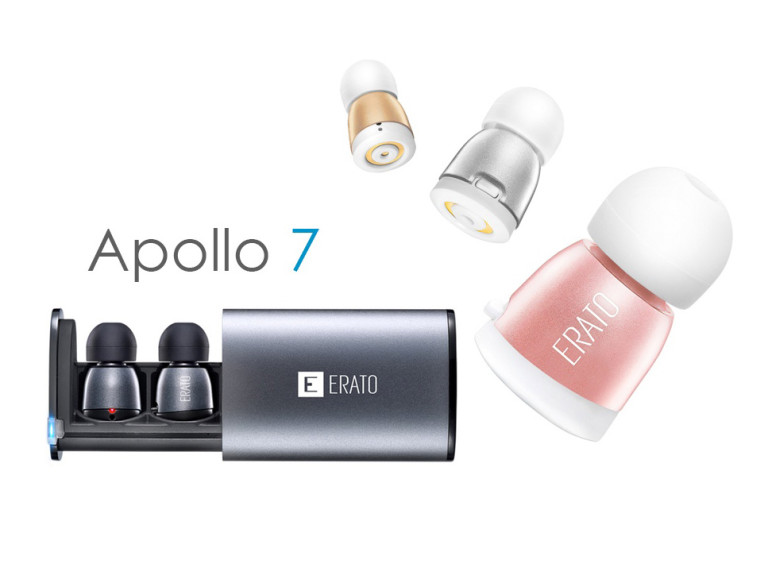 The Earin, which actually weighs less (3.5 grams) than the Apollo 7 (4 grams), is well designed and sounds good but is missing a microphone for making calls (its price has come down to $200 from $280).
In contrast, The Bragi Dash is loaded with features, including a heart-rate monitor, touch controls, 4GB of onboard storage for MP3s and its firmware is upgradable (the Apollo 7's isn't). I also like how the Dash has a feature that allows you to let ambient sound in so you can have a conversation without taking the earbuds out of your ears (the Apollo 7 doesn't have this feature, and Apple's AirPods have a more open design, so they allow some sound in).
That said, for a lot of people the Dash's feature set may be overkill and the touch controls don't work as well as I'd hoped. That headphone has improved since its launch, but if you don't have a rock-solid connection for Bluetooth streaming, it's a serious issue, and the Dash doesn't.
How does the Apollo 7 compare with the Apple AirPods? Well, I certainly like that the Apollo 7 doesn't look like a pair of white "hipster earrings." And my colleague Scott Stein found that the Apollo 7s have more bass than Apple's wireless earphones when comparing them. But the caveats abound. We don't have final hardware on the EarPods (the consumer version hits in October), so consider that initial bass impression to be tentative. The Apollo 7 costs nearly double the price of AirPods, which is a problem. And the AirPods' battery life is rated at 67 percent longer. Ouch.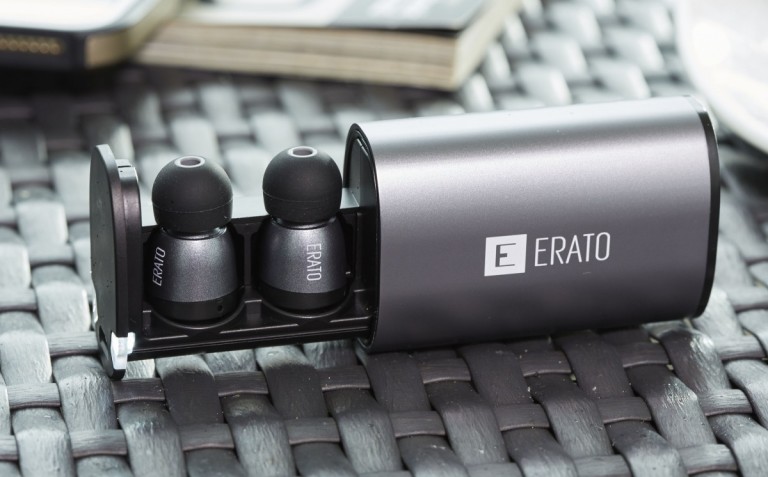 Wireless sports headphone to boot
The Apollo 7s are sweat-resistant, so you can use them for running or working out at the gym and you get a couple sets of wing accessories to help lock the buds in place.
The wings are pretty generic and could be better designed (I'd like to see that a little more integrated into the bud), but I'm glad Erato includes them. You can control your music and volumes levels using your phone or use the single multifunction buttons on each ear to skip tracks forward, answer and end calls, and raise and lower the volume. There are microphones built into both buds and when a call comes in, you go into mono mode, with only one of the buds outputting sound. I thought it worked reasonably well as headset, though it isn't business class (sometimes people asked me to repeat what I said).
Battery life is rated at just 3 hours, which isn't great but standard for this type of headphone. But the good news is that a charging case is included, and when you're finished using the buds, you click them into their charging compartments in the case, close the case, and charging begins.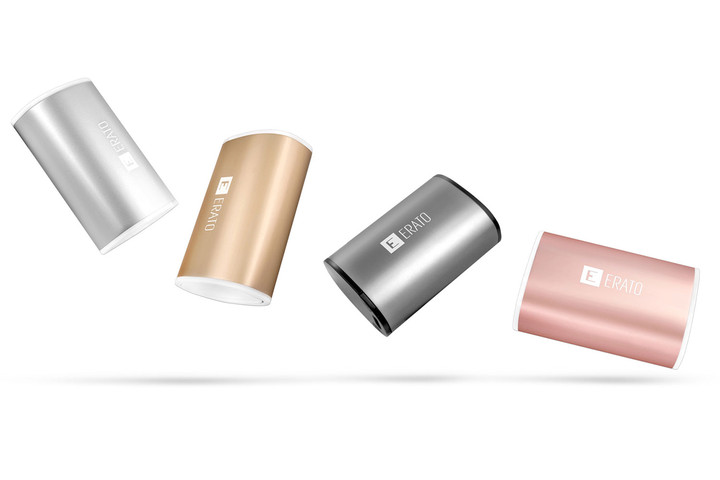 At first I thought it'd be easy to lose the buds. But after getting into the habit of slipping them into the their case, I really wasn't worried about that so much, although the case is made out of smooth plastic and could slide out of your pocket if you're sitting in a deep seat (think couch or lounge chair).
Pause for pricing
In the end my only real gripe with the Apollo 7 is the price. When it launched as a Kickstarter, you could get the headphone in an early-bird special for $250. But now the list price on these is $300, which is simply too much, even if they're among the handful of these type of headphones that deliver a reliable connection and fit well.
I suspect they'll beat the AirPods on sound quality (we'll update this review when we get a final sample of the AirPods), but the AirPods will offer the same reliable connection, battery life and probably better headset performance (for phone calls) for almost half the cost.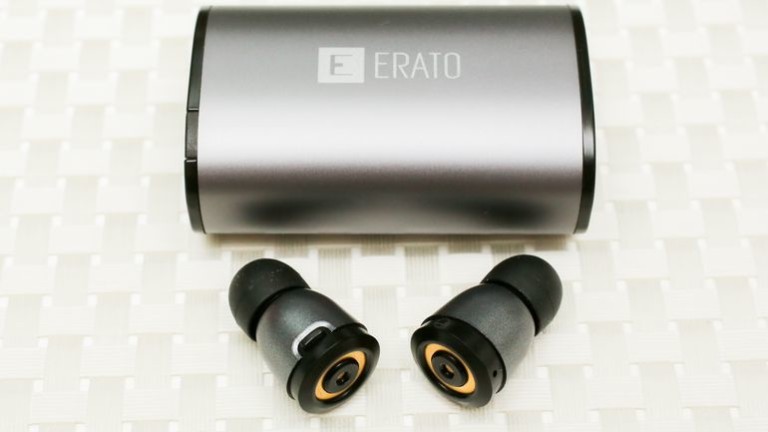 Erato does have a couple of more affordable totally wireless headphones coming out later this year — the Muse 5 and Rio 3 — but I hope the Apollo 7 comes down in price because it deserves consideration and may get overlooked otherwise.
Here are the key specs of the Apollo 7:
True wireless: Completely tangle-free stereo sound wherever you go without annoying cables to tie you down.
Bluetooth 4.1: Full support for advanced AAC, SBC, and aptX audio standards.
Weight: 4g
Single-touch multifunction: With a single button you can power on/off, take a call, play music, skip tracks, change volume or even access Siri easily by tapping, holding, or double-tapping on the button.
Aluminum charging case: Two full earphone charges even with the case unplugged.
Microphone : Integrated MEMS omnidirectional microphone with an input sensitivity of -42dB (+/- 2dB).
Waterproof: Mano-coating offers excellent liquid protection.
Voice : Works with both Siri and Google Now.
(cnet.com, https://goo.gl/sxEyUo)
Comments
comments