THE GOOD: The Epson Home Cinema 2045 offers very good image quality, with full HD resolution and accurate color. It lacks the DLP "rainbow effect," has Miracast for Android phone mirroring and its replacement bulb is relatively cheap.
THE BAD: Worse black levels and contrast than competing DLP-based projectors, some of which cost less.
THE BOTTOM LINE: The well-equipped Epson 2045 makes a very good choice for projector fans sensitive to DLP's rainbows.
Projectors rule, and in my recent tests of less expensive (but still plenty awesome) units, a couple of trends have become clear. One is that I love watching big images in a dark room. Another is that on some projectors, I can see rainbows, and I don't love them.
The "rainbow effect" is common to projectors that use DLP (digital light processing) technology, found on most of the units I tested including those from Viewsonic, BenQ and Optoma. Sometimes when watching a show with a high-contrast scene, like a white object on a black background, I see brief rainbow trails across the screen.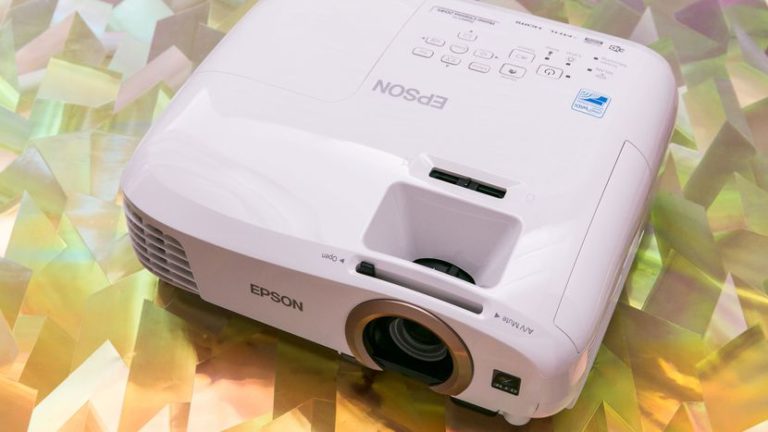 Epson, on the other hand, uses 3LCD technology, and its projectors like the Home Cinema 2045 ($700) reviewed here don't have any rainbow effect. Competing DLP projectors like the Optoma HD142X($550) and BenQ HT2050 ($800) do, but offer similar picture quality for less money or better overall picture quality, respectively.
The 2045 has a very good picture and some nice features, but overall I can only recommend it over cheaper models like the Optoma or the Viewsonic PJD7828HDL ($580) if rainbows really bother you. As for me, I'd take a DLP and suffer through the occasional rainbow.
Basic specs
Native resolution: 1080p
Lumens spec: 2,200
Zoom: Manual (1.2x)
Lens Shift: No
3D-compatible: Yes
Lamp Life (Normal mode): 4,000 hours
Replacement lamp cost: $100
Higher-end home theater projectors often have a lower light output than cheaper units, mainly because they're designed to achieve better black levels, and 2200 lumens is typical of the breed. If you're planning to watch in anything other than complete darkness, you should choose a brighter (and possibly cheaper) projector.
Zoom is also typical, and the 2045 requires a longer throw distance to achieve the same screen size as relatively short-throw projectors like the Viewsonics or the BenQ HT2050. Lack of lens shift isn't a big knock at this price, but it can make positioning the 2045 a bit less versatile than some competitors.
To use 3D you'll need to buy compatible RF 3D glasses. Epson sells them for around $80 each, but you can also get third-party versions for $30-$40 each. The DLP Link glasses for competing projectors cost around $25 each.
Lamp life is standard for this level of projector, and as usual you can adjust the settings to dim the image and extend the number of hours before you have to replace it. The cost of a new lamp is significantly less than with BenQ, Viewsonic or Optoma, which range from about $170 to $270.
Connectivity and convenience
HDMI inputs: 2
AV input: 1
PC input: Analog RGB
USB port: 1
MHL: Yes
Remote: Not backlit
Built-in speaker: Yes
The 2045 has plenty of connections, and in addition to MHL compatibility it works with two of the major wireless transmission protocols found on few other projectors: Miracast and Intel WiDi. If your phone, tablet, PC or other device supports either one, the Epson can blow its image up to fun-size. I was able to easily mirror the screen from my Samsung Galaxy Note 4 phone using Miracast, for example.
Although the remote is a tiny button-cluttered nightmare that lacks illumination, Epson's menu settings and picture options are a cut above many projectors. Especially convenient is an "AV mute" key on the remote, which lets you temporarily black out the screen without turning off the projector. A slider in front of the lens does the same thing.
Picture quality details
The Epson 2045 can produce a very nice image, albeit not at the same level as the BenQ HT2050 in a dark room — rainbows notwithstanding. Watching the black level torture test of the "Gravity" Blu-ray, the Epson couldn't reach the depths of black achieved by the BenQ, the Viewsonic PRO7827HD or the cheaper Optoma HD142X. Even less-demanding material like regular television looked a bit more washed-out on the Epson compared to the others, which all showed superior pop and contrast in a dark room.
On the other hand the Epson was the most color-accurate of the bunch in measurements and in program material. In the Natural color mode bright areas from "Tree of Life," for example, lacked the greenish tinge seen on some of the DLPs and skin tones looked neutral and lifelike.
Unlike every other projector I tested in this price range, the 2045 has the option to engage smoothing, aka the Soap Opera Effect. In the Image Interpolation setting Low, Medium and High options are available, each with escalating levels of image smoothing, and the two highest improve motion resolution in an effort to combat image blurring.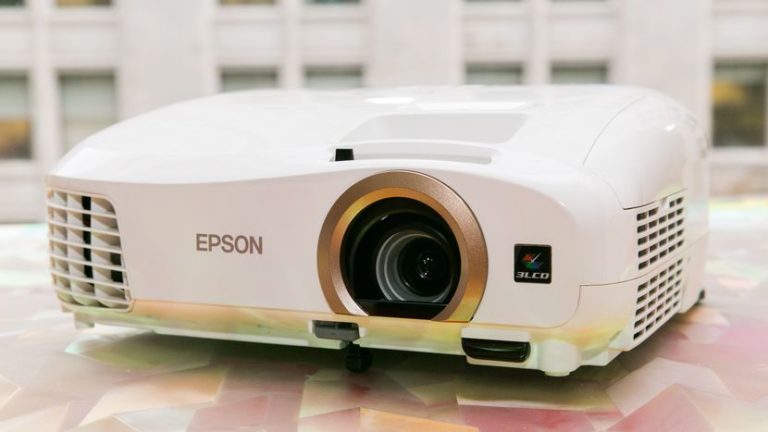 In our tests the smoothing was clearly evident in film-based sources (and as usual I prefer it turned off), but the anti-blurring was a mixed bag. Test patterns revealed a motion resolution improvement from 300 to 600 lines, but in program material it was difficult to see an improvement. The lines in the field during a football kickoff, for example, looked equally blurry regardless of the setting.
The Epson lacks a "Game" picture mode but its input lag was still as good as most of the competing DLP projectors I've tested, and better than the step-down Epson 640, in any of the standard picture modes. Changing the "Image Processing" setting from the default Fine to Fast had no effect on lag. I was unable to test lag with Image Interpolation engaged because that setting was grayed out with my lag tester connected.
Measurements
To arrive at all of results below I measured the Epson Home Cinema 2045's best default picture setting, Natural with the Auto Iris turned off (I did not perform any calibration). The exceptions are peak white luminance and derived lumens, which were measured in Dynamic mode (thanks to Chris Heinonen for the lumens calculator). All observations and measurements were taken on my reference 120-inch Stewart StudioTek 130 screen.
GEEK BOX
| | | |
| --- | --- | --- |
| Test | Result | Score |
| Black luminance (0%) | 0.065 | Average |
| Peak white luminance (100%) | 52.23 | Good |
| Derived lumens | 1716 | Good |
| Avg. gamma (10-100%) | 2.18 | Poor |
| Avg. grayscale error (10-100%) | 2.686 | Good |
| Dark gray error (20%) | 3.768 | Average |
| Bright gray error (70%) | 1.397 | Good |
| Avg. color error | 1.979 | Good |
| Red error | 2.578 | Good |
| Green error | 4.024 | Average |
| Blue error | 1.011 | Good |
| Cyan error | 2.417 | Good |
| Magenta error | 0.757 | Good |
| Yellow error | 1.087 | Good |
| Percent gamut (Rec 709) | 90 | Average |
| 1080p/24 Cadence (IAL) | Pass | Good |
| Motion resolution (max) | 600 | Average |
| Motion resolution (dejudder off) | 300 | Poor |
| Input lag (Game mode) | 31.6 | Good |
(cnet.com, https://goo.gl/nmCh2W)
Comments
comments