THE GOOD: The Denon AVR-920W offers excellent surround sound performance for the money, especially for an Atmos-capable model. Music playback is accomplished and full-sounding. The comprehensive AVR control app for Android and iOS offers Wi-Fi streaming and source selection.
THE BAD: Neither HEOS nor Google Cast multiroom audio is supported on this receiver, and the Wi-Fi control app can be flaky.
THE BOTTOM LINE: The Denon AVR-S920W is an excellent mid-priced Atmos-ready receiver, with plenty of home cinema muscle and excellent usability.
So, you're looking to buy a receiver, huh? We understand how overwhelming it can be to make a decision sometimes. You have a checklist of features you want and a strong desire not to overspend.

At the competitive under-$600 level there's a number of models vying for your attention including theSony STR-DN1070, the Yamaha RX‑V681 and the Onkyo TX-NR656. The Sony has been our favorite all year, but the Denon gives it a serious run. Unlike the Sony it's compatible with Dolby Atmos and DTS:X, the latest surround sound formats that incorporate special "height" channels for added immersion. We certainly don't consider Atmos a must-have at this point, especially since only a handful of titles are available, but some buyers place a high priority on future-readiness.
Both the Sony and Denon offer superb sound for the price, so the choice becomes one of priorities. If you want slightly better wireless streaming options the Sony is the way to go, but if you want Atmos capability now or in the future, the answer is the Denon. For the price it's one of the best Atmos receivers we've tested so far.
Design
Consistent or lackadaisical? Call it what you will, Denon's receivers have looked the same for at least the past five years, and it's a look you probably expect: a big black box with a blue readout. What theAVR-S920W lacks in originality it makes up for in usability. While sister brand Marantz favors a rotary knob on the fascia to select sources the Denon also includes handy shortcut buttons for the four most oft-used inputs.
The remote control is streamlined from previous years and now resembles the slim-line Marantz remotes. It has a friendly selection of buttons and is relatively easy to use.
Denon offers a minimalist yet powerful on-screen display, and if you've used a receiver setup screen before you'll find it fairly straightforward. The menus on Sony's STR-DN1070, however, are much more comprehensive and attractive.
Features
The Denon AVR-S920W sits at the top of the company's S range with a useful selection of advanced features. The most obvious is the seven-channel amplifier which can be pressed into processing Dolby Atmos and DTS:X soundtracks (5.2.2).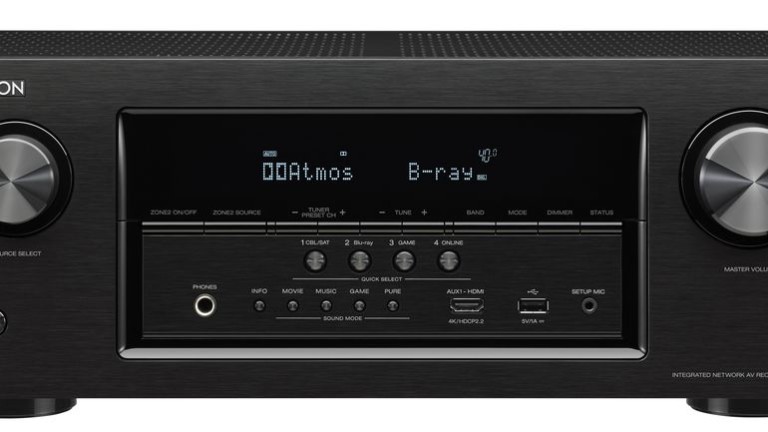 Denon doesn't make choosing a receiver at this price easy though, by offering three models within $100 of each other: the AVR-S720W, AVR-S920W and the AVR-X1300W. While the biggest difference between the S models and the X is a more advanced calibration routine let's say that instead you're trying to decide between the $479 AVR-S720W and the $579 AVR-S920W. What's the difference? That extra $100 gets you an additional two 4K HDMI ports (for a total of eight), an additional output (which is helpful if you run a TV and a projector), an extra 15W per channel of amplification, 4K upscaling (meh), and "upgraded Denon sound engineering design." Both offer HDCP 2.2 and HDR passthrough, which will facilitate the upgrade to 4K/HDR Blu-ray players, game consoles and set-top boxes like the newRokus.
If you are streaming music from a phone, the AVR-S920W has what amounts to today's minimum wireless connectivity: Bluetooth and Wi-Fi capability onboard. While competitor Yamaha has incorporated its own proprietary MusicCast system into its 2016 receivers, Denon hasn't followed suit with the S920W. Sadly, you can't stream using Denon's HEOS app to the receiver without the use of the separate HEOS Link ($349).
While we're on the topic of expectations dashed, Denon announced at CES 2015 that it would be incorporating Google Cast and then later conceded it was no longer happening. With the impending release of Google Home, the Google Cast system promises a greater level of sophistication than any other digital assistant or multiroom system. As a result, Denon users may miss out.
The AVR-S920W does include a nifty control app called the Denon AVR Remote 2016, which integrates streaming from your phone or network with the ability to fine tune your inputs and modify the volume. We found it more powerful than Sony's SongPal application, but it's also more flaky. It had a tendency to crash when we tried to stream music from a phone.
Setup
We partnered the AVR-S920W with our Pioneer Elite SP-EFS73 tower speakers, SP-EC73 center channel speaker, SP-EBS73 bookshelves as surround speakers, and a Klipsch SW-110 subwoofer for all of our listening tests. For bass management we ran everything, including the towers as "small" speakers, with an 80 Hertz crossover setting.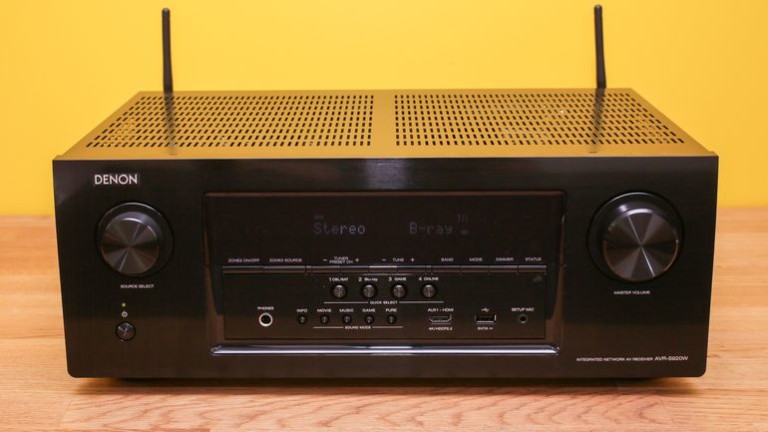 Listening
The AVR-S920W proved its mettle over and over with home theater trials, but we were also pleased with its performance with stereo music. The rich sound we've heard on so many other Denons over the years was present on Norah Jones latest release, "Day Breaks." She's right on top of the mike, so close, and with saxophonist Wayne Shorter by her side there's a quiet urgency to their music. The AVR-S920W lets it all through, the sweet and clear sound of Jones on piano and her band. At first we didn't notice the background singers on "Carry On," the mix is that subtle, but subtlety is what you get with a receiver as fine as the AVR-S920W.
A quick changeover to a Sony STR DN1070 receiver lightened the tonal balance a wee bit, and it sounded clearer, though a little more rounded in the bass. We could almost "see" Jones' bassist's fingers on the strings. Returning to the AVR-S920W softened the sound, so some of the detail was a bit smeared. We liked both receivers, they just present slightly different tonal balances.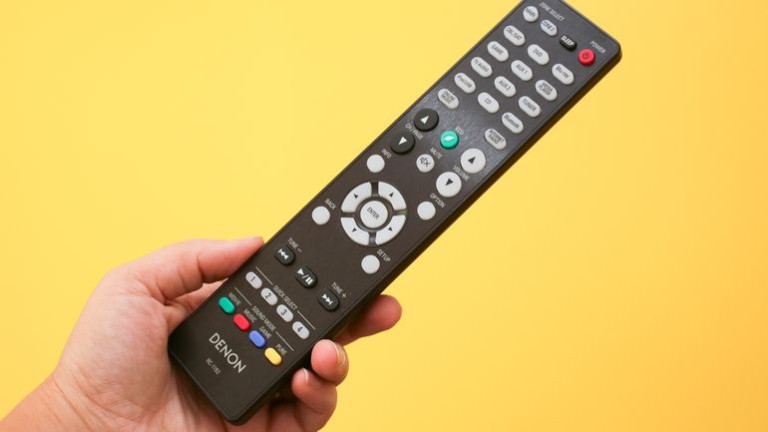 To test home theater stamina we pumped up the "Mad Max: Fury Road" Blu-ray, which offered better immersion (thanks to Atmos) than the "standard" 5.1 surround of the Sony STR-DN10170. The AVR-S920W didn't hold any of the sound and fury back, and a CNET staffer actually told me he thought demolition work was taking place at the other end of the office floor. It was so easy to push it that loud!
Taking a break from the mayhem we played Peter Gabriel's "New Blood: Live in London" Blu-ray from his 2011 tour. We've played this extraordinary sounding disc many times, but can't recall the concert hall ambience sounding this realistic. Gabriel and the other vocalists' "size" and scale sounded like they really were in the same hall as the orchestra. That's a rarity in rock concert recordings, but the AVR-S920W and the Pioneer speakers managed to sound remarkably natural together. Soft to loud dynamics were also above par, so even as we nudged the volume up the AVR-S920W never ran out of steam.
The bottom line
With so many excellent receivers at this price point it can be difficult to make a decision about which one is right for you. While sound quality is neck-and-neck with the Sony STR-DN1070, the Denon pulls ahead of its rival for features with the addition of immersive sound with the DTS:X and Dolby Atmos.
If you're still not convinced about buying a receiver-based system, the AVR-S920W, teamed with any decent 5.1 speaker/subwoofer system will far outshine the very best sound bars in terms of power, articulation and surround sound immersion. While we've still got some receivers to test, the Denon AVR-S920W is a standout in its field so far.
(cnet.com, https://goo.gl/RGQN7e)
Comments
comments