The Good: The sleek Bose SoundLink Plus Bluetooth speaker sounds excellent for its compact size, has a built-in handle for easy transport and is water-resistant. Battery life is good at 16 hours, there's a threaded tripod mount on the bottom of the speaker and an integrated microphone for speakerphone calls.
The Bad: Expensive, and the cradle that makes charging easier is an optional $30 accessory.
The Bottom Line: Bose's expensive SoundLink Plus is arguably the best-sounding Bluetooth speaker for its size.
Cylindrical design, 360-degree omnidirectional sound.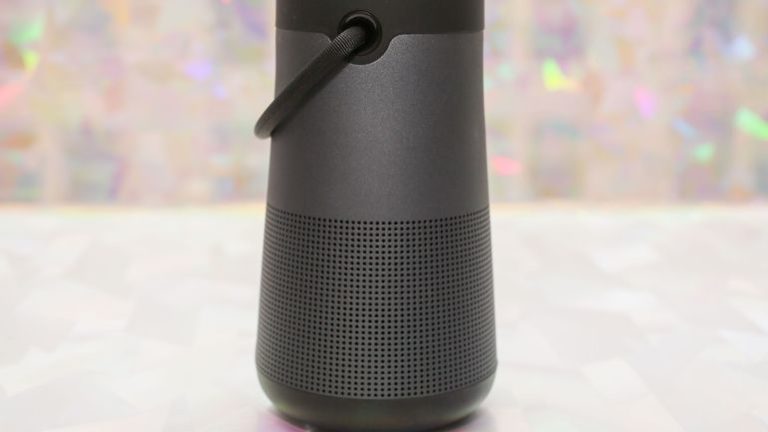 If you've been monitoring the Bluetooth speaker space, you're probably aware that such descriptors are nothing new. Ultimate Ears led the 360-degree charge with its Boom, Boom 2and Megaboom, and JBL's popular cylindrical Flip and Charge Series speakers are on their fourth generation. They all promise full-range sound without having to worry about placement.
Bose's two versions of the tubular portable, battery-powered Bluetooth speaker are the SoundLink Revolve ($199, £199.95, AU$299) and its bigger brother the Revolve Plus ($299, £279.95, or AU$439). They're expensive, but their design is excellent and they both sound great for small speakers. Between the two I like the Plus best, thanks to superior bass and an ability to play louder. It's probably the best-sounding speaker of its size I've ever heard — or carried around by the handle.
Audio lantern
Thanks to its integrated handle and "seamless" aluminum enclosure, the Revolve Plus reminds a lot of people of a lantern, and that seems like an intentional choice on Bose's part. Instead of light, this lantern gives off sound, and Bose touts its ability to play very loud for its size, and push out a lot of bass without distorting.
According to the company, the speaker combines "dual-opposing passive-radiators with a powerful ultra-efficient transducer — positioned face-down — and a new patented acoustic deflector." It's both water- and shock-resistant with a threaded tripod mount on the bottom of the speaker that allows you to attach it to a wall mount or a stand. Bose also sells a charging cradle for $30, which makes charging easier than using the included USB cable.
Shining sound
The Revolve Plus sounds as good or better than anything I've tested in its size class. Though broader at the base, at 7.25 inches (18.42 cm) tall it's a little shorter than the UE Megaboom, which started out at $300 but can be had for less.
It plays a little bit louder than the Megaboom, has deeper bass, and just delivers a little bit richer sound overall. That doesn't mean the Megaboom is a big step down, especially if you're planning on using your speaker outside a lot. The fully waterproof Megaboom is very well-suited to outdoor use and also features better battery life at 20 hours (the Bose is rated for 16 hours of music playback at moderate volume levels). I still think the Megaboom is an excellent Bluetooth speaker, it just doesn't sound as good as the Bose.
The larger Revolve Plus plays louder and has better bass response than its little brother, the Revolve. It offers bigger, more refined sound than the SoundLink Mini II and also has better bass and clarity than the SoundLink Bluetooth Speaker III.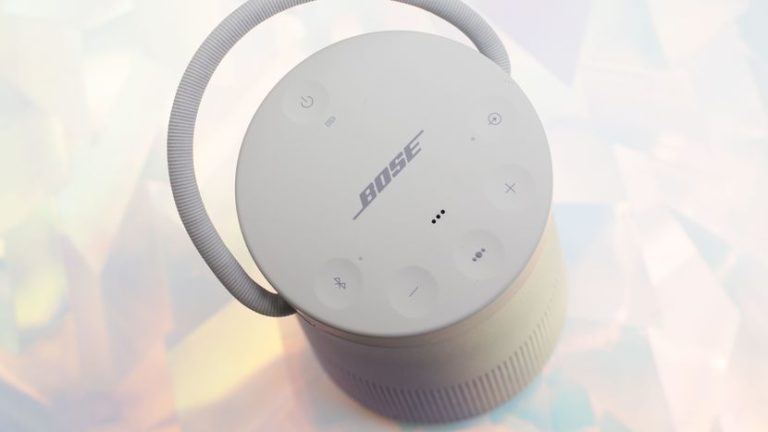 Both Revolve speakers play much bigger than their size would indicate, and although they do have their sound limitations, they can fill a small to medium room with sound. They'd work well in a dorm room, home office or bedroom.
While you'd think that 360-degree sound would mean they're best placed in the middle of a room, it actually helps to place these speakers near a wall to get some reflection, which improves the bass.
The Revolve Plus sounded the same whether plugged in or running via battery, although Bose says output is limited slightly to conserve power when the battery dips below 30 percent. It was hard for me to tell the difference, but some people might.
The Revolve Plus has an integrated microphone so it can be used as speakerphone, a feature that worked well in my tests. There's NFC tap-to-pair technology for devices that support it, and more importantly you can wirelessly pair two of these speakers (or other recent Bose Bluetooth speakers starting with the SoundLink Color II) using the Bose Connect app, configuring them as a set of stereo speakers or doubling them up to augment the sound.
To test stereo pairing I threw on some tracks from the '60s and '70s (The Rolling Stones, The Doors and The Beatles) that feature a lot of stereo separation. They sounded good for compact, battery-powered wireless speakers, but don't expect a pair of Revolve Plus to beat a decent set of wireless powered speakers such as Bose's own SoundTouch 10 or Sonos Play:1 speakers, both of which can be set up as a stereo pair.
Louder, meet smaller
When I say this Bose sounds excellent, what I really means is that it sounds excellent compared to other small Bluetooth speakers. The fact is you could hit a patch where you say to yourself that sounds a little rough — or a little weird. The Revolve Plus is only capable of so much, and can't quite escape the boundaries inherent in streaming audio over Bluetooth to a small speaker.
What separates the Bose from its competitors is the ability play a little louder, put out more bass without distorting and sound a little more natural with decent detail. For example, UE's Wonderboom, which retails for a third of the price and is an excellent mini Bluetooth speaker, stumbled over parts of the bass line in the Shaun Frank remix of The Chainsmokers' "Closer." The Revolve Plus handled those sections without a problem and put out significantly more sound overall.
Is it worth three times more? Maybe not, but it's clearly a better-sounding speaker.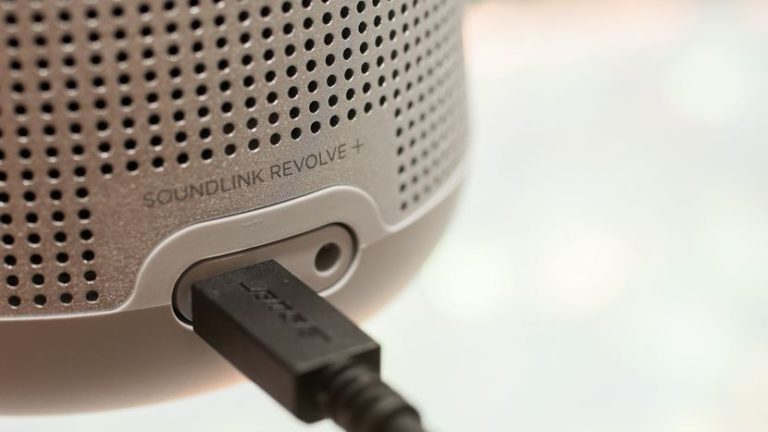 Audiophiles could well find fault with the Revolve Plus' sound, particularly compared to wired $300 speakers. But the vast majority of people will think it's a great sounding little speaker that can be easily moved from room to room or carried outside, where it can fill a patio area with sound — maybe not quite at dance party-level, but certainly at background music volumes.
I also like the smaller SoundLink Revolve — it, too, is an excellent speaker for its size — but if I personally was deciding between the two, there is enough of difference in sound quality (and that integrated handle is nice) that I'd spend the extra dough on the Revolve Plus. That said, it's a shame that neither speaker includes the optional charging cradle.
Key specs:
Dimensions: 7.25 inches high, 4 inches deep, 2 lbs.
IPX4 water-resistant
Shock resistant
Threaded tripod mount on bottom of speaker
Battery life: 16 hours
NFC tap-to-pair technology (with devices that support NFC)
Bose Connect app connects two SoundLink speakers starting with Bose SoundLink Color II (stereo pairing or double-up party mode).
Integrated microphone to use as speakerphone or with Siri and Google Assistant
Colors: triple black, gray lux
$299, £279.95, AU$439
(cnet.com, https://goo.gl/lOE9T9)
Comments
comments