Pros
Fantastic audio quality despite being mono
Class leading battery life averaging over 30 hours
Rugged and weathproof design
Single mono speaker more powerful than stereo alternatives
Cons
It is only mono so not as good for video
Price is just a little high
Key Features: Bluetooth and wired connectivity; High and low volume inputs; 10-50 hour battery life; Rugged weathproof housing; Single 3in driver; Can be used to charge your phone; 75 – 20,000Hz frequency response; 6 to 8 hours charge time; >100db peak output
Manufacturer: Minirigs
What is the Bluetooth Minirig Portable Speaker?
One of the most revered products to ever have passed through the TrustedReviews labs, along with the Sony X505 and original B&W Zeppelin, is the Pasce Minirig. This simple little portable speaker has probably had more personal recommendations than any other product reviewed on the site.
Now the Minirig is back – in fact the company has even changed its name to Minirigs – and this time it has Bluetooth. Should such a simple addition to a lowly portable speaker really make us so excited? If the previous Minirig was anything to go by, it most certainly should.
Design & Features
Just like the old Minirig, the new Bluetooth version starts its assault on your senses by winning you over with its design. The simple cylindrical shape is totally charming and it's backed up by rock-solid build quality.
The main cylinder, which is available in a range of colours, is thick aluminium and it's capped by tough plastic on one end and a thick aluminium speaker grille at the other. It looks and feels like it'll survive just about anything, and based on our experience of using the original Minirig for nearly five years and having it still be spotless, we'd suggest those looks aren't deceiving.
In fact our existing Minirig has even survived a few rain showers and the new Minirig is specifically IPX4 rated for resistance to splashing water – Minirigs also claims it has an "air tight enclosure". It won't survive a trip to the bottom of a pool, but the general abuse you'd expect from a camping trip or being left at the bottom of the garden is something it will brush aside.
A key feature of the Minirig's design is that it only uses a single speaker. This allows the company to fit in a 3-inch driver in a device that's only 4 inches across by 3.75 inches deep. Devices that use two speakers, such as the Beats Pill, may be able to offer stereo sound, but from much smaller drivers and a much larger unit.
Clearly the long and thin stereo approach is more desirable for enhancing the audio when watching video on a laptop or any other occasion where you'll be sat directly in front of the speaker/s but for just blasting out music while camping, gardening, cooking, partying in your hotel room, a single loudspeaker does the job just fine.
Underneath that single speaker sits the rest of the device's electronics, which includes the battery that Minirigs rates as lasting between 50 hours at low volume and 10 hours at maximum volume, with 30 hours' life in average use.
There's also room for the Bluetooth 4.0 Setup with its aptX support, plus there's a trio of connections sticking out the side.
The top and bottom of these are 3.5mm jack sockets for plugging in your devices. One offers a high-impedance input that's ideal for use with powerful devices like laptops or headphone amplifiers, while the other offers a low-volume input that's better for use with weaker devices like mobile phones.
The idea is that, because the Minirig relies on the volume control of your device to control the output volume of the speaker, having two inputs that support a large range of output volumes ensures it offers the best quality, whatever device you use.
These connections can also be used to connect two Minirigs together to form a stereo pair, with the help of a splitter cable. You can even hook up a Minirig subwoofer to really fill out the low-end frequencies. This is a much larger device than the Minirig, but it's still far more portable than any other subwoofer and it allows you to, for instance, have a beefier sound for use at home while the Bluetooth Minirig alone can be chucked in a suitcase for travelling.
The middle socket on the Minirig is actually the charging port. The device charges from USB but the cable converts the output to this coaxial socket. This makes it a little inconvenient if you're caught short and don't have the right cable with you.
However, the provided cable does allow you to use the Minirig's battery to charge your mobile devices. There's enough juice onboard to fully charge an iPhone 6 Plus once or an iPhone 4S twice.
You can also ensure the cable and Minirig are never far apart by keeping them in the supplied carry case. This tough, form-fitting padded bag has a tough zip fastening and a loop of material to make it easy to hang on a rucksack for instance. It won't completely protect the Minirig from heavy falls but it'll keep scratches at bay while the Minirig itself is strong enough not to need any protection from being stood or sat on.
All of which brings us to the new Bluetooth features. For most users the Minirig will be used just like any other Bluetooth speaker. You turn it on – via the backlit rubber button on the rim – and connect to its Bluetooth signal via your phone or laptop and away you go.
However, if you want to get ambitious you can also connect up two Minirigs wirelessly and have them create a stereo pair. You can even plug in a sub to the back of one of them to completely fill out the 2.1 audio setup.
There's also an app for Android and iPhone that enables you to play and pause your media, pair up Minirigs, switch between stereo and mono modes and even turn them off remotely. It's a great little addition to the whole setup.
For owners of existing Minirigs, note that the new range is fully backwards compatible so you can easily buy a Bluetooth Minirig and use it with your existing one for stereo listening.
Performance
The good looks, great build quality and Bluetooth features would of course be for nought if the Minirig didn't also sound great, and sure enough it's as good as we've come to expect.
The first thing that strikes is the depth and power that's on offer. That 3in driver and a top quality amp allow the Minirig to deliver far lower tones than you'd ever expect, and at a greater volume too. You can easily fill a moderate living room or hotel room with powerful, undistorted audio with just one Minirig.
Listen a little longer and you'll note that the presentation is also detailed and accurate. There's no booming bass or muffled high-end here. It just sounds even and easy going. Listening in mono does mean some details get a little lost just because you don't have that spatial separation that helps your brain work out which instrument's where but that's just the inevitable situation with mono presentation.
Add in the sub-woofer and you are suddenly aware of those really low tones you were missing out on but no portable speaker close to the size of the Minirig delivers more in the way of bass. We were actually a little sceptical of the sub, thinking it a little out of character with the portable nature of the Minirig, but the combination is superb. We could definitely see ourselves using the sub for garden parties and glamping holidays.
As for grabbing a second Minirig, the stereo setup works really well and is a great option if you're looking for a portable option that is also good for watching videos on your laptop as well as listening to music.
We'd be inclined to get the sub-woofer before a second Minirig but whichever way you work towards the trio, it's a great combination.
The only two issues we did have were that it can sometimes be annoying trying to remember which way round you have to connect all the cables in a multi-speaker setup – taking into account all the high and low impedence inputs – and that when using the stereo Bluetooth feature we found audio regularly stuttered. The latter is a problem that will vary from device to device as it's an inherent issue with Bluetooth CSR but it's something to be weary of if you think you'll be using that setup frequently. Bluetooth with just one speaker is fine, and you can still do a semi-wireless 2.1 setup by just connecting the rest of the speakers to each other with cables.
Battery Life
Minirigs' claims for the battery life of its new speaker are spot on. You can easily get 40 hours of use out of one charge with just moderate listening levels – the sort of volume you'd use for background music in a kitchen or while kicking back in a hotel room.
Crank it up to full blast and it will run out more quickly but you're still likely looking at over 20 hours of use at sensibly loud listening levels – plenty long enough for post-band partying in you tent for a whole music festival weekend.
What's doubly impressive about the Minirig's battery life is that it lasts for ages when unused. Where some devices can leach battery power when not used, you can confidently pick the Minirig up after it has been sat idle for months and it'll still have hours worth of listening – assuming it wasn't flat to start with of course.
Should I buy a Bluetooth Minirig Portable Speaker?
The new Minirig is the ultimate go-anywhere portable Bluetooth speaker. It's compact, rugged, long-lasting, easy to use, sounds great and is wireless too. It's versatile as well, with the phone charging ability being particularly welcome.
We also love the way you can string two Minirigs together to make a stereo pair and even add a sub-woofer for even more oomph – the trio makes for a great versatile setup for all your portable listening needs.
If you're mainly after a device to enhance your laptop's speakers then you may want to go for a single device that has stereo speakers, such as the Beats Pill or Jawbone Jambox, as this is much better for watching video and general close-quarters listening. For general background listening, though, the Minirig is unsurpassed.
The only stumbling block is price. Where the original Minirig was just under £100/$150, and offered decent value considering its premium build and performance, the new Minirig has leapt to £139.99/$209. While this is comparable to competing products, and we do understand that the addition of Bluetooth and that the device is made in the UK all adds to the cost, it is still a lot of money for the sort of device that could easily get left at a campsite or on the hotel balcony.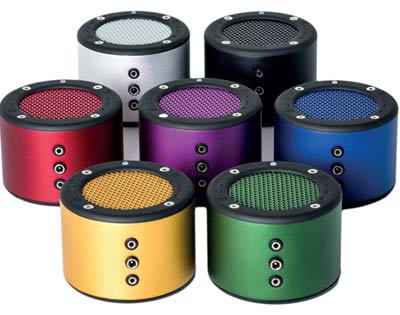 Verdict
The Bluetooth Minirig Portable Speaker may only pack a single speaker but with that one speaker it blows away the competition when it comes to sound quality. It's also versatile, built to last and runs for ages on a single battery charge. It is simply the finest truly versatile and portable Bluetooth speaker you can buy, and which fits in a tucksack. Sadly it costs just a little more than seems sensible to us. We would advise just sticking to the old £90/$135 Minrig instead but Minirigs is phasing out the old model. Shame.
Scores In Detail
Design : 

10

/10

Features : 

9

/10

Sound Quality : 

9

/10

Usability : 

9

/10

Value : 

7

/10
(trustedreviews.com)
Comments
comments