For many of us, summertime means sitting outside with the wind in our faces, the barbecue cranking out great food and our music setup pumping out the best tunes. On that last point, it's imperative that you pick an outdoor speaker that not only works for your patio or backyard but also gives you great sound at a fair price.
Our top pick overall is the Acoustic Research Hatteras ($219), which combines quality audio and an attractive design for a good price. If you're on a budget, the Yamaha NS-AW390 delivers excellent sound for under $100. But there are plenty of great options out there — ranging from wireless Bluetooth setups, to speakers mounted up high, to units that can blend seamlessly into your garden — so make sure you select the one that's right for you.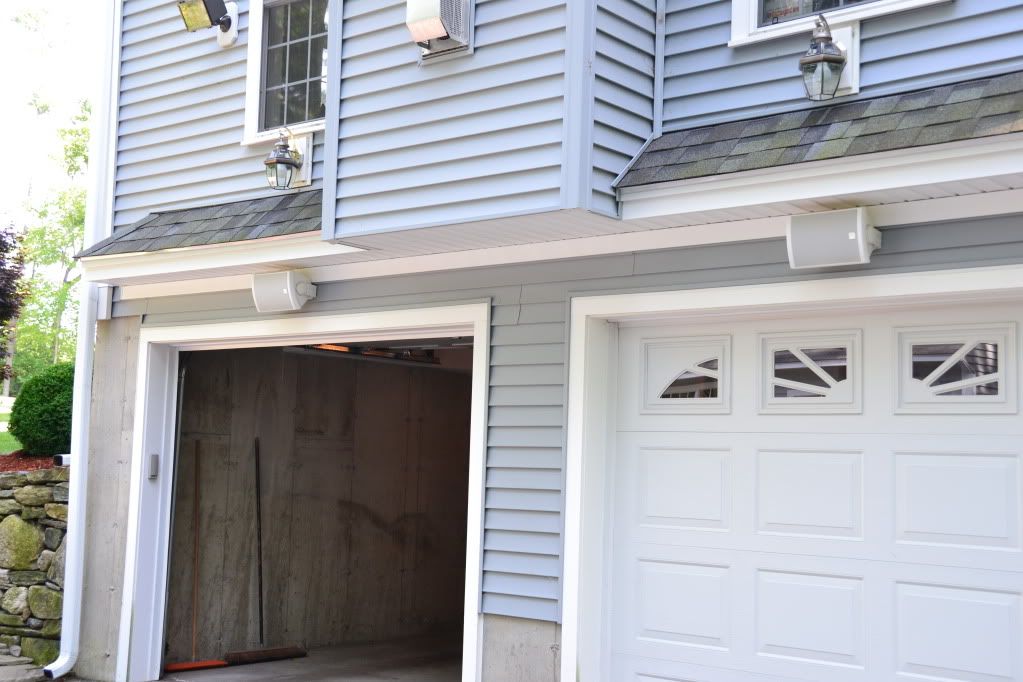 How We Tested
For this comparison, we set a price limit of $500. We tested 14 outdoor speakers from 13 manufacturers, using a wide range of music to keep an emphasis on how bass and treble came through. Single-unit speakers were placed at floor level. Speakers in pairs were tested from a height of 7 feet and were placed 8 feet apart. The overall design, quality of materials, ease of installation and price all varied considerably from speaker to speaker and factored heavily into the final ratings.
Acoustic Research Hatteras: Best Overall
It's hard to think of a feature or convenience that the Hatteras does not boast: It has the convenience of wireless Bluetooth functionality, a manageable 11-pound weight, sturdy construction, outdoor lighting, a pleasant patio look and the portability factor (2 feet tall, with a handle) that makes the speaker perfect for both indoor and outdoor use. Oh, and the price makes it a steal.
Just plug in the Hatteras, turn it on and pair it via Bluetooth to anything that plays music, and you can be rocking out in less than a minute after lifting the first box flap. The overall craftsmanship feels high-quality, and the neutral black casing and brushed-steel look of the speaker grille mean the Hatteras can blend in with most patio decor. The volume control above the unit has great tactility and is easy to adjust. Aside from the speaker itself, you get a handy black drawstring bag for storage. Even the LED light on the top will pulsate in time with your tunes.
The Hatteras' sound is lovely, with crisp treble and thumping bass, thanks to the 40 watts of power (very good for a wireless unit) and dual 2-inch tweeters and 4-inch midranges. It's not the "true stereo" you would get from a dual-speaker pairing, but the sound quality is exceptional. Old recordings of brassy orchestral standards sounded like a live backyard concert, and modern electronica went far and wide, with thumping bass you could feel in your stomach. Whatever your musical tastes, the Hatteras abides.
Overall, there's a whole lot to like about this speaker, from design, to ease of use, to sound. The lack of an internal rechargeable battery means it must stay tethered to power and can't ever go truly wireless, but you won't find a better deal than this.
Klipsch AWR-650-SM Outdoor Rock: Best Hidden Speakers
You have to give the folks at Klipsch credit: When they promise you a speaker that looks like a rock and can seamlessly blend into your backyard surroundings, they really deliver. The AWR-650-SM is more than a speaker that's part garden decor and part undercover agent; it also delivers spectacular sound.
The housings of these ingeniously designed speakers are made to resemble 17-inch-high hunks of either sandstone or granite, depending on the overall aesthetic of your patio or garden. The undersides are slathered with sealant, and the wiring is thick and waterproof. But on the inside, Klipsch has packed these faux boulders with punch: Dual 0.75-inch tweeters and a 6.5-inch woofer deliver superior sound quality, with brass that pops and bass that comes in heavy and authoritative.
The biggest knock on these rocks? Price. Each one will set you back almost $300, and they really should be experienced as a pair. The 13-pound weight is not terribly heavy, but these are clunky to carry. (They are, in essence, large rocks, and should expect to be handled like such.) But if you're willing to go the distance for maximum outdoor sound and minimal footprint around your grounds, pony up a few extra clams for these secret speakers.
Yamaha NS-AW390: Best Under $100/Best Sounding
These Yamaha speakers get all of the points (at least in comparison to other wired models) for going against the grain, almost universally to their benefit. But where these midsize models really stand out is in their superior sound quality, especially considering that you can get a pair for under $100.
The AW390 speakers' grilles bulge noticeably from the surrounding casing, giving them a bulbous, home-theater-type aesthetic. The bracket mounts on the underside swing top to bottom, rather than the far more common left to right movement. Yamaha even includes safety wires and screws to make sure your speakers don't fall from their mounted perch.
On the inside, the AW390 speakers deliver in spades. The sound quality, coming from a 1-inch dome tweeter and a 6.5-inch woofer, produces sharp highs and well-defined lows — a marked improvement over similarly sized speakers. Heavy, guitar-laden rock and smooth jazz popped with equal quality, and it's this versatility that puts the Yamaha ahead of the pack. Consider that you're paying well under $100 per unit, and it's hard to pass up.
Braven XXL: Best Portable
The Braven XXL is proof that portable outdoor speakers don't have to sacrifice sound. This road-ready beast touts a sturdy, black shell built to survive your next camping trip or barbecue, and it's rated IPX5 water-resistant to handle a quick splash by the pool or lake. Factor in its 14-hour battery, and the XXL lives up to its name in every way possible.
Fugoo Tough Bluetooth Speaker
The Fugoo Tough is essentially the Fugoo Style wrapped in a different package. Though it's bulkier than the Style, the Tough is still a portable 7.75 x 2.9 x 2.3 inches, and the overall weight with the speaker is still a fairly light 22 ounces. The Tough can be submerged in 3 feet of water for 30 minutes, and can be safely dropped from a few feet. Best of all, it sounds just as sweet as the Fugoo Style, thanks to its two 1.1-inch tweeters, two 1.5-inch mid/woofer drivers and two 1.7 x 2.1-inch passive radiators. It can also last up to 40 hours on a charge, making it a truly portable option.
Braven BRV-HD Bluetooth Speaker
Although it's large for a portable Bluetooth speaker (10 x 4.3 x 3 inches and just more than 4 pounds), the Braven BRV-HD offers excellent sound, rivaling that of the UE Megaboom. Its 8,800-mAh battery will last up to 28 hours on a charge, and can also be used to recharge your smartphone via the BRV-HD's USB port. While it can withstand being sprayed with water, it can't be submerged like some of its more rugged competitors can. But as long as you don't get it too wet, the BRV-HD is a great speaker.
Madison Fielding Mini PlanterSpeakers
These speakers, embedded onto the underside of terra-cotta-colored planters, exceeded our expectations and really do have a lot going for them. Design-wise, the typical tweeter/woofer combo wouldn't make sense. So instead, you get a 6-inch marine-style speaker that delivers full 360-degree sound. Although having some ability to focus the sound would boost the audio quality, the result is adequately solid.
The planters are also wide enough (14-inch diameter) to accommodate a standard midsize garden plant. The price tag is on the high side, but if you have a green thumb and an appreciation for embedding some secret sound within your garden, these planters are a smart and practical solution.
Polk Audio Atrium5
The Polk Audio Atrium5 is a better-than-average pair of speakers that should appeal to a wide swath of consumers. The sound — which is slightly tinny at higher decibels but has strong bass — came through better than we expected. Each speaker features a 0.75-inch dome tweeter and a 5-inch woofer on the inside.
The aluminum grilles and brackets feel sturdy, even with each speaker weighing just 4.6 pounds. The bracket screws are solid, but they click loudly and require more than a little elbow grease to maneuver. The overall aesthetic is pleasing and should easily find a place in many outside patios.
Boston Acoustics Voyager 50
For the price, you could do a lot worse than the Voyager 50. Despite being on the larger end (11.25 inches tall), these speakers (sold as a pair) don't feel offensively heavy, though you'll still want to invest in your own safety wire attachment (not included). The mounting brackets rotate smoothly, and the bracket screws are hefty and screw in securely.
The Voyager 50 sound comes out deep and full, though the woofers (injected with graphite) do seem to get lost at times. The housing and overall construction make it feel like a high-end speaker should. Although the price is a tad high, with the Voyager 50, you don't feel like you're getting ripped off.
Dual LU43PW 3-Way Indoor/Outdoor Speakers
The best budget speakers always sound far better than their price would suggest. Dual's LU43PW speakers sound so good and feel so sturdy that I'd pay twice what they sell for — probably more — and not bat an eye. Would I make a similar claim for any other unit I tested? Outlook is hazy; ask again later.
At just 2.8 pounds each, the LU43 speakers are featherlight and pack a lot into a little casing. The 0.78-inch tweeter and 4-inch woofer deliver sound quality that's as good and as clear as that of many midsize models with larger woofers. Plus, the small design means it's very easy to tuck these puppies under most overhangs or integrate them into your backyard setup.
Unfortunately, the LU43 feel like budget speakers. The casing doesn't feel cheap, but the mounting bracket screw slots — which are vertical and noticeably narrower than those on other models — can be limiting during installation. The speakers rotate friction-free on their mounts, but the screws holding those mounts on do feel cheaply made. There's no safety wire included, but these speakers are so light and rightly priced that it's not as much of a concern as it is for the bigger, beefier models.
Monoprice MWS-5W
These small Monoprice speakers offer dependable audio at a reasonable price. The half-inch dome tweeter delivers crisp treble, though the 5.25-inch woofer produces somewhat muted bass — a somewhat expected result for a budget speaker.
The housing is light but hefty; it doesn't feel cheap. The craftsmanship, especially on the backside, leaves room for improvement. The sound cable protrudes so much that the bracket mount bends the cable to 90 degrees; be prepared to angle these speakers upon installation. Bonus: Installation screws are included. Overall, the MWS-5W is a reliable speaker at a great price.
OSD Audio Patio Speakers AP670
The OSD Audio Patio Speakers seem like a solid midrange speaker option, but they have some glaring shortcomings. With 120 watts of oomph, a 1-inch dome tweeter and a 6.5-inch woofer, there's a lot to like under the AP670's hood. The overall audio quality, with good bass and acceptable highs, is decent and right in line with the price.
Unfortunately, the speakers are 15 inches tall — which means they'll be hard to tuck under most overhangs — and they're undeniably heavy, at nearly 9 pounds each (with no safety wires or screws included). The screw-style sound wire connectors can also be cumbersome, and the speaker-grille holes are so large that you can see through the woofer. No single shortcoming on the AP670 is really a deal breaker, but there are just better options out there.
NHT Outdoor Speaker
The good news is that NHT Outdoor Speakers' push-button-style sound wire connectors were the easiest of any unit's installation. Another plus: These speakers have a flat bottom, so you don't have to mount them into their brackets.
Unfortunately, everything else about the NHT speakers is a hot mess. The speaker grille (and logo sticker) comes uninstalled; the housing feels cheaply constructed; it's prohibitively heavy, at nearly 12 pounds; and the sound quality was merely average. The entire experience of testing these speakers (especially as a pair) was frustrating and felt very DIY in the worst possible way. There are way better options out there, especially for this higher-end price.
(tomsguide.com, https://goo.gl/Iz9lAo)
Comments
comments